Remember the mural painting sketch from last week? My plan was to paint one of the most famous Kerala mural designs, Krishna playing his flute in Vrindavan by the river Kalindi. I love how the skies and water are depicted in a Kerala mural painting and was dying to do add one to my mural too. The waves in the water and the fish are so whimsical.  Was super excited to transfer my sketch onto my 22 x 28 canvas.
I think I have told you before, I have this tendency to  run out of luck in the middle of a project, switch to Plan B, C, D etc…., and then finally pull it all together by some stroke of 'more' luck. So yes, sticking to this tradition, by the time I drew Krishna's figure on the canvas I ran out of space at the bottom to add anything else. Plan B: No river 🙁 more creepers…..maybe he is sitting under a tree in a jungle.
Some background for the uninitiated; Krishna's body is blue unlike everyone else in the Hindu mythology. And the blue is more of a thunder cloud blue than a sky blue. Getting that right shade of blue with the acrylics took me two months! Halfway through I would forgot the colors and the proportions that I mixed to paint some part of the body by the time I reach another part. Note to myself:  finish up the entire body at one stretch especially when there is so much mixing involved.
Anyway here is the original sketch.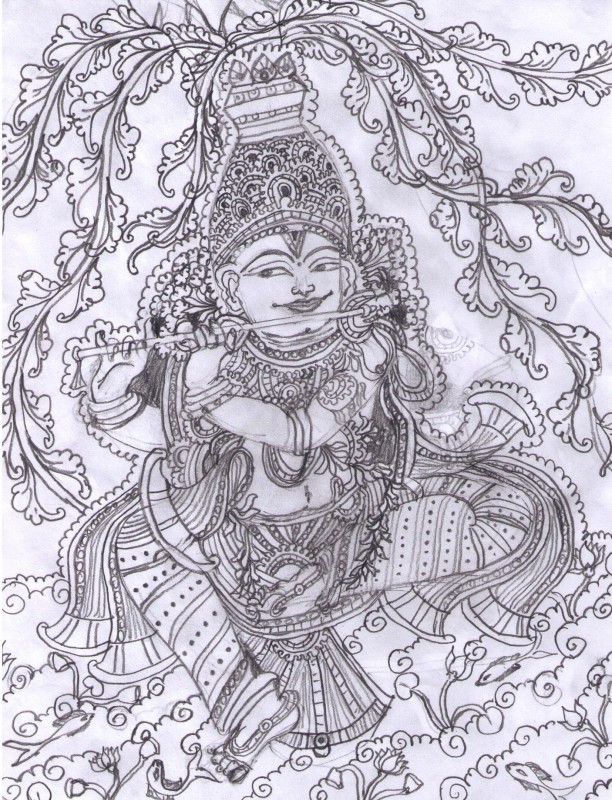 And the finished one, Krishna in all his glory. I am still debating whether to put it up on Etsy for sale or to keep it. I know, he kinda looks more serious in the finished one. Still I love him.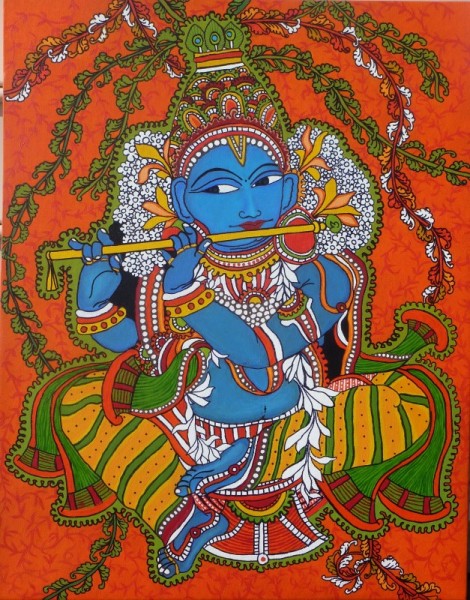 Zooming in;
PS: The blue doesn't photograph well. It is not this bright or light to the naked eye. It is more of a darker thunder cloud blue.
Source List
Canvas (22 x 28) – Michaels -$5.98 after using a 40% off coupon (Bought the set of two for $19.99 brand. Check the website for 40%-50% off coupons every week.) Blue Paint – $3.99 –Michaels (I had the rest)   Total – $9.99 + 4 months of labor 🙂  
Learn how you too can create other Kerala mural designs – Simple Kerala mural, Ganesha mural
Other acrylic art projects that you might like: Paisley art, abstract painting