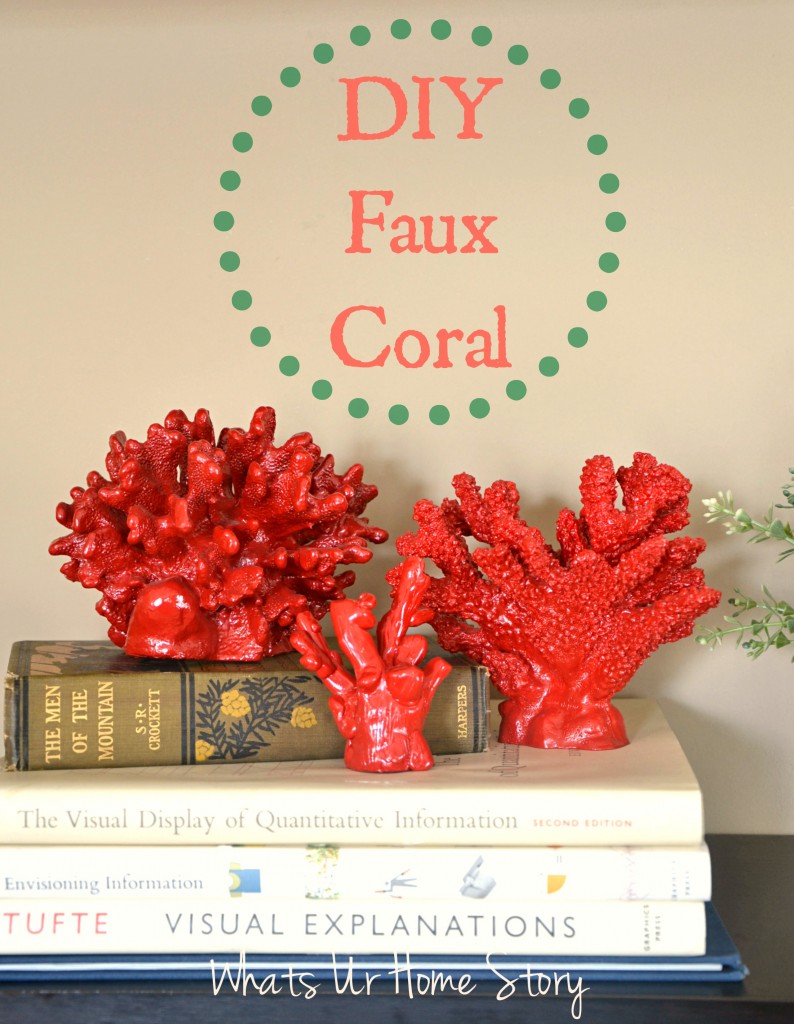 What you see over there is not real coral nor is it the pricey fake one! I tell ya, you won't believe what these were before they got a makeover but before we get into the tutorial here's the back story. The moment I saw these amazing faux corals in red, white, and turquoise at Pottery Barn and Z Gallerie I was in love! The red would be perfect for my decor but the price tag…..$20 to $60. Ouch…I'm not spending that kind of money on faux but they sure do look gorgeous.
That's when I came across this genius idea from Beth at Home stories A to Z. After Pinning to my  'To Do list' board on Pinterest, rushed to the pet section at Walmart. And there I found my darlings, a ghastly green one and prickly orangey bush. The orange in the pic is a much smaller version of the real one. I forgot to take the before pic of Mr. Orange.
A can of red gloss spray paint and a few days later……voila. Notice the small one in the middle? That's my take on the whole thing, made out of polymer clay.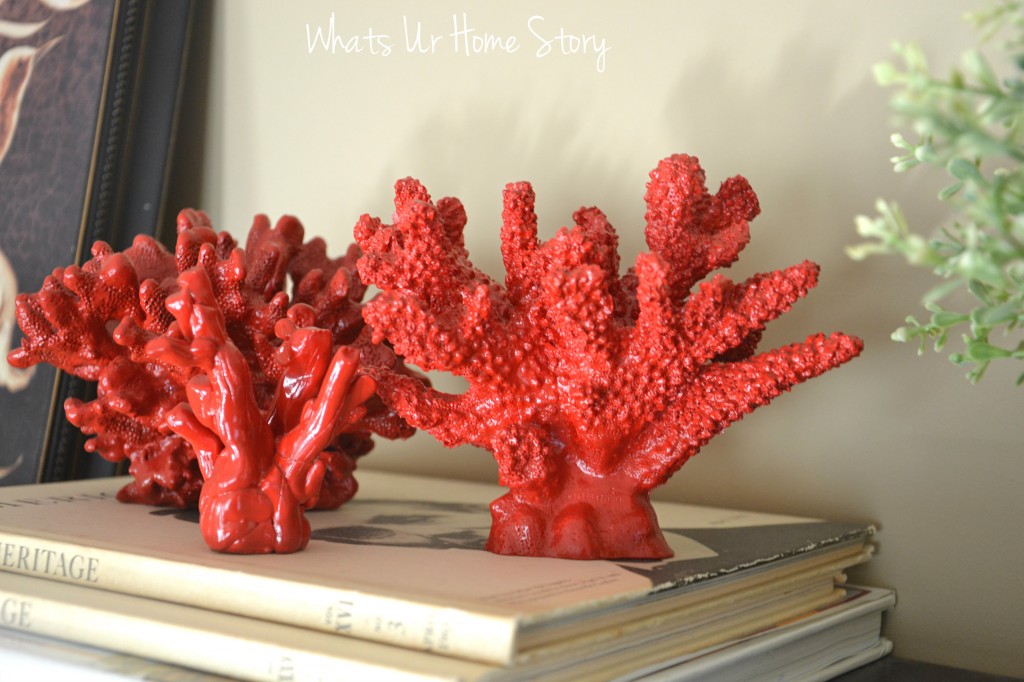 Source List
Corals – $8.38 and $9.50 – Wal-Mart (found cheaper ones at
Amazon
*) Krylon Indoor/Outdoor Banner Red Gloss – $3.50 –(Michaels after the 50% off coupon) Krylon Dual Paint + Primer in White Gloss – $6.50 – Home Depot (still have lots of paint left over) Polymer clay – Michaels (already had)   Total -$28.38   
How to make Coral Tutorial
Method #1 – The Green Bushy One
5 coats of Krylon Indoor/Outdoor Gloss Paint in Banner Red Remember, light even coats. Learned this the hard way, after waiting for hrs for the paint to dry.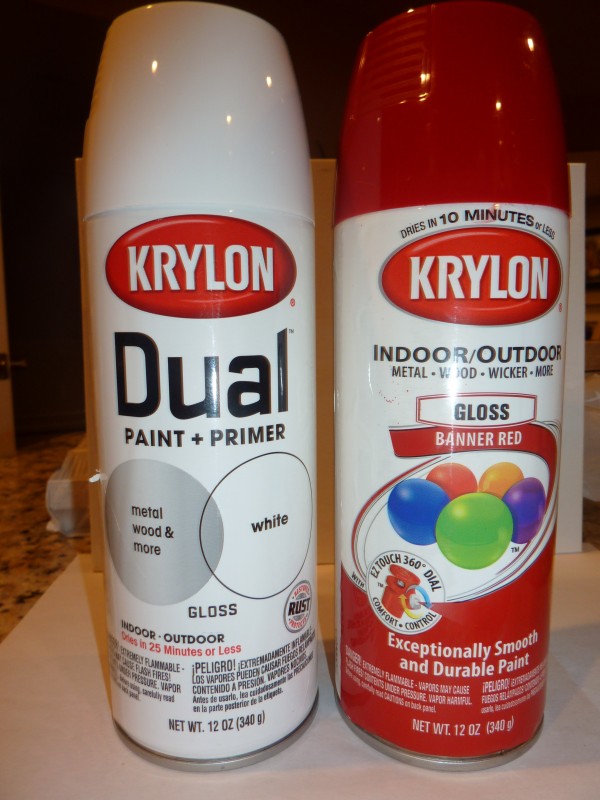 For the Prickly Orange one;
1 coat of Krylon Dual Paint + Primer in White Gloss (if you want a white coral, one more coat of white would do the trick) 3 coats of Krylon Indoor/Outdoor Gloss Paint in Banner Red I think the finish looks much better with the primer.  
So where did the third one come from? I still missed a long skinny kinda coral. The ones in Walmart appeared too fish tanky. I kept thinking why don't I just make one. Dig out the left over polymer clay from the mushrooms in the terrarium project. Some elbow grease and a few hours of patience later my handmade faux 'faux coral'!
Method # 2 – Mr.Faux Faux, The Spiny Small One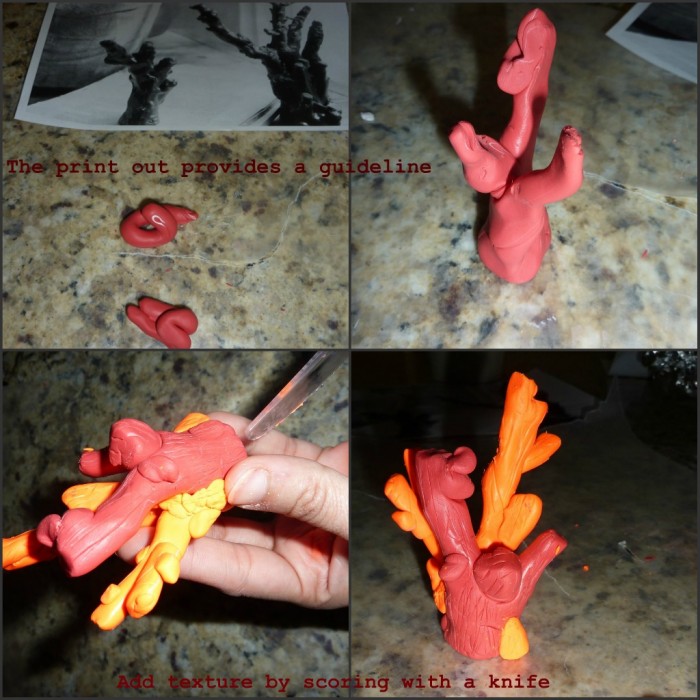 You can make a bigger one by inserting craft wire into the base and molding the branches around it. Really wanted to make a big one but this is all the clay that I had left over. Mr.Faux Faux through the various stages;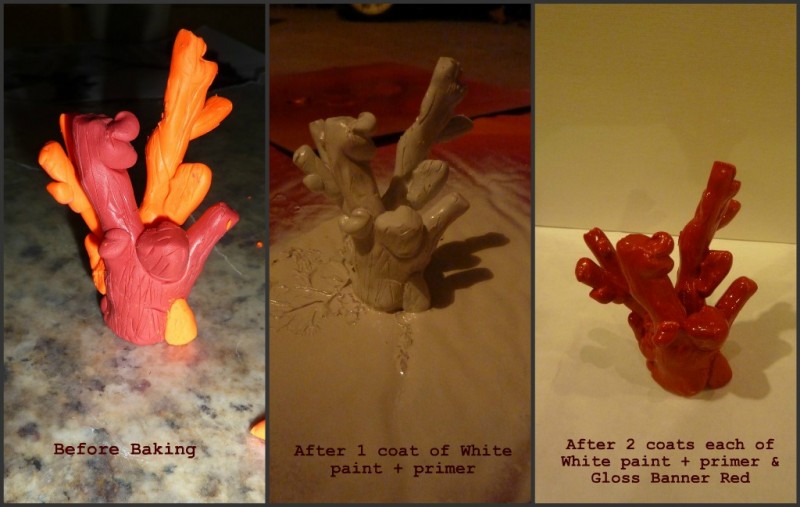 The verdict – Stick with technique #2 & 3  if your coral is  a darker shade. Inspired  enough to create your own coral masterpieces?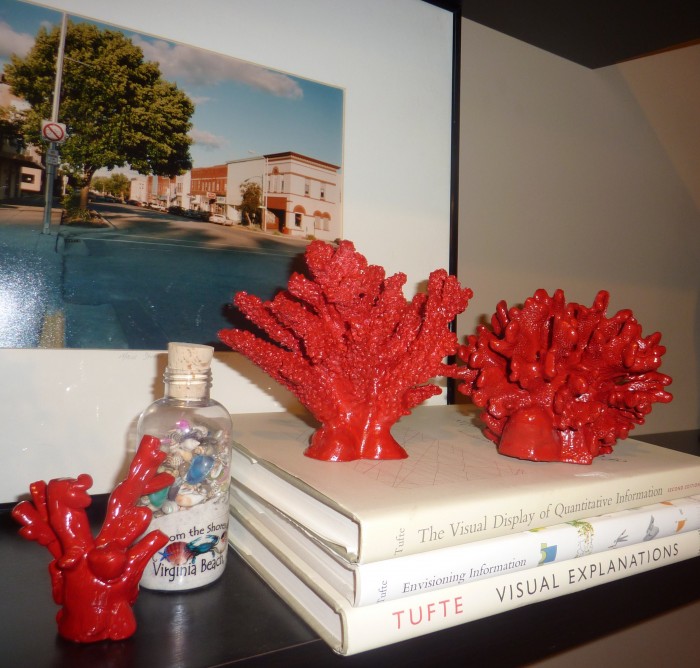 *Post contains affiliate links