We are looking for a large sectional sofa for our family room.  B, actually may be both of us prefer a leather couch over fabric. Reason? We cook a lot and Indian food sure has a spicy odor that the fabrics pick up so easily.  Ya….. we do have a high-fi range hood that does a great job but the odor fanatic that B is, doesn't even want to take a chance. So leather sectional it is! I am thinking as long as I can pair it with two fabric chairs we'll be fine.
So what is the issue? Why have the clean lines vs. bulky/comfortable furniture debate? For one, our main sticky point….recliners!!! Oh God, why do we have those? B would love a reclining leather sectional for his TV lounging. Incidentally almost all the reclining ones that we have seen so far are way too bulky and curvy like these. For the record this one at Havertys was by far the cleanest of all the bulky ones.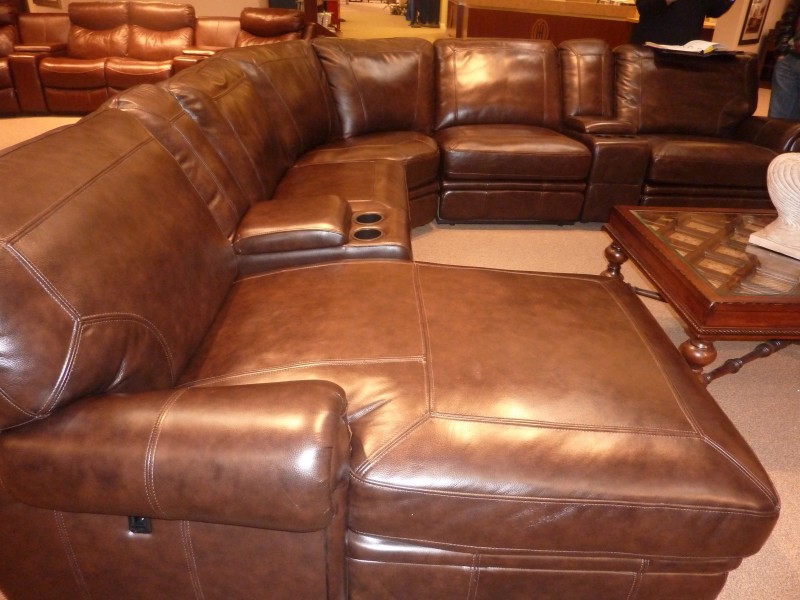 Yes, it does looks huge but we won't be needing the chaise or the cup holders. This one, let's call him Mr. Curvy Transitional, leans more towards traditional but fits every thing on B's bill.
Point #2: I wanted straight lines and a clean look. Comfort was only midway on my priority list. I know, I am being vain.  We already own a leather love-seat with nail head trim (from the old house) tucked away in the basement. As I mentioned in my earlier post we are already over this style. So we are not looking for more leather nail head trim. Don't get me wrong, still love nail head trim but not that style. Mr. Curvy definitely does not meet my clean line criterion. So we kept looking.
Finally found this one at Belfort, great!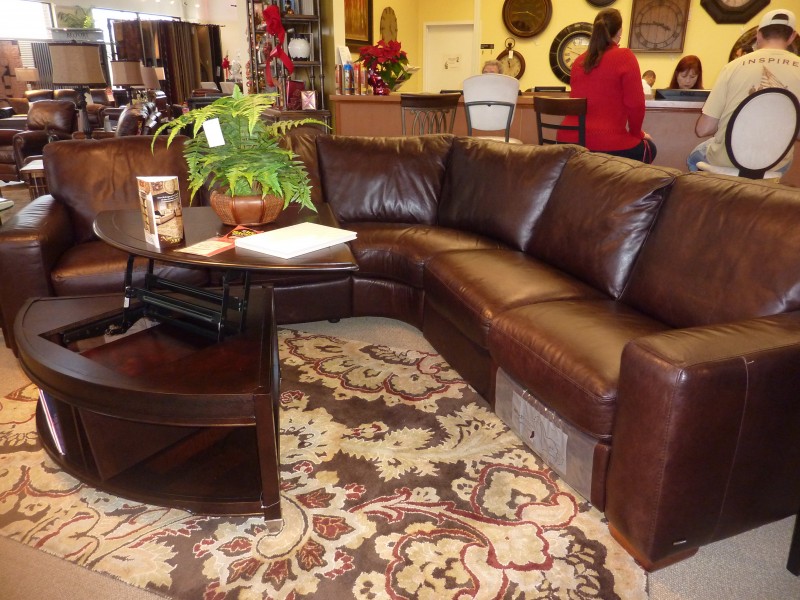 Cleans lines (√), recliner (√), the color a bit darker than what both of us would have liked. But what the heck we can give in to the color; we could even change it if we were willing to wait for 6 months. Na………nothing in my life is easy. The big catch, the height was only 35".  Not comfortable enough for the picky one. He was looking for around 38" height so that he could comfortably rest his head while reclining. Mr. Curvy Transitional was 41". Argh…………. Back to Mr. Curvy 🙁 . After two more visits to each of the stores I was able to convince B that it was indeed bulky. What do now?
Switch to Plan B. Look into a regular couch and 2 recliners combo option. We absolutely loved this couch; for once both of us were sold. This pic does not do any justice to the color of the leather as it was way richer.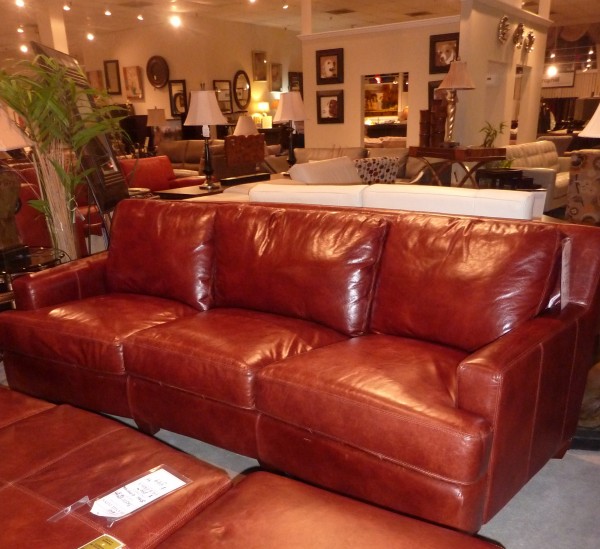 However the recliners had the same problem, too bulky. The only recliner that we liked style wise was this one but was not sure how the mission style would work in our home.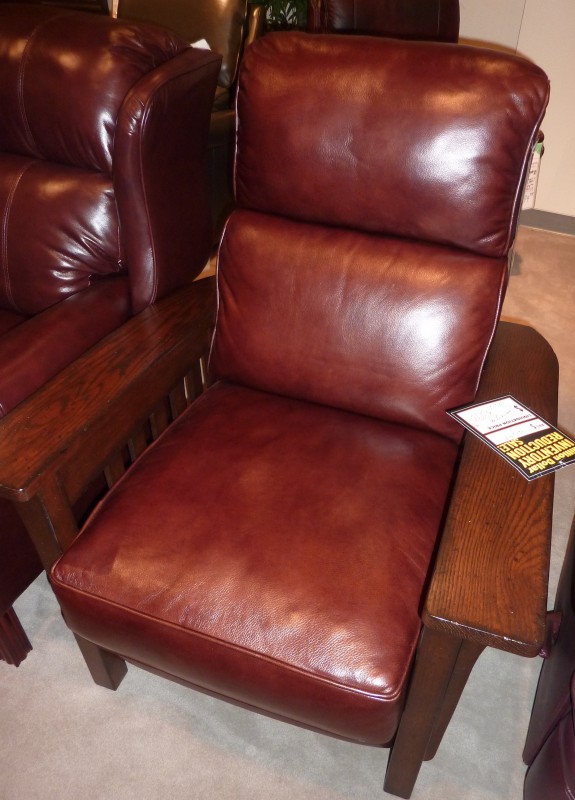 The good looking ones were not tall/comfortable enough.
It is long time someone made a good looking comfortable recliner! Is there a sectional out there that is leather, reclines, has straight lines, and is 38" tall? Are we looking for something that is not in the market? Do we just bite the bullet and go back to Mr. Curvy? Maybe I can hide his curvy (not as bad as our old couch) arms with a throw and some pillows? What do you guys think?
An update on our hunt here.