An update on our sectional hunt; we decided to go with Mr. Curvy. Let's say B was ecstatic while I was not 100% sure. But both of us agreed that we had looked long and hard enough and didn't find anything that fit the bill to a T. So Mr. Curvy was the next best option.  He was all top grain leather reclining sectional which was tall enough for B. Yes, he was bulky but less bulkier than all the others we saw. You can read the details about our year long hunt here. And ya the arms are a bit to rounder than I would have liked but I am hoping that I can cover it up with a throw and some pillows.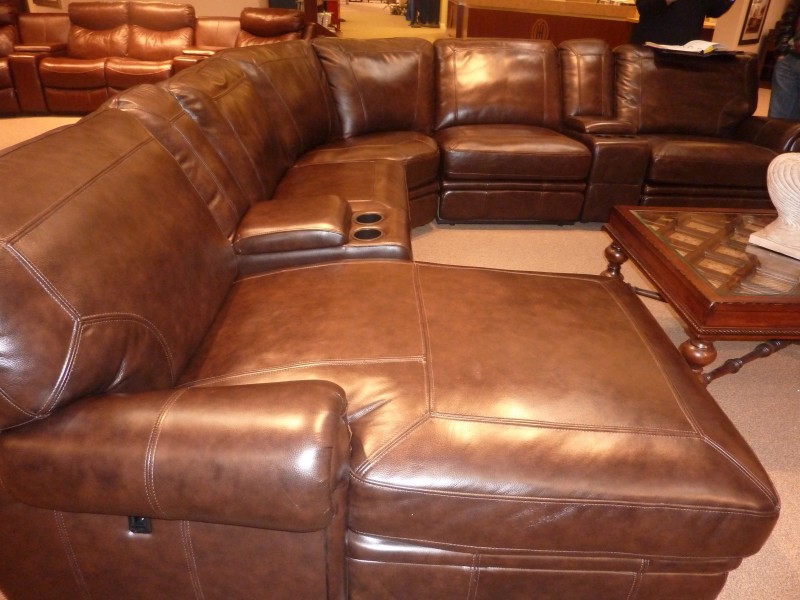 So what do you do when you plan on buying a big sectional, especially one that can be configured in a number of ways?
First decide on the pieces that you want: Mr. Curvy here in the showroom came with an end unit converted into a chaise, a regular end unit, 2 middle units, a corner unit, and 2 cup holder units. We did not have any room for a chaise. So that was the first to go. The cup holder was pretty fancy and had a huge storage bin underneath, would have been ideal for hiding remotes and kids' toys. I felt that it looked more home theater-ish than family room-ish. So that was off the list. We definitely wanted the 2 end units, the corner unit, and maybe a middle unit.
Measure, Measure, Measure:  Cannot stress the importance of this enough. Before starting the hunt we had measured the room and decided that the ideal size of the sectional would be 125 x 96. Per the measurements on the units, if we added 2 middle units we would be at 115 x 120. That should work out fine if we move the couch towards the wall a bit more. But the couch really appeared bulky and we were pretty convinced that adding 2 middle units would make our room appear very congested. So off we went to measure a second time. This time we were super thorough. Instead of just measuring with a tape we actually cut out paper squares in the shape of the couch to get an idea of how much space it would take up.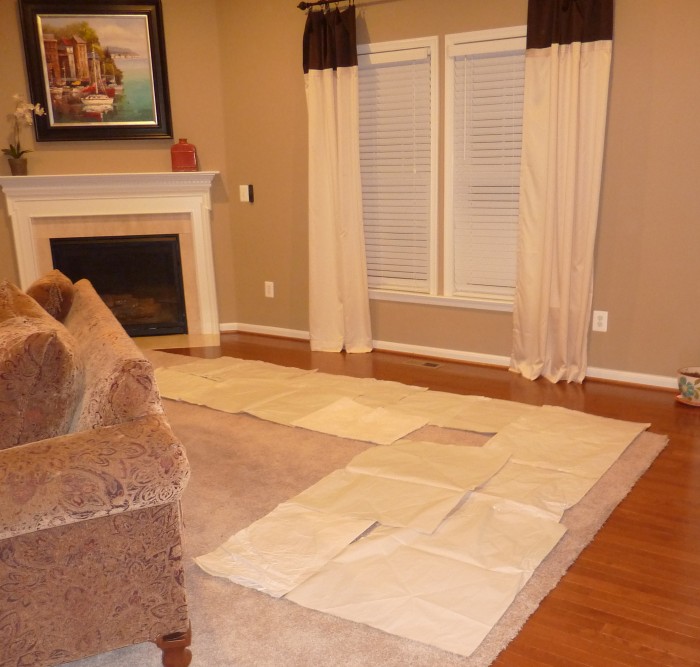 We realized that with just one of the middle units we would end up short on one side. We had to have two middle units.  So we went to the store a third time. Again seeing the big sectional out there we still did not feel comfortable about the size! There is something about that couch that makes it look bigger than it is. After some quick rearranging at the store to fit our configuration, we were still not sure, something seemed off from our measurements. Finally figured it out, the end unit with the chaise was slightly bigger than than the regular end unit, which meant revised measurements 115 x 115. Another fact that dawned on us just then; we did not account for the depth when the recliners on both the end units were fully opened. Did we have enough room for the big coffee table ( Oh I found a great one at Home Goods the other day for one third of the price in designer stores! More on that tomorrow) and two accent chairs?
Back we went, this time to make sure of the new length and the real depth.  Once we considered the depth we realized that we would have to pull the rug farther away from the fireplace. The couch would have to be anchored closer to the windows. Still had room! Woo hooo! We marked the positions with painter's tape (unfortunately forgot to take pics, B was understandably running out of patience by then) and left it there so we won't forget where to place it once the couch was delivered.
Wait for sales: Through the entire decision making process we watched sales come and go and the prices fluctuate. The best time to  strike a deal at furniture showrooms is around long weekend sales. They usually have actual price reductions and different financing options. By the way we got the couch at Havertys. A big shout out to their service personnel.
Now we need to Craigslist our old couch, don't have high hopes though. Most likely it will end up at the local Salvation Army or Goodwill.
Here's an update on how the family room sectional looks now.