Mural paintings have been part of Kerala (my home state at the southwestern tip of India) temple culture since time immemorial. The present day artists were kind enough to mainstream this beautiful art form by painting them on canvases with acrylics. In an instant the whole of Kerala fell under the mural painting's spell. Like any loyal, artistically inclined Malayali (people from Kerala; our mother tongue is Malayalam hence the name) I too was spell bound at their beauty and the liberal use of bright colors.  By now, you would have guessed….ya on my last trip to India I went mural painting shopping. I met a very talented artist Saju Thuruthil and loved his paintings. But there was one problem. The house wasn't built yet and we didn't know where exactly we would hang the painting. We couldn't even specify what theme or how big a painting we wanted. That was the end of the mural painting hunt.
Back to reality; I painted my powder room SW Hopsack, which is on the darker side. The dark shade made the windowless room appear stuffy. Changing the light blubs to fluorescents brightened the space up while saving us some energy costs. Still it needed something to jazz it up. I really really needed something colorful to distract folks from the blah oval builder mirror (We will change that some day, but not now). And I thought "How about a mural painting? Maybe I can try my hand at painting one?" I was not even sure of where that came from. I hadn't taken even a single art class or painted anything other than walls (and some small canvases that I tried to paint after seeing Bob Ross's how to videos during my early US days) in my life.
So what was the problem? The Kerala mural paintings usually have religious themes. I felt really uncomfortable about putting anything religious in a bathroom. As it was the first time, I wanted to paint something easy that I couldn't mess up easily. After some research on the net I found this one:
Here is my take on the same painting, lady in orange.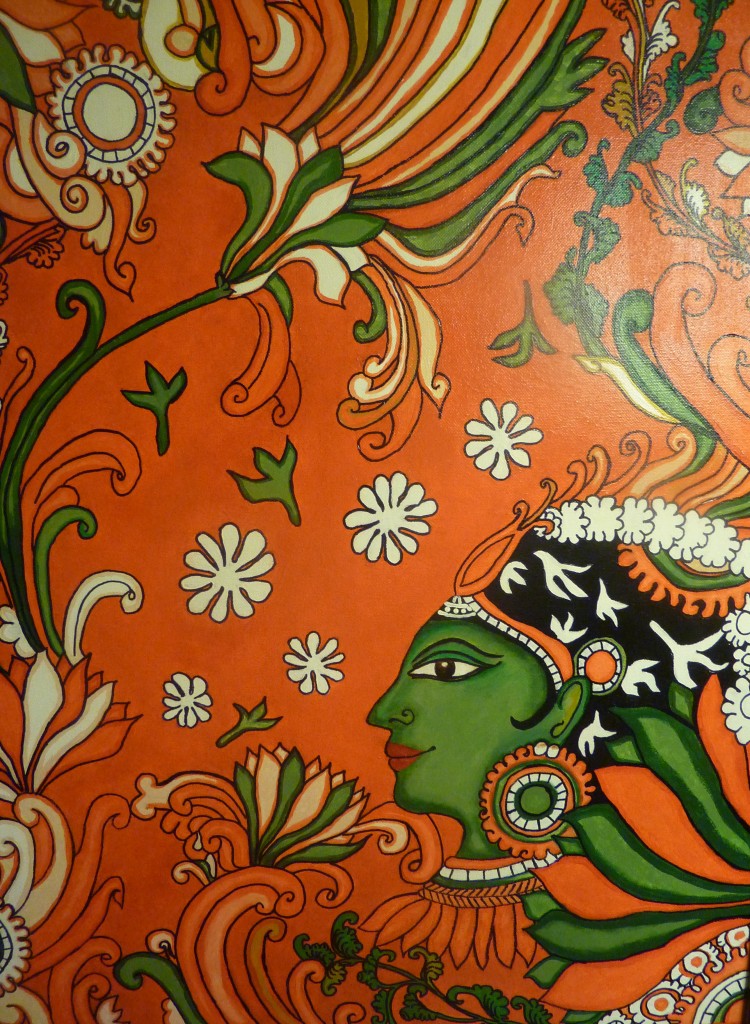 Here she is all framed up.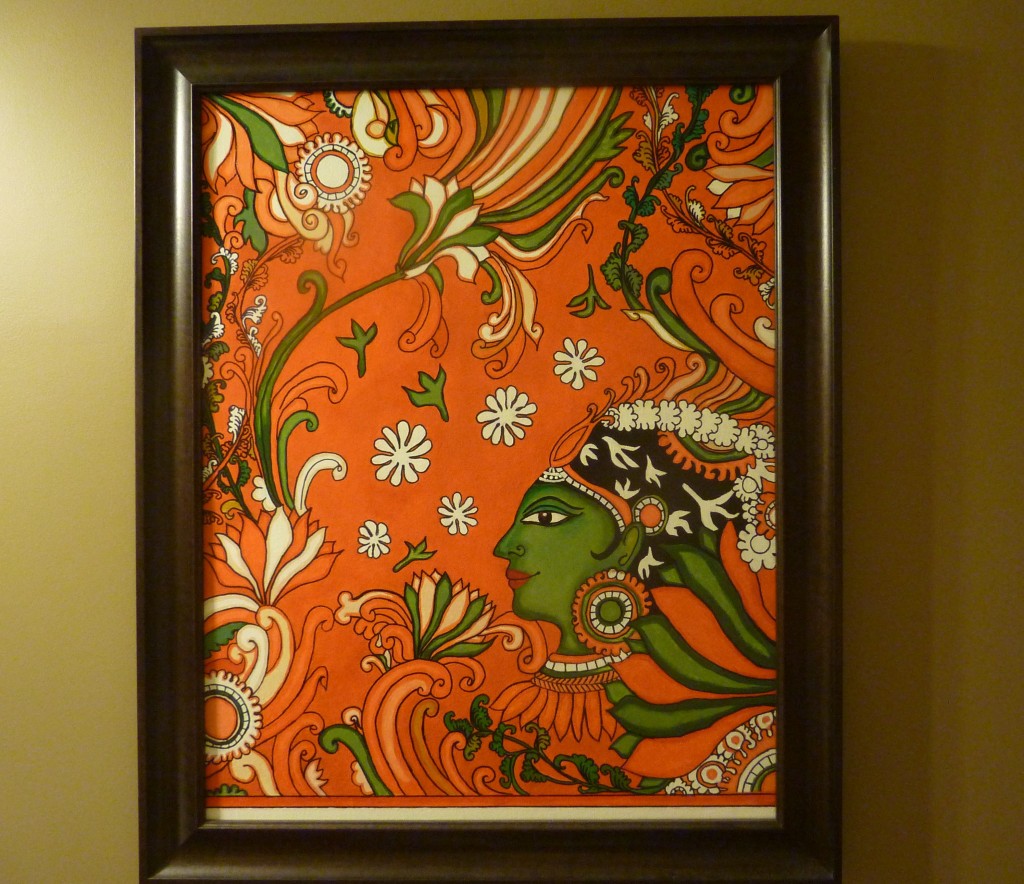 Keeping in mind my lack of training, I broke the process down as follows. Beware….this is the amateurish equivalent of the actual technique.
Draw a rough sketch on paper so that you get the confidence to attempt it on canvas
Using a pencil (preferably a lower grade, B or 2B) sketch the picture on canvas. You can use the eraser when needed just be careful not to smudge the drawings too much.
Fill in the orange background using a stippling technique. Stippling is where you load your brush lightly (key….otherwise you will end up with blobs of paint on your canvas) and just dab all over your canvas gently. Usually takes two coats.
Now fill in the rest of the colors.
Finally, trace over the pencil with a fine point (not the super fine one) Sharpie/permanent marker. I know this is totally against the rules, but I don't have a steady hand with the fine brush yet.
Once the painting is cured for a few weeks I apply a coat of acrylic sealer.
For folks unfamiliar with acrylics, use only small amounts of paint each time. It dries super fast. Black Sharpies/permanent markers come in different shades. Use the true black ones not the ones with traces of indigo in them (these may have a tendency to run when the sealer is applied).
That said, I really hope to learn the art form one day and paint it with the dedication and piety that it deserves (aka not taking any shortcuts).
Source List
Canvas (22 x 28) – Michaels -$10.99 after using a 50% off coupon ( There are brands were you can get a set of two for this price. Check the website for 40%-50% off coupons every week.) Paints & Supplies –$10 (I didn't have a single thing)- Michaels Frame – $42.99 -EBay   Total –- $63.98
My Other Kerala Mural Paintings