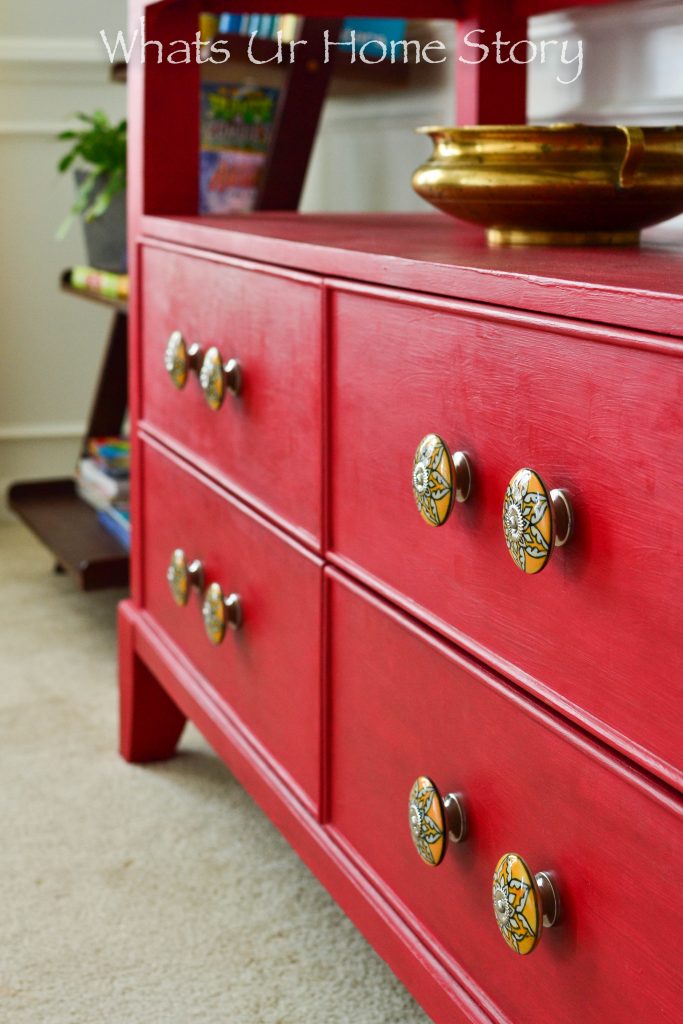 The long overdue Annie Sloan chalk paint dresser makeover is finally in the books. Only took me a whopping 3 months to finish while working on it on and off. 🙂 I think it might be my longest furniture makeover project ever.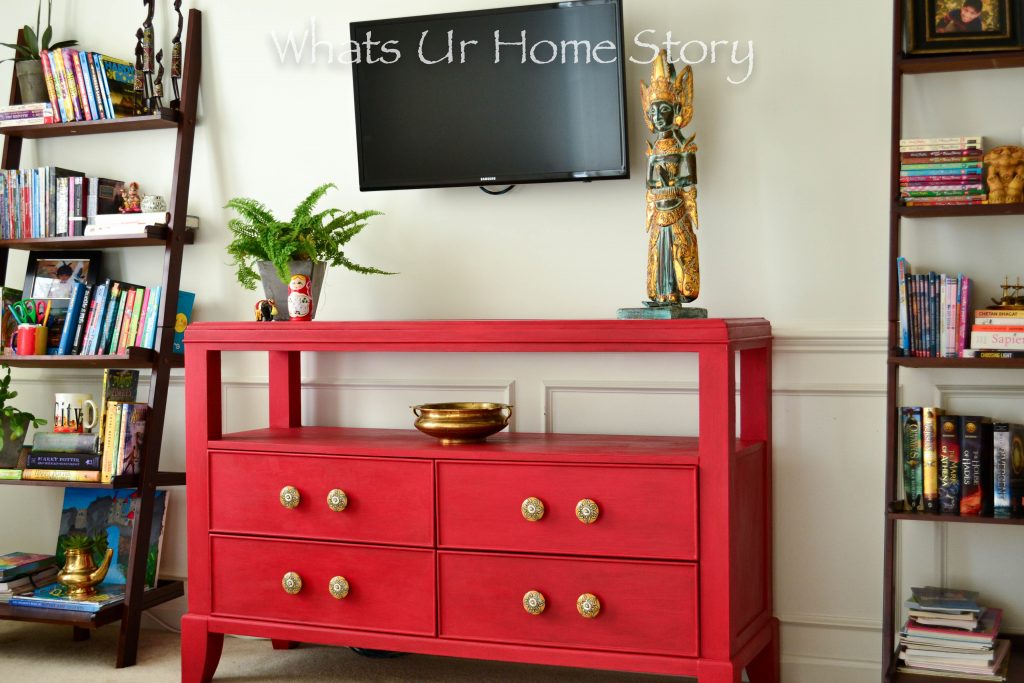 You all know how much I love red, so no surprise that I love how it turned out but my favorite thing about the makeover are these knobs from HomeGoods.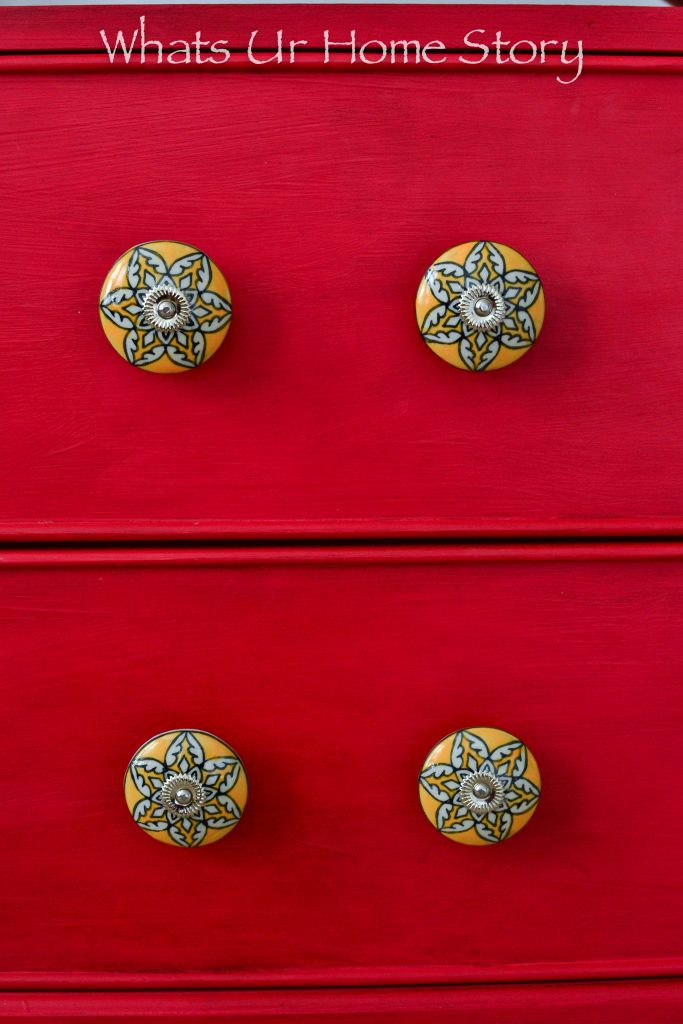 Since I have already written many blog posts on chalk paint tutorials (chair, bar stools, breakfast table, side table, dresser, even a fabric bin) I didn't capture the steps in photos but here's the video tutorial.
If you would like a sneak peek of the space the dresser is in, our retreat, you can checkout my Malayalam tutorial for the same. I don't know why maybe coz it is in my mother tongue I usually get a little more chatty in the Malayalam videos and over share. 😛
The retreat is used as a reading nook by the kiddos and my mom when she visits. It also serves as our yoga space and sometimes workout nook.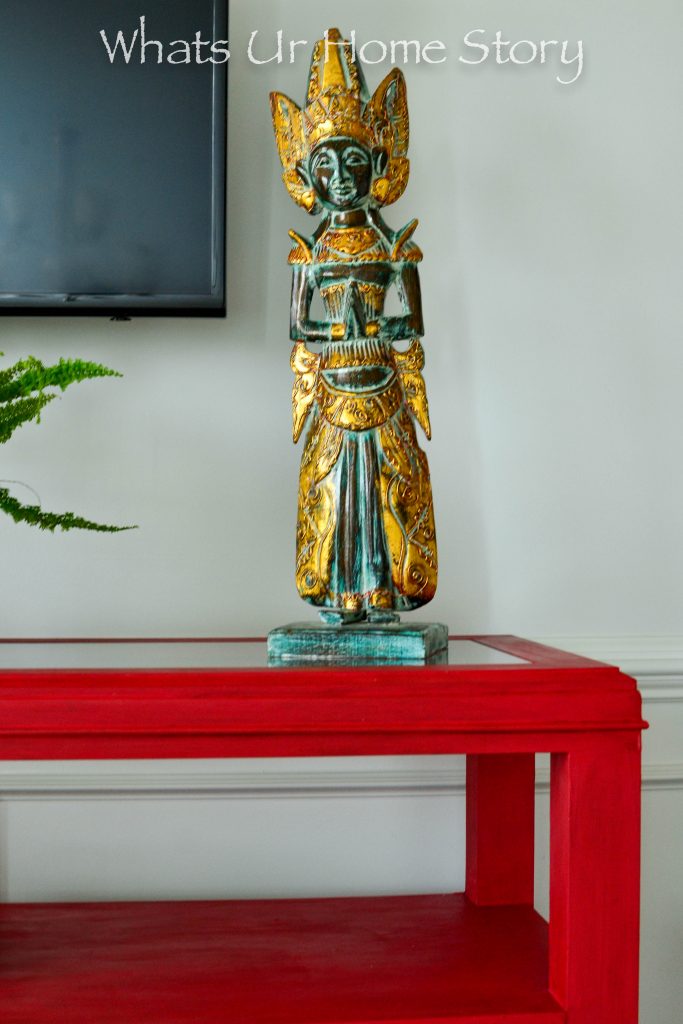 One of my favorite pieces in the room is the Rice Goddess statue above, which was a gift from my sister, one of the many she scored during her trip to Yogyakarta, Indonesia. Please do checkout her Youtube Channel -FunFeastTravel where she documents her family's trips.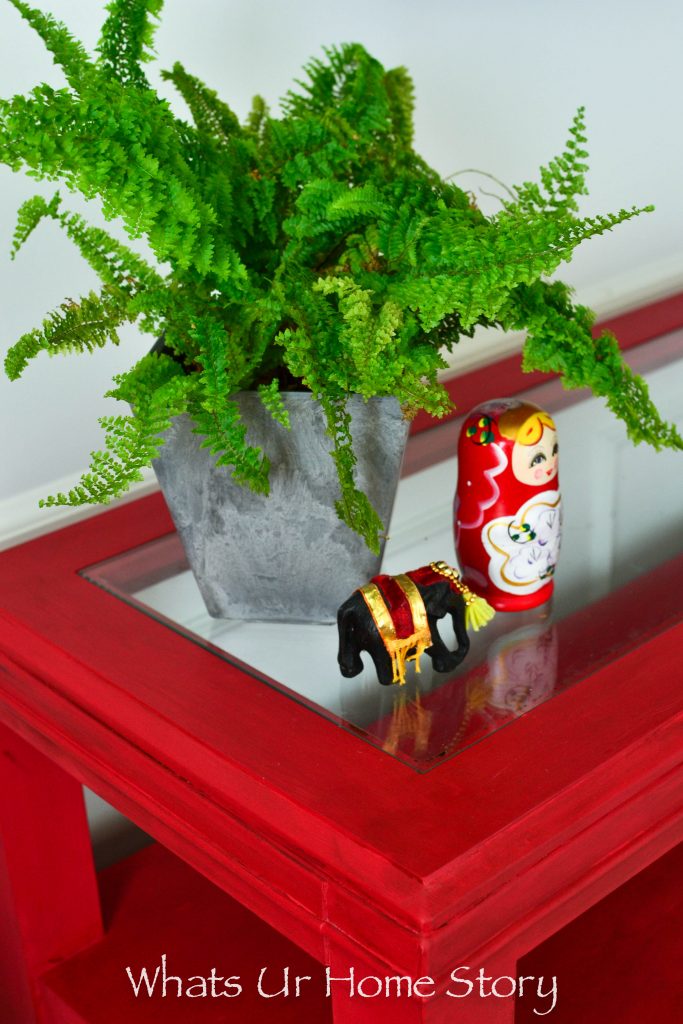 Another item that's close to my heart is the Matryoshka doll above that my parents found during a trip to the temple town Thanjavur, Tamil Nadu in India. Yes, I know the oddest of places to find a Matryoshka doll! The only possible explanation I can come up with is that Thanjavur is famous for its handmade toy industry. I'm guessing that they have now branched out into making wood toys from other countries as well. 🙂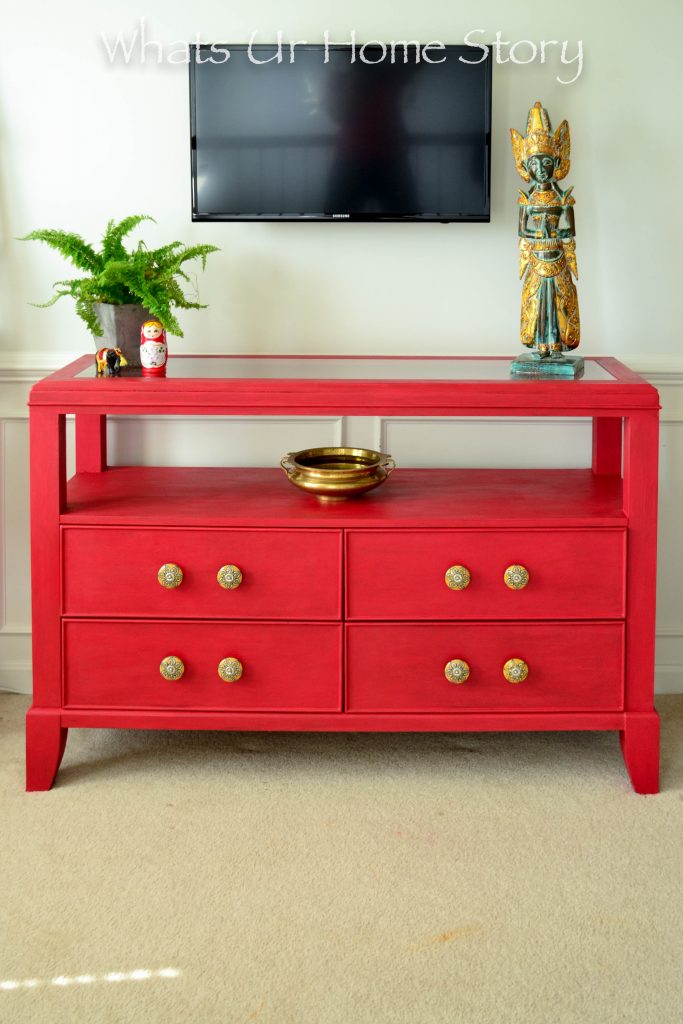 Coming back to the dresser, as with all chalk painted furniture I applied a coat of clear wax to seal the paint. But then to make the red a deeper richer red, I added a coat of dark wax too. The step by step how to for applying both the waxes is in the video tutorial.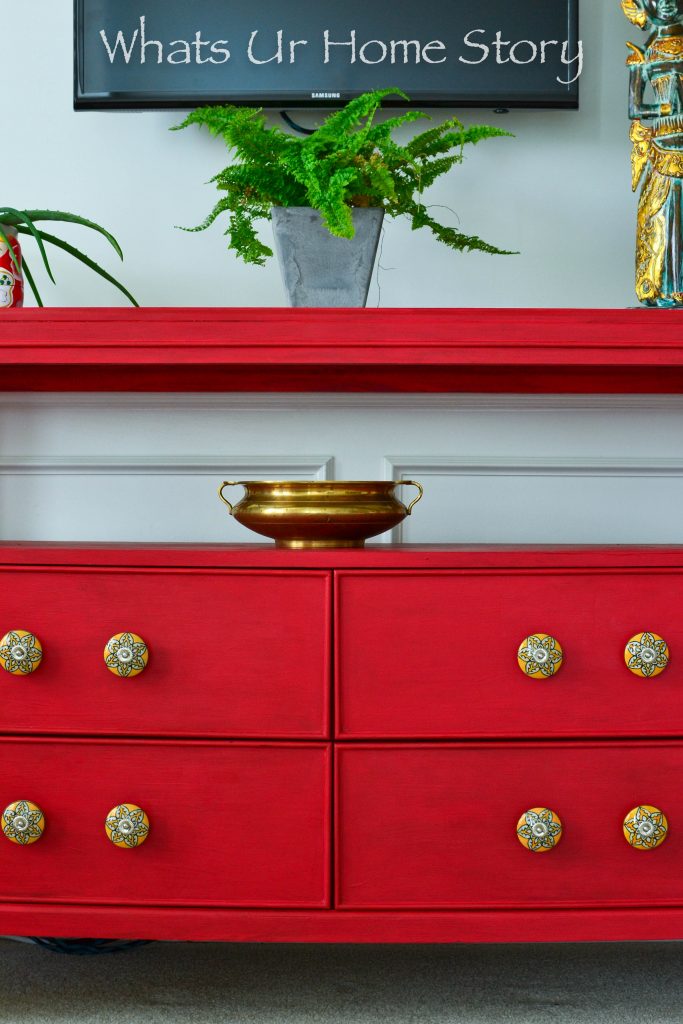 By the way these knobs are made in India.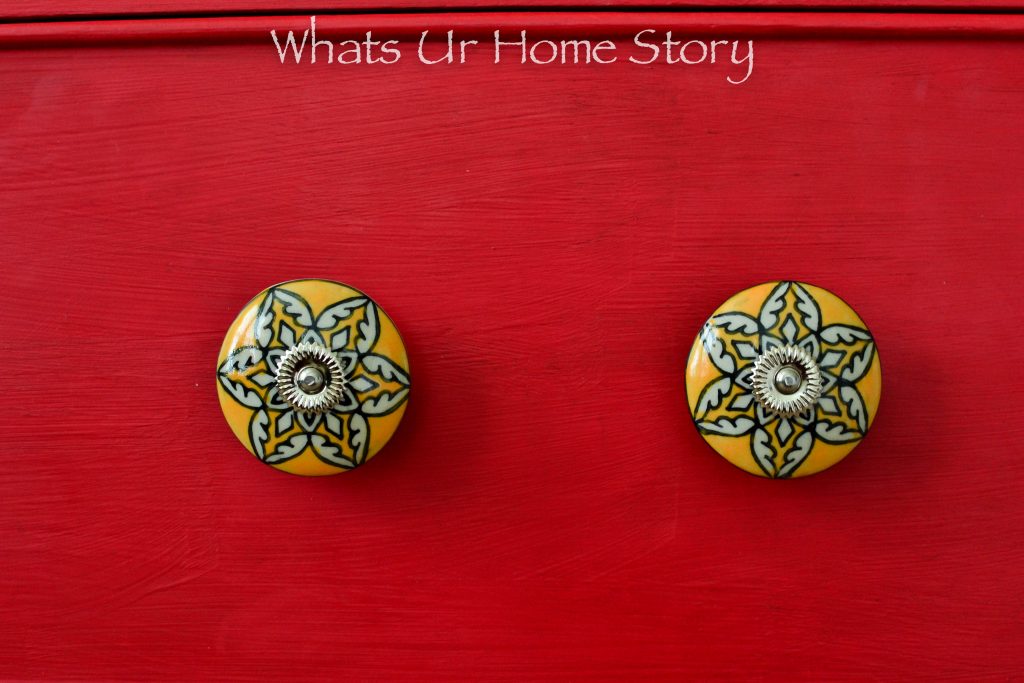 Frankly, when the first coat went on I had major doubts on how the color would turn out as it was very coral-y. Almost pinkish coral. Even after the second coat, there was a strong coral undertone. But then the clear wax fixed the issue and brought out the red. Dark wax added to the richness of the red tone.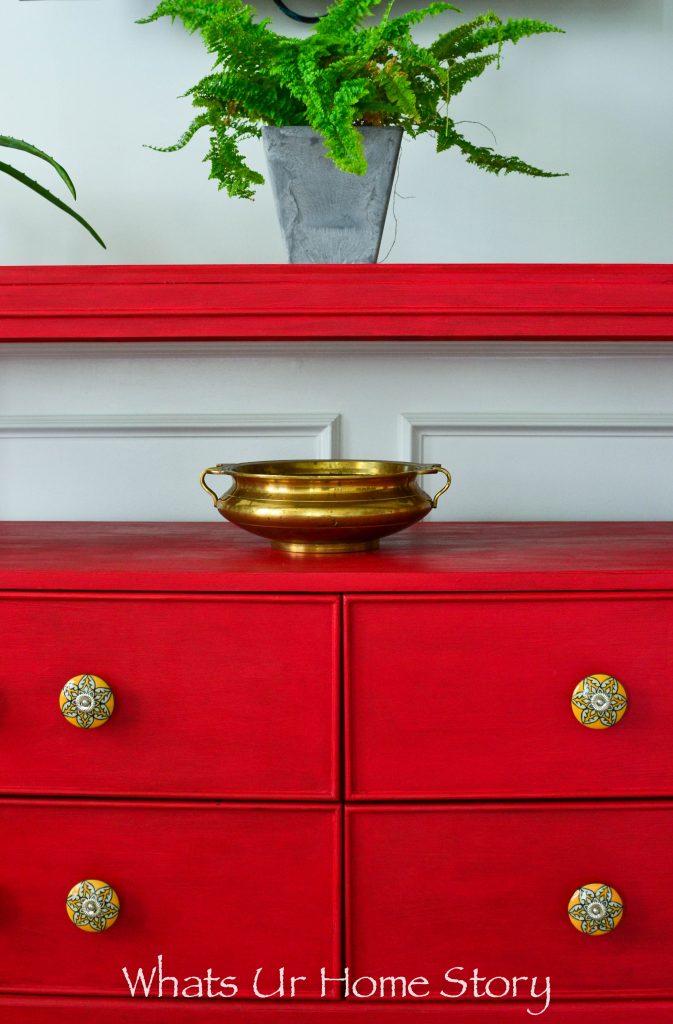 Not bad for a 16 year old piece of run of the mill furniture, right? Do you like painted furniture? More importantly, do you like red painted furniture? 🙂