I'm gearing up for the big project on my To Do List, our laundry room! All of you know how much I hate laundry so this is that much needed first step at motivating myself to actually do laundry. You know, if I have invested a lot of sweat equity in the room then maybe I'd be more inclined to go in there more often to sort, wash, and fold instead of just a quick dash to dig something out of the mountains of unfolded clean laundry? 😉
Even though that has always been the intention the ball on this makeover got rolling the moment I saw Amber's  totally chic laundry room (I know I owe you a home tour). There it was a wall papered laundry room with glossy a red washer and dryer! I was floored. So when I got a chance to review some wallpaper from wallpaperdirect I jumped at the chance. The catch however is, I haven't wallpapered before, ever! And am having serious jitters about doing it. So folks wish me luck, planning to start working on this pretty soon.
The mood board for the room;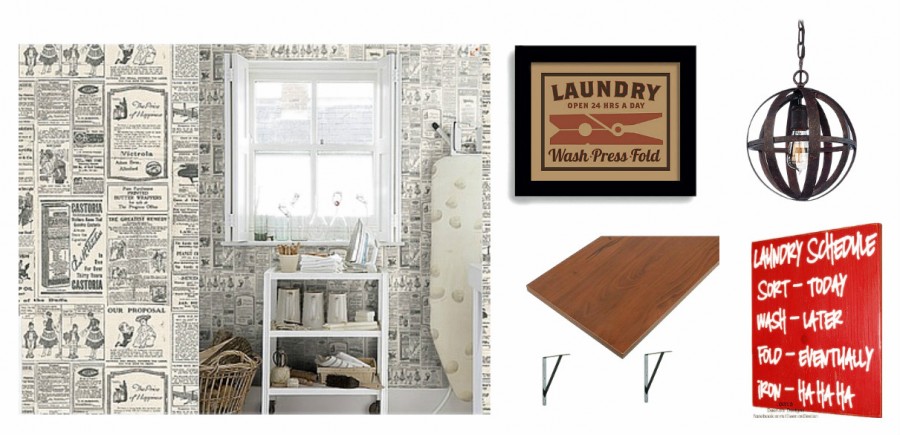 Other than the wallpaper everything else is for inspiration sake. I really like the laundry schedule art on the bottom right. Maybe those words in a frame/ background like the laundry art in the middle? The shelves; want to stain them walnut (darker than in the pic, that is all I could get picture wise) like I did my breakfast room table. Maybe DIY the orb pendant light?
What do you think? Doable? Have you wallpapered before? Any advice input from you is appreciated. Seriously, I'm having legit fears on doing this one.
PS: If you are interested, click through for the links for the wallpaper, cloth pin laundry room art, and the laundry schedule art.
Update: There was a last minute change of plans and we ended up using the wall paper in our powder room instead. Oh and this how the laundry room looks like now. Pretty chic with a herringbone ceiling, right?