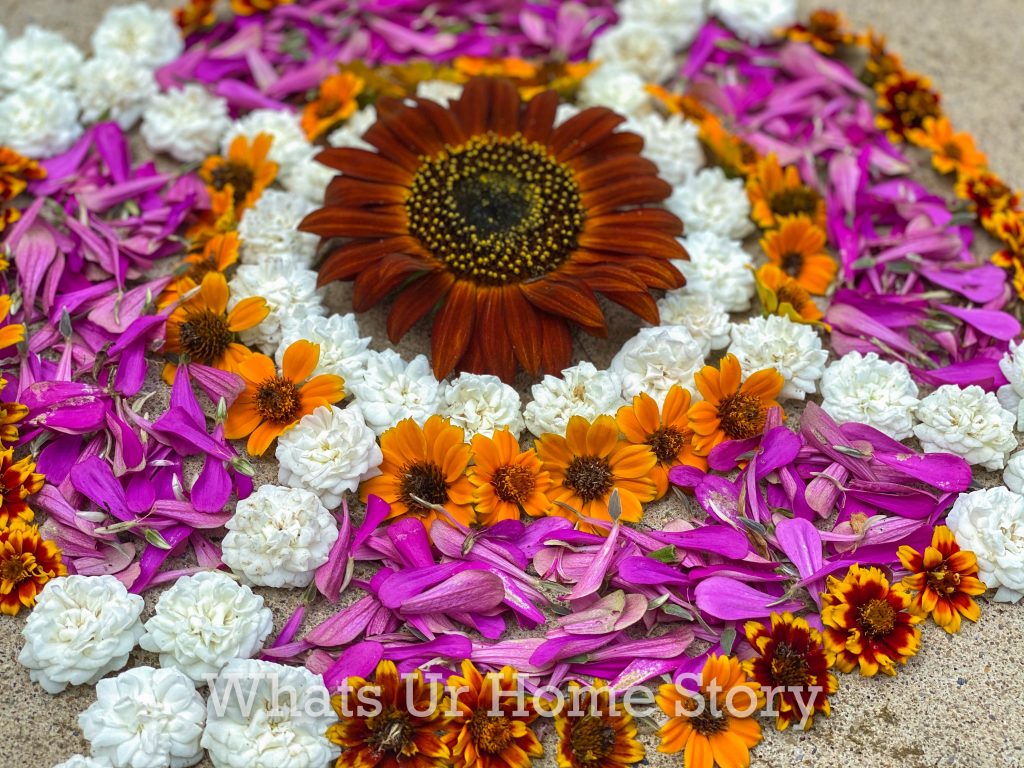 Last 2 weeks of August marked our annual harvest festival, Onam. I have been dragging my feet for posting about our Onam 2020 festivities and more importantly my flower mandalas as I didn't want to edit the pics. It is one of those festivals that I celebrate with the same pomp and rigor that I grew up with back home. So it felt unfair not to share it with you all. You can read more about the history of the festival here.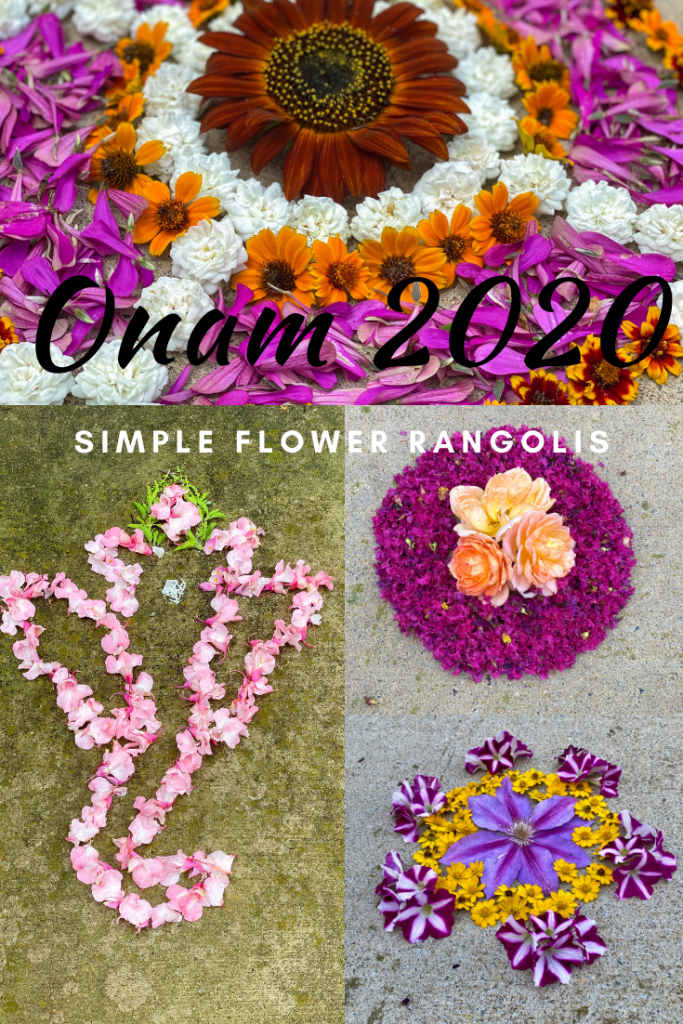 The last time we celebrated Onam was in 2018 and it looks like I never shared my pookalams with you all. Can't seem to remember why but I can only see the 2017 post in the archives. We didn't celebrate in 2019 as we were mourning the passing of my dad. Strangely this year it felt odd celebrating without Achan. While I wanted to keep the tradition going it wasn't easy. I guess festivals and celebrations are where you miss dear ones who aren't with us anymore.
To recap, we make beautiful often simple flower mandalas or flower rangolis or pookalams the first 9 days of the festival. As each day progresses the colors and types of flowers used and the size of the design increases. The celebrations are rounded off with a pooja or prayer offering and a 20 dish vegetarian lunch called sadya. First day of Onam 2020, Atham, coincided with another Indian festival, Ganesha Charthurthi. So as you can see in the above pic our pookalam for day 1 was an image of Ganesha. We mainly used balsam and thumba poo or Ceylon slitwort flowers, which are considered sacred in Kerala and holy basil.
This year my garden took a break in mid August thanks to a few weeks of extreme hot weather as a result of which there weren't many blooms around Onam. So the designs were very simplistic and lack the usual showiness. Day 2, Chithira's pookalam was crepe myrtle and David Austin Lady of Shallot rose (center right in the above pic). Day 3, Chothi saw Nelly Moser Clematis, star petunias and an annual yellow flower (sorry don't know the name) being added to the mix (bottom right corner).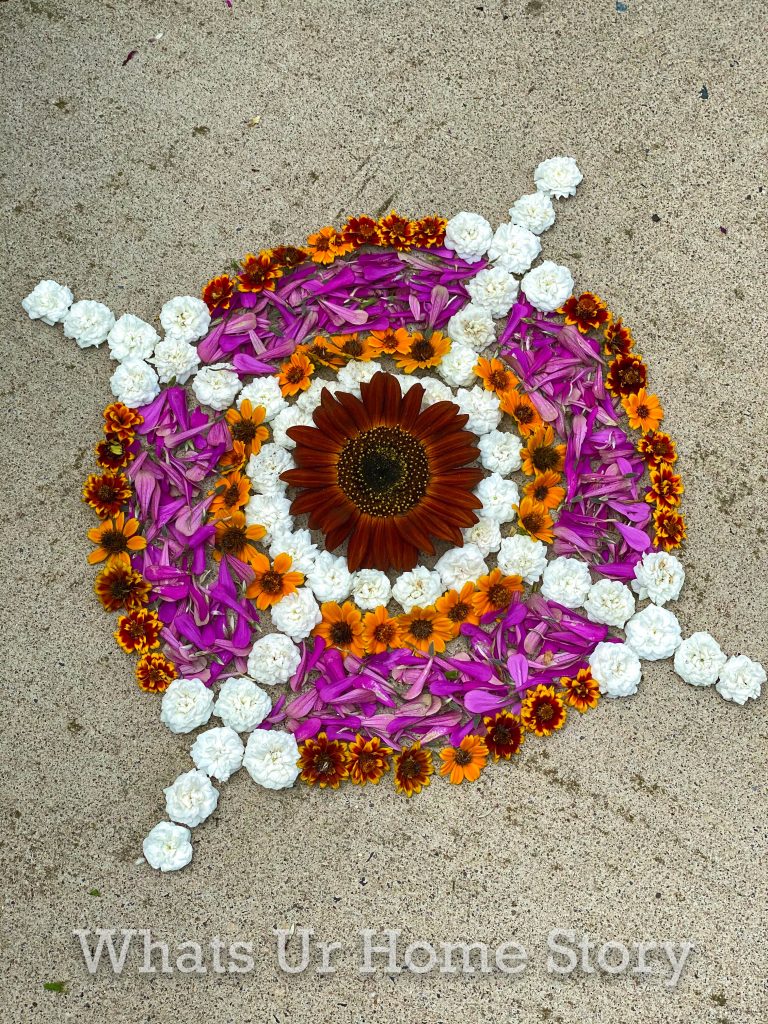 The Vishakam flower rangoli comprised of Red Sun sunflower, white drift roses, and three types of zinnias.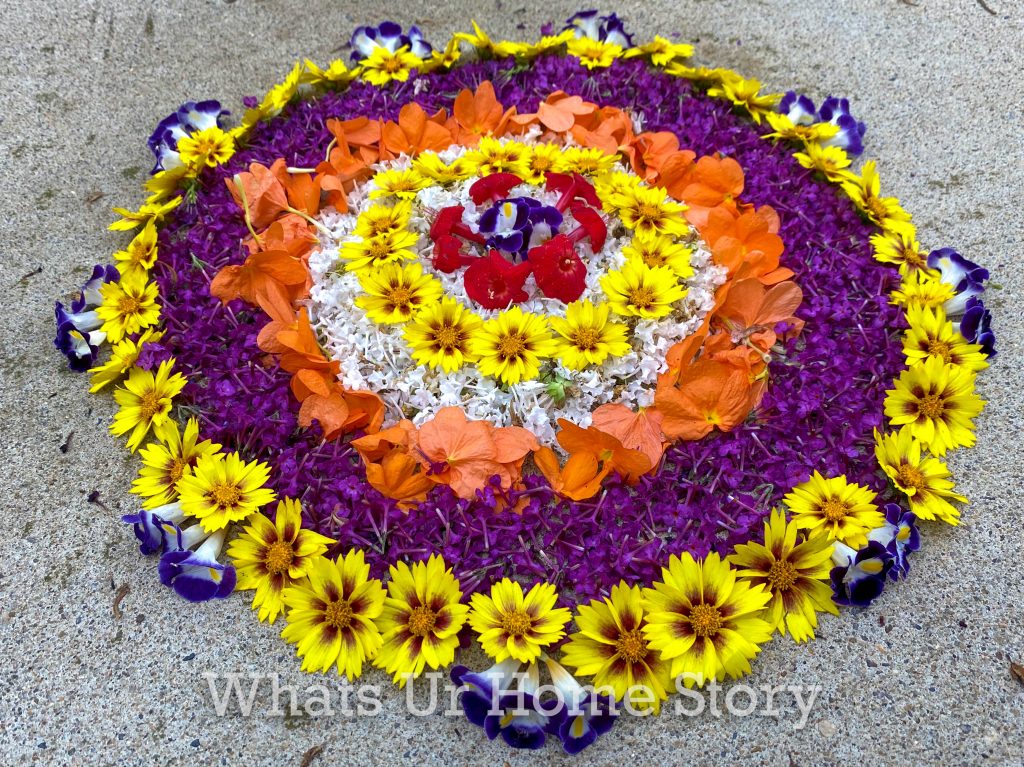 The Anizham or Day 5 pookalam was my favorite out of the lot and included torenia, cardinal vine flowers, white crepe myrtle, coreopsis, white lantana, crossandra, butterfly bush flower, and tickweed.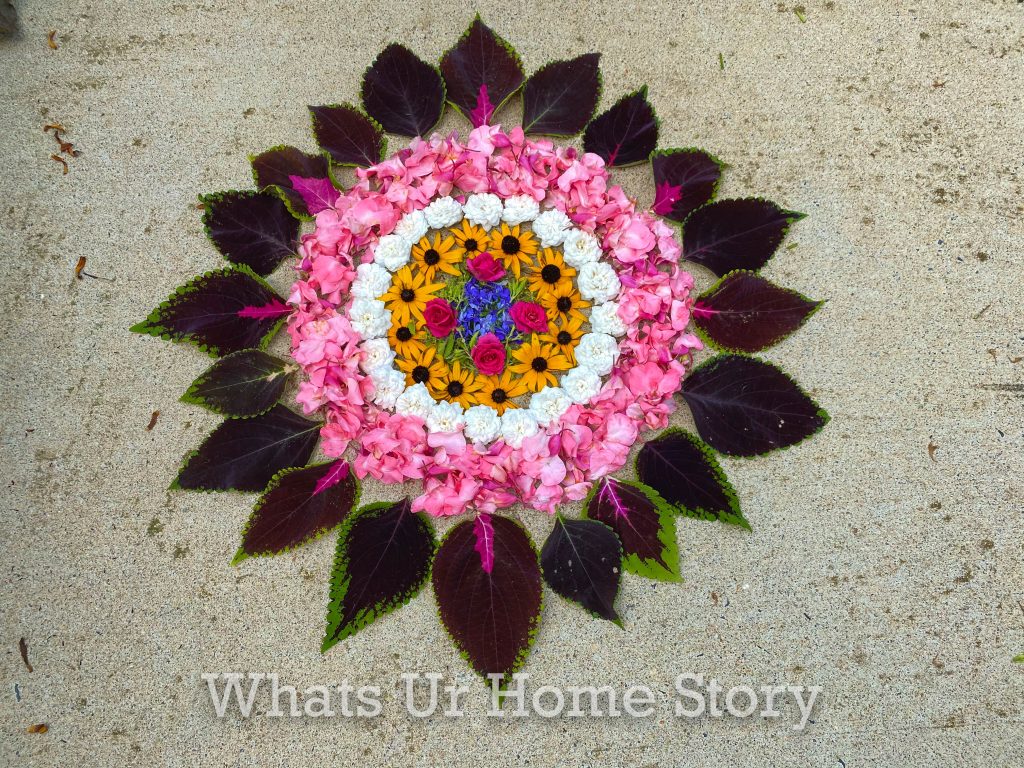 Since the kids were home, they helped and designed most of the pookalams themselves, which prompted us to go for the easiest form, concentric circles. For Day 6 or Thriketta's design we used lobelia, pink mini rose, thulasi or holy basil, black eyed susan, white drift rose, balsam, and coleus leaves.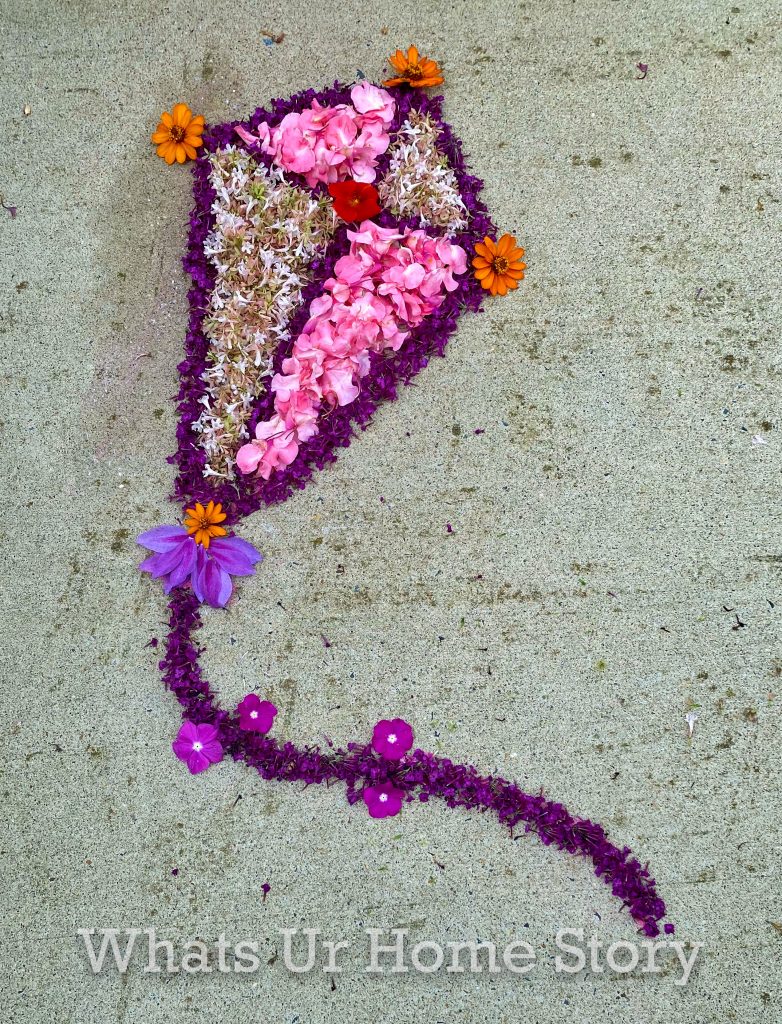 Day 7 or Moolam marks the only day where the pookalam design can have corners. So we made a kite with vinca, butterfly bush, clematis, old Mexico zinnia, balsam, abelia, and nasturtium flowers.
Here's a close up of the flowers.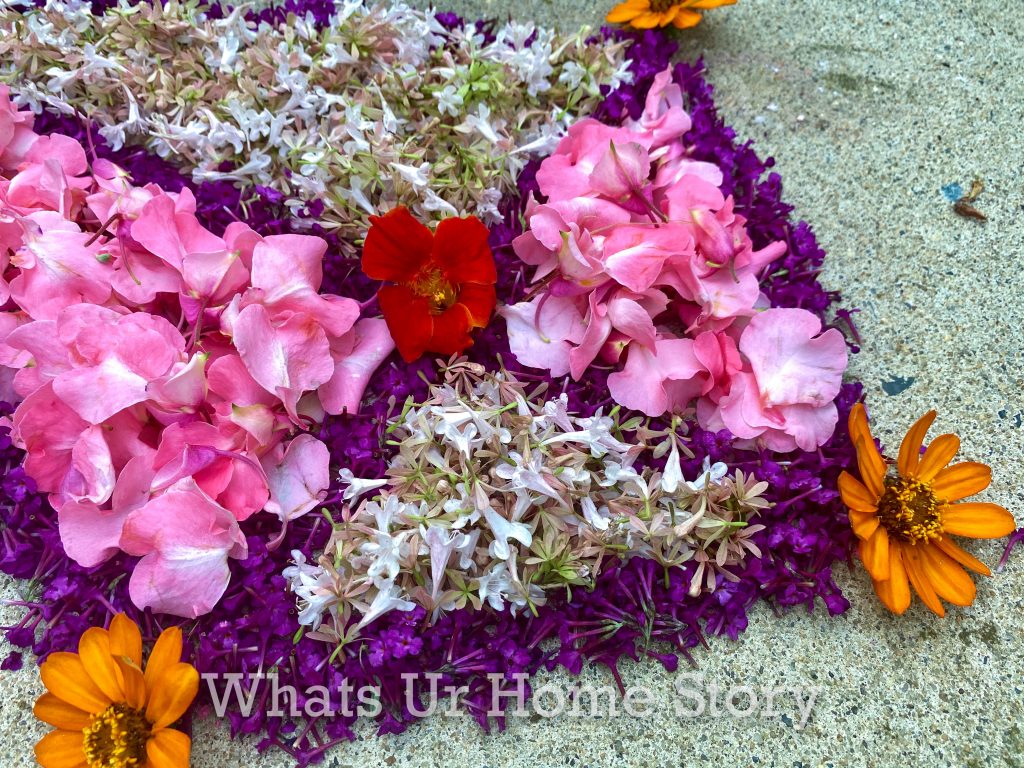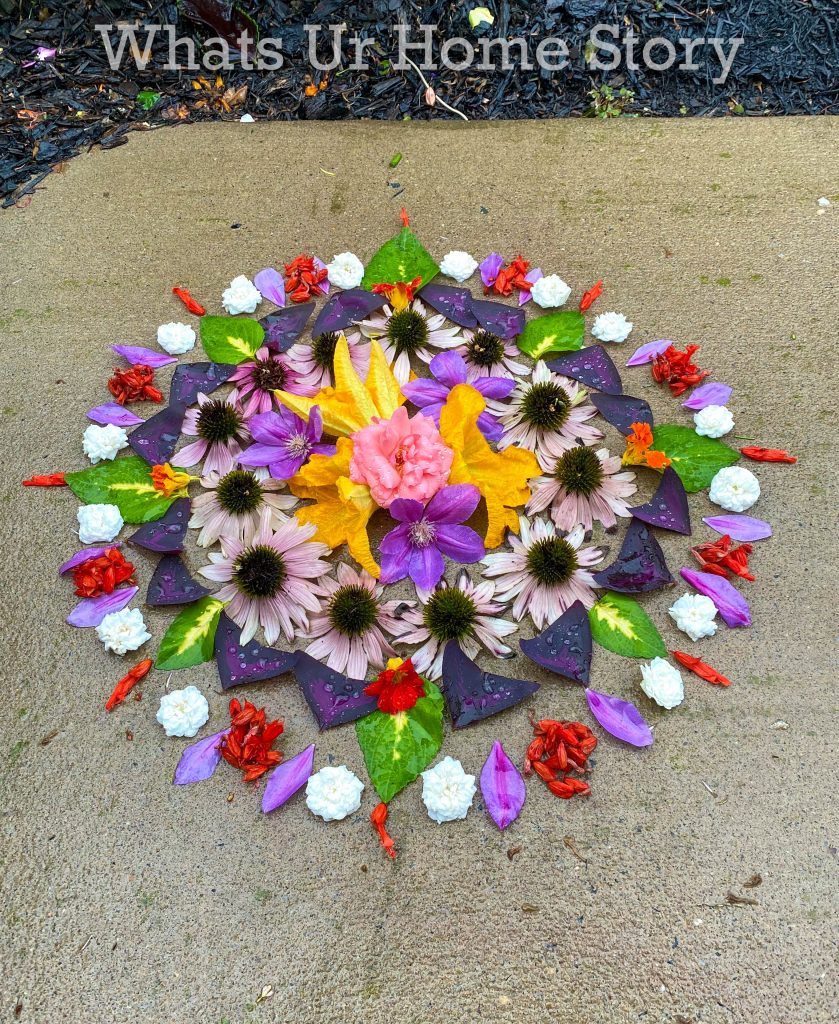 It rained out on Day 8, Pooradam. So this pookalam was made in a hurry with the help of umbrellas. We used Queen Elizabeth rose, pumpkin flowers, Nelly Moser clematis, cone flowers, oxalis and coleus leaves, white drift rose, and red salvia.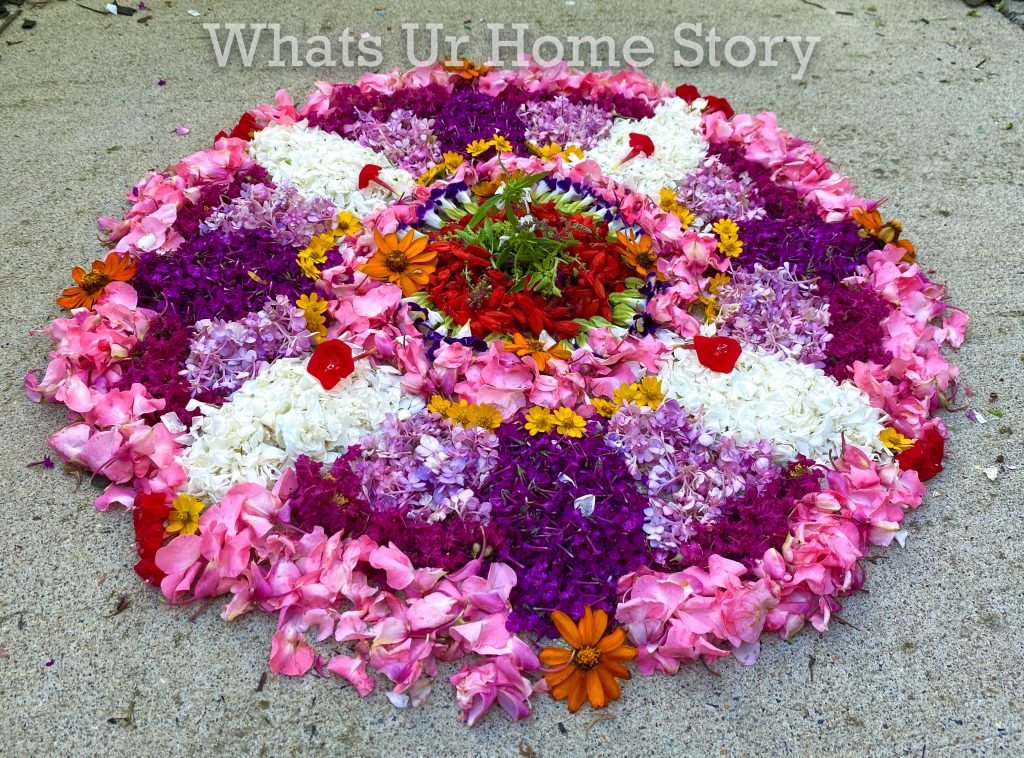 The biggest pookalam of Onam 2020, was on Uthradam where we ended up using all the flowers we had used till date plus hydrangeas.
As I mentioned earlier the pooja with the Thrikkarappans or the wooden pyramid structures (read the story) is done early in the morning of the 10th day or Thiruvonam day.
After which the women of the house, in this case yours truly, concentrate on cooking the elaborate lunch, onasadya.
We served the sadya on banana leaves from the hardy banana plant in our backyard, just like the old times. In case you are interested in the names of the dishes from the top right corner is mathanga erisseri, aviyal, vendakka kichadi, peechinga thoran, olan, vellarikka pachadi, and kurukku kalan. Under the pappad we have 2 types of banana chips one sweet, other savory and a small banana. Below it are the condiments or Indian pickles, puli inji, manga curry, parippu, ghee, and salt. The rice is topped off with a generous helping of sambar. In the cups from left to right is pal payasam or kheer and rasam.
Even though the post is literally a month late hope you enjoyed the closer look at our Onam 2020 festivities. And for those of you who celebrate hope you had a safe Onam!