I had thought of posting about yet another plate project today but as it a special day around here let's take a break from home decor and DIY. Today is the first day of Onam, the harvest festival of Kerala (the south western state in India, the place where I'm from). This is one of the most important festivals of the year for us. I love it even more as it combines two of my favorite things, art and flowers.
The story behind the festival is that long long ago a demon king, Mahabali, ruled the state. Instead of being a bad guy (hello…he was demon) he was super nice. He had the heart of gold and ruled the land well. And the people loved him for his just and fair ways much to the chagrin of the gods, who were worried that he would soon surpass them in popularity and power. To cut the story short, they devised a successful plan to banish the king to hell. The great king's last wish was to get a chance to come and see his beloved land and people once a year during the most prosperous time, Onam, when the whole land was basking in all its bounty.
So, for 9 days the people of Kerala prep their homes and surroundings for the arrival of their beloved king on the 10th day. As part of the festivities, they make flower carpets (pookalam) or designs with flowers next to the their door steps. As each day passes a new color/type of flower gets added to the design. I try to follow it as traditionally as possible in this part of the world even  using only flowers picked from my garden. I guess that is why I've always been biased to summer flowering plants.
I'm not gonna bore you with daily updates of my pookalams. Instead I'll post a round up of all the designs once it is over. If you would still like to see them you can check the WUHS Facebook page. I'll add the pics there.
For those of you who are hearing about Onam for the first time, here is sneak peak of what you can expect. 2010 was the first time we celebrated Onam in the new home.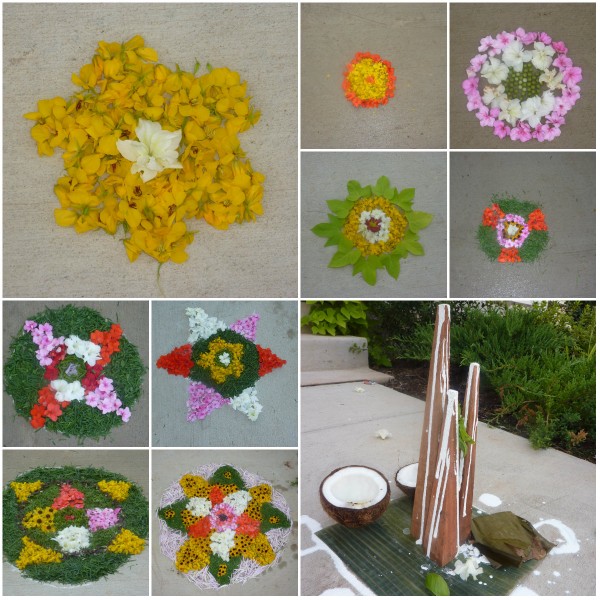 No, all the green (grass) is not required. I was just trying to work with what I had. In 2011 things were much better.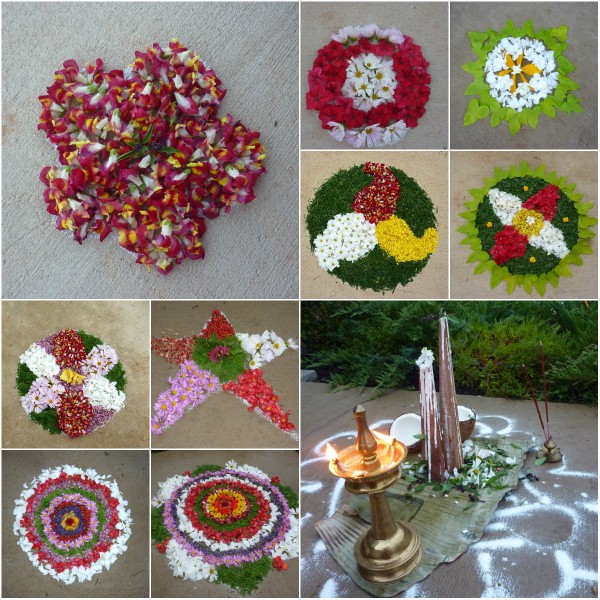 As you can see the flower selection and in turn designs show a significant improvement. 🙂
To get a perspective of how grand the pookalams are back home, here is one that my amma (mom) and her friends did for their neighborhood Onam celebration.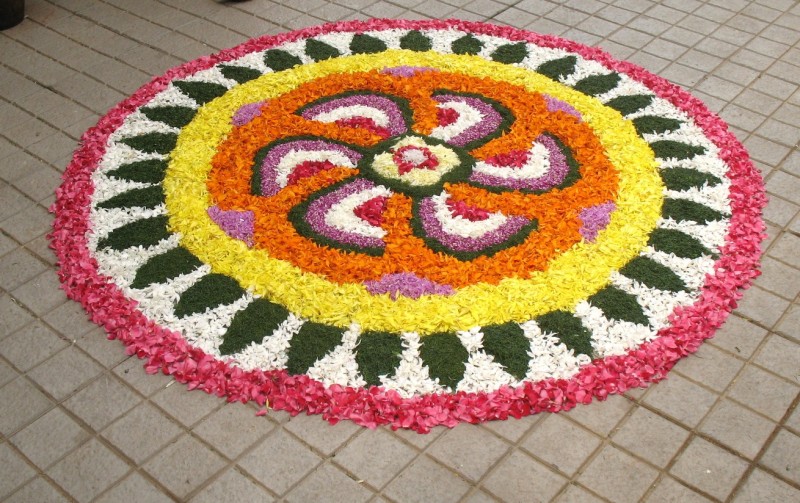 Now a days different variations of these floral designs adorn many high end luxury hotels in India. You could even use them to decorate your foyer or foyer table for a party or even a wedding venue.
Anyways, Onam celebrates the harvest, family, friends, and prosperous and happy times. Wishing you all a time filled with joy!
Update: Read all about our 2012 Onam here.