Happy Monday! Amidst all the craziness of the last week of school I've been tackling one project after another 'coz I need to get our upstairs guest bedroom in shape as my folks are coming to stay for the summer. My dad has never visited us here in VA so it super exciting to have them visit us this time. Can't wait! This is one room that I'd consciously left builder bare as I had no clue of what I wanted in there. What do they say, No need to rush things, if something is bound to happen it will happen in the right time with the right person and for the best reason? Same way over the last few weeks the vision for this room slowly started to fall in place in my head and here it is; my new guest bedroom design…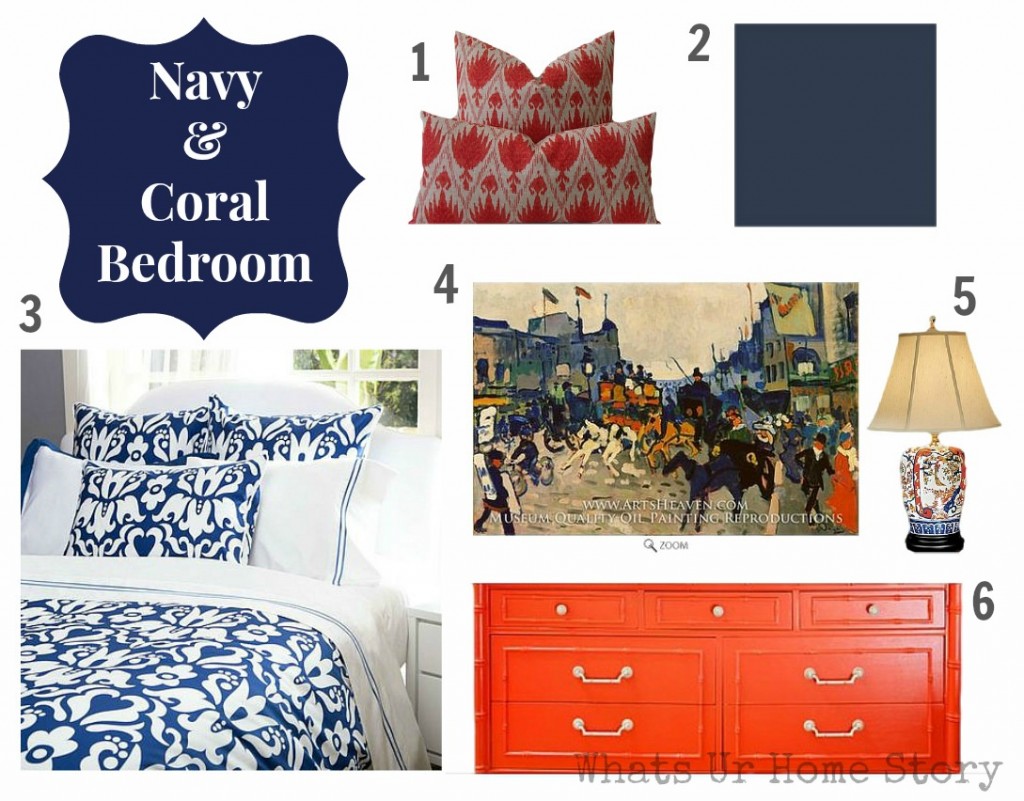 As you might have guessed from my recent posts, I've been on Navy trip recently. After browsing numerous images on Pinterest this beige loving neutral palette girl finally gathered up some courage to give navy paint a try. But I guess some of that courage started draining off soon and I ended up deciding to try an accent wall instead. Remember how I counted accent walls as a hot item in my decorating pet peeves post? Now I'm biting my tongue and going the accent wall way. Whatever I say I'm just not ready for a full blown dark painted room. Maybe once the accent wall grows on me, I can go full steam.
This is the general direction of what I would like in the room. Nothing is set in stone other than the Navy accent wall and Coral accents especially the Campaign dresser. I'm on the fence about painting it Coral. Let's see where we will end up.
The sources for the items are;
1. Casablanca Flax Ikat Pillow Cover 
2. Sherwin Williams Naval (paint color)
3. The Montgomery Cobalt Blue bedding from Crane & Canopy
4. Reproduction of Andre Derain's Regent Street, London painting
How do you feel about dark paint colors? Are accent walls for you?
Update: This is how my navy and coral room looks now.