Lately a lot of friends and family have reached out to me with questions on starting a flower garden. I respond to them with a long list of questions, which is met with a silence and or a "I'll get back to you". After a few conversations like this, I realized that something was amiss. While these questions may seem totally natural to me, to someone who hasn't grown anything before these could be overwhelming. That was my light bulb moment, instead helping my friends I was scaring them away from gardening! I needed to put away the hat of a seasoned gardener and think back to how I started gardening. Rewind 20 years back, actually no I didn't start gardening then. My earliest memory of planting something totally out of me wanting to grow a plant was in 5th grade. But whatever gardening experience I had was gardening in the tropics. Gardening in a colder climate where winters were long and cold was a totally different ball game. When I came to the US in 2000, the only information I had about gardening in this climate was some names of flowers that I had read in novels. I had to learn everything from scratch. Here is my take on how to start a flower garden for beginners based on my experience growing plants in the USA.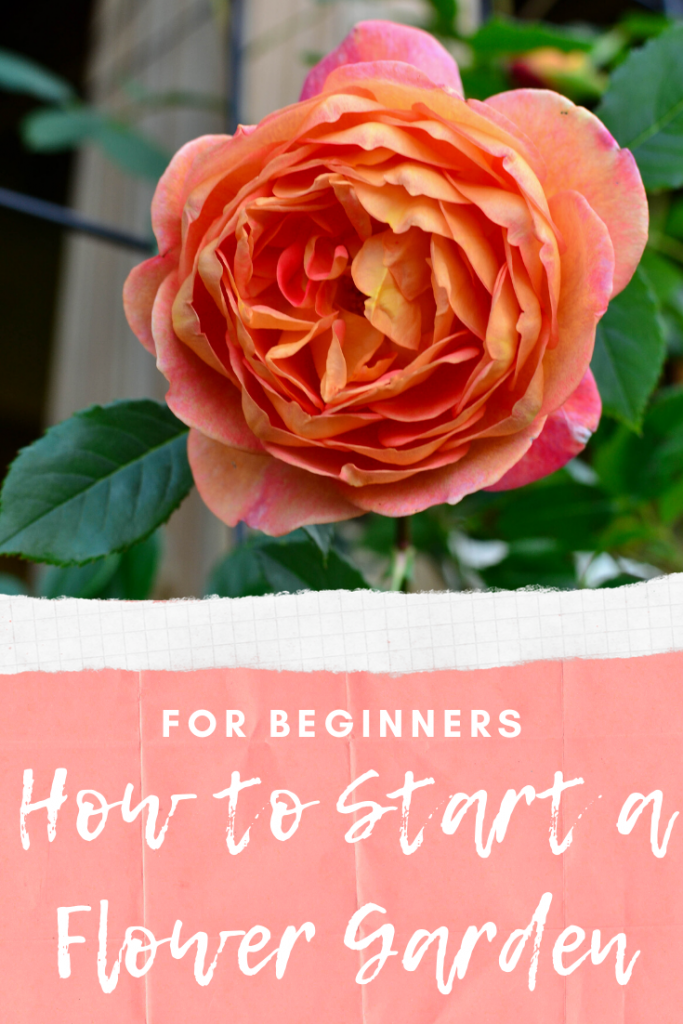 Here's a video tutorial with more pics.
2 Types of Flowering Plants
First and foremost there are 2 types of flowering plants.
Annuals
These plants live only for one season i.e. they will not survive outside in the winter. We can always bring them indoors in pots and most do manage to survive indoors but then who wants to deal with that pain? You plant annuals every year. Annuals also bloom throughout the season and come in a wide range of colors, shapes, and sizes. Marigolds, Zinnias, Sunflowers, and Petunias are some examples of annuals.
Perennials
Perennials are plants that survive outside for more than 2 seasons. Unlike annuals you plant most perennials once and they come back every year. Because of this they are usually more expensive than annuals. Most either die down to the ground or are deciduous in winter, grow in Spring, flower, and go into dormancy in winter. Most perennials flower only one time in a year. However there are newer hybrid varieties that are reblooming, those either rebloom once you deadhead the flowers or rebloom later in the season.
Know your Plant Hardiness Zone
Countries like the US, Canada, UK, and most of Europe have made it easy for gardeners by mapping the countries into plant hardiness zones. Gardeners can use this to know which plants will survive winter and thrive in their location. For the US, all you need to do is enter your zip code and you will know your zone. I'm in Zone 6b.
All plants are labelled with the information as to what zones they are hardy to. So when you buy plants make sure to check the tag to see if it is hardy to your zone. For e.g an annual in zone 5 is most likely going to be a perennial in zone 8 or 9 as it is a lot warmer there.
How Much Sun Does Your Planting Spot Get?
There are completely different set of plants that work for full sun vs part sun vs shade. While there are many variations, the simplest explanation of these terms are;
Full Sun
Full sun means the plant is receiving at least 6 hours of sun in a day.
Part Sun or Part Shade
This means that the plant gets 3-6 hrs of direct sun in a day.
Shade
Shade is when the plant gets less than 3 hrs of direct sun a day. It could also mean that the plant is in dappled shade for most of the day e.g. under a tree with a light canopy.
Perennials & Their Bloom Times
These two charts summarize the bloom times and sun requirements for the most common perennials.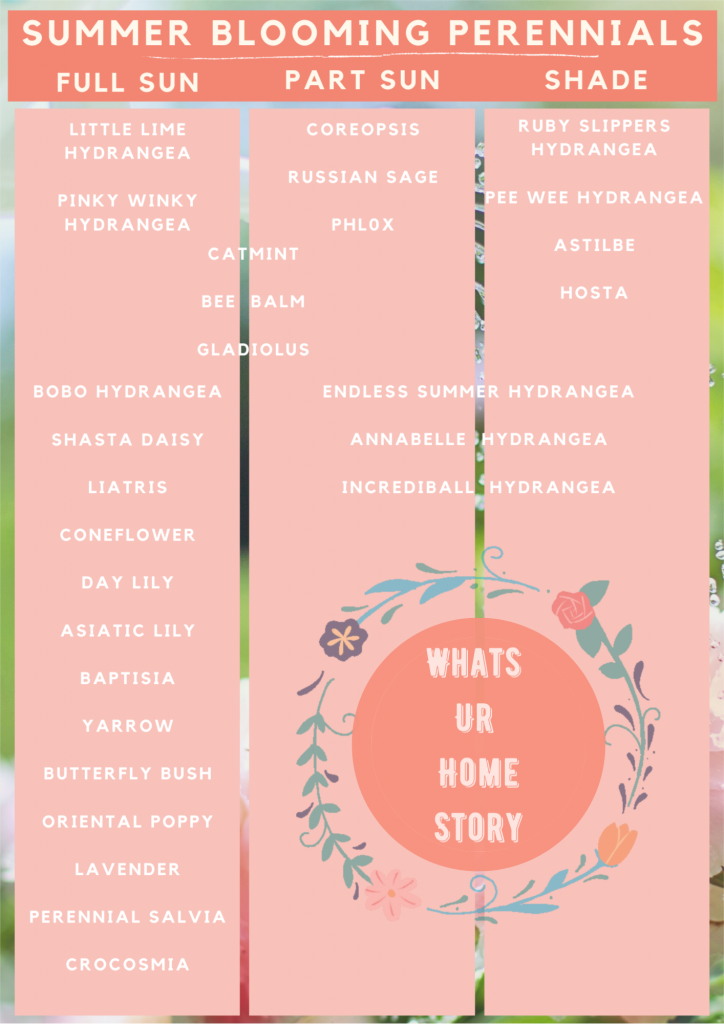 When to Plant?
The best time to plant perennials is either early Spring or Fall. You can plant them in Summer too but have to diligent about watering them and making sure the plants establish well.
Annuals can be planted anytime in the growing season.
Tips
Mulching your beds help control the loss of moisture from the soil, keeps the soil in place, and looks great
For best aesthetics, plant taller plants in the back and shorter plants in the front of the bed. The plant tag is your best friend here. Pay close attention to height and width at maturity.
They say perennials sleep the first year, creep the second year, and leap the third. i.e. they will be in full form the third year. Patience is key when growing perennials. They like to grow roots and establish well in your garden first, to perform to their full potential. And they are in no hurry as they are going to be in your garden for years. On the flip side, when you plan your garden you need to keep this in mind and allow for room to grow.
Some plants like Azalea and Rhododendron prefer acidic soil. So doing a soil test and amending your soil might be a good idea.
Hope this 'How to start a flower garden for beginners' post and video was helpful to you. Please feel free to reach out to me with any questions you might have. I promise I won't reply with a long list of questions. 🙂
You might also like my other posts in the beginner series: