I've been drooling over floating shelves for some time now. By the way, they are called floating as the hanging hardware is invisible and they appear as if they are well.. floating. The TV wall in our family room was screaming for some action and we thought that these shelves would add the much needed drama. Here is a very pathetic (again cropped from a poorly taken long shot) 'before' picture of the wall. It is a 10 x 18 wall. So imagine the expanse we needed to cover even after slapping on a 48″ TV up there!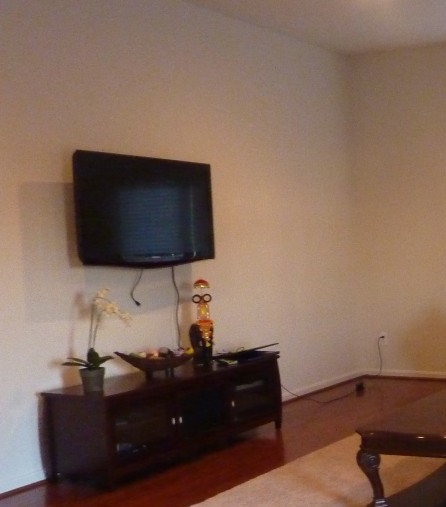 After some Googling and window shopping at quite a few places we decided on the Ikea Lack shelves. From all the reviews they were by far the best and the cheapest. Oh man they are even cheaper now at $14.99; used to be $19.99 when we bought 🙁 ! We toyed around with three different layouts on how to decorate around a TV;
Arrange one below the other in a very symmetrical fashion
Staggered but pulling away from the TV  so as to  make the room appear large
Staggered and pulling towards the TV making it an even more stronger focal point.
Here's what how I drew it out to help B visualize the 'after' scenarios. 🙂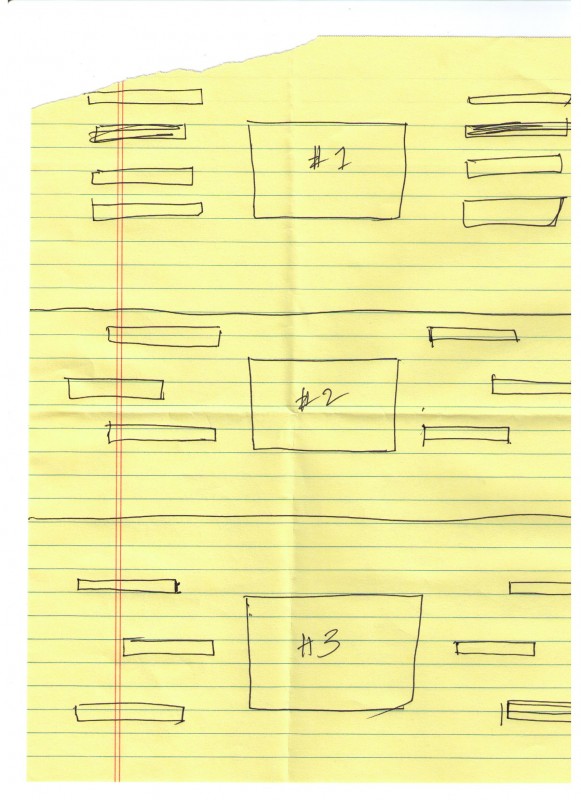 To up the drama, we decided on the staggered yet pulled out option #2 and bought 6 shelves in black-brown.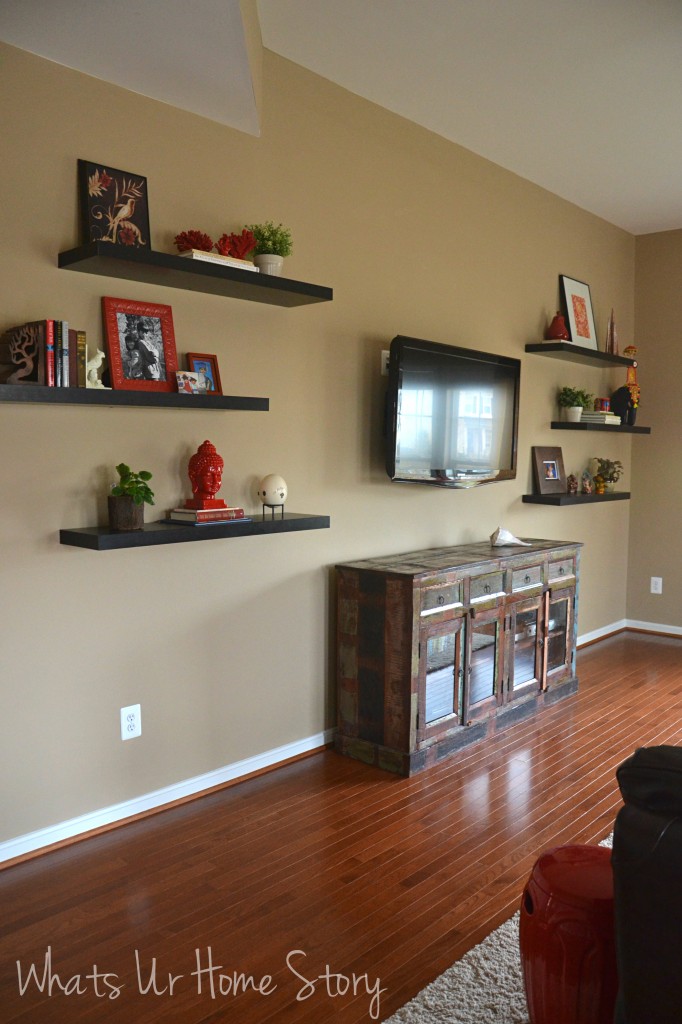 Update: The rooms looks like this now. See our bigger media console? More pics of the room here. Keep on reading to see how we landed on the plan to hang the shelves around the TV and for the hanging tutorial in the end.
Now comes the fun part, installing these………..This was our first time with the floating shelves so we chickened out and got it installed professionally (but we did try it ourselves the second time around and here's the detailed tutorial on how to hang the IKEA LACK shelf). Given our staggered layout we would have to be precise on all the measurements, which we are not good at. Even to hang a simple picture we take at least half an hr and usually it ends in an 'I said' 'you said' argument with the picture being hung ever so slightly crooked. So in the light of preserving the quiet at home and saving ourselves some time and effort we called a handyman. Actually not just for this; he helped us with hanging a few ceiling fans, curtain rods etc. So $ wise it was not that bad. Yes…I can hear a few of you cringe, especially my super handy dad. In my defense, I already had a disclaimer on  my 'About' page about how 'not handy' we are. Unfortunately we really suck at taking measurements (that, coming from two engineers!) and we didn't want to mess this up. Our friend, Mr. Jose, did an excellent job and it turned out great!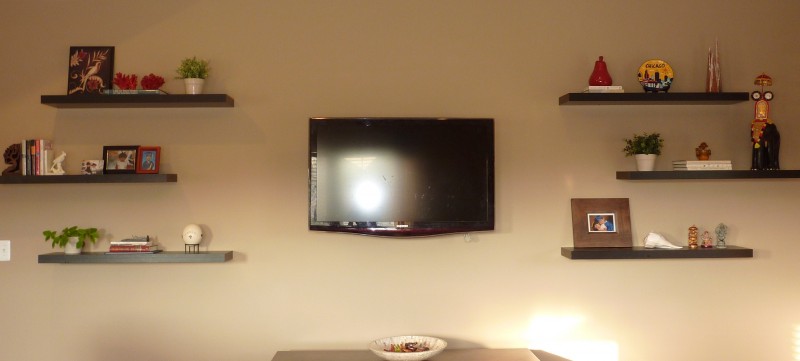 A side view;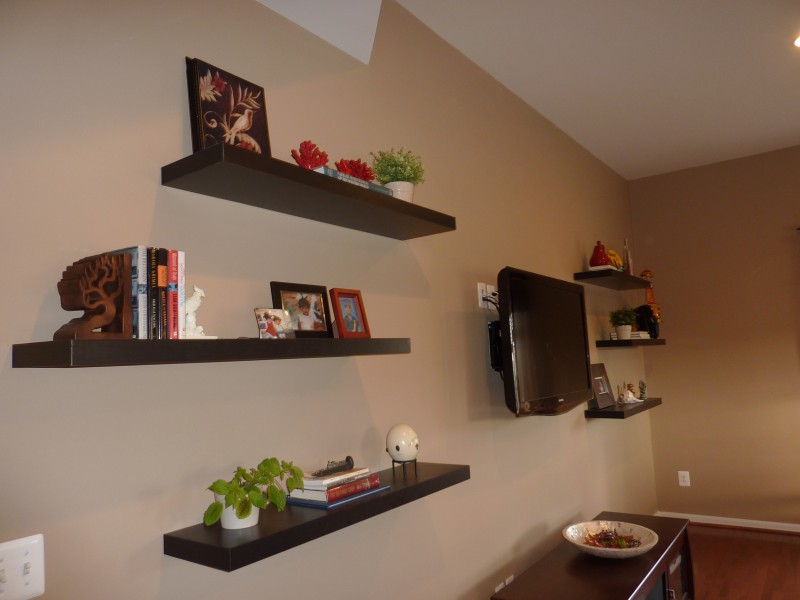 Those are all the knickknacks that I could put together when it was done. The photos in there are a few years old and need updating. I am currently working on tweaking the display. So you can expect a detailed post on that soon.
Here is a close up of the two sides sides in different light settings on the camera;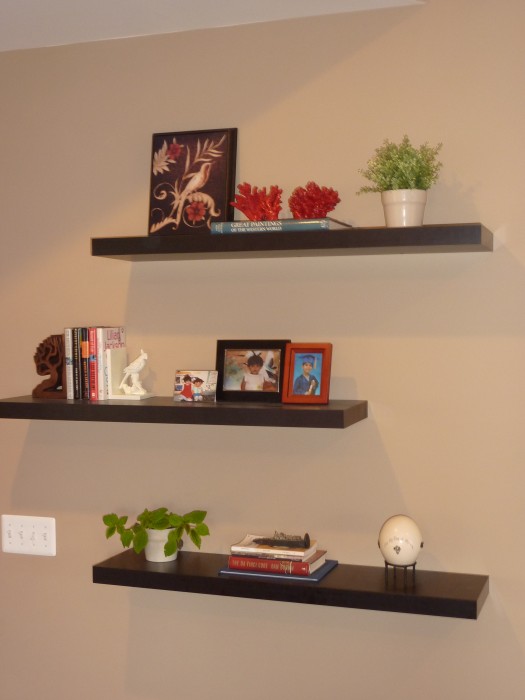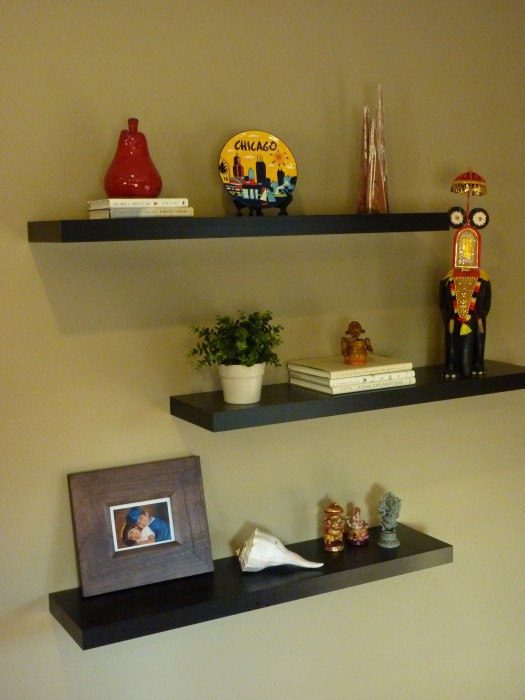 One more look;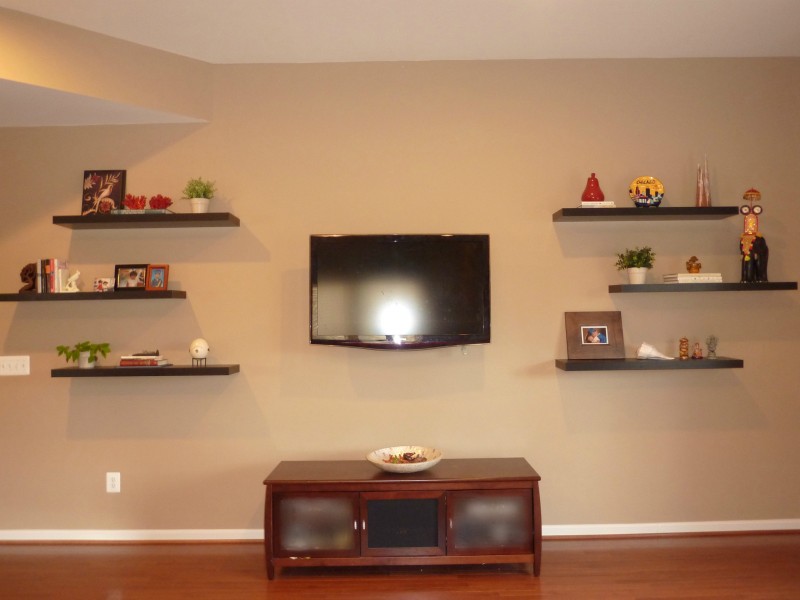 A recent shot of the same view. More pics.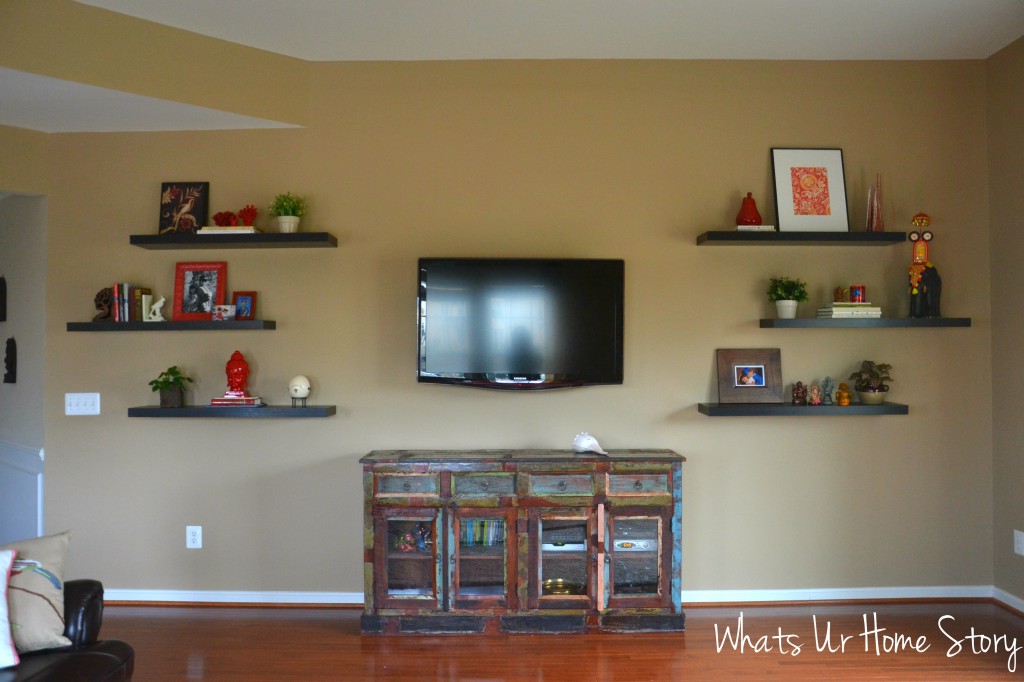 Update: We loved the floating shelves so much that we installed them in my son's room too. Here's the tutorial on hanging the IKEA LACK shelves.