Ok, Rt 15 might not exactly be a country road in our neck of the woods but it does pass through the country as it meanders through Loudoun County across the Potomac and into Maryland. No,  I didn't go that far, got only past Leesburg when I came across On A Whim Home Boutique.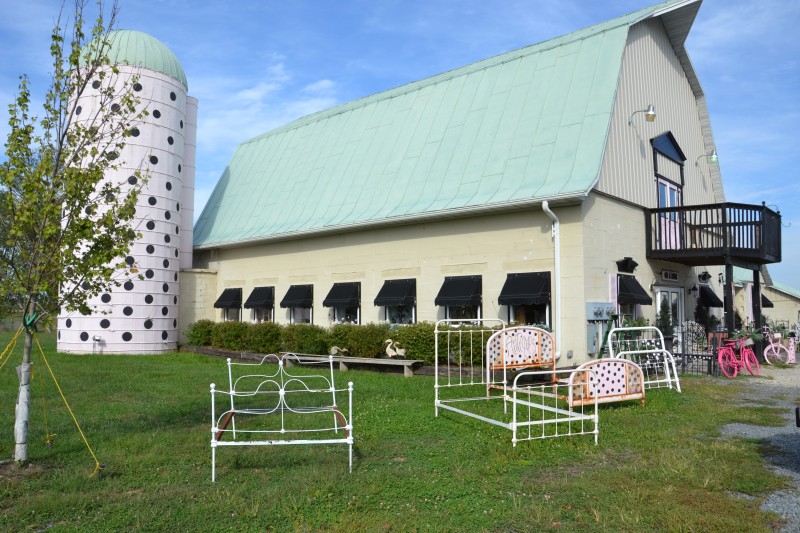 Ooops….reality check, that is not how the story went. Here is what really happened.
I was looking up stores that sold Annie Sloan chalk paint (ASCP) locally and saw that On A Whim Home Boutique did. It is in Lucketts, which is just a short drive from our place. You've heard me talk about that place a zillion times here, here, and here. When I looked it up on Google, I realized that I had actually driven past the store and many other antiques stores (the place is littered with those) on the way to the Spring Market and had made a mental note to come back for a closer look. So this was my chance.
I rushed into the store at 5.15 pm last Sunday (they close at 6pm) and headed straight to the ASCP corner, grabbed my paint and wax, chatted with a sweet lady who was also a newbie to furniture refinishing and was kind enough to share whatever info she got from chatting with another lady she had met at the store earlier! Then quickly proceeded to take same pics for ya. By now you can guess where this is going, right? Ya, the usual disclaimer for hurried aka. not so great pics with missing price tag info. 😉
Anyways………The antique store has a very strong country, cottagey, shabby chic vibe to it. There are many vignettes like these around the store;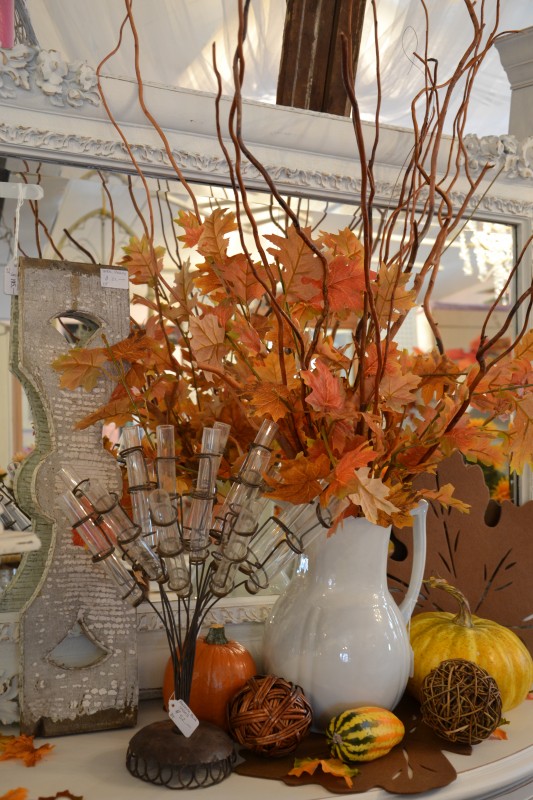 Notice the bud vase made from old test tubes? Would have never thought of that. Old alarm clocks anyone?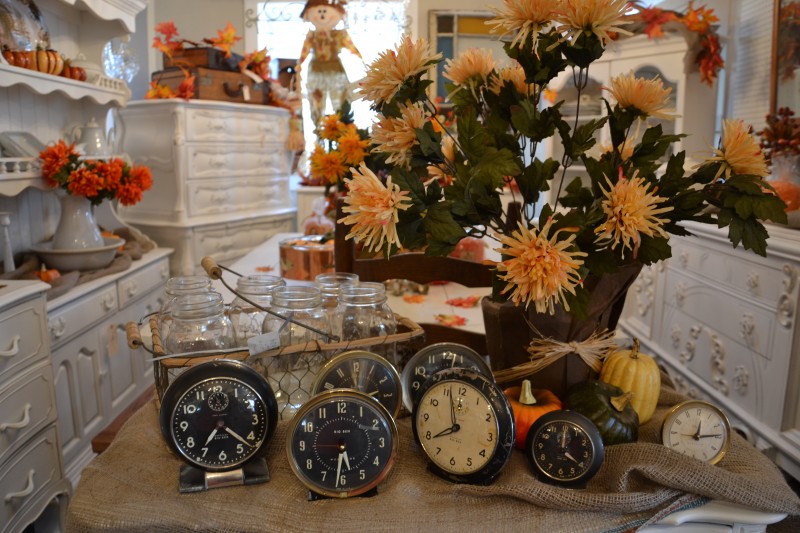 This French country bedroom is a bit too fussy for me but is a great example of how you can add style and interest even in a monochromatic color scheme.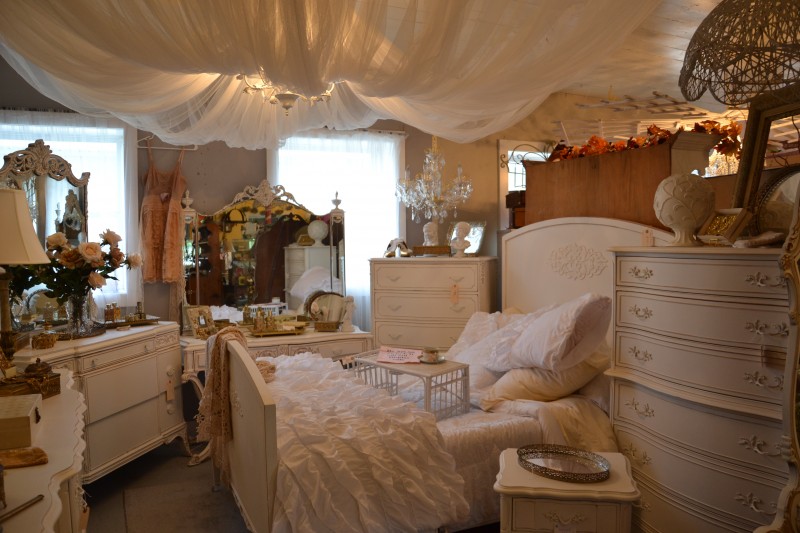 Vintage Mason jars, wire baskets, pepper mills…..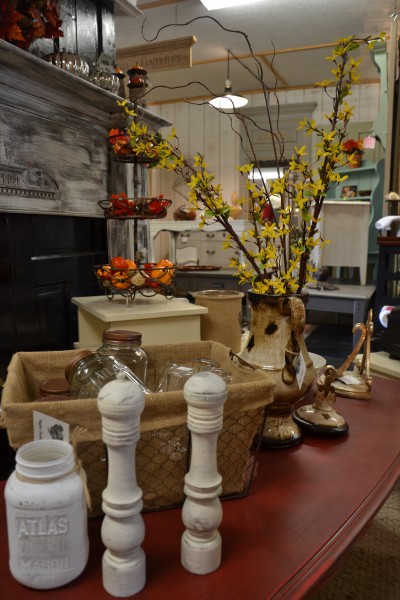 There was a lot of refinished furniture like this French settee reupholstered in a colorful floral fabric.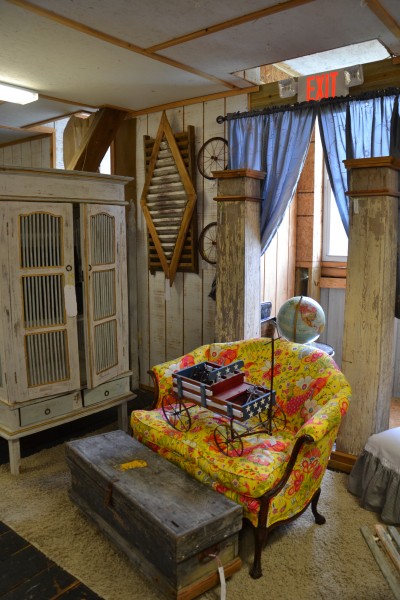 Here is the ASCP section;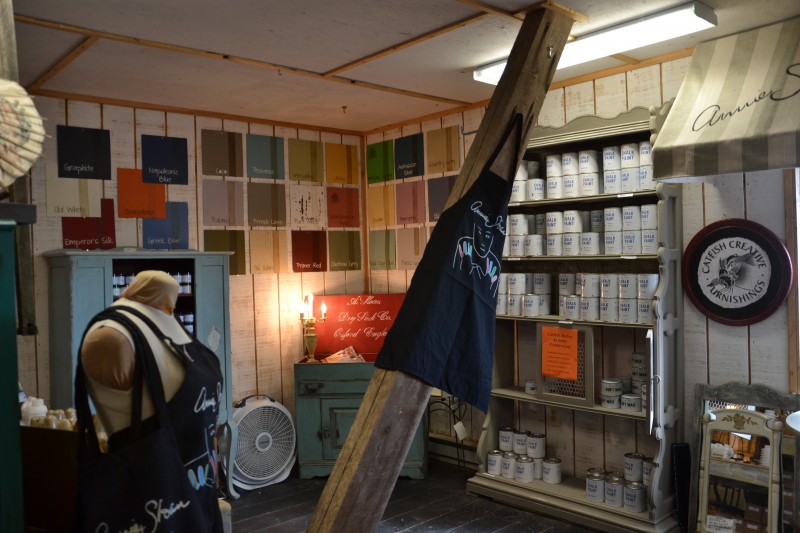 In all such antique/vintage stores, if you don't find the stuff that interests you at the first glance then look harder. You'll definitely find them like I found this vintage type writer. Reminds me of the one that my dad had.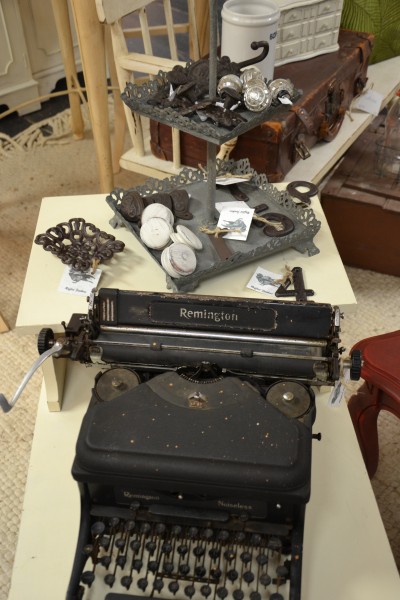 Or these Restoration Hardware style city name boards and linen pillows.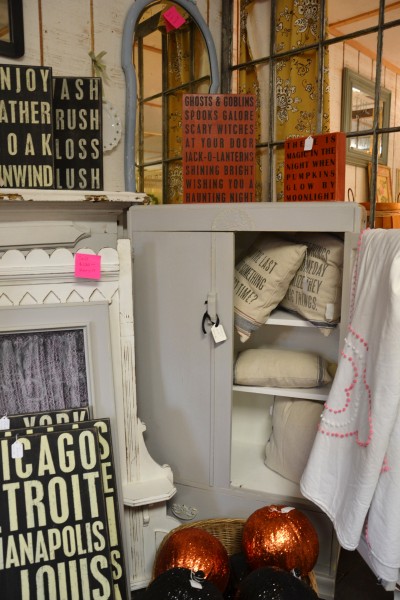 The most fascinating thing I found at the store was this bag used for picking cotton? It even had dried cotton stalks in it!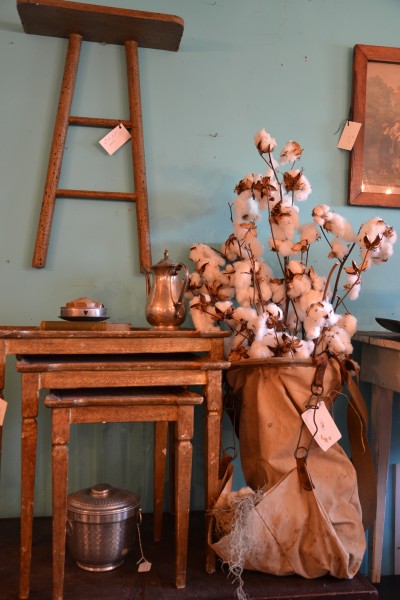 I also found all the usual suspects; vintage irons (like these), old frames, salvaged mantels, baskets, bottles, etc.  The store was a treasure trove of inspiration for DIY and decorating ideas, which I'll share with you in the next edition.
Which is your favorite vignette in the store?