Back in December when I finished my first Whole30, a month long eating program where you eliminate sugar, diary, grains, legumes, and process food from your diet, I had planned on repeating it a few times in the year, more like a reset mechanism for my metabolism. I wanted to re-try the diet sooner than later for two reasons; to understand my emotional eating habits and see if I can keep my seasonal allergies at bay. You can read all about it here.
This time around I went into the program knowing what food groups caused which reactions in my body, for e.g. beans and a lot of gluten = bloating, sugar = zits. For the same reason I was hesitant about going 100% whole 30. I mean, I stuck to the diet plan 99% of the time. Exceptions being using regular almond milk (while I chose a brand with minimal processed ingredients I didn't go crazy trying to find a whole 30 complaint one) or the Indonesian food from the food truck (2nd row right most) were I substituted rice for salad and threw away the corn fritter.
Among other things I learned about myself during this time, high up on the list is I hate to take pics of my food. So this is all I got for ya.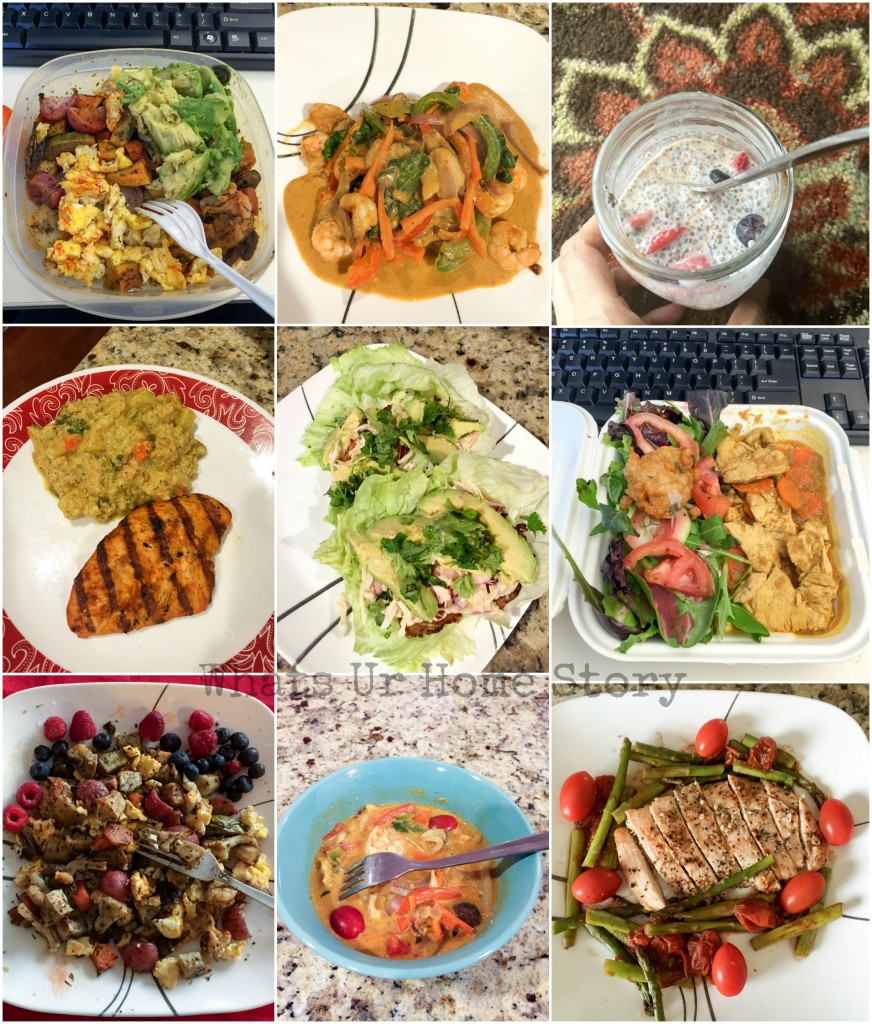 So how did it go? It was easy, really easy the second time. Maybe because I knew what to expect and already was prepared with a slew of recipes in my kitty. Unlike last time I exercised every week 3 – 4- 5 times, which is huge for me. After a 2 hr commute to have energy to exercise is something really remarkable. Even the sugar/ carb/ diary withdrawal symptoms were over by the 2nd day. Still tiger blood hit me only on Day 19.
Here's my Whole30 Round 2 diary;
Day 1- by late got afternoon migraines, went to bed with a migraine
Day 2 – woke up with a severe migraine but unlike last time this one went away with Tylenol. Had lots of energy by evening, ran a 5k
Day 3 – day started with a slight headache. Tummy already feels taunt.
Day 5- tired, still up and about, bloating
Day 6,7 – nothing special. This way of eating feels natural . Bloating is there.
Day 8 – still not waking up fresh. Started feeling  lighter. Skin is clear.
Day 10,11,12 – tired. Managed to exercise except for 2 days
Day 13- head is clear for the first time. Felt like throwing in the towel and eating cake. This was one of the days I struggled with emotional eating. Felt bloated and assy. In the afternoon felt sleepy. Maybe the 5 hrs of sleep is to blame
Day 14- too tired to wake up, not at all fresh
Day 15- tired, crashed into bed at 11, which is 2 hrs earlier than my usual time
Day 16 – first 7 hours of continuous sleep and didn't have any trouble waking up. Feeling fresh and energetic
Day 17 – ran the entire 5k distance except for 45sec for the first time
Day 18 – had a good morning workout but sore
Day 19 – tiger blood  fianlly!! Woke up without alarm, did 5 suryanamaskars, was up and about the whole day
Day 20 – fresh as a daisy but the 2.5 hr commute sucked the life out of me.
Day 21- 30 – all is well, nothing special to report exercised most days, felt very energetic
The Results
Lost 2.84 lbs, I know a lot less than the 8+lbs from last time. But this time I was adding muscle and I'm totally fine with that. My other NSVs apart from the no migraines during my cycle (HUGE!!!), no zits, clear skin were;
An inch lost from the waist and hips, half an inch from each arm and thighs, and one and half inches off my chest. This is me on Day 33 at a friend's daughter's birthday party. Apparently I take pics only when I'm dressed in traditional Indian attire. Anyways checkout the clear skin. My skin hasn't looked this radiant and clear in decades!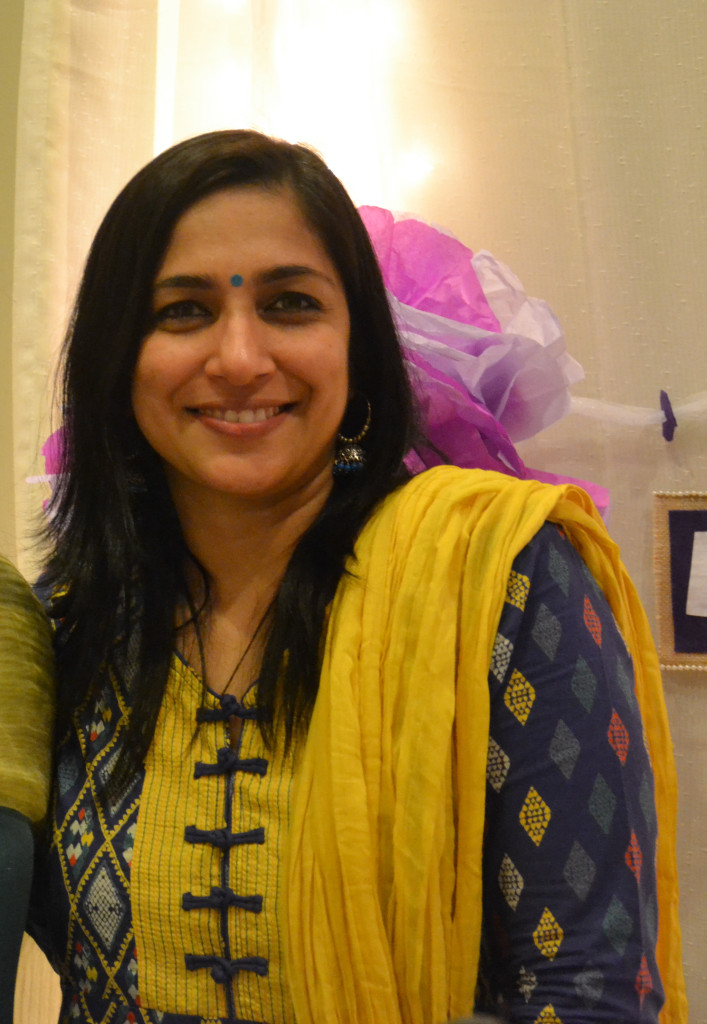 Another biggie for me, which I hopefully will not jinx, is that my seasonal allergies are minimal to none this year. They have been pretty severe the last 3 Springs but so far nothing. Nada!! Woo hoo!
What I learned
As I suspected I'm a very emotional eater. At the slightest provocation aka mood change I resort to sugar and or carbs. When I was on whole30 I was craving fruits the moment I was stressed. Post whole 30 I've been good about it most days but then there are days like yesterday when I lost complete control and was eating the whole day. Lack of sleep and general stress (April is the toughest for me as the kiddos have back to back competitions and practices every week/weekend) are  major contributors to caving into the emotional eating.
I can make a mean fish taco (we substitute the tortilla with lettuce leaves) complete with spicy siracha slaw. Yumm…
Though I still eat my trusty roasted veggies and eggs hash breakfast at least 4 times a week I've found a new keeper breakfast recipe; chia seed pudding with almond milk and almond butter
It has been over 2 weeks now and I have gained only 0.6 lbs back. And yes, I plan on doing this 2 more times this year. Any repeat whole 30'ers here? How was your experience?