Heads up: This is one of those whatchamacallit, thinking out loud kinda posts.
So last morning before heading to work I had planned on squeezing in a quick project, updating the look of this yard sale mirror. You know, that way I would have good 'how to' pictures that were shot in daylight rather than at night (night shots are a big no no in blog world). For the first 40 minutes or so I was searching for my Rub 'n Buff
 tube that I had bought the day before. Searched literally every nook and cranny of the house only to discover that it was sitting on the breakfast table in plain sight, where I had looked at least thrice! I was looking for the tube out of the packaging as I was sure I had taken it out of the pack. And there it was lying faced down with the full packaging still on! I still had about 20 mins to do the project. So I thanked my good luck and started. I kept cruising along, not too thrilled with the results until I squeezed the tube so hard that a ton of Rub 'n Buff
 shot out in the most prefect projectile path I've seen in my life right onto our cream family room rug! Switch to crisis management mode where I empty almost a bottle of household alcohol to get that thing out. To top everything off, the project did not turn out the way I wanted to.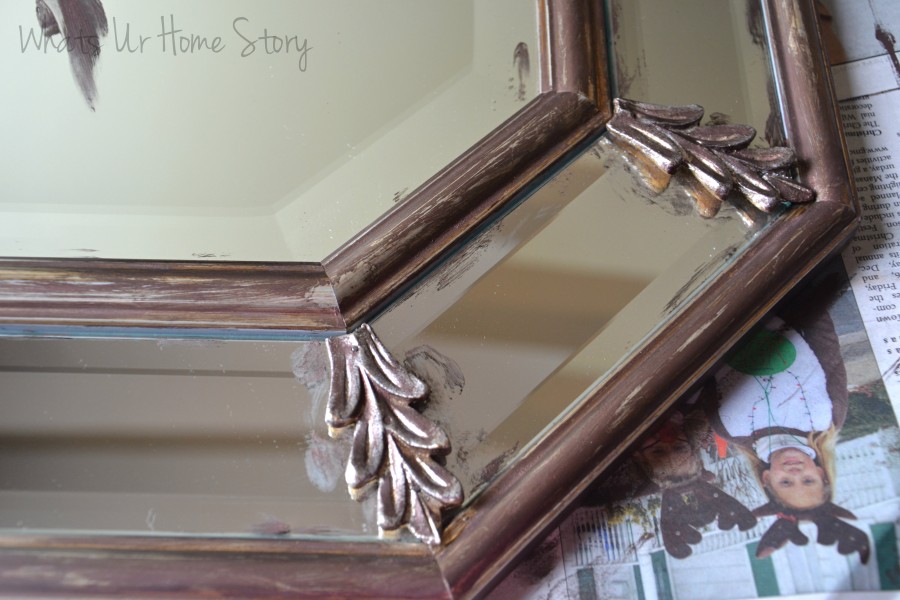 You guys digging the look? Me, not much. 🙁 FYI, this was after the first coat.
This episode was soon followed by sheer disappointment and a "why does this have to happen to me" self pity session even roping in B at work (texting/calling). I literally cried! That's when the light bulb went on! Why was I wasting my tears on silly things when I had a million other things to be thankful for? I often get asked how I manage my time and how I manage to do all this? No, this is not a detail run down on how I manage time (that calls for a separate post 😉 maybe one with cool info graphics n all) this is more about stopping to take a deep breath and appreciate life.
So what keeps me going?
Cannot be thankful enough for being blessed with 2 fairly independent kids. Our son especially is a very independent kid even when it comes to studies. Anyone with a child would understand and appreciate how much of a life saver that is. Our daughter on the other hand needs more supervision, it is just her personality type. But in all they are good and are always game when it comes to helping Amma (mom) out.
B has been very patient and helpful with this gig so far. Not always, we do have our fair share of arguments over this but to the most part even if he doesn't like doing it sometimes, he has been pitching in more than his share of household chores/ child rearing. No big surprise there as even during our pre-blog days he used to help around quite a bit but lately he has been a trooper.
I'm extremely grateful for getting a second chance at life, coming out of a near death experience that even included loosing a baby. Being so close to death makes you appreciate life a lot more. This incident alone single-handedly might have made me, even without me realizing, want to not waste a single minute of my life.
I'm forever thankful for the million ideas that pop up in my head every minute and for that crazy urge to let my creative juices flow lest I go insane.
Another note of thanks to B, for all the times he has told me I won't be able to do something whether intentionally or not. When folks tell me I won't be able to do something, I always want to prove them wrong, I'm weird like that.  And no one knows it better than B. And for all the encouraging words you've said during the many times I've wanted to hang in the blog towel.
To each and every one of you who stops by or has stopped by at least once, Thank U! There is nothing like the morale booster of actually knowing that there is someone out there reading what you write and some that are actually looking forward to it. It is that spirit that pushes me to find time in my jam-packed day to keeping this going. If ever I'm hard pressed on time to write the post, the first thing that I think about are you people, my readers. The thought of let you all down is too much to bare and I come through. 😀
One more thanks to who else B again, for keeping my sanity levels in check. It won't be a lie if I tell you that I have come this close to a breakdown trying to handle it all, with a lot more smaller frequent  meltdowns along the way.
A big thank you to all other bloggers out there especially the ones who blog while also working full time. I know it is not easy to put yourself out there for the whole world to see. Blogging takes a lot of time, patience, and effort and is a full time job in itself. To see you all do it so well is a huge inspiration.
Have a great weekend!