Our pumpkin is not carved yet even though I've been throwing around ideas, our porch looks like Fall and not Halloween, the kids are getting fidgety about not  having a "Halloween ready house"……I tell ya, I'll get around to doing all this in the next day or 2. After all I'm always late to things and Halloween is not until Thursday! 🙂 Are you like me too? Have you been searching the net for some inexpensive last minute Halloween decorating ideas? Look no further I'm your pal! Here we go.
Dig out your milk jars from the recycle bin and get working on these Spirit Jugs using a Sharpie and holiday lights. You could do this with your kids'old Halloween candy baskets too. The detailed tutorial over here.
Hang DIY'd bats made from black construction paper on your porch to amp up the spookiness.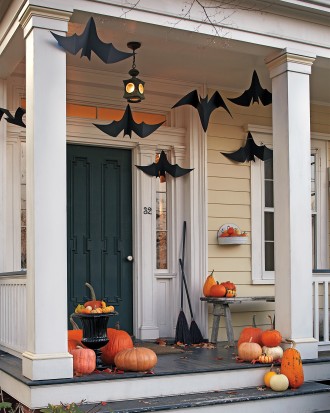 Make  Spider Egg Sacs with white stocking, batting (tear open an old pillow), and Styrofoam egg and hang them from the ceiling. Guaranteed "Eewww"generator!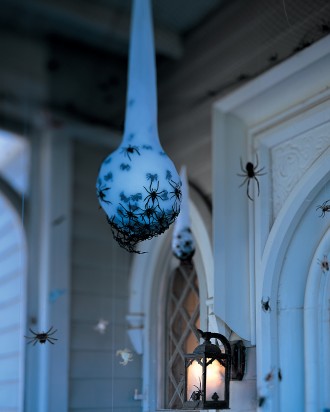 Do you have some egg cartons lying around the house or some fake leaves? How about cutting out bat shapes, painting them black, and adding googly eyes? Paint the leaves white and put a Sharpie to work to make these simple ghosts. Details at Happy Clippings.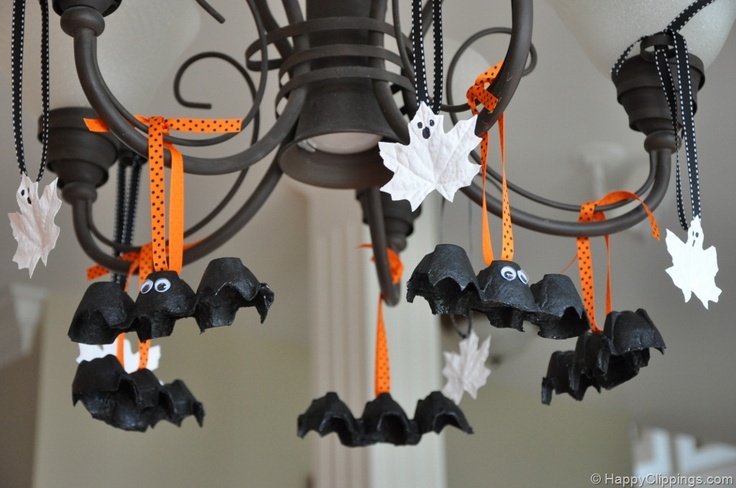 Calling all veggie gardeners, do not pack up your tomato cages just yet. Convert them into ghosts using string lights, duck tape, and a white bed sheet.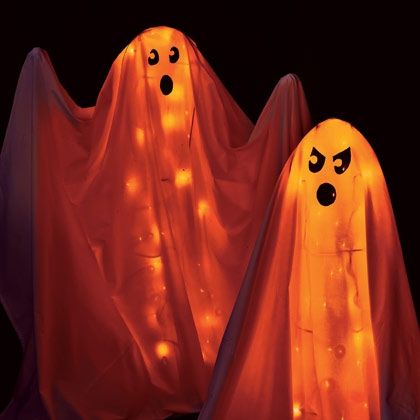 Which one of these are you going to try? I think I have a few milk jugs that I can rescue from the trash and an old candy basket stashed away in the basement.