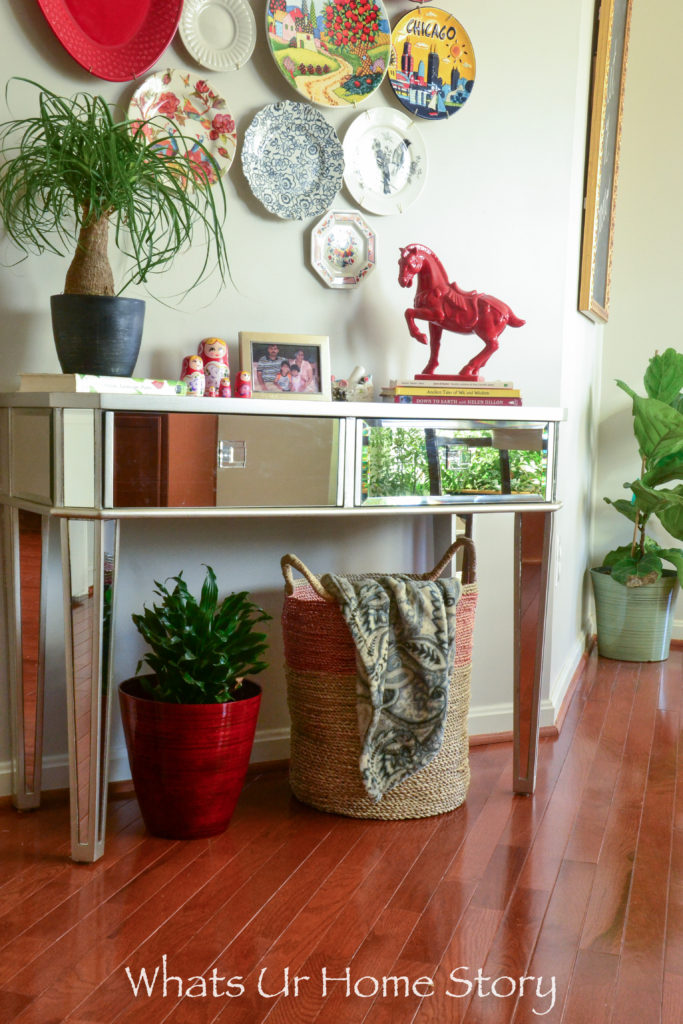 Remember the mirrored console table from my plate wall post? Well, that piece of mirrored furniture has a long back story. Flashback to 2012 when mirrored furniture was all the rage and every home decorating store worth its name carried it in some form or the other. Side tables, dressers, console tables, sideboards you name it they had it. Like a lot of you I too was enamored by the glamorous style of these pieces but the price……ouch, was way out of my budget. So for the next two years I satisfied my mirrored furniture craving just by looking at what was available in stores, taking a picture of the piece and sending it to B with a sad "I wish" emoji. All that changed when I spotted a mirrored console table listed on our local FB yard sale group. Couldn't believe my eyes when I saw the price $40! I was pretty sure there had to be a catch so took B with me to check it out. Maybe he could spot something that I might miss in my excitement of snagging a great deal.
The seller was very sweet and the console table was perfect. She even was willing to throw in an extra, the console table's twin that had a few cracked mirrors. Did I hear a warning sound inside my head? If I did I chose to ignore it. The second table had a cracked drawer front, which the lady said happened when she tightened the knob a little too tight and warned us against doing the same. Alarm bell number 2? Well I ignored that one too. Two of the mirror pieces on the second table's legs were also cracked. The lady suggested that we could call the manufacturer and ask them to send a replacement or something. Knowing that we'd never get around to fixing the second table we left it at the seller and came home with just the first piece. We placed it in our family room under my mom's mural painting, which we knew was only temporary as the scale was off.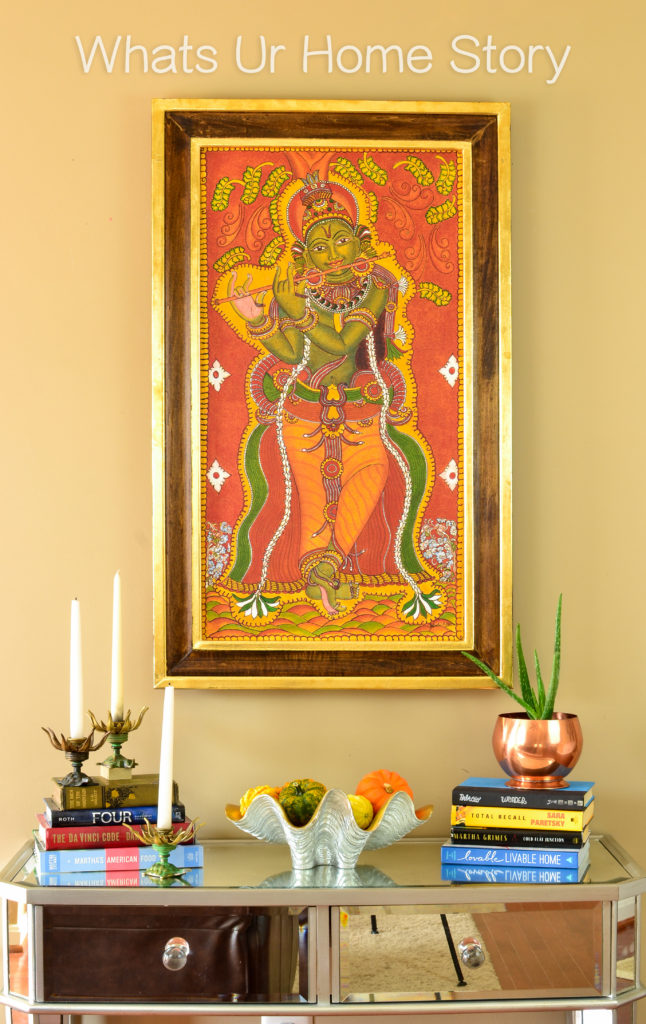 It stayed there for a year and half until we got a bigger console table for the spot. Then I had a brain wave, why not move the mirrored console to top of our stairs? We didn't really have a landing per se but it could work in the hallway. The space was tight but it looked so good that I again ignored more warning bells, this time both from B and my dad.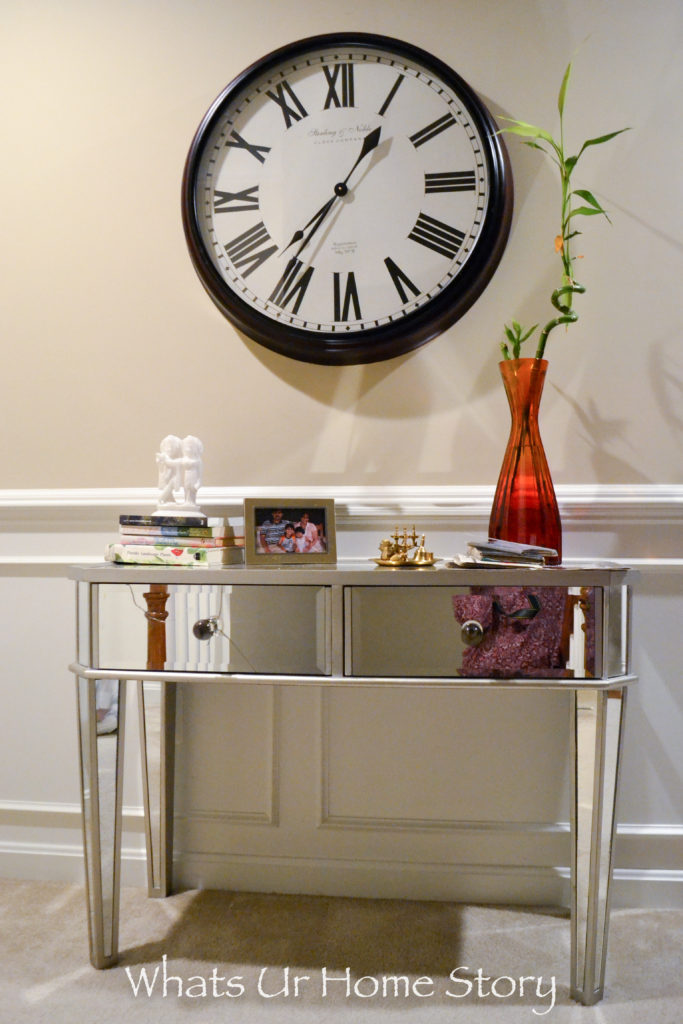 A week later, as monkey #2 and I were walking hand in hand through the upstairs hallway she gently bumped into the mirrored console's knob and boom, the drawer's mirror front cracked! Just like that!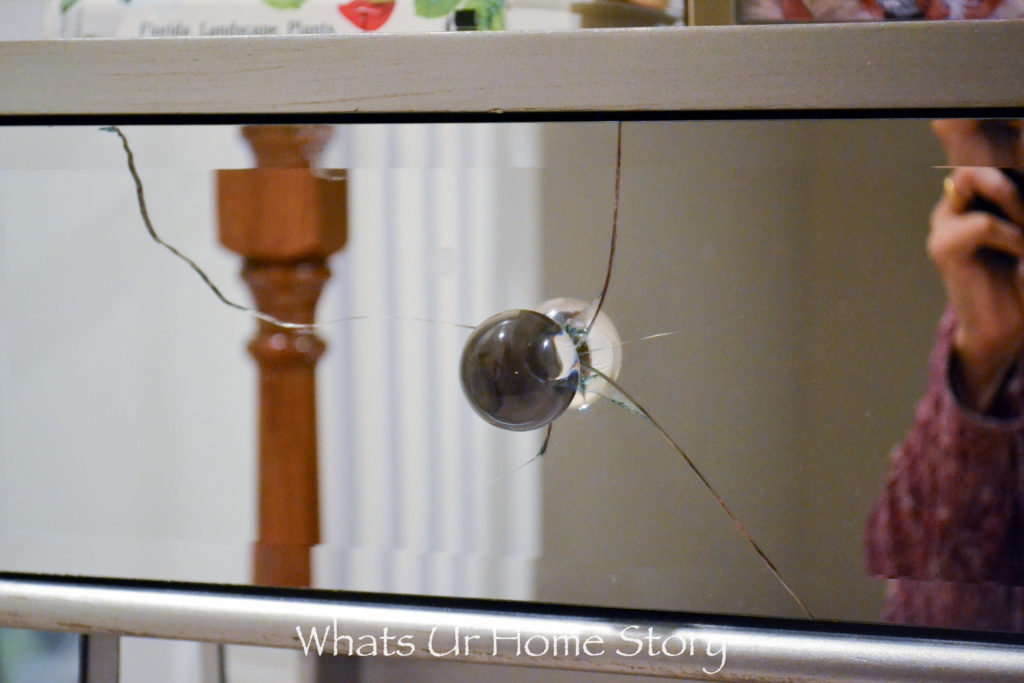 As it was my idea to move the table upstairs B washed his hands off fixing it. On top of that he even gave me a deadline to fix it. I was sure that it was going to cost me an arm and leg to get the mirror replaced from a glass cutting shop so like a true DIY'er I researched online, watched every possible video on Youtube on how to cut glass/mirror and finally came up with a plan. Since the drawer mirror had beveled edges, I had to go the glass cutting shop route if I wanted to replace the cracked piece with a beveled mirror. Another discouraging fact was that they are more expensive. So I dropped the beveled mirror idea at the start itself, instead settled for mismatched drawers one beveled and the other regular, hoping that the difference wouldn't be noticeable. Step #1 pry the glass off the drawer front = Success.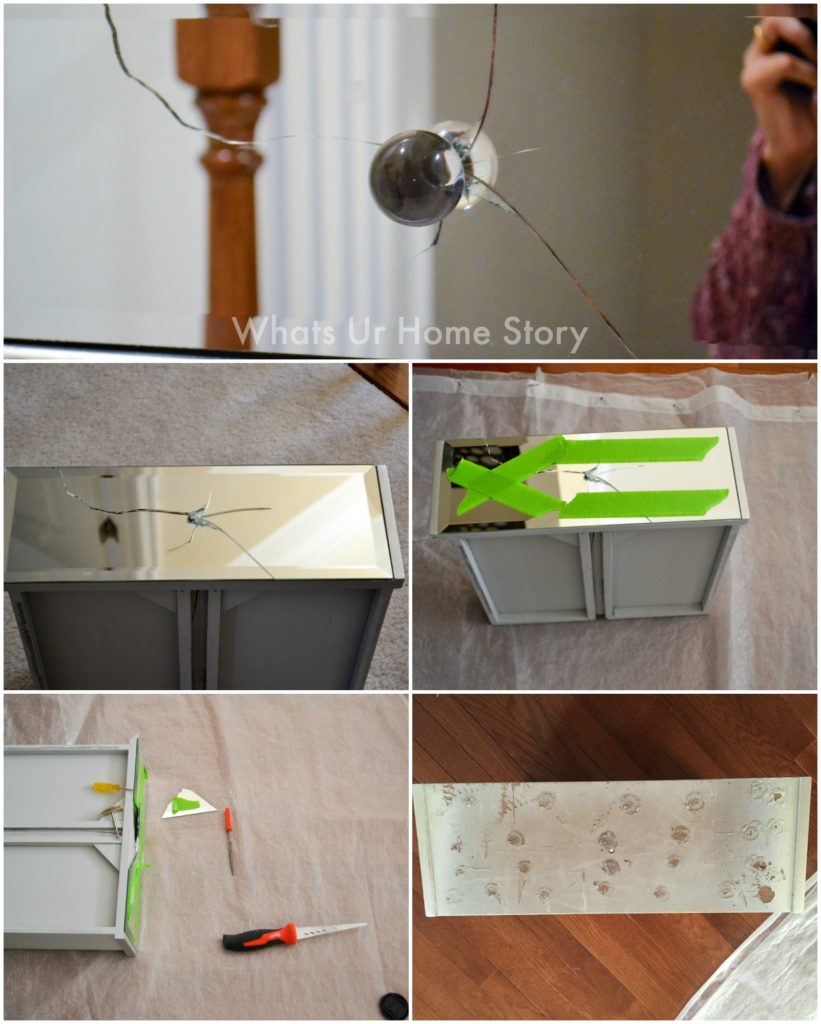 I was so inspired by my big win with step #1 that I went to Michaels the next day itself and got a piece of mirror on clearance (it was chipped on the corner) and tried my hand at cutting the mirror with a glass cutter.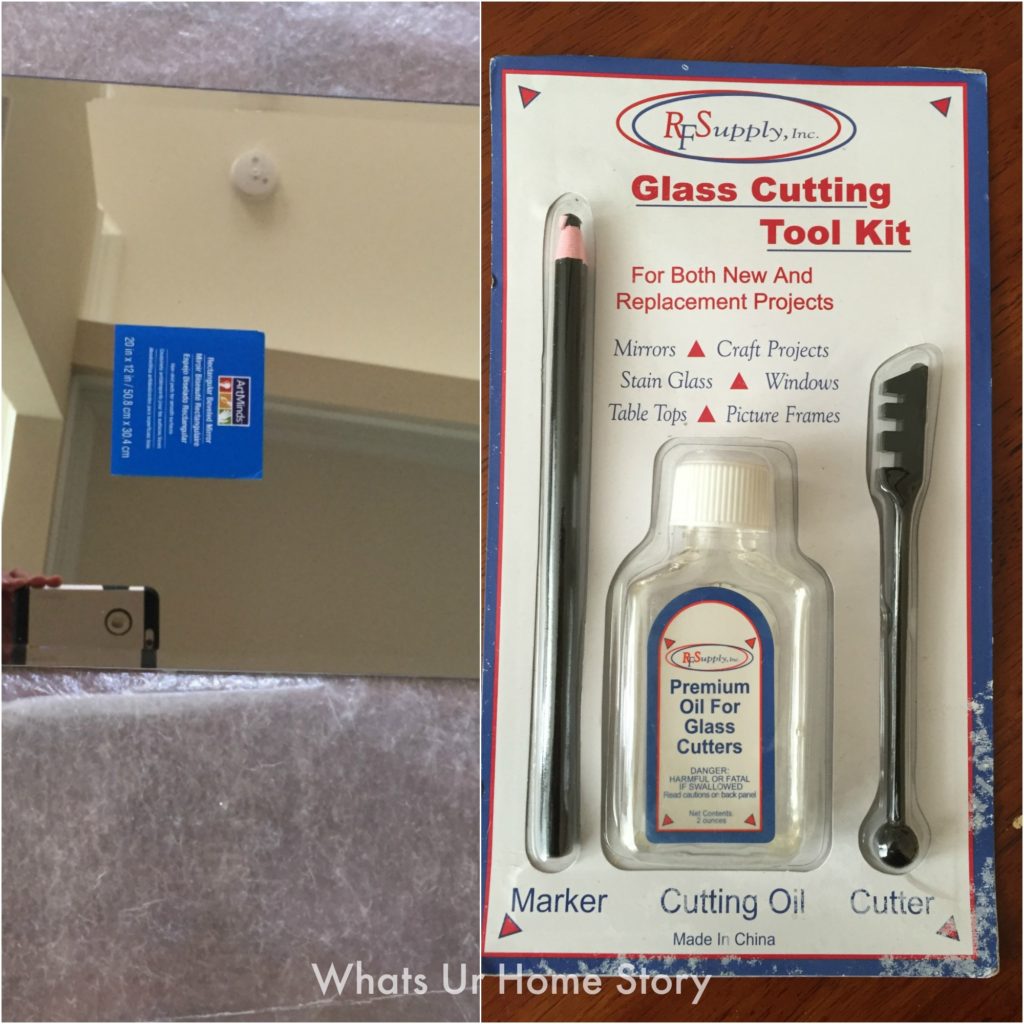 Biggest fail ever! Even worse than my lace chandelier. My project called for perfectly straight edges. Nope that didn't happen at all. Maybe I needed way more practice. Whatever, after a dismaying few tries I gave up and took the cracked mirror drawer, now all clean, to the Sterling Glass store. As I expected the beveled mirror replacement was close to $150. For the plain mirror too to get a hole drilled in the piece was going to be $$ extra. The guy at the store suggested that he had stick on mirror knobs that I could use if I did not plan on getting the hole drilled for the mirror front.
$32 ,$17 for the new mirror and labor + $7.50 each for the new knobs, later here we are! Yes I ended up spending $32 to fix one drawer of my $40 mirrored furniture find! And that too ended up with 2 mismatched drawers!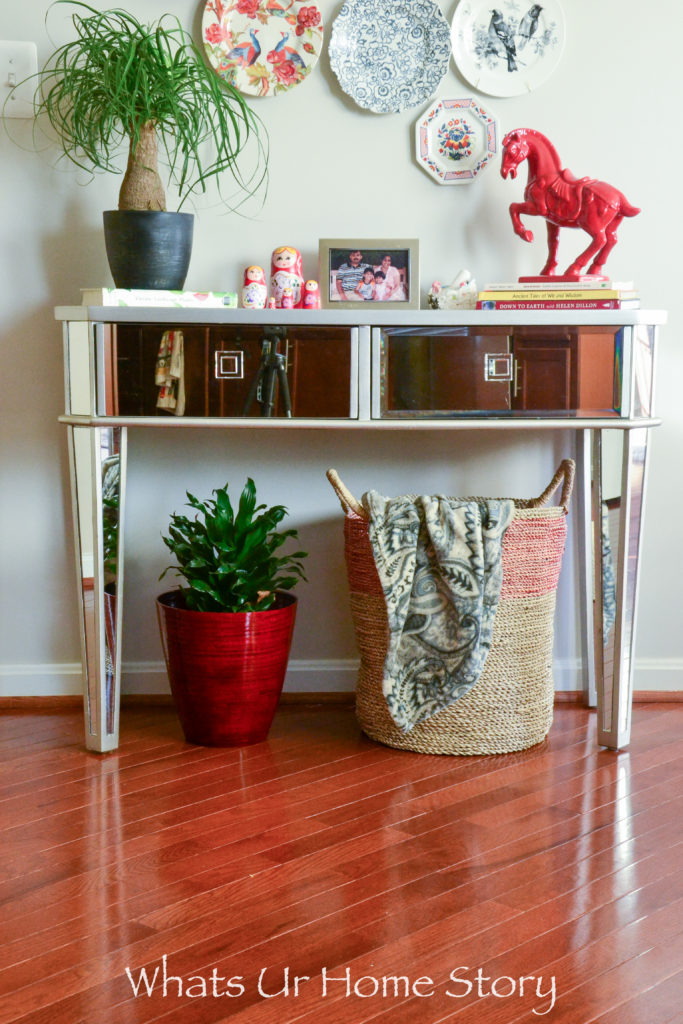 I know it is still considerably cheaper than buying a new piece and that the mismatched drawer fronts are only noticeable when you are up close. We've since found a new spot, under the breakfast nook plate wall where we hope we don't run into any more mirror cracking instances. If you ask me our mirrored console is still at risk and I frankly don't think I have the appetite to go through this ordeal one more time if any of the mirrors crack again.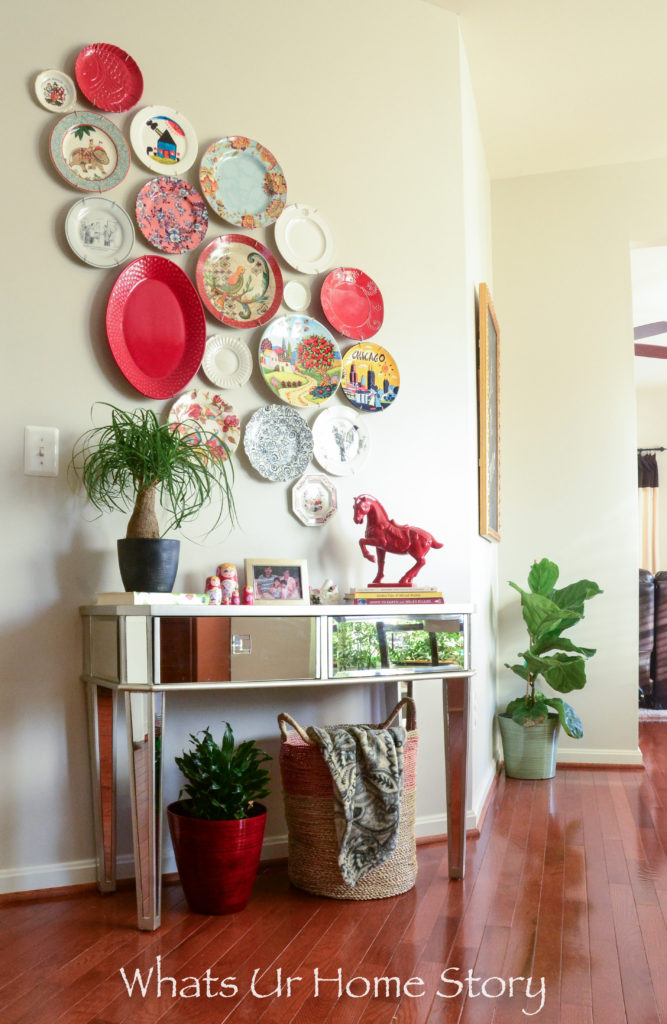 So my verdict folks is that mirror furniture is not worth it both with its hefty pricey tag and the trouble and money you need to shell out to get it repaired if any of the mirrors crack! Even for homes without small kids don't think it will work 'coz it is so easy to crack. My daughter just strolled into it, she was not even running. It could easily have been an adult too. For now we are enjoying our piece for God knows how long.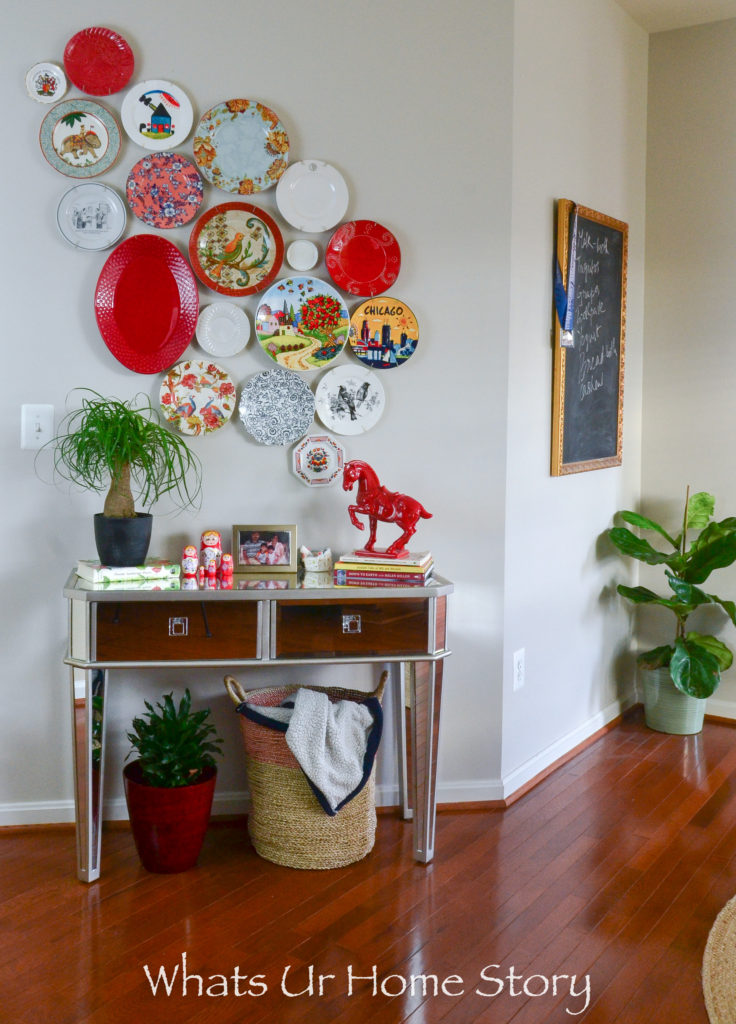 Do you own mirror furniture? What have your experiences been with the piece/pieces?