Oh how I miss my Same Look 4 Less posts! Yes, they were a lot of work as I needed to research high and low to find a knockoff that was in the same style and under budget but as in real life nothing beats the sheer thrill of finding the right piece. The bonus to all this is you end up being a walking talking research directory of home decor finds. The other day at Haven, I was having lunch with a few other bloggers and Kim from DIY Driftwood (by the way, I can't wait to try her fabulous product) mentioned how much she loves the Ballard Designs' Bornova Tables that were on display at the conference. She lamented that there was no Ballards near her and the shipping costs were more than what she would have liked. The next thing I knew I was telling her how World Market had a knock off of that table and how I had found about it during one of my Same Look 4 Less posts. And it struck me, I so……….need to get back into doing these posts regularly! Ready to go treasure hunting for home decor knockoffs? Which of these carved wood side tables would you take home?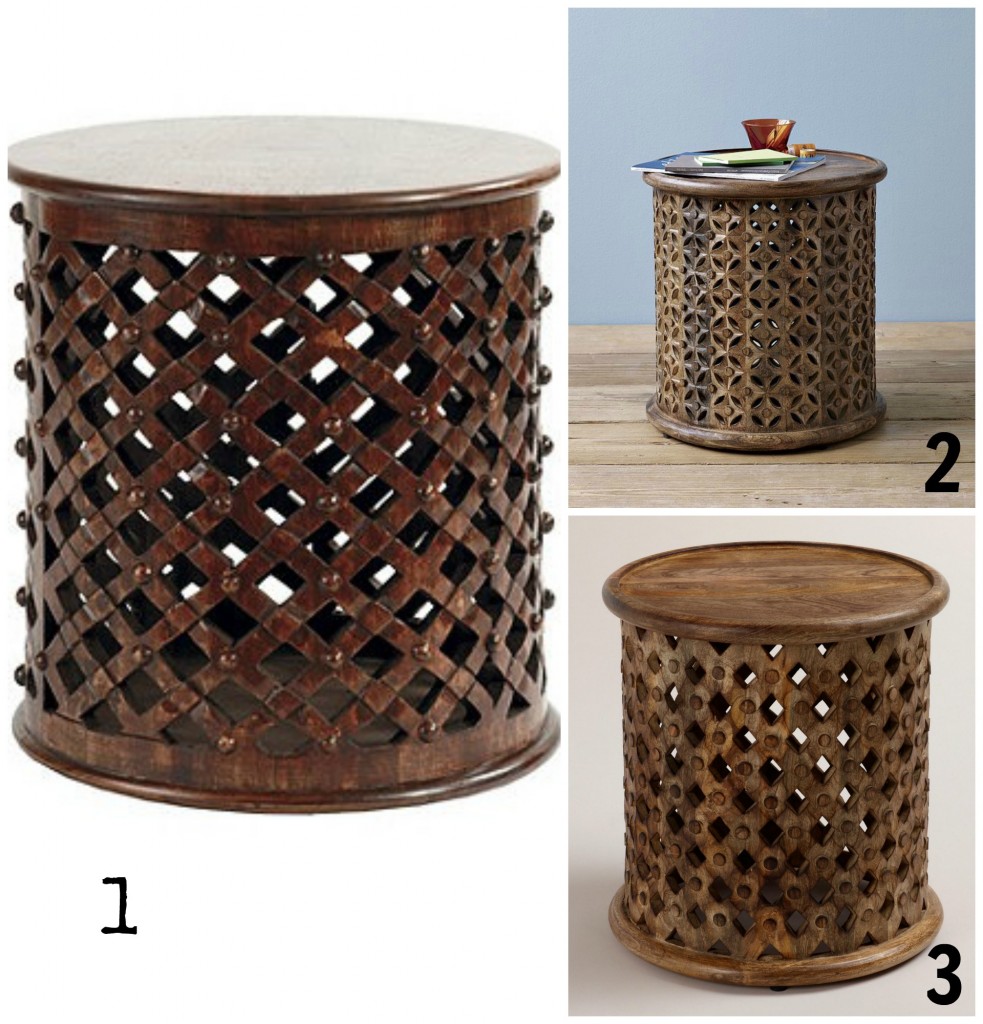 #1 – Bornova Side Table from Ballard Designs -$219 #2 – Carved Wood Side Table at West Elm – $199
#3 – Tribal Carved Wood Accent Table from World Market -$150
Food for thought – They all look like they were made in India. Knowing how things work over there with traditional craftsmen concentrated in an area based on their skills I'm guessing they were made in and around the same town/area. From Earthy to glam, who wants a mirrored side table? Me, me, me……loud and clear B? 😉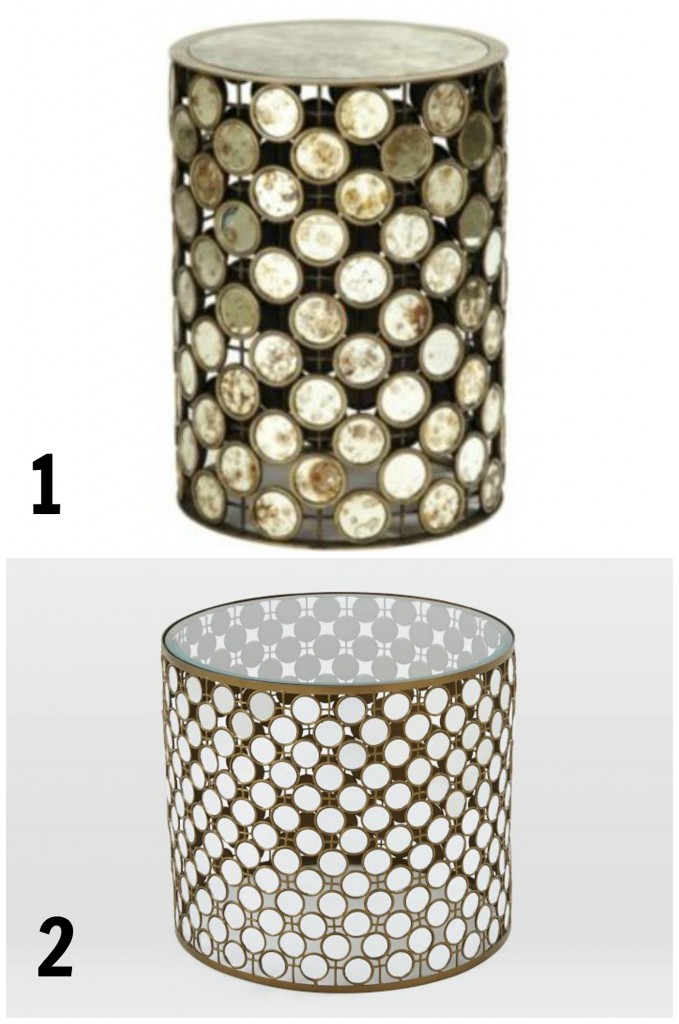 #1 – Abeille Side Table at Ballard Design -$249 on sale ($299 original price) #2 – Deco Dot Side Table from West Elm – $299 Ok, not much of a bargain there but I wanted to show you how different the same design can look; one has a muted, worn, lived in look while the other is all sheen and glam. I have another side table for ya. Wait, it does look a side table fest here? Hmm…what's your pick 1 or 2?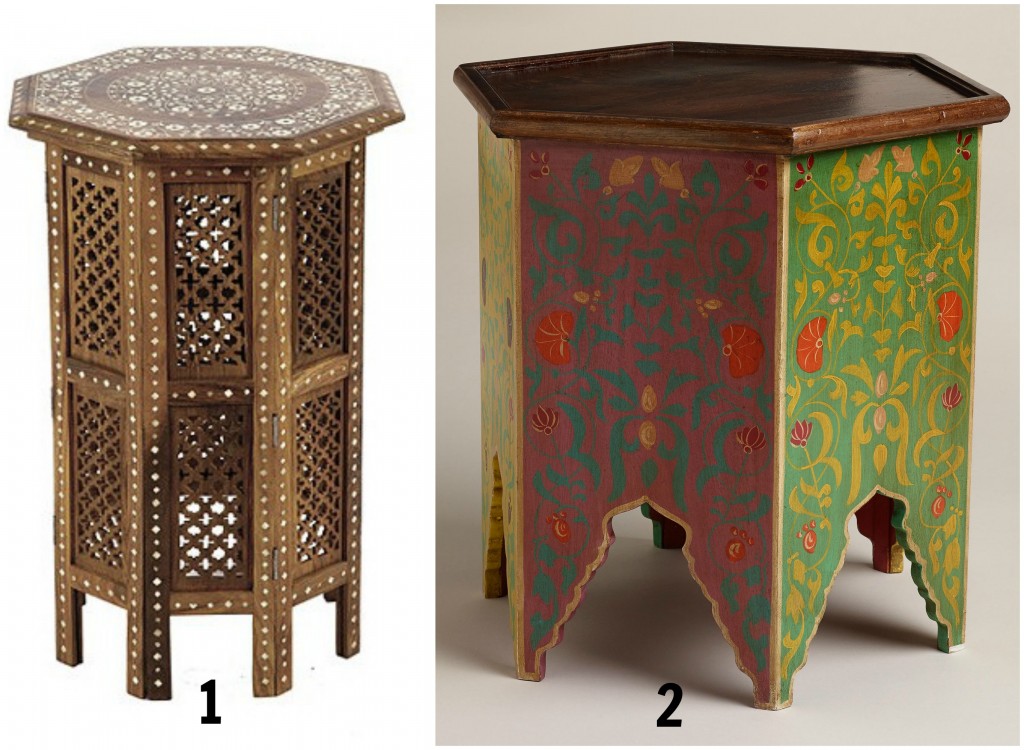 Again, tables made in India. #1 has a traditional buffalo bone inlay work that requires highly skilled craftsmanship. All that inlay is done by hand! On a side note, we have the same table but shorter that we brought back from one of our vacation trips. Last year while were antiquing in Fort Kochi we visited a store that specialized in bone inlay furniture. It seems during old days they used to use Elephant bone for the inlay. #1 – Marrakesh Side Table from Ballard Designs – $399 #2 – Multicolor Lena Moroccan Table at World Market – $99 on sale ($199 otherwise) Not fair that I ended up finding knock offs for only side tables. How about if we look for a mirror?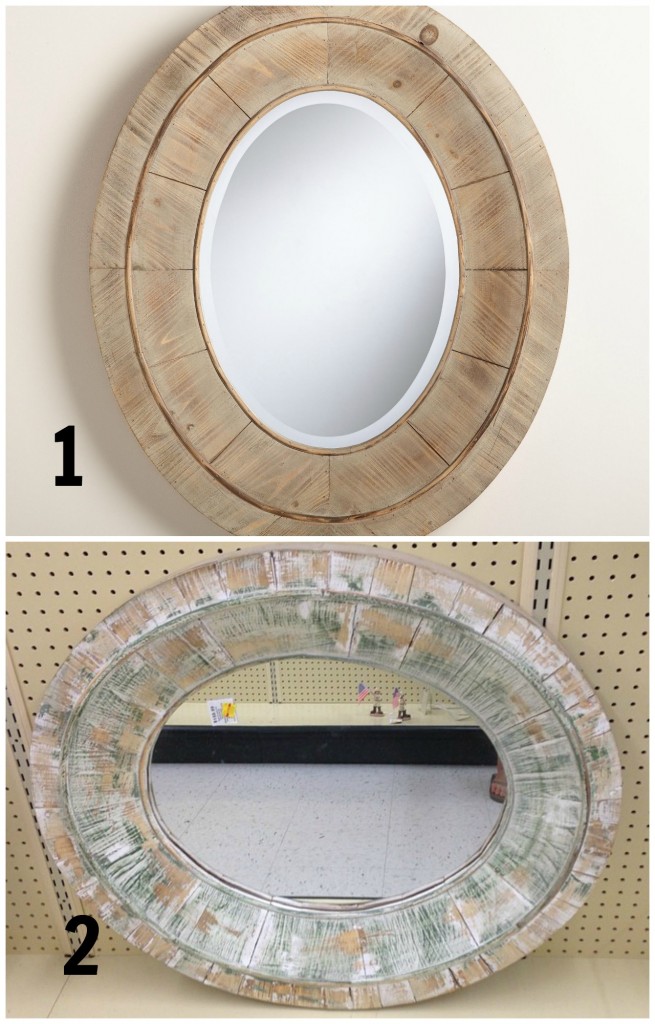 #1 – Gray Julian Mirror at World Market – $112 on sale ($140 original price) #2 – I don't know the name but I found this at our local Hobby Lobby's clearance aisle (at 80%off) for $30. Do you like to window shop for knockoffs too? Or am I the only nut case that does that?