Have you ever tried out a project for the very first time and it turned out so successful that you can't fathom how you aced it at the first try? What does that do to your confidence? I maybe a little abnormal here but my head fills up with thoughts like these, "Oh wow did I really do that? I'm so awesome…How come I didn't try that before? Hmm…now that I have "mastered" this I have to challenge myself and try something even harder!" You know, that's where I falter big time! I get so pumped up with my initial success that in a matter of minutes I want to push myself to achieve more. And in all the excitement I throw all caution to the wind and dive right in without thinking things through. Totally opposite to what I did the first time, where I paid close attention to every little turn the project could take. A big no no when you aren't a seamstress and are trying to do a not so basic project.
Now that you have the back story, here's the project that I'm referring to;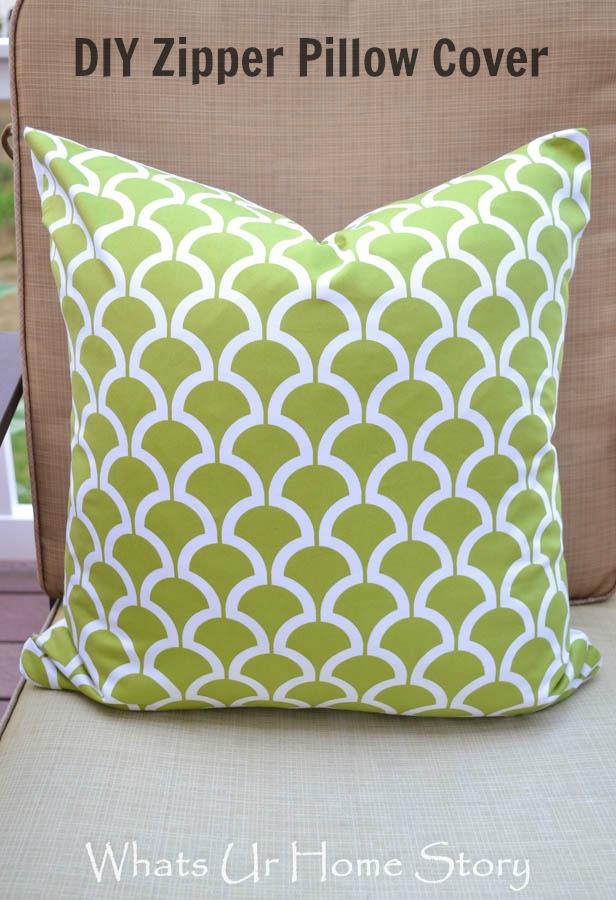 Nope not the initial success, the 2nd one where there were many pitfalls. You ask, what's wrong with that pillow? Nothing much until you closely examine the zipper part. Actually it is pretty good great for a first project but the perfectionist in me is having a hard time accepting that I made so many careless mistakes on this one. But you know what, the good thing is now you can learn from my mistakes and steer clear of them when you give this DIY Zipper pillow cover a try.
For the fun of it, my 1st success story the Chiang Mai Dragon pillow with a hidden zipper (but that is for another day) and my 2nd try the green fish scale pillow with a regular zipper.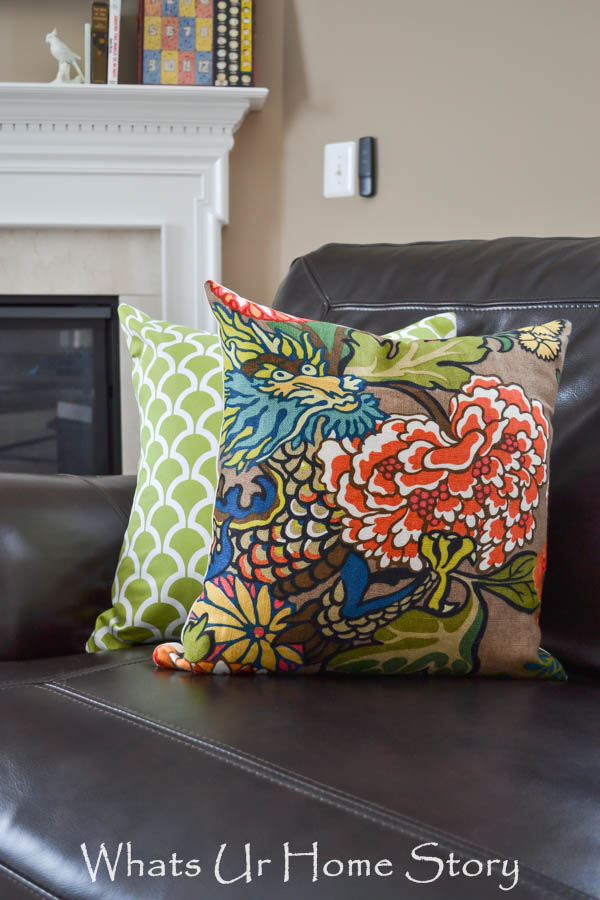 The whole issue started 'coz I tried to go the uber professional way and mimic the styling on a store bought throw pillow cover that I had aka. the one where the zipper is hidden with a flap of fabric from the bottom piece of the cover.

Materials
Fabric for both sides – I used plain white on the back Zipper – 18 inch for a 20 x 20 pillow – I think you need to go an inch or two shorter than that. You can either buy a smaller zipper or make the zipper shorter (will show you how to do that another day) Pencil for tracing A clear thinking head and some patience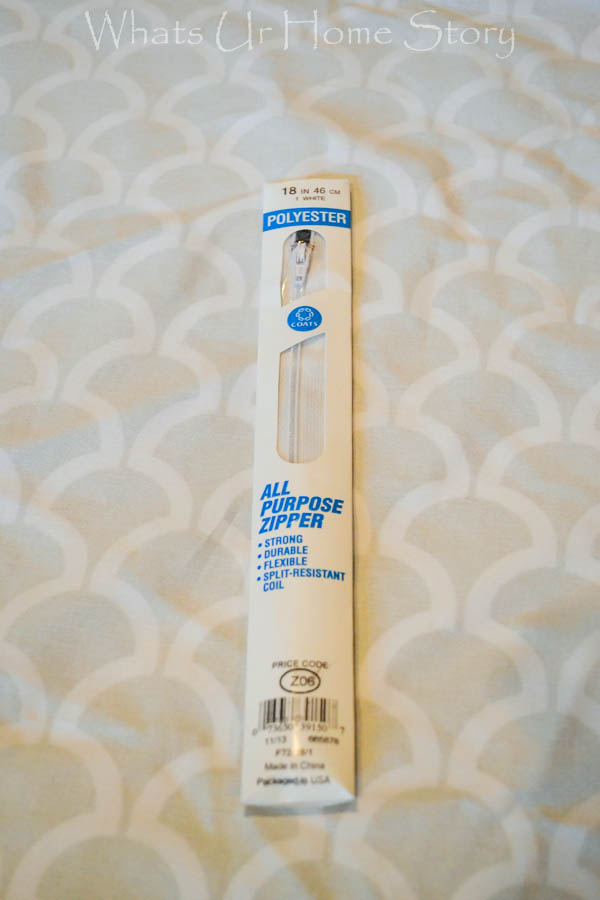 How to Sew a Pillow with Zipper Tutorial
Trace the size of your pillow form on the back of the fabric.
Cut the front piece of fabric (Fab #1) with an inch or 1/2 inch of seam allowance.
Cut the fabric that goes in the back of the pillow (Fab #2) a tad bit longer, an inch to be exact. I took more than this and ran into a lot trouble.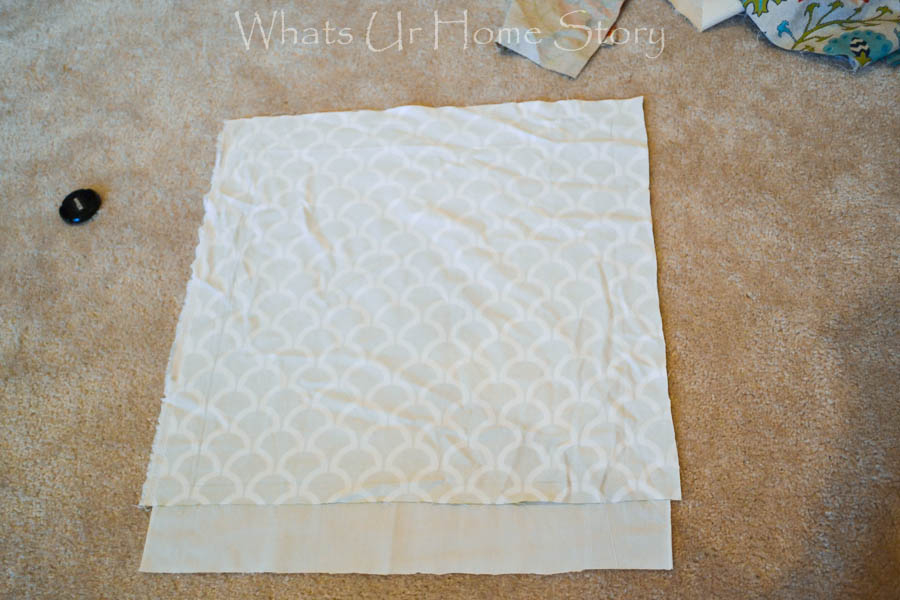 Place the good side of the zipper facing up. Place Fab #1 on top of the zipper with the good side facing down.
Line up your trace line along the edge of the zipper, pin, and sew with the Zipper foot of your machine.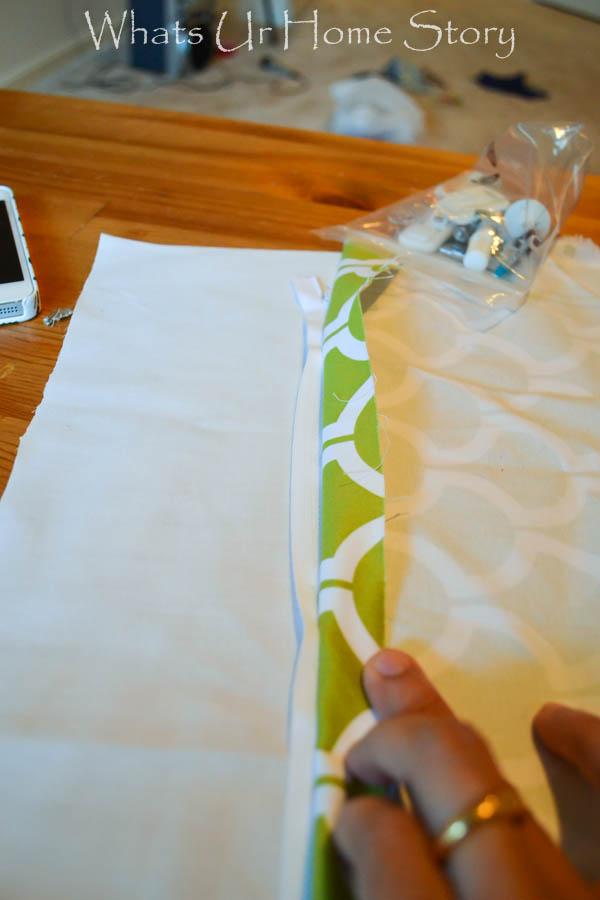 Remember the longer fabric for the back, Fab #2? Sew the longer end with an 1/4th to 1/2 inch seam.
Now you'll end with 2 pieces of fabric that look like this.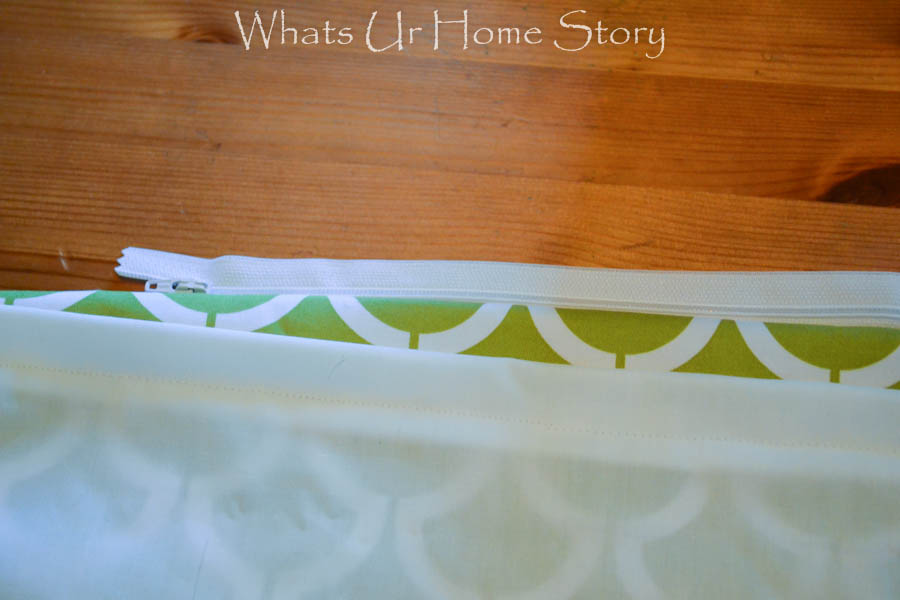 Place Fab #2 bad side (seam side) facing up.
Place the zipper over it, good side facing down.
Line up, pin, and sew.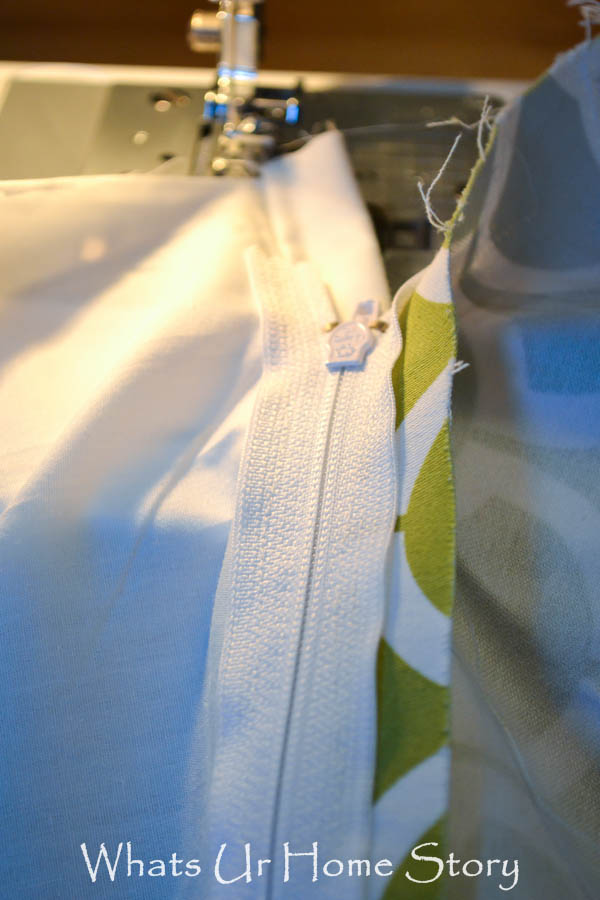 Pat yourselves on the back for now you have sewn a zipper! Yay!
Next step is really key; OPEN THE ZIPPER HALF WAY. If you miss this one the pillow is pretty much useless.
Now, pin along the trace lines (good sides of Fab #1 and Fab #2 facing each other), and sew to make a square.
When you reach the zipper edges, sew over to the zipper edge as shown below.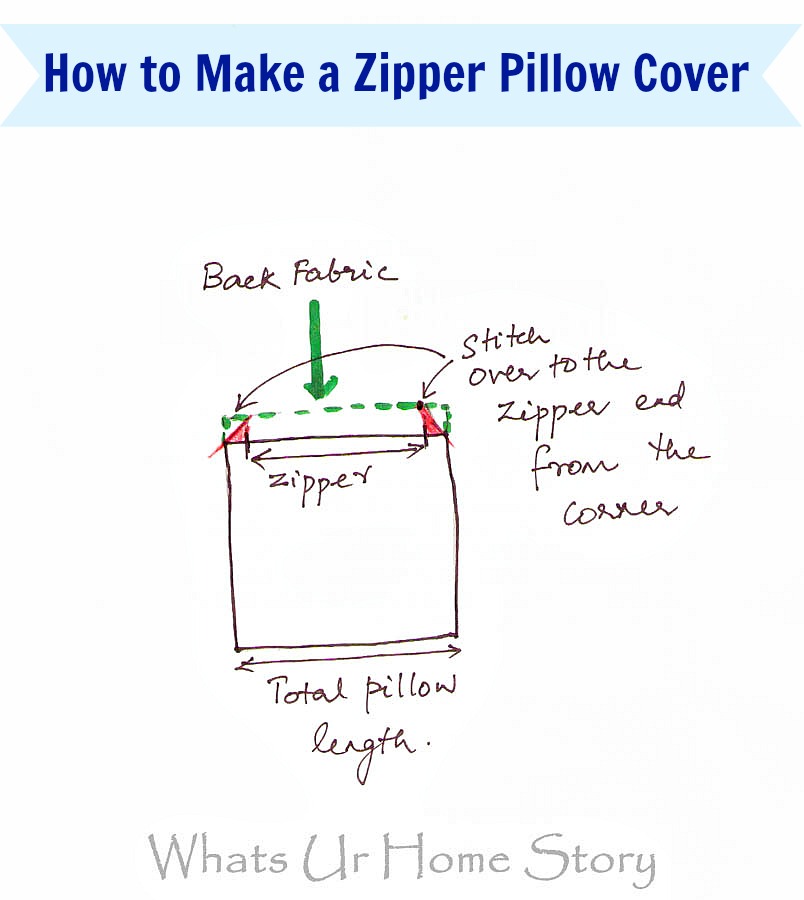 I didn't do this step and my zipper edges ended up looking like this. Ideally it should look like in the third pic.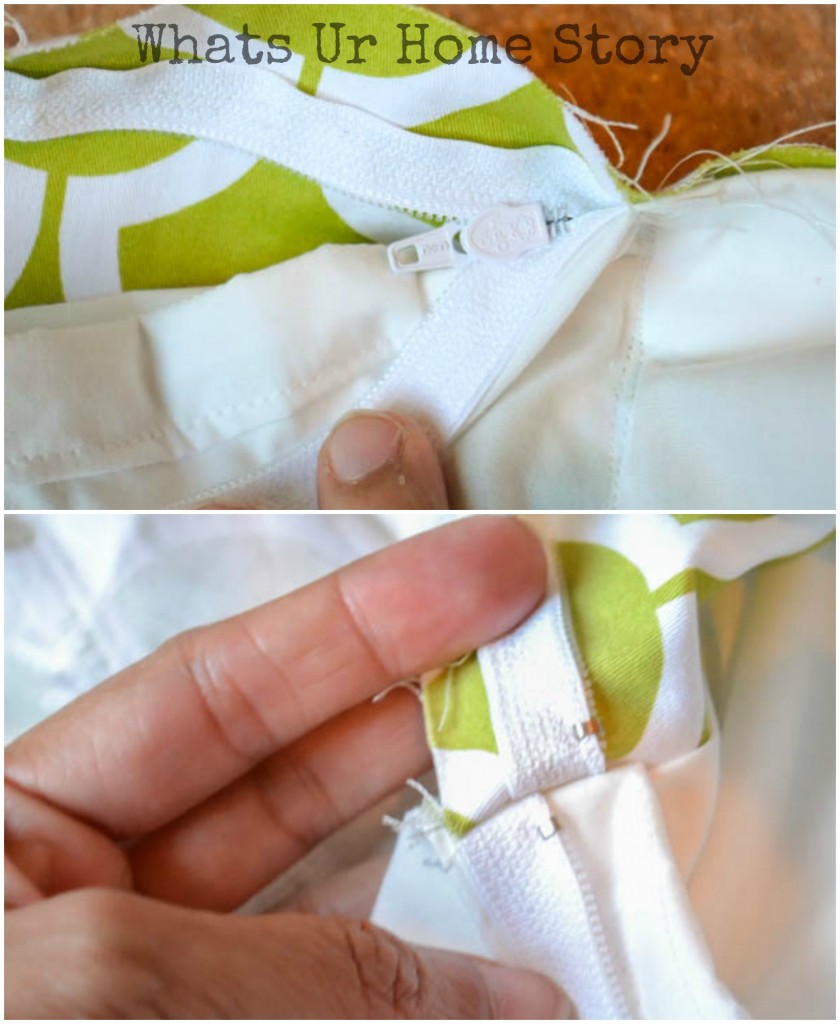 Trim the excess fabric and flip the pillow right side out through the half open zipper. See why we opened it up half way?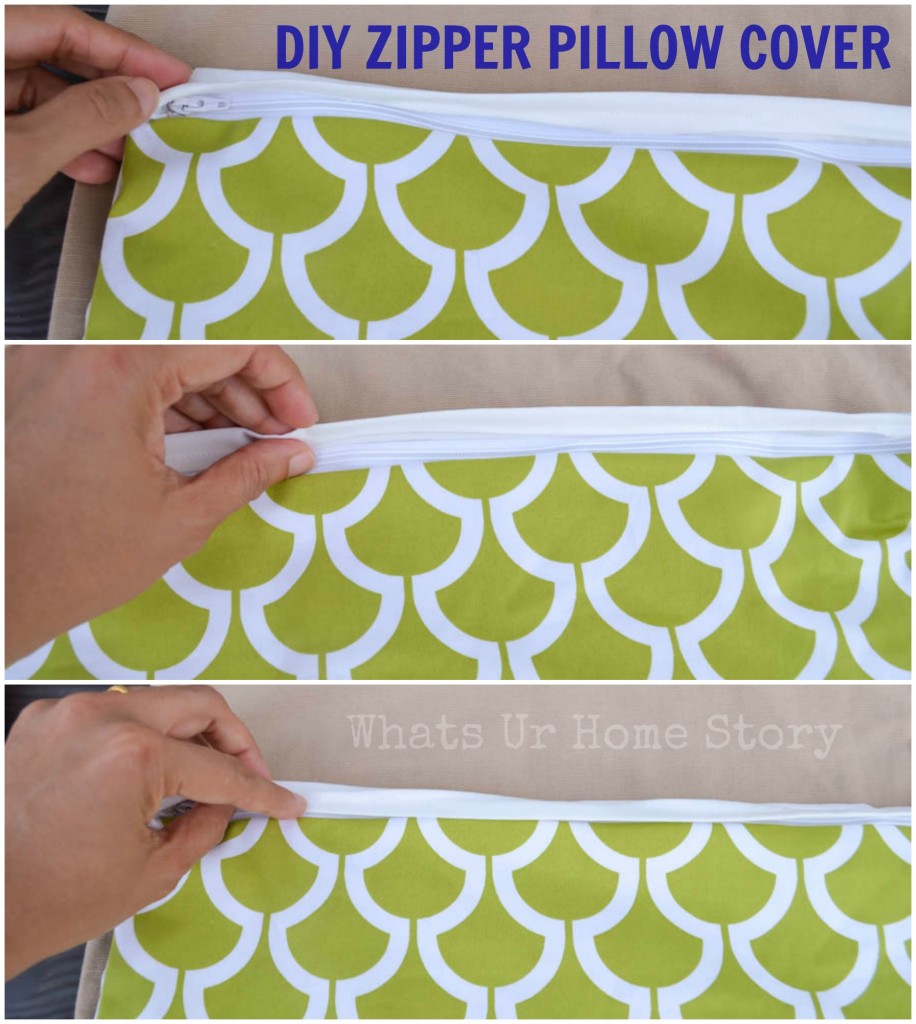 Fill out the corners with a blunt pencil, iron, and you are all set!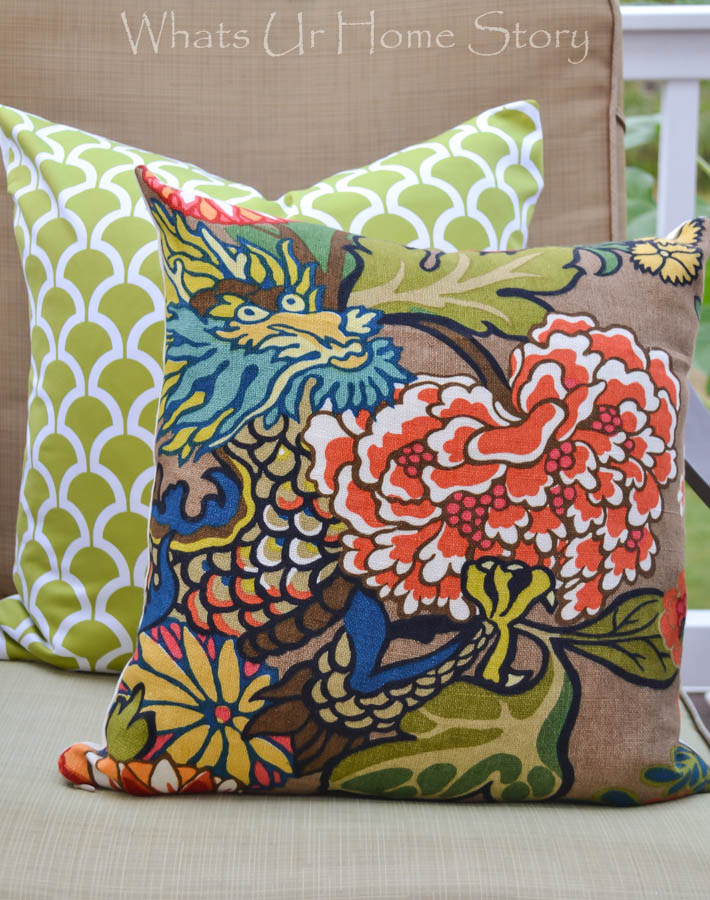 Another important lesson I learned; when working with geometric prints ALWAYS I mean ALWAYS pay attention to which direction the pattern goes. I used left over fabric from my chair makeover, where the fish scales are going down. This new pillow is going to be in the same room with the chairs and I flipped the pattern! As you can see the fish scales are going up here! Talk about being careless!
Do you get over enthusiastic/ confident on a project and end up making careless mistakes too? Have you sewed a zipper pillow cover?