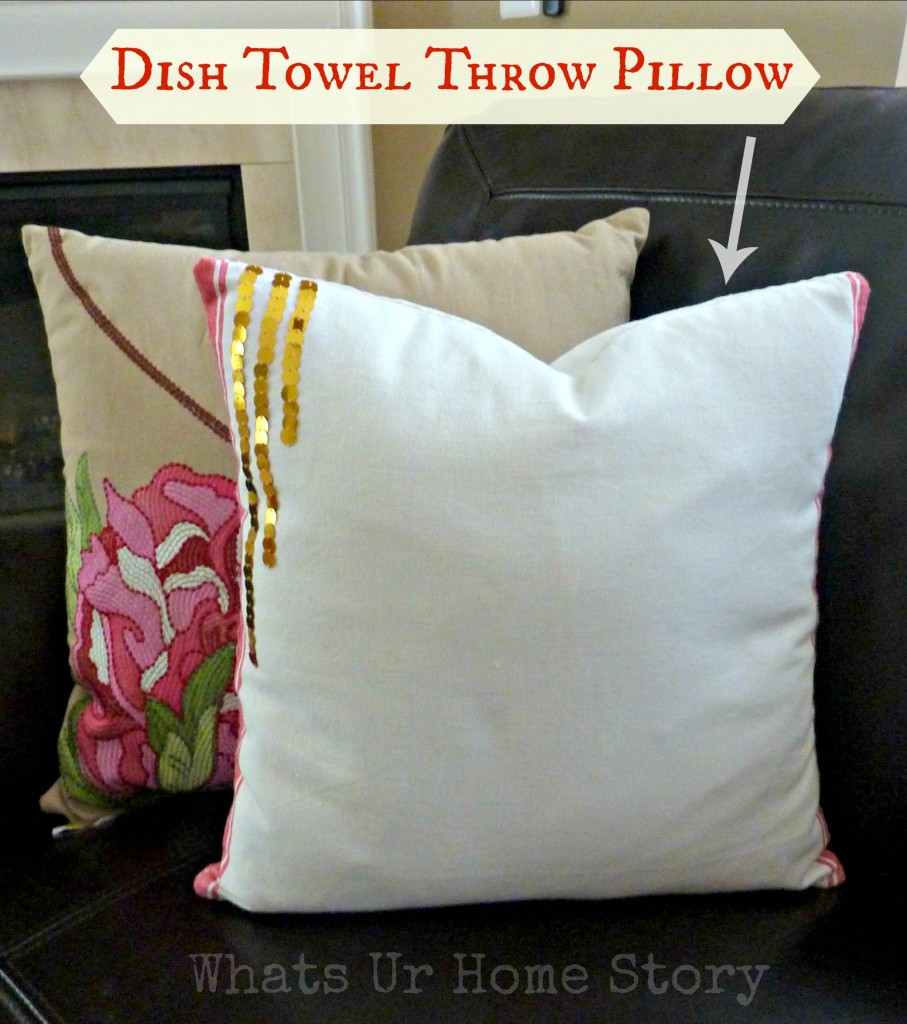 A dish towel throw pillow, that's a first oe me. No I did not set out to make these. The other day, while I was at JoAnn's, the fabric store, I saw these vintage dish towels. They reminded me of the Pottery Barn Grainsack Stripe Pillow (selling for $29.50).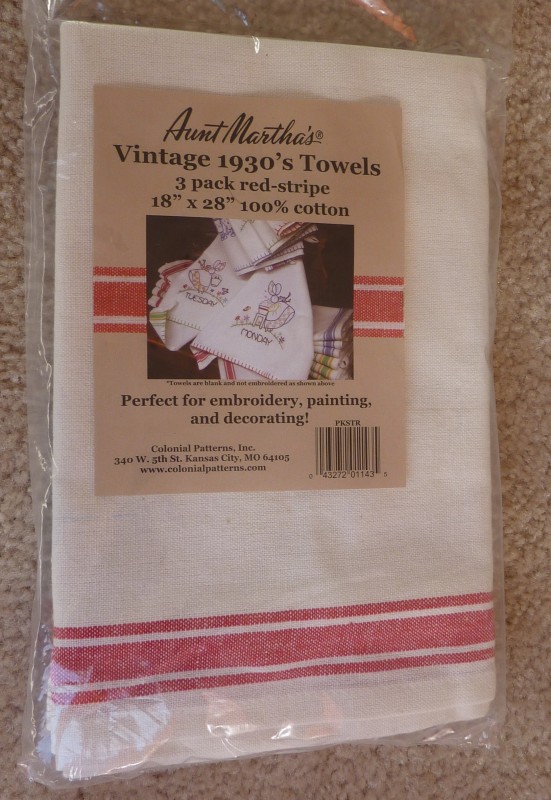 Using a 40% off coupon, I brought the towels home ready to make throw pillows ($8.99 for a pack of three. ) Since I was in no mood to sew, I got the iron-on-tape too.  Some mishaps and iron-on-tape frustrations (vowed never to use it again for pillow making) later, tada….my take on the PB pillow;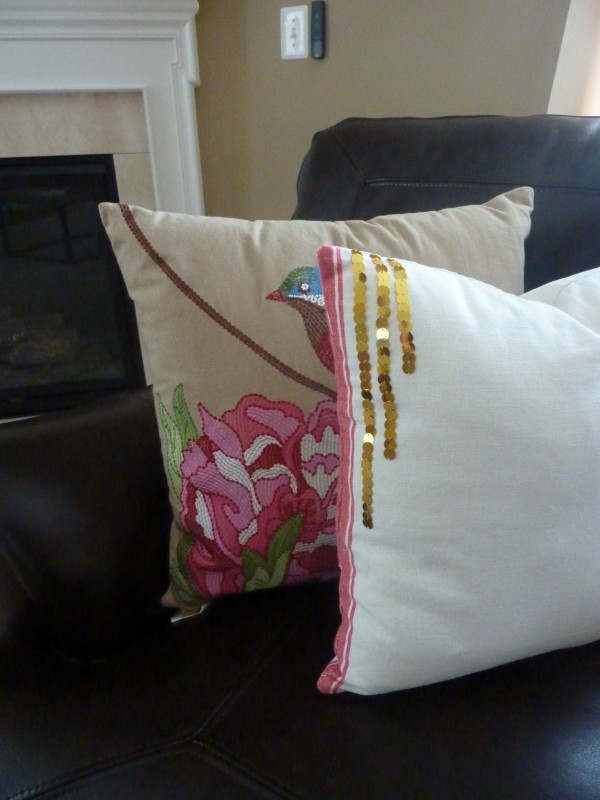 Without wasting much time, let's get down to business.
Materials
Dish towels – $3.59 ($5.39 for 3 from JoAnn after a 40% off coupon. I used 2) Pillow Insert – Already had Iron-on-tape – $2.99 (Micheals) Sequins – Already had  
Total – $6.58
 (if I had gone with just the needle and thread in the first place would have cost me only $3.59)
I had a 16 x 16 pillow insert left over from a $1 clearance pillow that I had bought from Pier1 years ago. The towels were 18 x 28, so I would need to use 2 (got great plans for the 3rd one).
How to Make Pillow Covers with a Dish Towel
Your fabric should be the size of the pillow plus the seam allowance. Otherwise the pillow won't look fluffed up. My iron-on-tape (Heat n Bond ultrahold brand) was 1″ thick. So I cut an 18 x 18 ( i.e. 16 x 16, the size if my pillow + 1 inch seam allowance on both sides) piece out.
The second piece should be 16 x 16, the size if u'r pillow + 1 inch seam allowance on both sides + 8 inches. In my case, that turned out to be 18 x 26. We are making a no zipper pillow, hence the extra 8 inches.
Now cut the 2nd piece (18 x26) in half on the longer side at the 13″ mark.
Lay the two cut halves overlapping each other so that the total length is 18″ like this: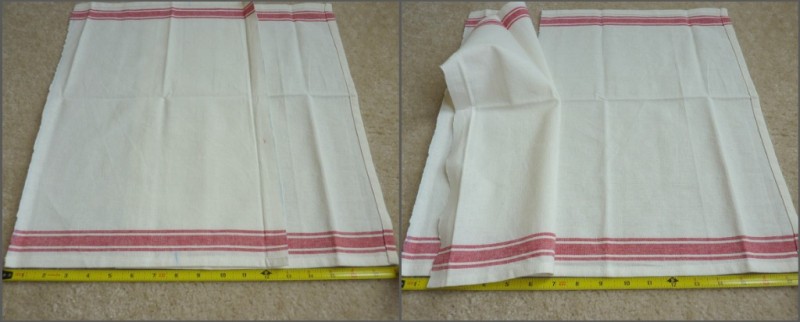 You are going to make a pocket for you to insert your pillow. That's why you need the extra 8″on one side.
Iron your seams in, it gives you a better idea of where to lay the iron-on-tape.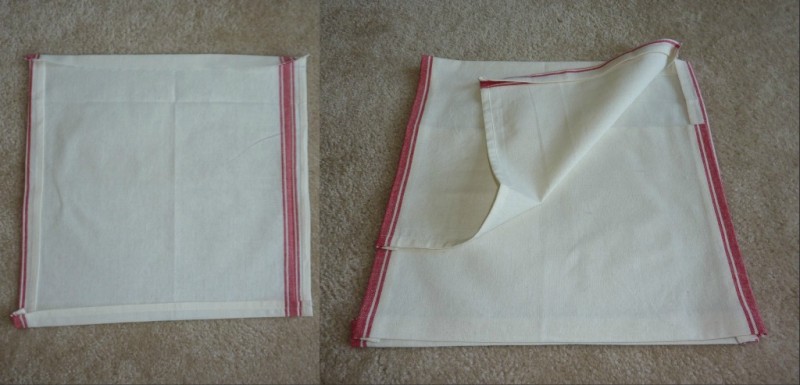 Seal the seams (separately) on the two halves on the sides that they overlap.
Lay your first piece face up and one half of the second piece face down matching your sides and corners.
Place the iron-on-tape in between the layers and seal all edges. After you seal the first pocket it is going to look like this;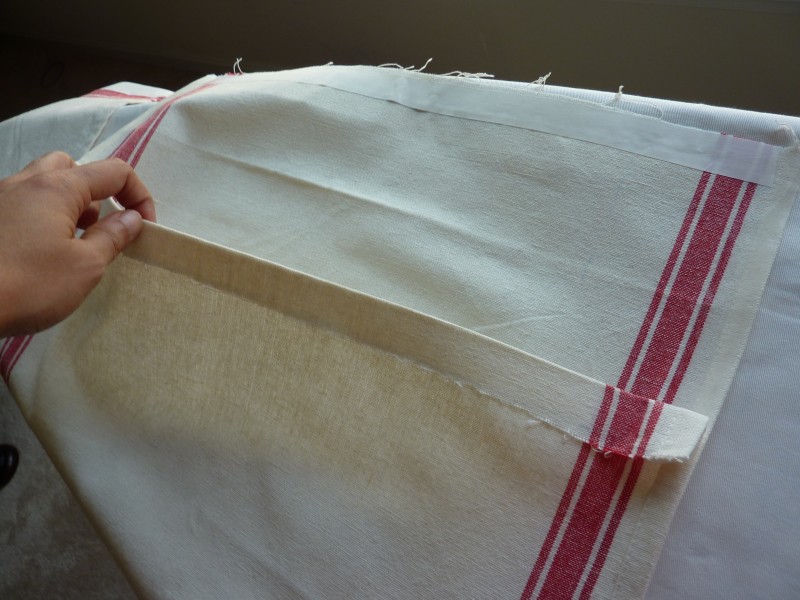 Now lay the other half of the second piece also face down on top of this and seal away. Pay close attention to where they overlap.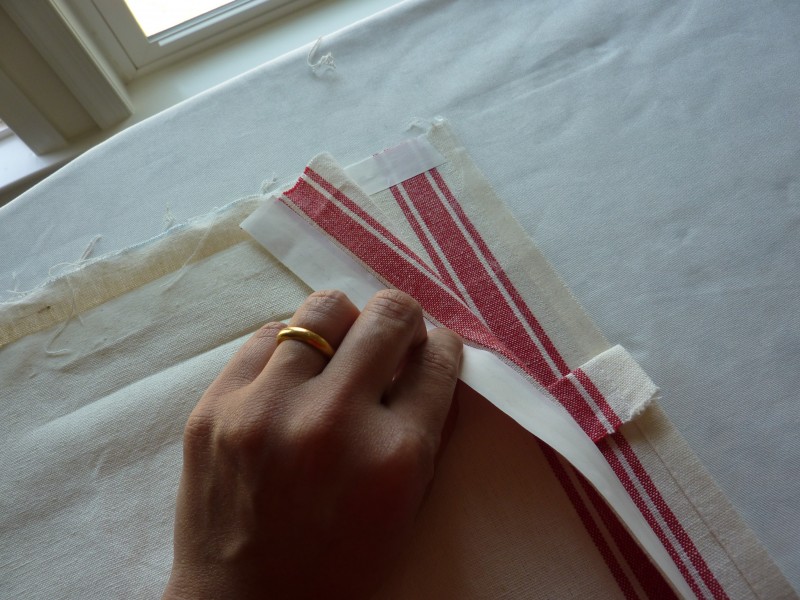 When all is said and done you should end up with this.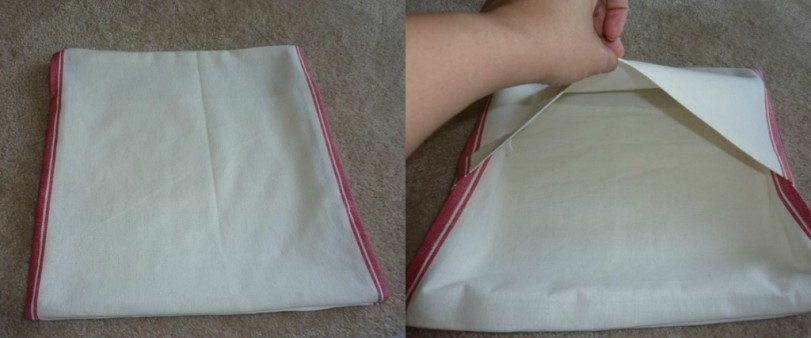 Nothing in life is easy for me. So……one overlapping side just refused to stick. No idea why, the other side was totally fine. See what I mean?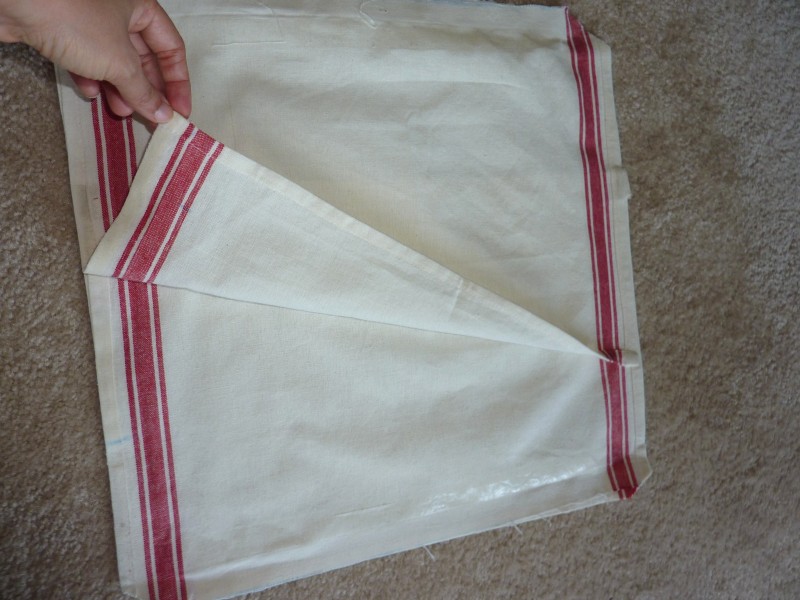 I ended up doing a running stitch (didn't want to take my excuse of a sewing machine out for this) on that area. Since I already took out the needle and thread, I went  over all the sides with the running stitch, just in case the glue in some other area decided to act up.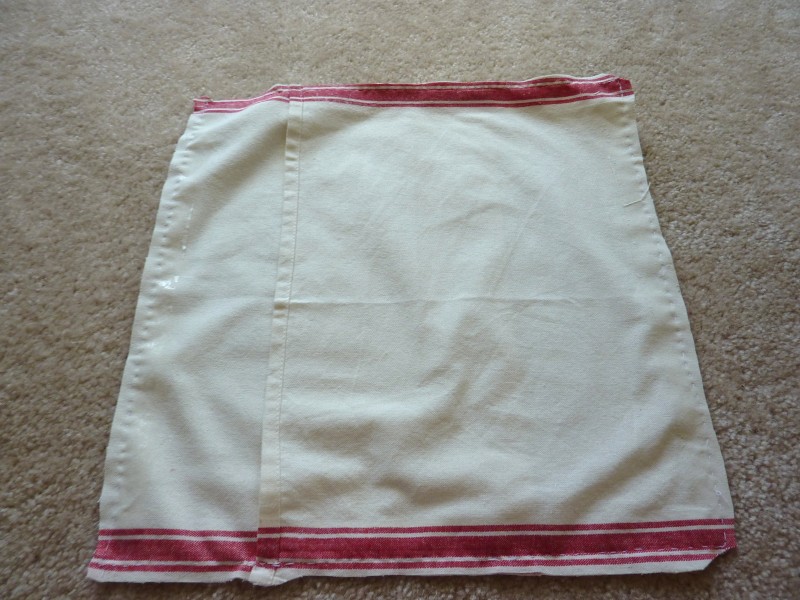 Trim the corners and turn the pillow inside out. Using a pencil or your pinkie make the corners pointy. Insert your pillow insert. You have your DIY throw pillow.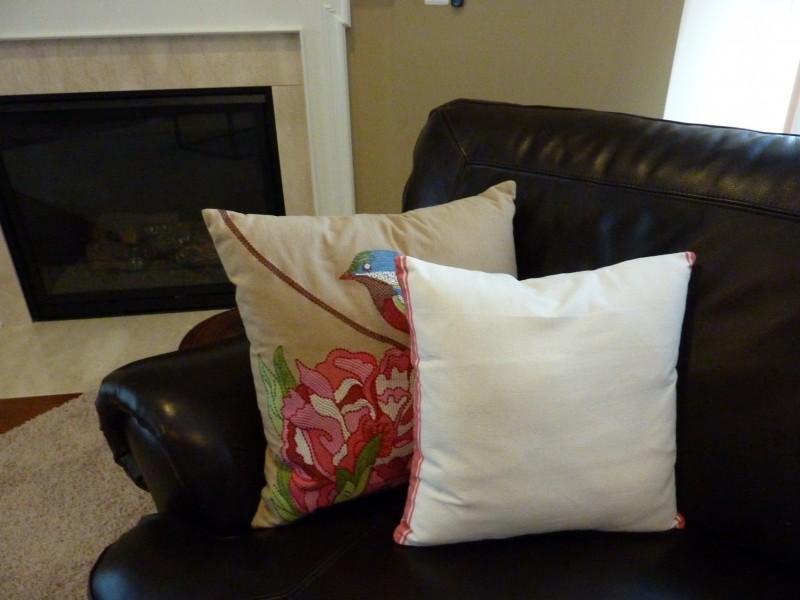 Looked ok, actually in the pics it looked great but in reality looked blah…It kept telling me to add something more. Looking through my stash of ribbons, buttons n' all…I found some gold sequins that I had bought 2+ years ago. I drew my pattern (3 lines) with a pencil and set to work. My sequence had 2 holes on either side. Here is how you sew the sequins on:
Use a single layer thread. Knot at the end and do a few stitches on the inside, on the seam.
Thread your needle through the first hole.
Bring the needle under and through the fabric and then over through the 2nd hole (see  the 3rd pic below).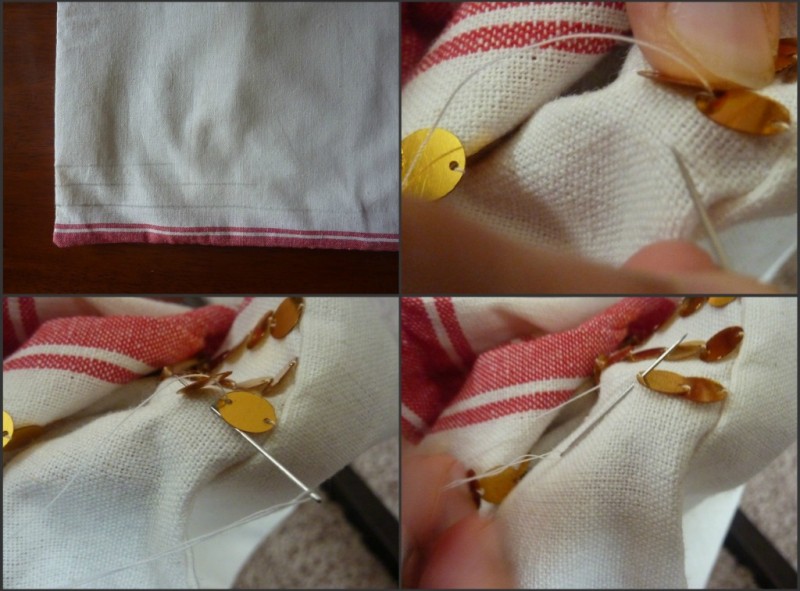 Secure the sequins by going under and through the fabric and coming back through the same hole.
Now thread the next sequins overlapping slightly through the first whole (pic 2).
I know that is confusing, here is a video of how I did it in my deeply congested/coughy voice. It is my first video tutorial, so I'm kinda nervous. Also we realized that the video was a bit blurry after the whole project was done. So couldn't do any retakes.

Did I lose you? Here is the finished product.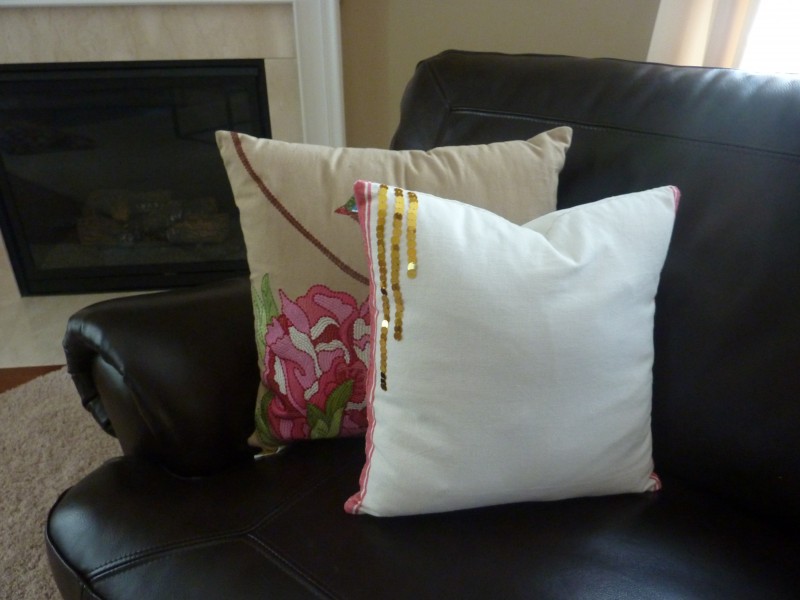 Takeaway from the whole endevour:
I would not recommend iron-on-tape for pillow making, especially for thick fabrics. Mine was a nice thick cotton. It kinda made the seam thick and rough to touch. For thin fabrics you might be able to get away with it. You wouldn't really notice the difference once the pillow insert is inside. Also there really is no guarantee that it will stick as was the case on one of the sides for me. If you are not in the mood for hand sewing sequins you could hot glue pre-sewn strings of sequins that you can get from craft stores.
Wondering about my bird pillow? More about that here. You can checkout my other DIY throw pillows here;