Now that we have the Christmas decorations post out of the way (I wanted to get that in early so that at least some of you could use the tips), we can move onto what's in store for 2014. Are you big on new year resolutions? I don't usually make them because I know that if I don't have my heart set on them I will not follow through. Also if I really want to do something I will decide on doing it and follow through no matter what time of the year I make the decision. Don't have to wait for New Years for that. But I do understand and respect the concept of giving every new year a fresh start. In that spirit I thought why not pick a word to live by this year, a word that would guide me, help me push through without waivering from what I set out to do this year.
And the word is…..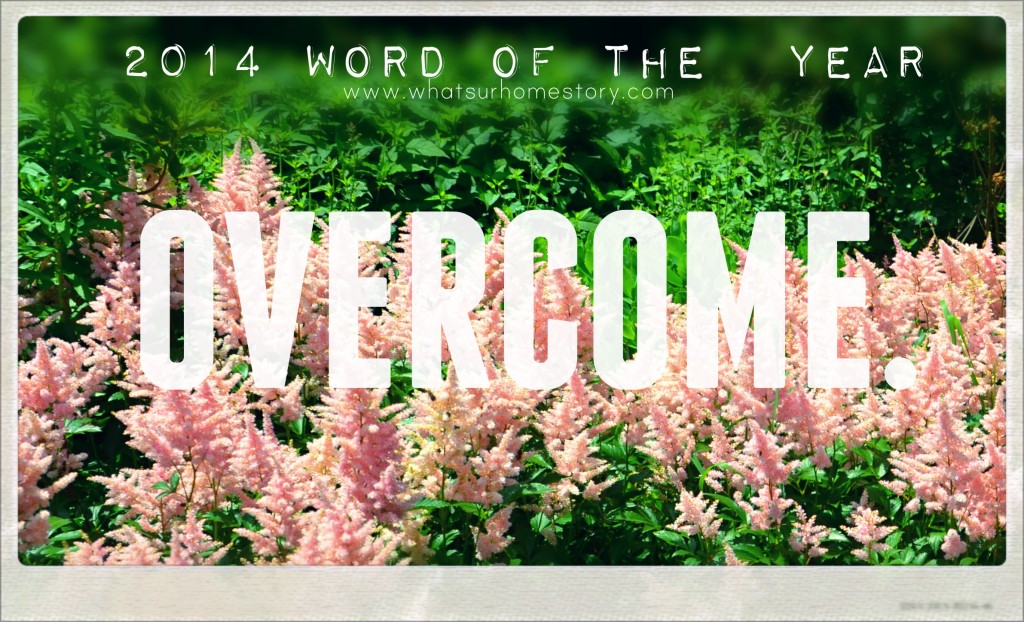 Why Overcome? What do I need to Overcome?
Almost all my issues surrounding this word stem from my ISTJ personality with an extremely strong I (Introversion) component. My basic introvert nature, which I have been trying to break out of the last few years has reared its ugly head up in my blogging world too. Though I kept reading every other blogger advising  against "blogging on an island" I kept at it reluctantly reaching out to other people only when I had to. This indeed made me a blogging island. However the two events that I was part of last year, the Hometalk Halloween Hunt and the Martha Stewart American Made, and the ensuing interaction with the bloggers I met at these venues have totally changed my perspective on being a loner in the blogging world. If you are a new blogger and are apprehensive of reaching out, fear not, the entire blogging community is an invaluable support system.  All you need to do is network with your fellow folks. So this year my goal is to overcome my introvert inhibitions and seek out my tribe. As a first step to this effect, I'm planning on going to the blogger event at the Philadelphia Home Show and also to attend the Haven conference (Yeah, finally!).
Another trait of my ISTJ personality, the urge to immerse myself completely (beyond reason at times) in something that I love. As I have realized at many a times this extreme level of involvement is most often either not warranted or would take away from my other life activities. My commitment to blogging has been one such. One could argue that there is no reward without toil but I often wonder when does the effort cross the line? With a family, full time work, and a home that require more attention from me, over extending my energy reserves on the blog is gonna mean other parts of my life is going to has been affected. So this year, I have decided to take a breather; be more organized with the blog matters aka. write and schedule posts ahead of time instead of waiting till the night before and plan out the blog calender more efficiently. It is time to overcome the urge to over commit myself to so many things. Pause, think, plan, plan, and plan so I'll have more free time to spend with the important people in my life.
This brings up another issue, I'm pathetic when it comes to calling people. There is nothing more awkward for lack of a better word to me than to actually pick up the phone and call people. No idea why but I prefer typing behind the keyboard or messages but not actually talk. I guess I could attribute that to my introvertness too. Motto for the year, overcome this innate sense of awkwardness of calling people (even friends). Need to start work on this ASAP as I have a mile long list of folks on "To Call List". To my friends who are reading this, the intentions have always been there but when the time actually comes to call I find a lame excuse and postpone to a later time, which then I will forget, followed by more postponing, and forgetting. You know the cycle. No more of that!
The final issue is an offshoot of #1. The urge to procrastinate on writing blog posts. The first one year of blogging I was pretty thorough with scheduling posts ahead of time. When the 2nd year rolled along I guess I got more confident that I could whip up a post in a matter of hours (never really works that way) and waited till the last minute to write the posts. All this meant were late nights and posts with the bare minimum i.e. only instructions devoid of any personal stories. As a writer and an avid blog reader I prefer posts laced with personal anecdotes. So here's to a new year where I'll try to overcome my procrastinating tendencies on writing and to more interesting blog posts!
Did you take the personality test? What are you? 🙂 Do you make New Year resolutions? How about a word of the year?