Like all stories this one too starts with a great beginning, messy middle, and hopefully a happy ending……The setting is a beautiful family bonding adventure on a snow day where we (Monkey #1) tackled  a 1000 piece Hollywood Puzzle
*.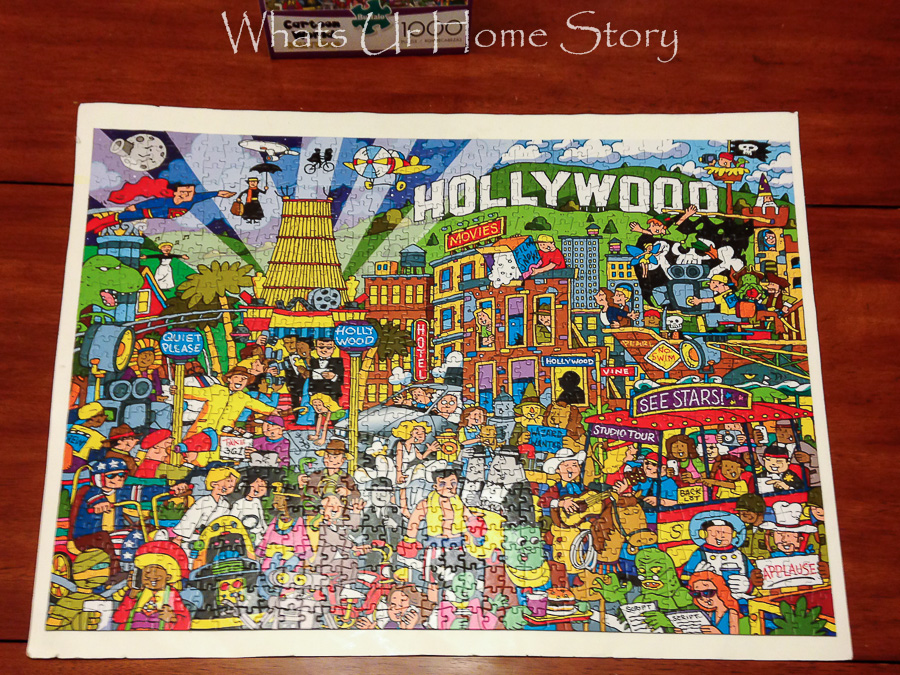 There was much excitement, disappointments, arguments, and even fights as it came together but in the end we were all too happy how this fun puzzle came out. After all that hard work we just didn't want to break it apart and put the pieces back in the box. As we were researching ways to preserve the testament to our patience I remembered a post by my friend Bharati of Techie Adventures on how she had turned puzzles into art work. Soon this family game became artwork for Monkey #2's Eclectic room makeover plan. The only problem was the odd size of the puzzle; 26.75″x 19.75″. I had plans of using the empty Gold frame (a Craigslist find that I've used on my Fall mantel earlier) but couldn't find a backing that was the right size for the puzzle or frame. Poster boards came in smaller size unless it was tri-fold, which led me to another idea…..May be I could use a tri-fold poster board and use fabric to cover it so the folds won't be seen? I posted a pic of a possibility on my IG / FB and all you guys agreed that the frame and the fabric did nothing to the puzzle, in fact took away from it.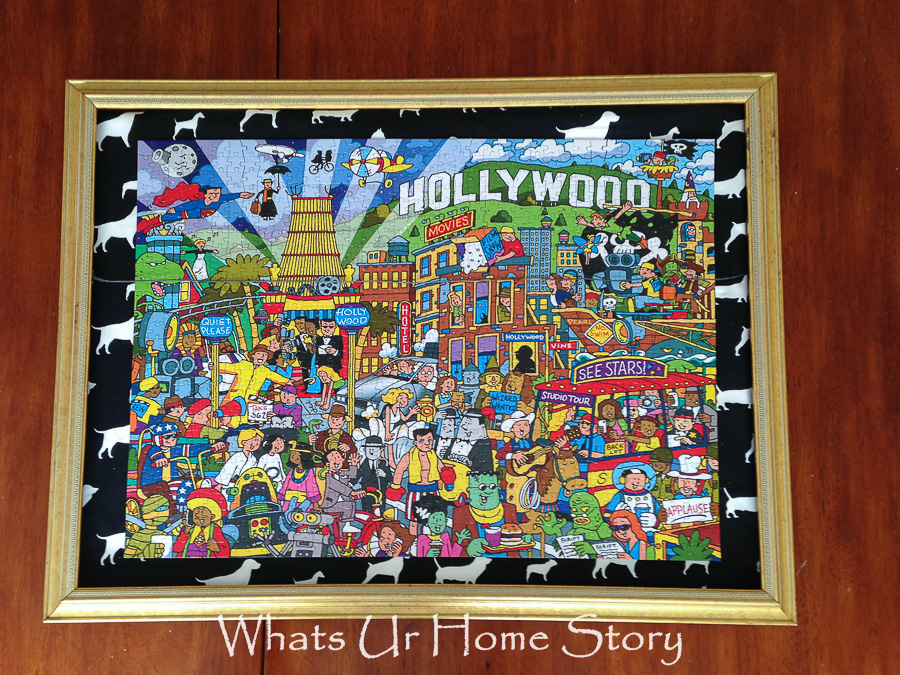 So the project sat idle for a month or so waiting for the right frame and backing. And yes I found it at my local Salvation Army for $5! This Dolphin poster in a simple gold frame (I took the pic after I removed the frame but it looks like the smaller frame behind the poster).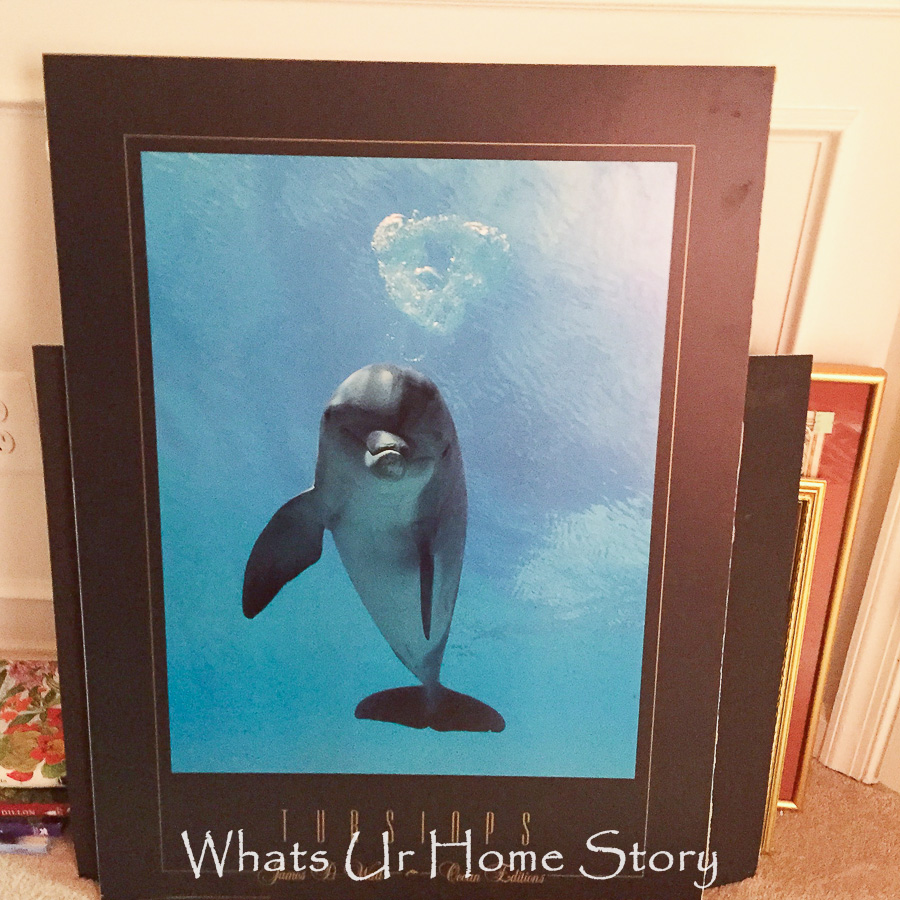 Still had no clue how I'd cover up that writing or the border lines to make a mat for my puzzle. Again the project stalled for weeks and then a genius idea struck….Spray Paint! Face Palm!!!! Why hadn't this spray paint fanatic thought of it before? I spray painted the sides black and wa happy to have made good progress on this simple project. Finally we were getting some where! But this time around it was the turn of busy weekends to rain on the project. It felt as if it was jinxed from the start. At last yesterday I got some down time to work on the project and this happens!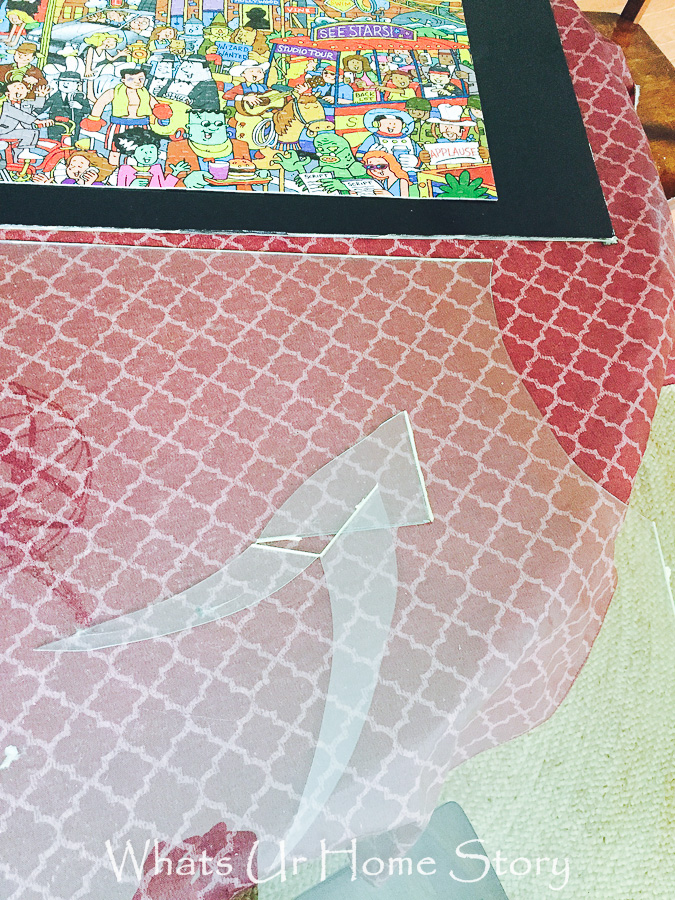 B was helping me frame it. As he lifted the glass a corner just broke off! Now, I never saw that coming!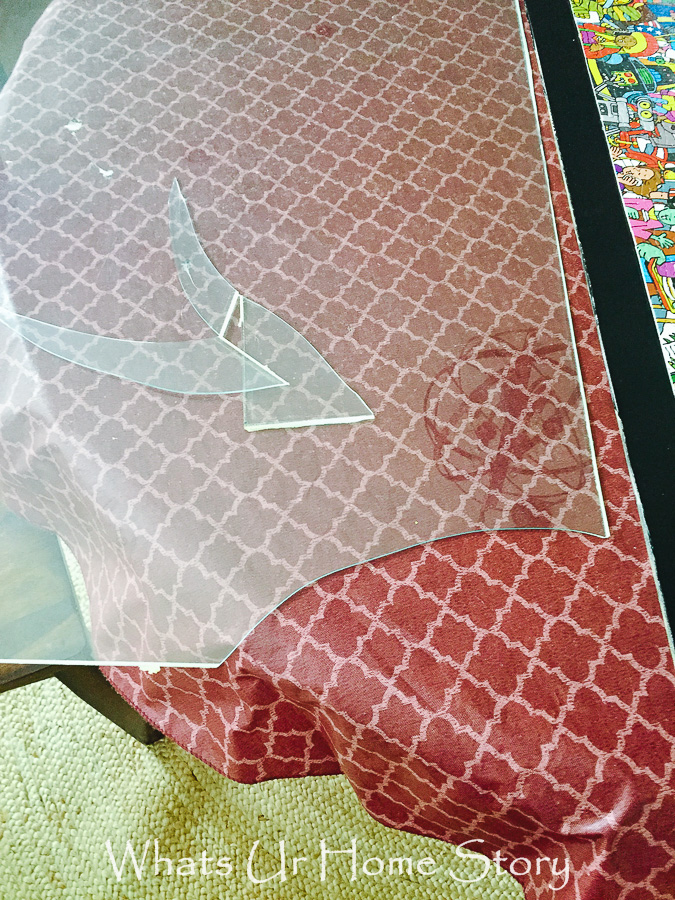 So this baby is back on the bench…waiting for a new piece of glass. As they say, "Life's like a puzzle…..It's assembled in pieces but in the end it all comes together." Looks like this puzzle project too is coming together in pieces literally. Keeping my fingers crossed…..
Has any project done this to you, stretched out for so long due to one issue or the other?