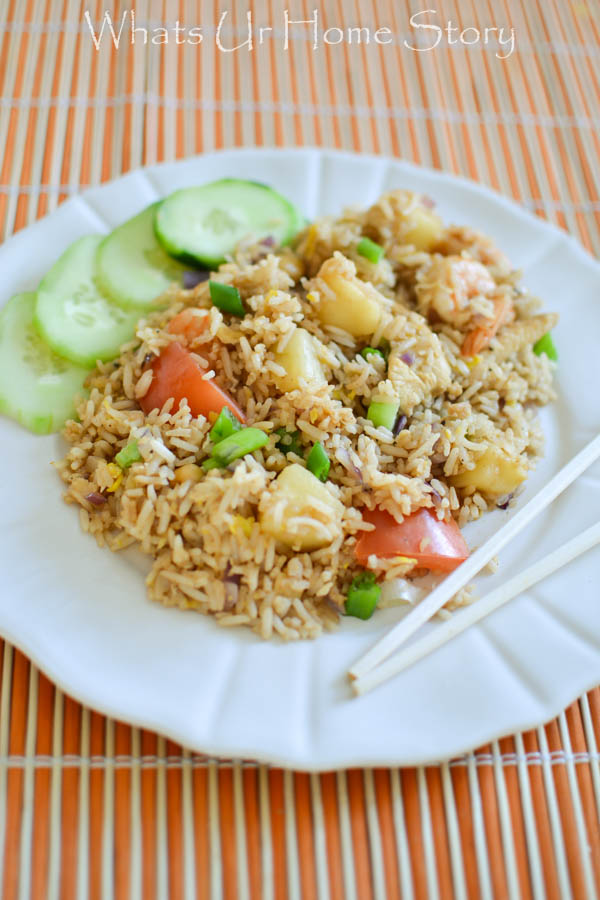 Thai is the only food that all the 4 of us seem to love to the same degree. So most often our restaurant visits end up being Thai. After ordering the Thai Pineapple Fried Rice for the umpteenth time I decided to try it at home last month. Came out pretty good  I'd say close to what they serve at restaurants. Yum….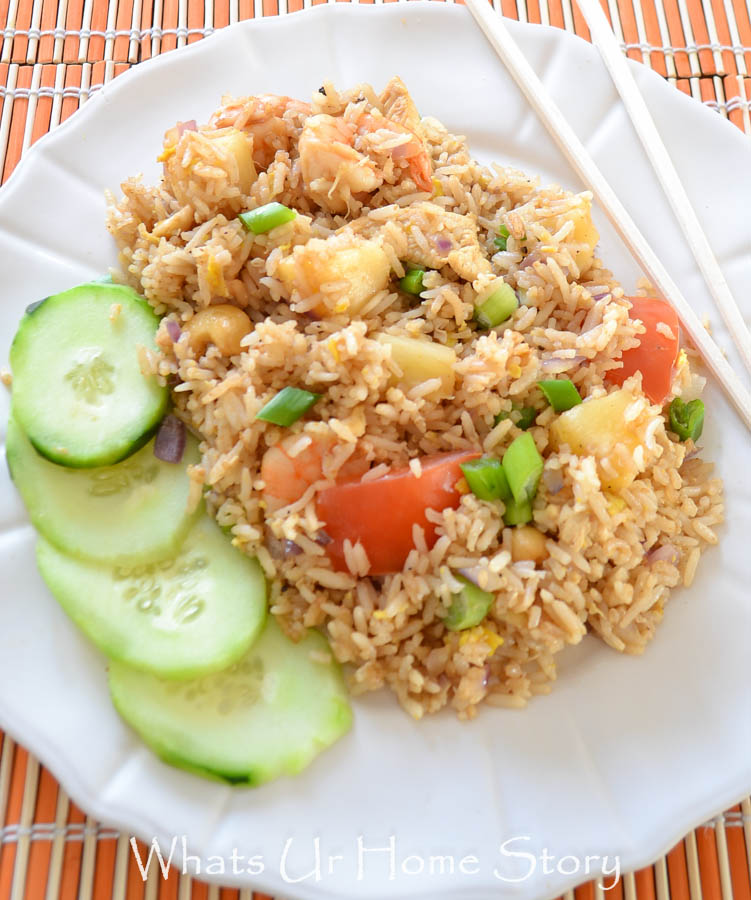 My version includes both shrimp and chicken 'coz well we like it that way along with the usual culprits pineapple, cashews, egg, and tomatoes.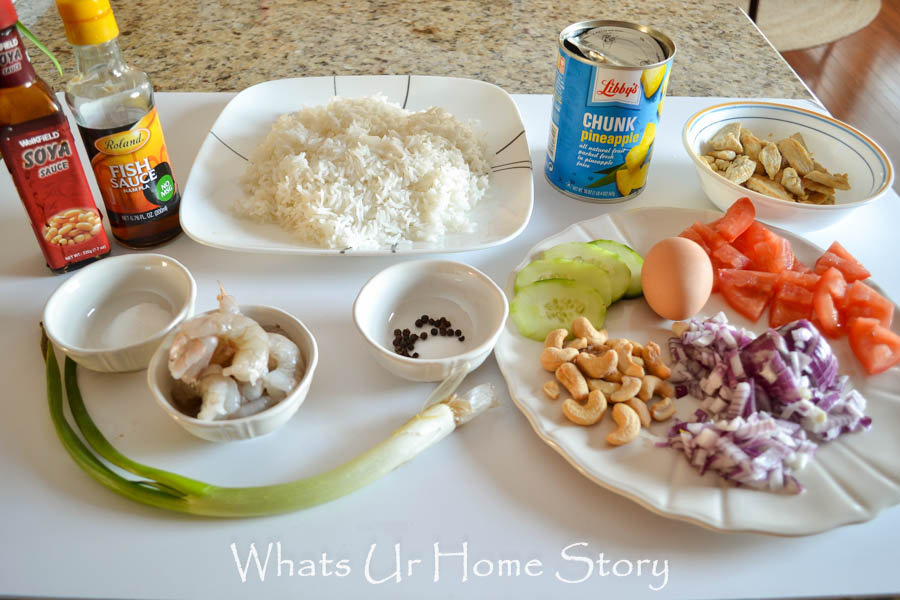 Left over cooked rice works great for this recipe but if you are cooking rice specifically for fried rice I'd suggest washing/rinsing the rice a couple of times first to remove excess starch. I also like to cook the rice like pasta, in a bowl of boiling water, al dente, and draining all the excess water in a colander. Spreading the rice on a plate and cooling off in the refrigerator helps separate the grains.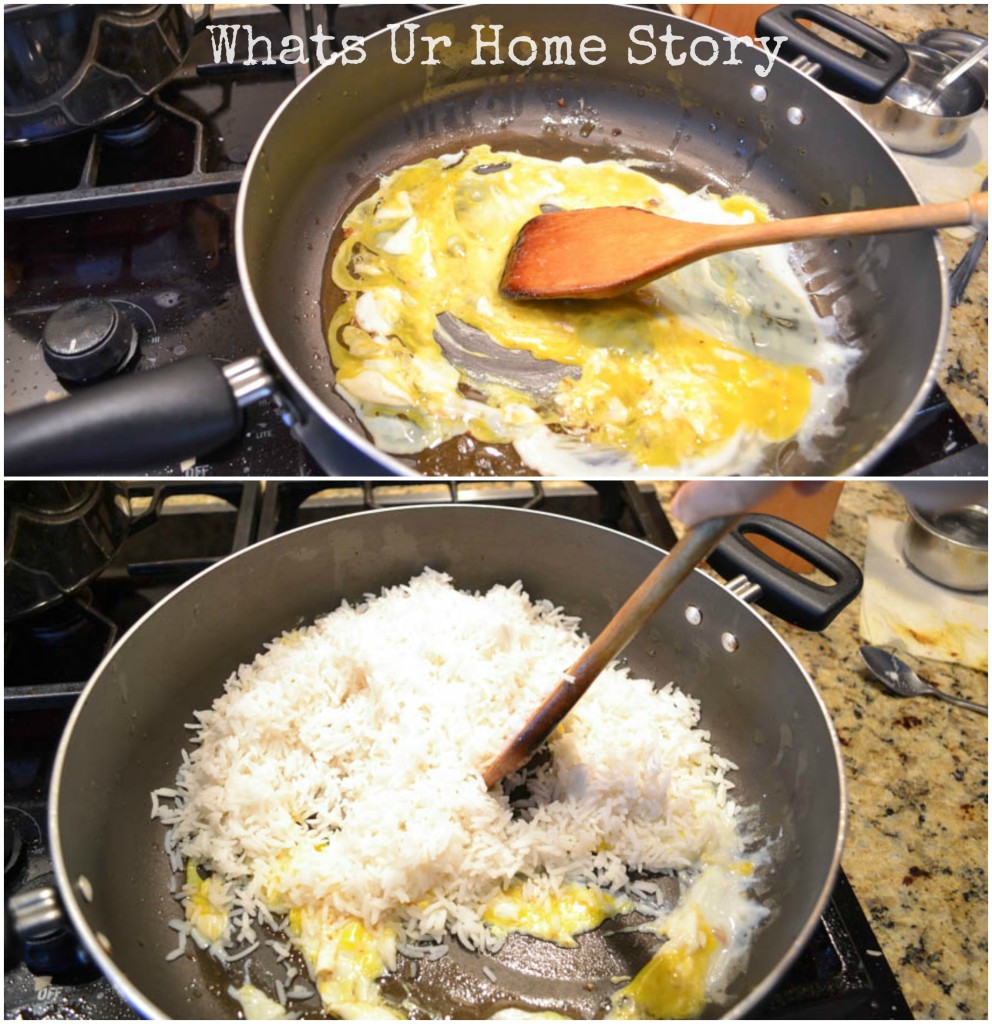 This fried rice is best served as soon as cooked, warm and steamy.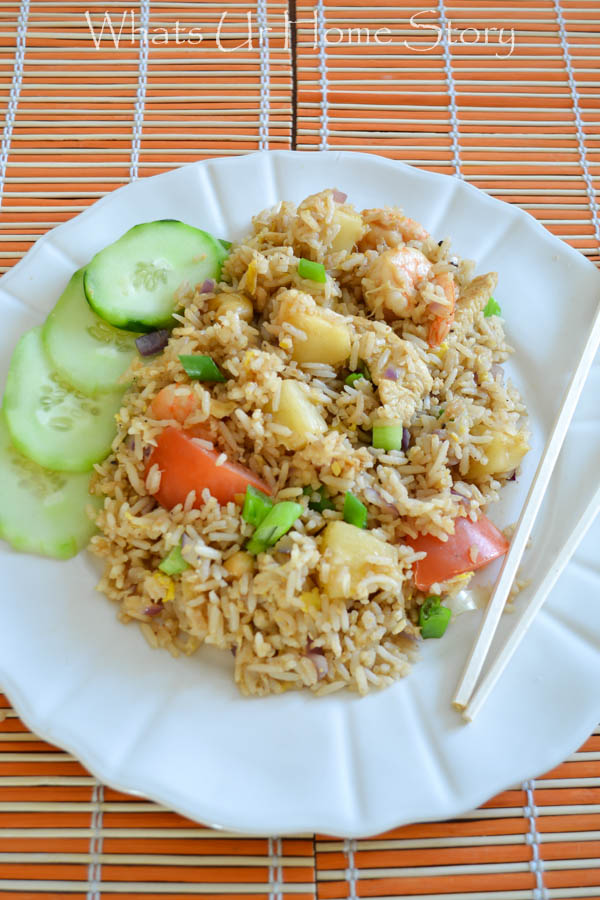 Recipe adapted from Hot Thai Kitchen.

Thai Pineapple Fried Rice
Ingredients
Shrimp - 8; leave 4 whole cut the rest into 2-3 pieces
Chicken Breast thinly sliced -1/2
Egg -1
Cooked Rice - 2 cups
Onion Diced -1/2 cup
Tomato (cut in cubes and seeds removed) -2
Pineapple - ½ can
Roasted/Fried Cashews -1/3 cup
Scallions chopped- 1 stem
Pepper - ½ Tsp
Soy Sauce -1 Tbsp
Fish Sauce -1 Tsp
Sugar -1 Tsp
Curry Powder (any brand that you like) -1 Tsp
Salt to taste (will need less than usual as Soy already contains salt)
Cucumber slices - 4
Oil
Instructions
Dry off the pineapple slices on a paper towel to take any excess syrup off.
Marinate the chicken pieces with salt for 10 mins and shallow fry till golden brown. Remove from heat and save for later.
In the same oil, sauté the whole shrimp first and then the small pieces. Keep aside.
Add more oil to the pan if you need to. Crack open the egg into the hot pan and stir continuously to break it up.
Just before the eggs set add the cooked rice. Stir gently to get the rice and egg mixed evenly.
Add the onions, curry powder, sugar, salt, pepper powder and mix well.
Add all the sauces.
When the rice is mixed well add cashews, small shrimp pieces, chicken, and pineapple. Turn the flame to low while still mixing.
Switch off the flame and add tomatoes and chopped scallion.
Garnish with cucumber slices and the 4 whole shrimp.
Serve hot.