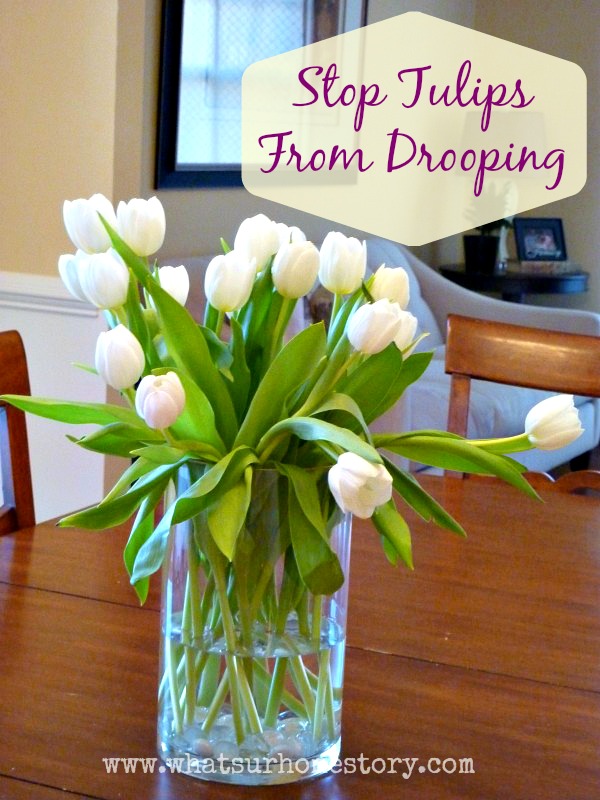 Tulips, the flower of the season….Last week I had mentioned how much I like them planted tightly in a large group and how I don't like the look of just a row or two tulips. Hmm….I think I may need to backtrack. It looks like I do enjoy a row or two of tulips if you plant some other plants in between like pansies as seen in this pic taken in front of my office building.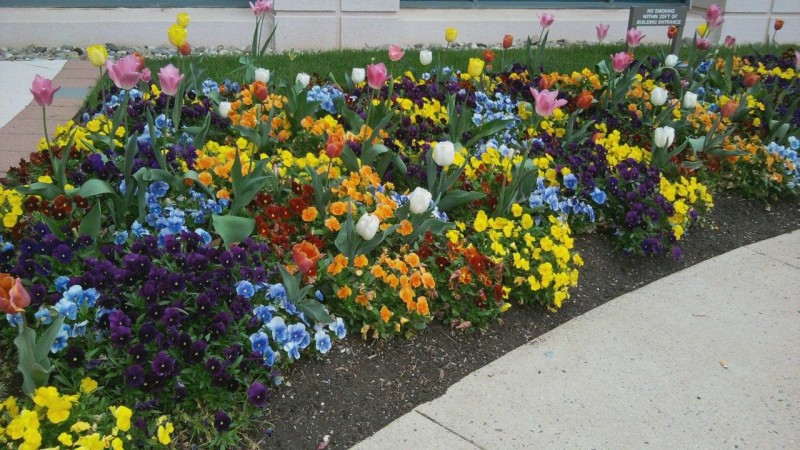 Another issue I have with spring bulbs is that you have to plant them in fall before the ground gets too cold. Come October, November I forget to plant them in time and by the time I finally get around to it we are already in the New Year. After a few attempts like these, I've decided that the best way to enjoy them is in vases. So the other day when I saw tulips at our local Wegmans for $6 a bunch I knew I could use them for my dining room reveal post.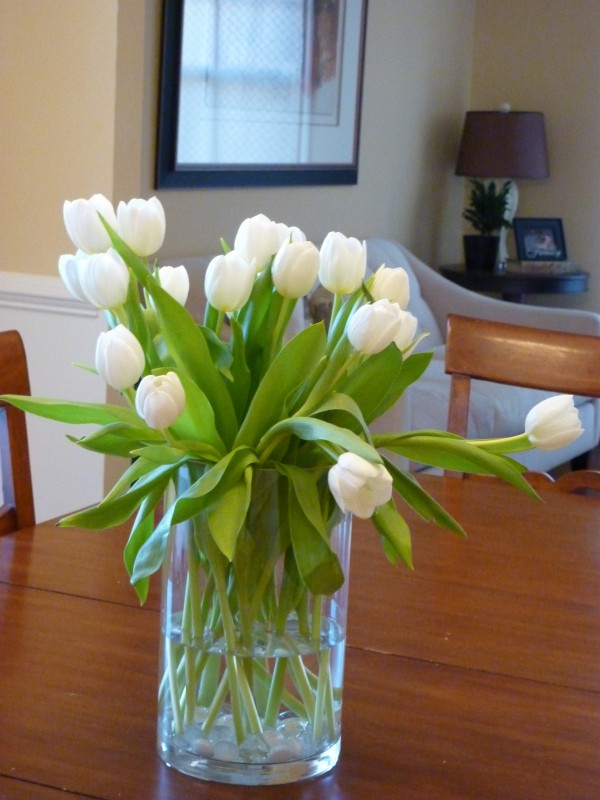 As usual with any cut flower, I cut the end of the stems diagonally under running water and plopped them in the vase with the plant food (if you do not have plant food you could just add some sugar). Naah……you don't stop at that with these babies…….By the time we came back from a shopping trip they looked like this.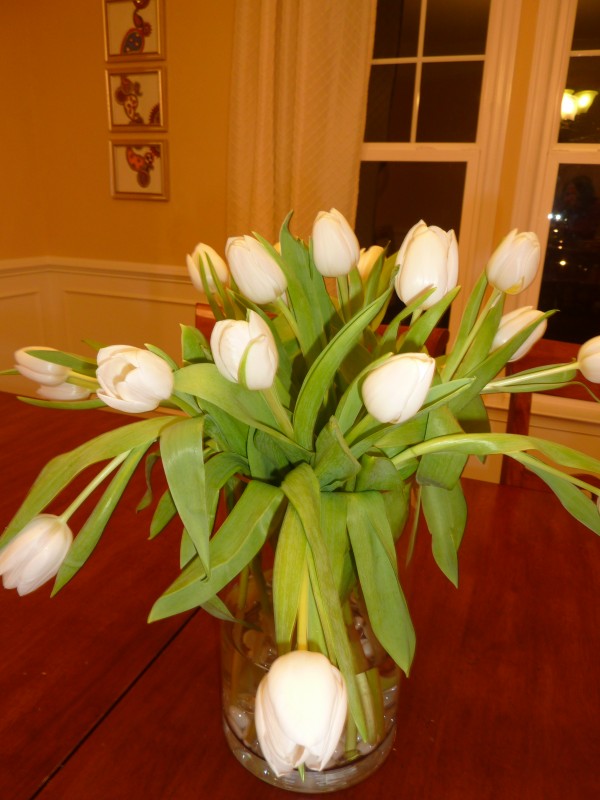 Drooping like crazy! I went into super panic mode, "How am I supposed to take the night shots?" Thank God, we live in the internet age! When you have an issue, what you do? You Google! Sure enough I found the answer.
For all flowers with hollow stems like tulips, before you drop them into the vase you need to poke a hole on the stem just below the flower head with a needle or a safety pin or even a tooth pick. And no, the flowers didn't magically turn yellow, these are from last week. 🙂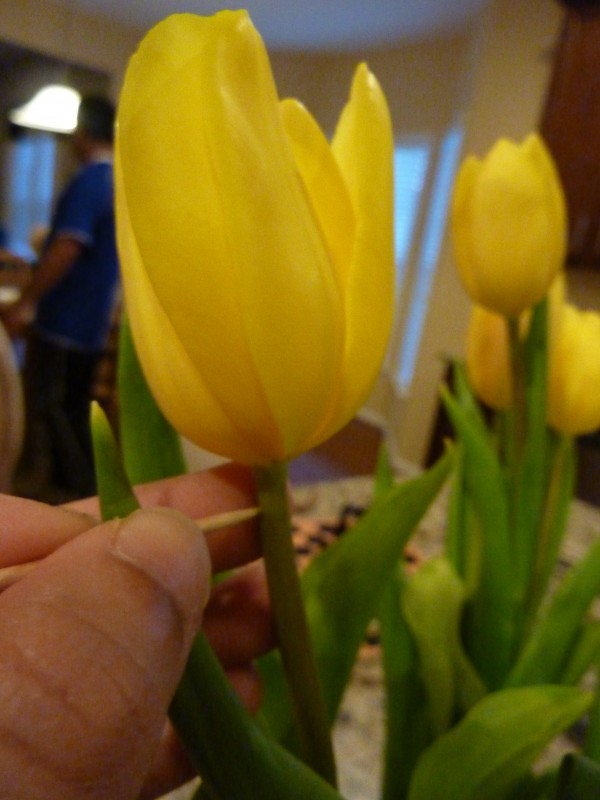 Why? As soon as the flowers are in the water air bubbles will rise up the stem. Once the air bubble is inside it blocks the water from reaching the flower head. As a result the flower doesn't get the required amount of water and starts drooping. The hole next to the flower head acts as exit for the air bubble, thereby keeping the hollow stem block free.
Sure enough it did the trick! See, they are on their way up.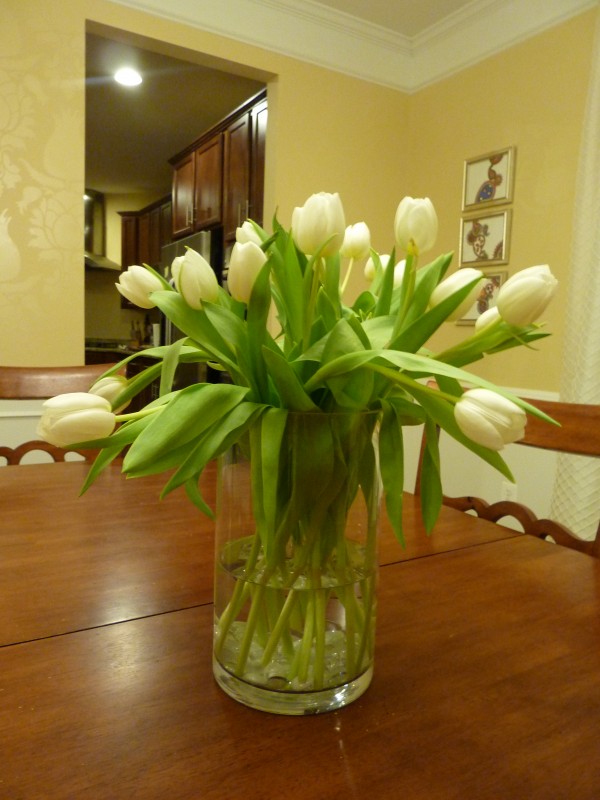 Seems pretty obvious, right? Another puzzling fact is that in all my years reading decorating and gardening blogs I have never come across this. Or maybe it is such a common fact that you are supposed to know it? Coming from a tropical place where tulips are nonexistent, it sure was news to me. Anyway, with this post I've hopefully saved some Googling time for at least a few of you.
Update: It seems there are quite a few tried and tested ways to keep tulips in a vase from drooping. Thank you to all of you who shared your tricks.
Put a penny in the vase.
Instead of cutting the stems on the diagonal like you'd do normally cut the stems straight.
To keep them from opening, add ice to water
You might also like:
Indoor Plants that You Can't Kill