This time it is the basement guest bedroom wall.
First let's get the formalities out. This is a review of the Japanese Birds Allover Stencil from Royal Design Studio. They have an awesome blogger support program where they send you one of their stencils free of cost for a review of the same. I'd already gotten fantastic results with another product of theirs, the Uzbek Suzani Stencil in my dining room. So I was more than happy to review another of their awesome all over patterns. Inspired to recreate the magic? You are in luck, enter the  Royal Design Studio stencil giveaway for a chance to win a stencil worth $50!
Before we get into the nitty gritty, here's another shot;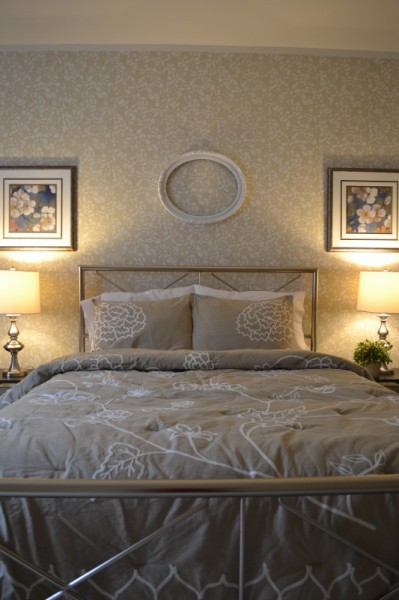 In an effort to avoid another 11hr stencil marathon, I tried using a roller this time. Much to my disappointment, it didn't work. The morale of the story; if your pattern is intricate use a sponge. You can see what I'm talking about in the below shot (the upper right hand corner).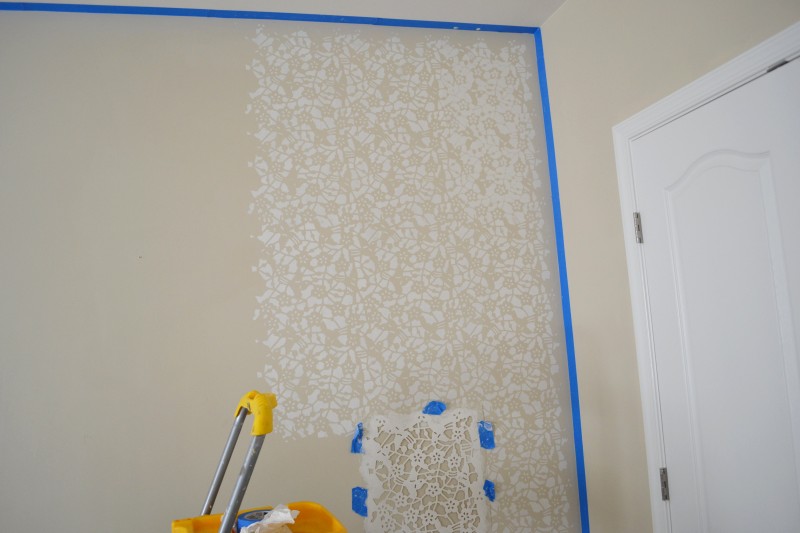 See how all the detail is lost in the roller strokes? After a few "What was I thinking?…..At least I tried." self pity sighs I trudged on. Back to my tried and trusted sponge method. Another stencil marathon ensued, albeit a shorter one this time, 7hrs. 🙂 Hey, that is an improvement. 🙂
The only thing I did different from last time was that I did not use the temporary adhesive spray at all. The painter's tape worked great. Aligning the pattern was tougher than last time. Maybe my not so straight wall might have contributed to that as well?
All was hunky dory till it was time to finish off the two sides and the ceiling line. The Japanese bird stencil came with a smaller pattern strip to help with the tricky ceiling line (which the Uzbek Suzani didn't have).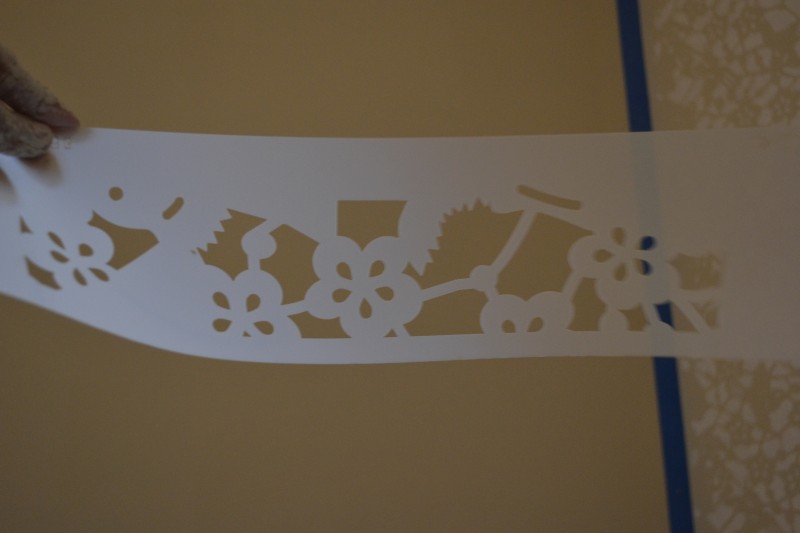 Sadly the strip couldn't do much. This is what I ended up with.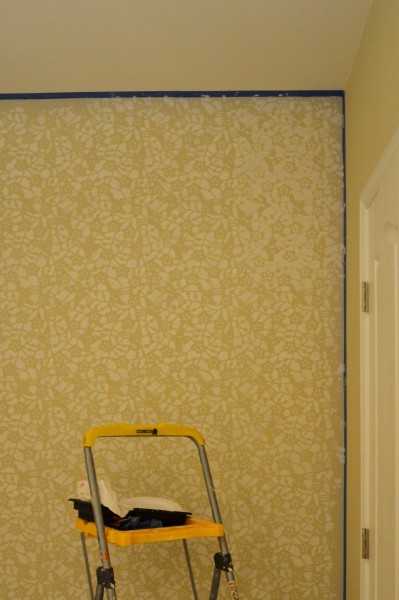 Again, my uneven walls may have magnified the issue. Instead of just lining up the edge of the stencil with the wall when I started (see below) I could have offset the pattern a little bit, which would've solved the 'sides' issue.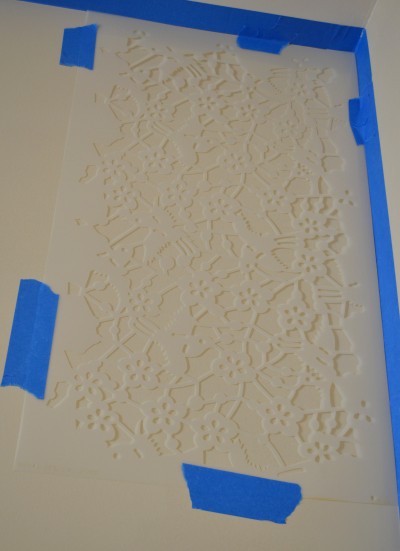 The solution – we taped off 2 inches with painter's tape to make a border.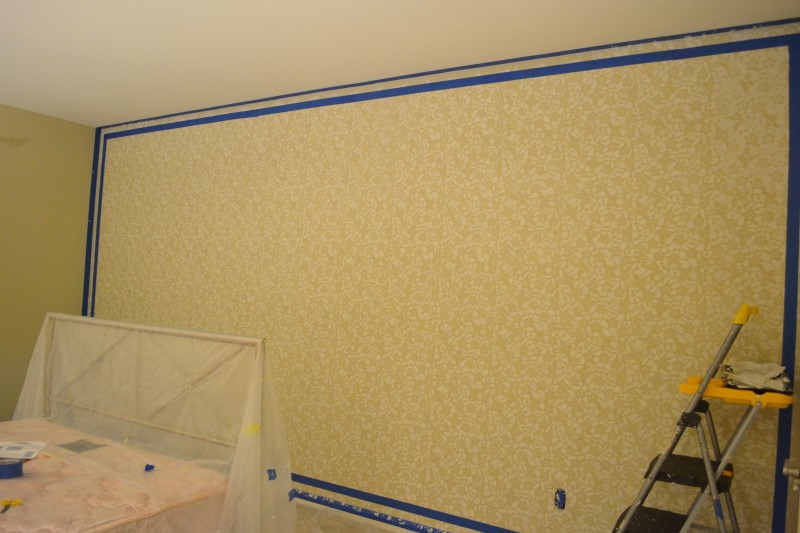 I then used a sponge brush to paint a white border all around, which concealed the irregularities.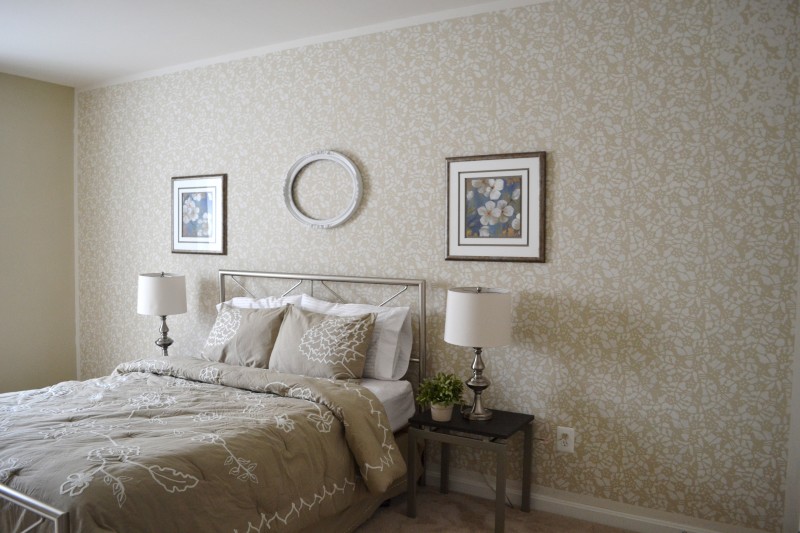 A closeup of the pattern,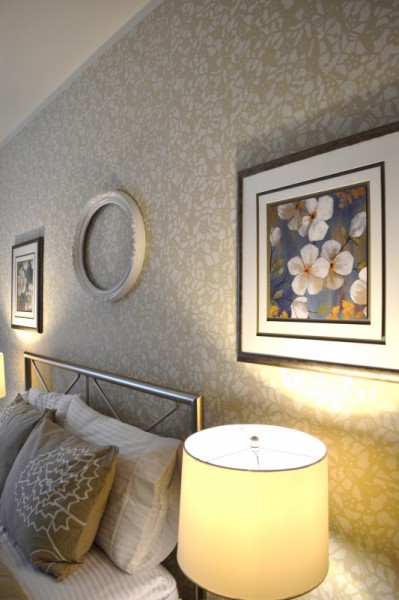 Verdict
Design – ***** Loooove it  Ease of Use – *** (compared to the 
Uzbek Suzani Stencil
)  
I have more plans for that side of the room, like bringing in some color, adding storage under the end tables and eventually finishing off the whole room. So stay tuned. Don't forget to enter the giveaway for a chance to win a Royal Design Studio stencil (runs till 9/12/12)!
Update: See the final reveal of the room here.