After testing the waters at online auction sales earlier this year, we were ready to dive into it again when we saw a good looking dresser. First some back ground; I've been scouring Craigslist literally every day for months to find a 9 drawer dresser (that I could refinish) for the basement guest bedroom. It is gonna go against the wall opposite to the newly stenciled wall.
For 90% of the Craigslist cases that I followed up someone else beat me to it! The rest didn't even bother to reply. And then it happened! And that too on Rasmus!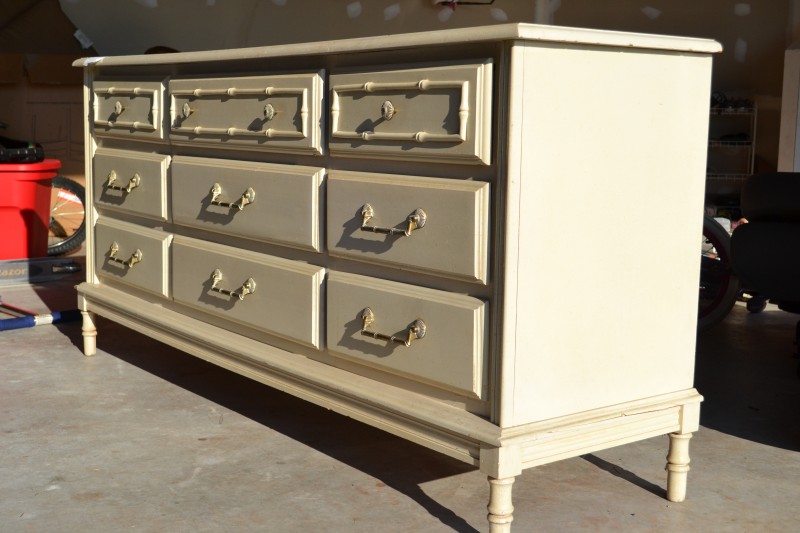 Incidentally this was a warehouse clearing auction by It's Bazaar on 21st Street, the store owned by our friends Rebecca & Bill. Remember the loot that we scored from their antique/ vintage store last time?
Fast forward to auction closing day, we won the bid for $65. With the Rasmus premium and the tax, it costs us $78. Phew, our budget was $100! So, what do I like about it? The clean lines, the size, the legs, the faux bamboo finish, even the hardware!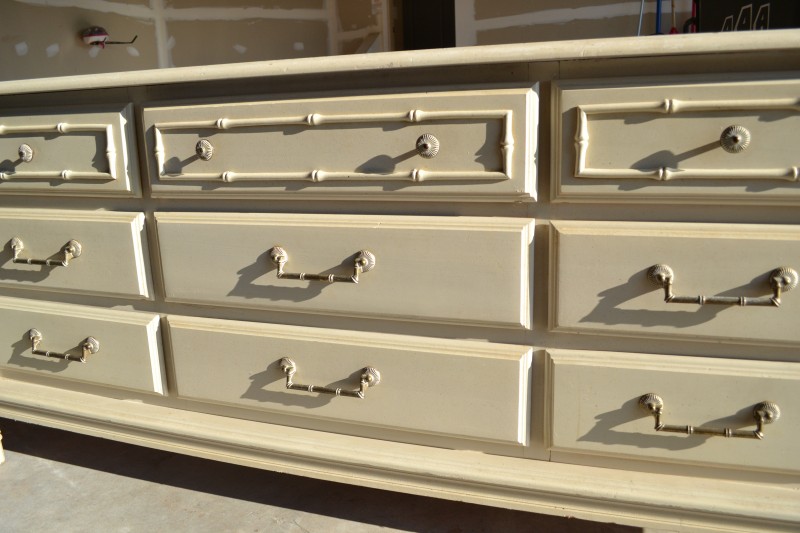 Look at the patina on the knobs!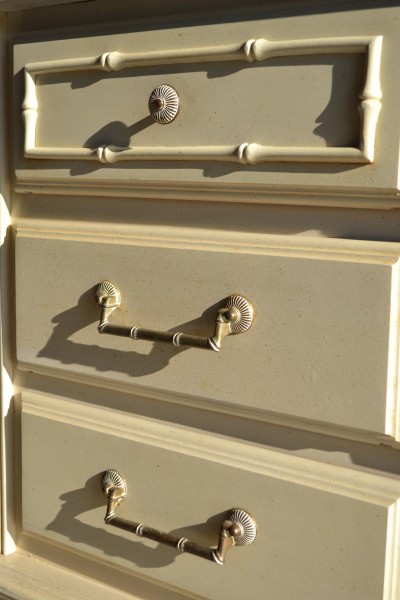 The plan is to repaint it, maybe keep the hardware the same? This is my first time venturing  into furniture refinishing and I'm kinda clueless. After reading about a lot furniture makeovers on many blogs, I think I've narrowed down the options to these;
Annie Sloan Chalk Paint – Everyone I've heard has been raving about it. You can paint straight on even without sanding or priming. Some distressing/ sanding followed by a clear and dark wax gives the piece an old world look, which B loves.
Milk Paint – Again another 'green' paint that has gotten great reviews. Miss Mustard Seed started selling her line of milk paint locally, at the Old Lucketts Store. This one also does not require sanding or priming but might need a bonding agent. It seems the antique finish on this is a lil unpredictable. More on the differences between the two in this post from Miss Mustard Seed.
Latex – This is your regular paint that needs sanding and priming. Only plus, we could go for a glossy finish here.
I think bringing in something that has an old feel will offset the straight lines and brushed nickel finishes in the room. That's one more reason we are leaning towards the chalk paint.
I'm kinda getting tensed about this. You gals/guys have any recommendations? What do you think will work?
PS: Big day tomorrow! Giveaway!