Every email you send with the pics of the projects that you've tried  in your home is a huge push for me to keep doing what I do. And on some days like today I really need that kind of a push more than anything. So thank you once again from the bottom of my heart.
Inspired by my felt circles pillow Callie from A Smidge of Inspiration made her own version.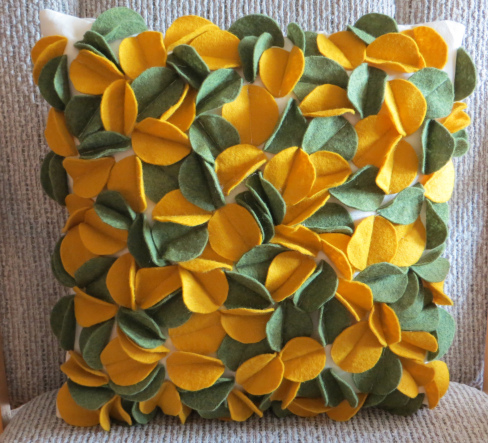 She used two different colors of felt for hers. Originally I had plans of making mine with two colors but wasn't brave enough to take the plunge. Doesn't hers look awesome? She even used the remnants to make two other pillows. Do check out her blog for more details.
Speaking of the felt circle pillow, it  has been raking in quite a few features. A big thanks to all these bloggers and to everyone who dropped in via these sites.
Even on a French blog, Initial Egg! I'm totally humbled.
I also would like to thank two very talented ladies for adding me to their fav blog lists;
Sia from

Monsoon Spice

, a fabulous cooking blog focusing on Indian cuisine. I keep telling B that she has one of the most well written

About

pages in the blog world. Did you know we came this close naming our daughter Sia? 🙂

Bindu from Crazy for Colors. She is a super talentd artist who shares her art adventures on her blog.
Do you have a project/room makeover/ decorating ideas to share? Please send in the pics to [email protected].