Ooops……………totally forgot about something major around here! We hit the fancy shmancy number…….100,000 views on Wednesday, 08.08.12!!! A BIG THANK YOU to each and every one of you! No, this small reference is not the last time you are gonna hear about it. We are gonna celebrate in a big way with a Royal Design Studios review and stencil giveaway later this month! So stay tuned for more.
Back to the post………….
As you might have already noticed (here and here) , I am a big fan of paisleys. Guess what, they are back with a bang! Ok, I guess I should add, in the US. Back in ma neck of the woods they've always been in vogue. Nothing spells India like paisley; everything from clothes, to bedding, to rugs, to jewelery is adorned with paisleys.  As kids we used to to call it the 'manga' aka. mango shape.
For the uninitiated, the paisley is a tear drop or a twisted droplet motif (it does look like an upside down mango) of Persian origin. It has been widely used in South and Central Asia for centuries and was introduced to the Western world by the British through their imports of Indian textiles. Now that you've had your fill of Paisley history, ready for a window shopping trip?
Let's start off with a subdued paisley before we ease into full blown color explosion, which is what paisleys have usually been associated with. For the folks who like to keep it simple (and ahem..ahem…costly) Anthropologie has this bedding.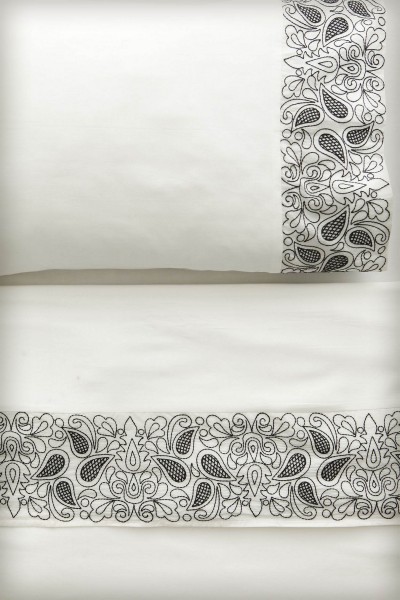 In the same mood are these Mehndi Paisley squares (Etsy), painted on 6 x 6 canvas with a copper background.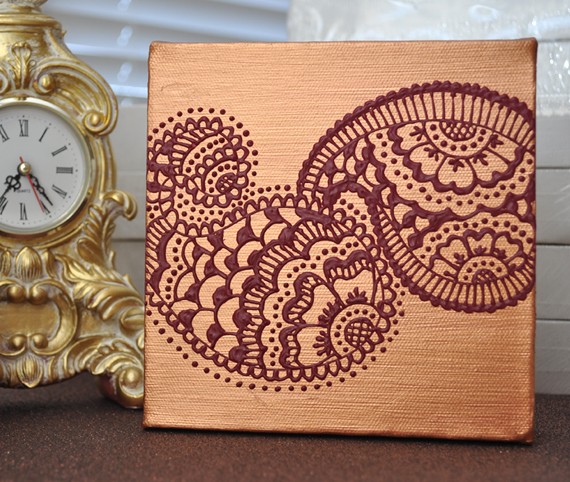 Pottery Barn also has some subdued paisleys in the form of linen sheers.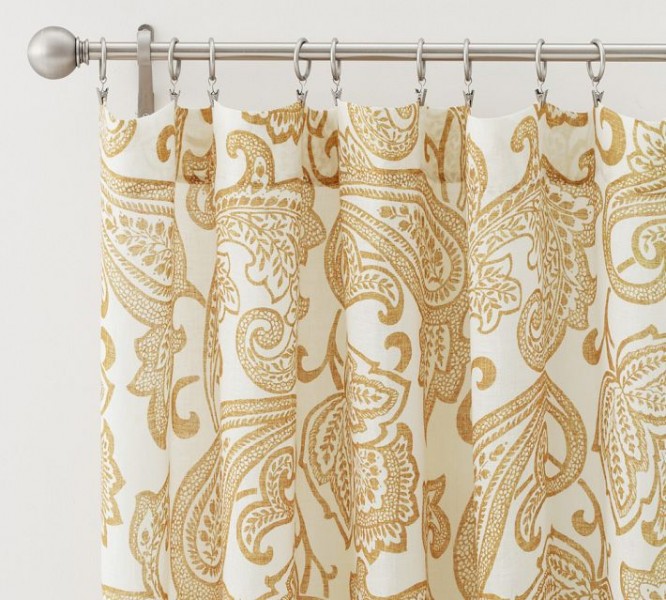 If you are into wall stencils like me then you'll like these Paisley stencils from Royal Design Studios. You could try your luck in the give away coming up in a few weeks.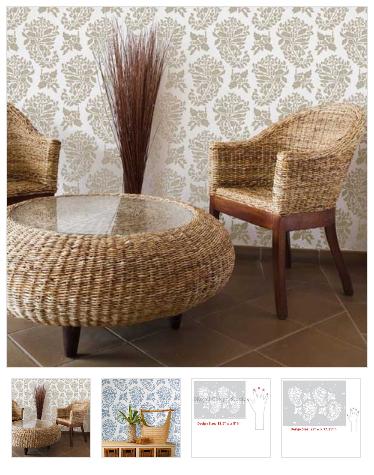 Ok, you do like the wall art idea but don't have the patience to stencil? Then how about some wall decals? But there is a catch, be prepared for more color.
1. Pretty Paisley Dots Wall Decals from Amazon
2. WallPOPs 13 in. Paisley Please Dot – Blue/Green Wall Applique from Home Depot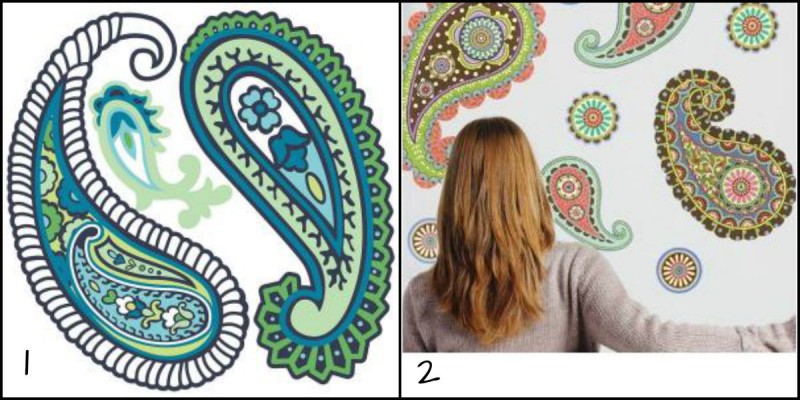 I know…..by now you are screaming, "Gimme some color!" Here ya go, is this right up your alley (courtesy Pier 1)?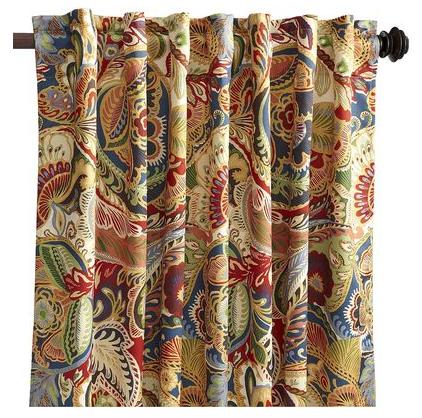 Feeling the love yet? How about this Paisley Wool Rug from Overstock?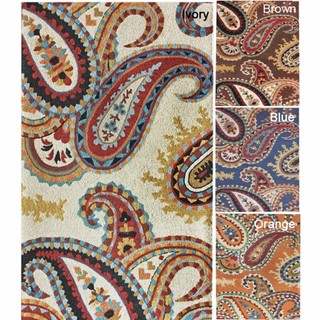 The easiest way to bring in the paisley to your home is through throw pillows. Listing just a few.
1. Aurora Paisley Pillow Covers from Pottery Barn
2. Turquoise Blue Paisley Decorative Pillow Cover from pillowplush on Etsy
3. Peri Paisley Outdoor Pillow again from Pottery Barn (on clearance)
4. Paisley 18×18 Decorative Pillow Cover from StacieAnn on Etsy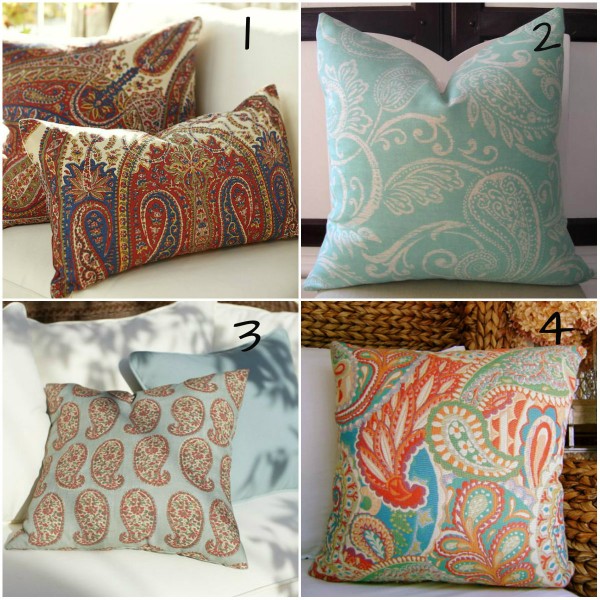 FYI: Checkout Pier 1. It'll take me 3 days to post all the paisley stuff you can find there.
Now for the one that I would like to DIY, this abstract paisley painting from HJTDesigns  on Etsy.
Ending with the pièce de résistance (at least for moi). How adorable is this paisley deer head from BananaTreeStudios  on Etsy?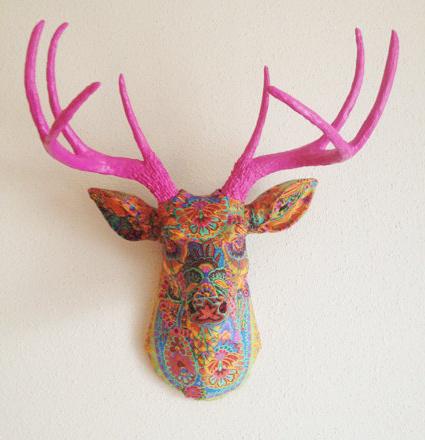 Wish it was cheaper!!! 🙁 Hmm….may be I could take a crack at DIY'ing this. If only I could get my hands on a cheap fake deer head! Have you spotted one by any chance?