Last week we finally bought our first item in an online auction! Yay! Even though the  bidding process was a bit confusing at first we had fun and I'm sure this isn't going to be the last time. After I give you some back ground on how we ended up at the online auction site I'll go into detail on some online auction tips, especially on what to look for when buying home decor or furniture through an online auction.
We were super freaked when one of our friends pointed us to the Rasmus Auctioneers website. There were tons of cool things and the price on many of those were really really low. We came across this Designer Furniture and Artwork auction right in our neighborhood and were more than happy to bid on quite a few things. We started bidding early on when it was in the penny stages and soon realized that everyone was playing the wait game. So we waited and sure enough towards last two days of the auction the interest peaked, sometimes skyrocketing the bids. Take a look at few of the things that caught our eye.
This 26″ x 30″ colored print was up for grabs for $3 midway through. I was ogling over the frame more than the artwork. It ended up selling for $60 (way over our budget).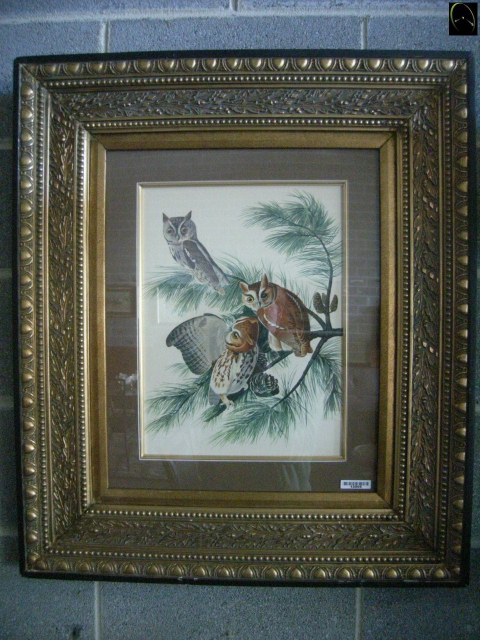 Oh, the plans I had for this 33″ x 30″ ornate frame! I was going to repaint it in either a greyllow or burnt orange color for our guest bedroom. 🙁 The art was a colored print.  So I was sure it wouldn't rake up much. Still $30 was a bit too much to ask for it.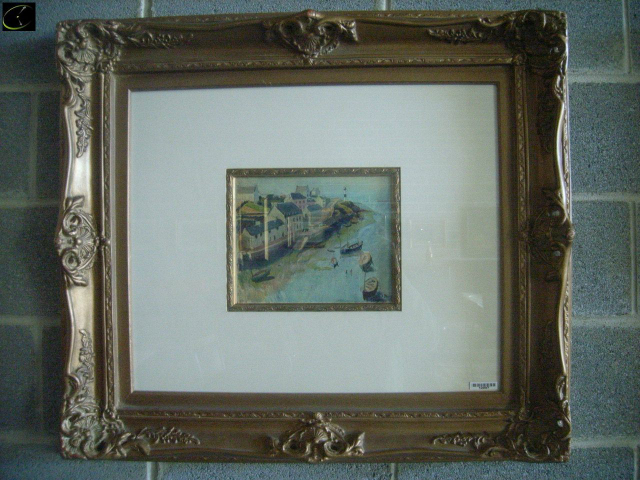 Then I saw these two Chinese cabinets. I could use either one as an end table for that forgotten corner in our living room where a plant was acting as a temporary fill in.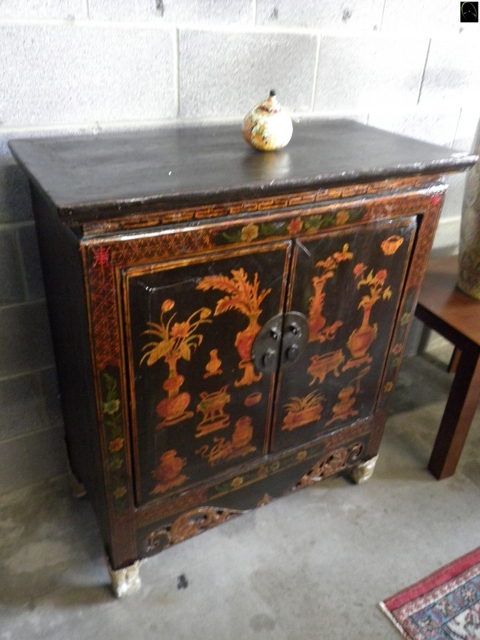 This one was 35W x 15.5D x 45H. Key….key….key…cannot stress enough on how important it is to check your measurements! We learnt that the hard way! More on that below. My plans for this one was to paint it all shiny red or black and antiquing the hardware. The second one was even more cuter.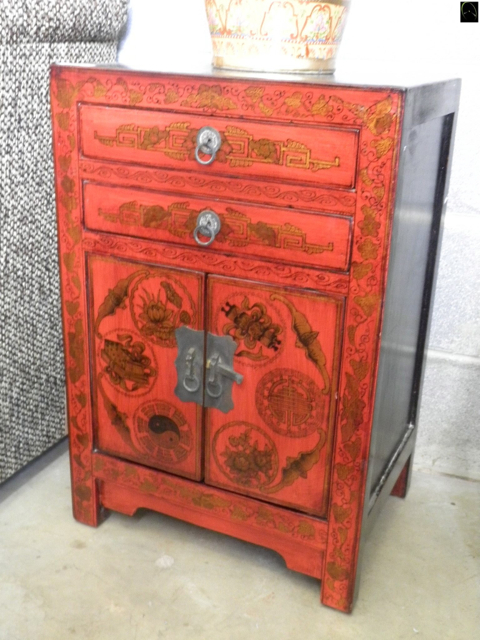 I wouldn't have to do a thing to this one. So we went ahead and bid on this all the way to $112! My logic was, the other side table in the living room cost us $69 at Home Goods. Though it looks like a nice heavy piece of furniture it is in fact very light and I am sure is made of some low quality wood. I was betting that this one was made of a higher quality wood plus the ethnic design would command a similar price at Home Goods. And…..we won!
Ok, now for the not so fun part, the lessons we learnt from our online auction experience;
Pay close attention to the auctioneer's terms. There is usually a buyer's premium. The buyer's premium is a fee paid by the bidder to the auctioneer. So remember to add that onto your bid price. For us it was 15%.
Are you responsible for pickup? Do they deliver? We were responsible for pickup and there was a very specific, narrow timeframe for removal.
If you decide not to pick up your item most likely you will be charged a removal fee for items left onsite in addition to your bid price and the buyer's premium.
Measure, Measure, Measure. Now that I look at the pics I can see the difference in size clearly. But the whole month that auction was open we never realized that this 16W x 12D x 24H cabinet would have been too small for our space.
Do not skip on personally inspecting the item. They have a specific inspection day (usually during office hrs, which is a pain) when you can inspect your item. We skipped this step. If not that could have raised a flag on how small the cabinet was.
So, here it is in our home.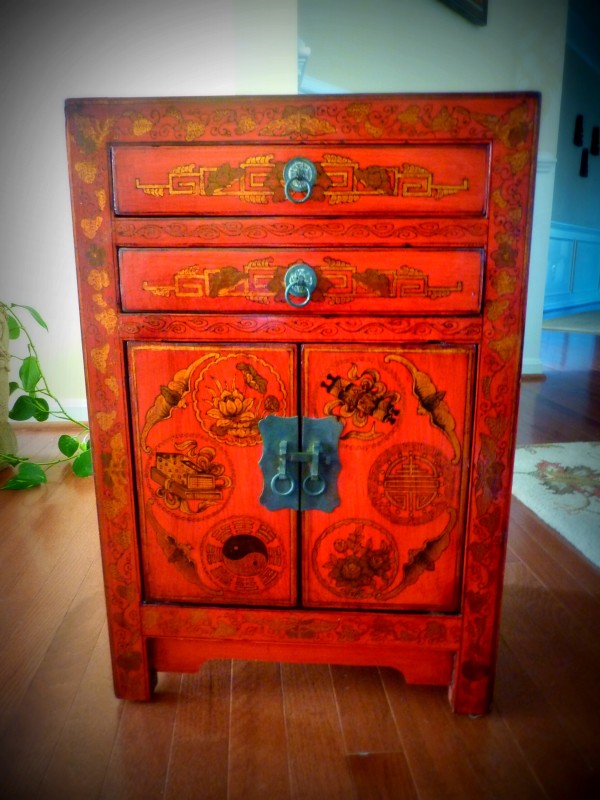 The 2 big questions;
Was it worth the $128.80 that we ended up paying? Not really.  🙁 But hey, you learn from your mistakes. For the next one we are way better equipped.
What are we going to do with it now? Still trying to figure this one out. Update: The table now resides in our foyer as the perfect perching spot for our Buddha.
Have you guys bought something at an auction? How was the experience? We've since bought another item, a dresser, through an online auction.