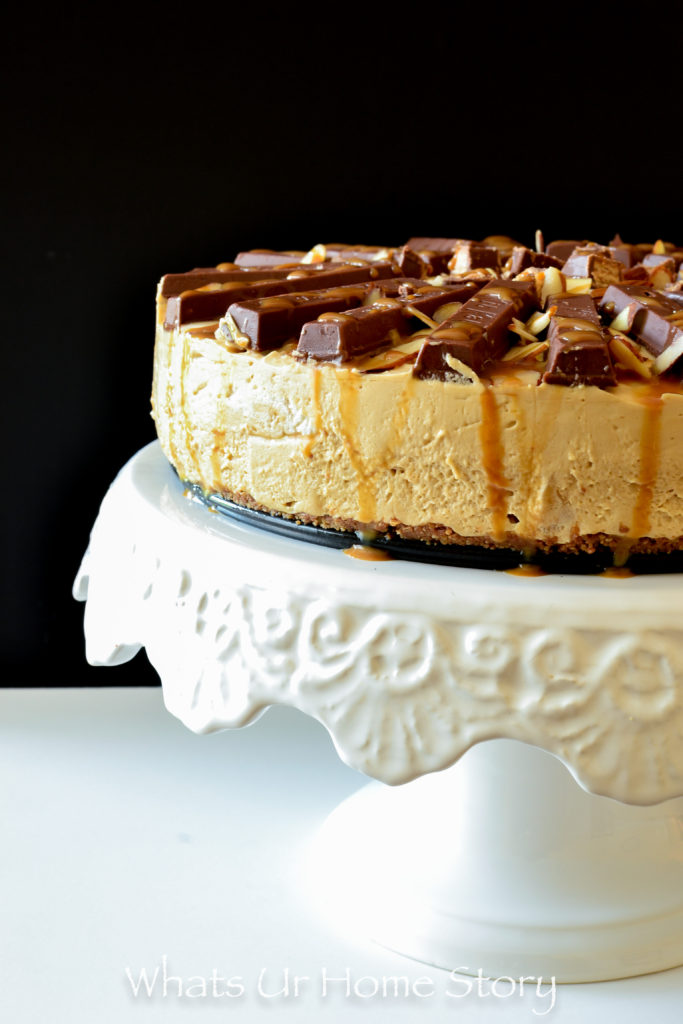 This sinfully delicious Kit Kat and Caramel no bake cheese cake is the result of seeing something online and customizing it to fit my family's tastes till I got it right. It is also one of the easiest desserts I've ever made so much so that I'm sold on no bake cheese cakes. Yes, that's your cue to expect more cake recipes like this in the future. 🙂 And it only gets better, you can make it ahead of time, which is my number one criteria when I'm hosting a full house. A total winner!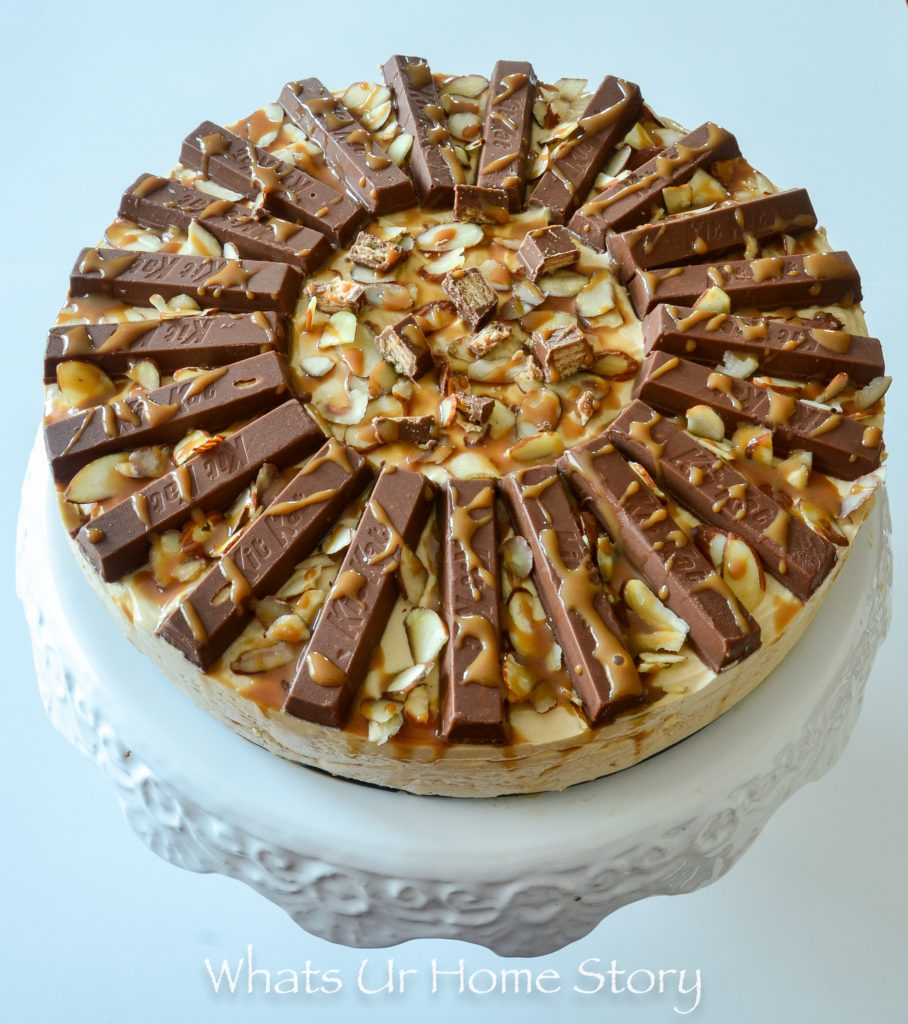 It all started with this Kit Kat pie recipe that I saw on Facebook one day. It was a chocolate lovers dream but sadly only half the house are fans of chocolate. 🙁 Plus I was making the cake for someone's birthday, you know a certain someone from the no chocolate camp. So we settled on trying a caramel version keeping the Kit Kats 'coz everyone loves Kit Kat!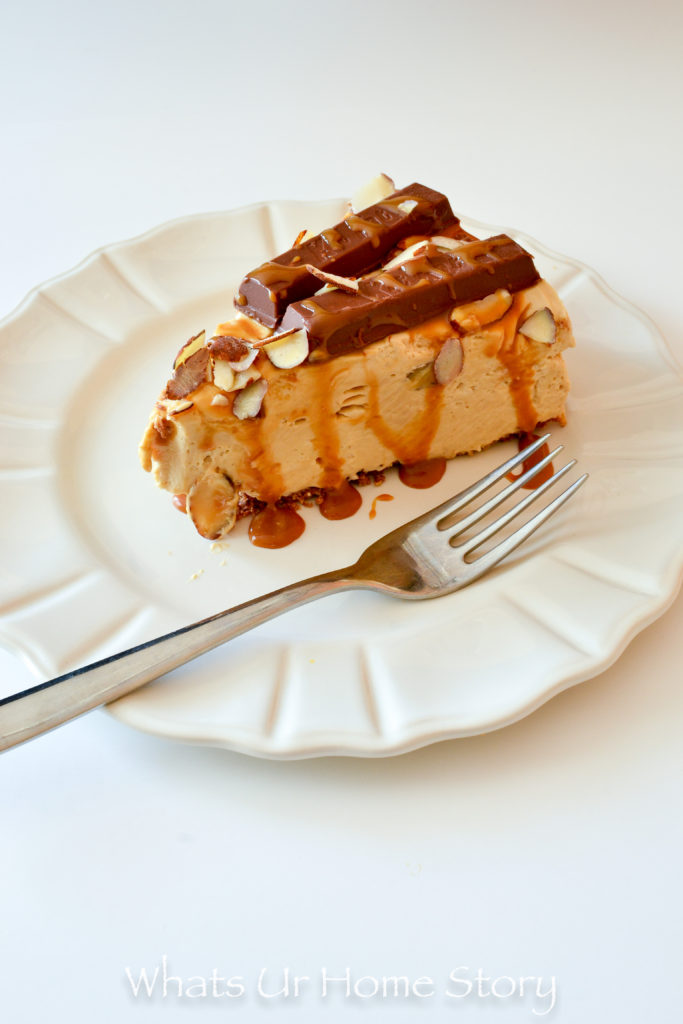 In case you are wondering why I didn't go with a Kit Kat only crust like in the inspiration recipe it didn't work. The only Kit Kat crust was way too crumbly and was a mess to serve. See, I told ya I've gone through all the trail versions and have perfected the recipe by now. 🙂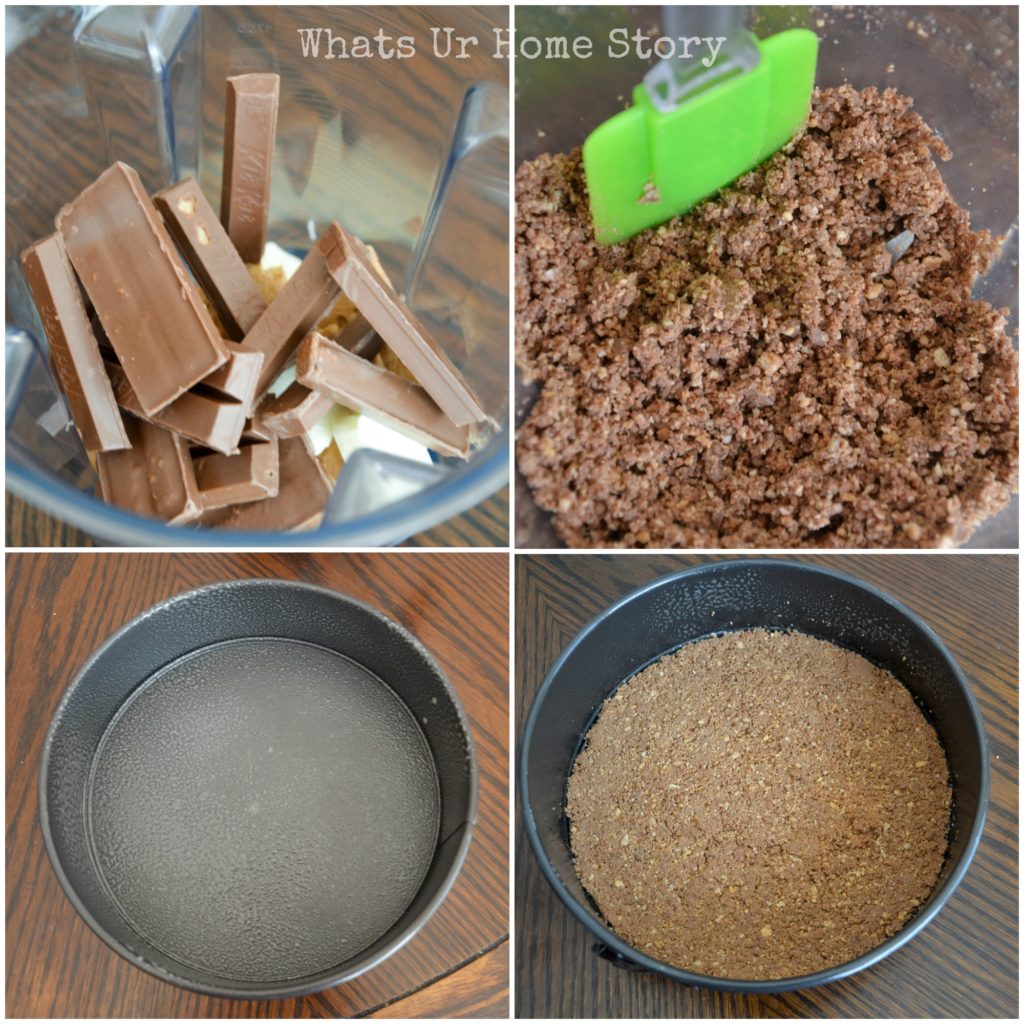 The no bake filling is a mix of cream cheese, brown sugar, caramel flavored evaporated milk (sooooo gooood straight out of the can…Oh my God!!!!), vanilla, gelatin, and Cool Whip.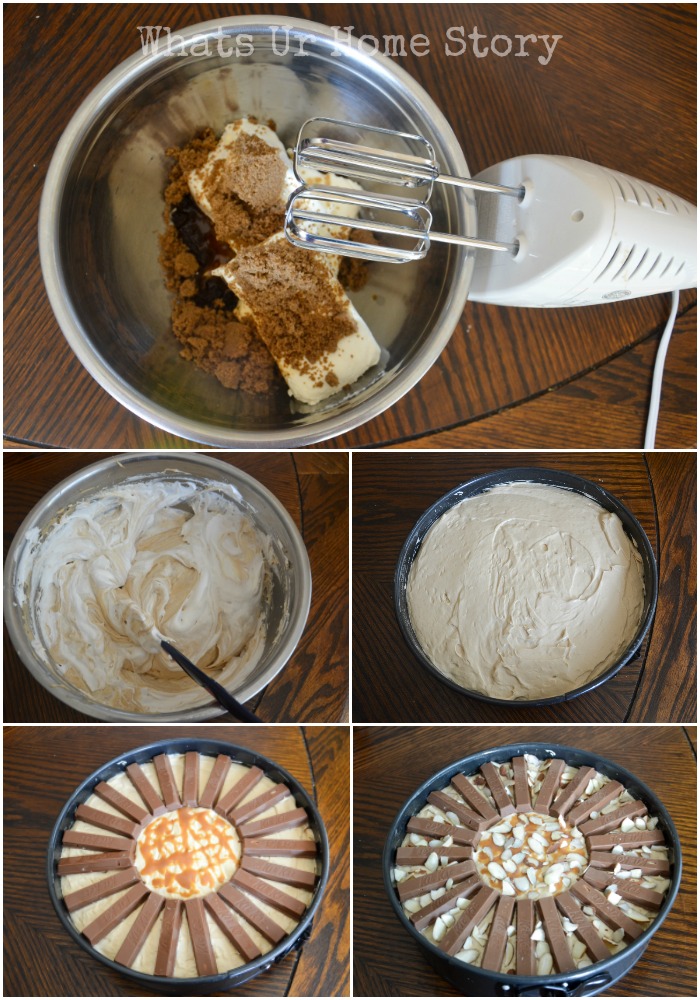 Once you decorate with more Kit Kats all you have to do is refrigerate the cake for 4-5 hours or overnight.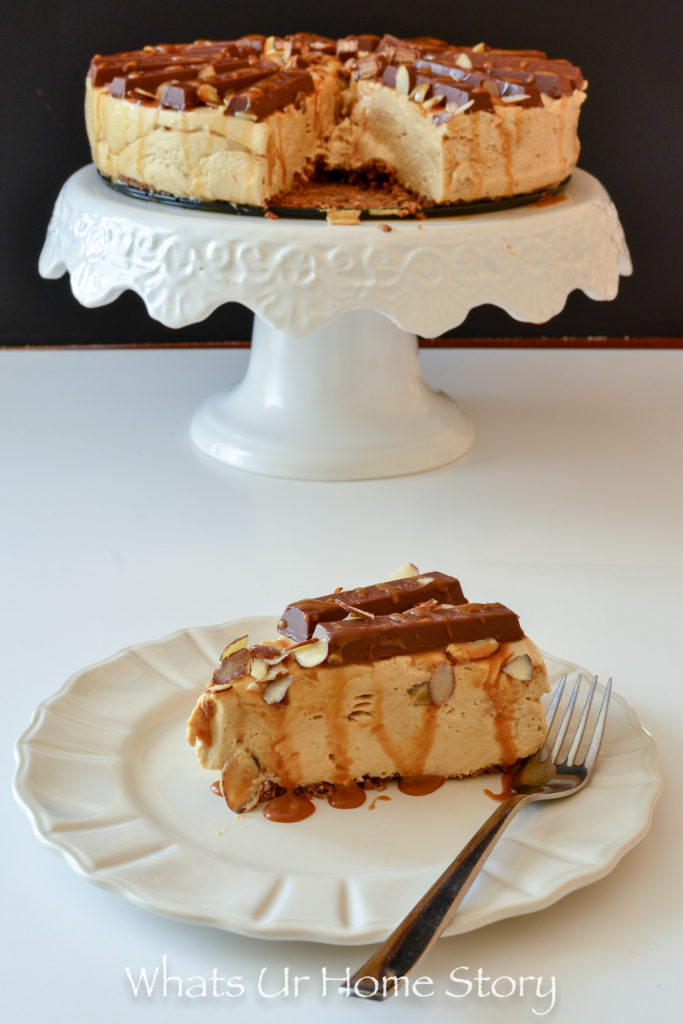 Did I tell you I've gotten to try only a small piece every time I've made it? 🙁 It just disappears so fast!!!!!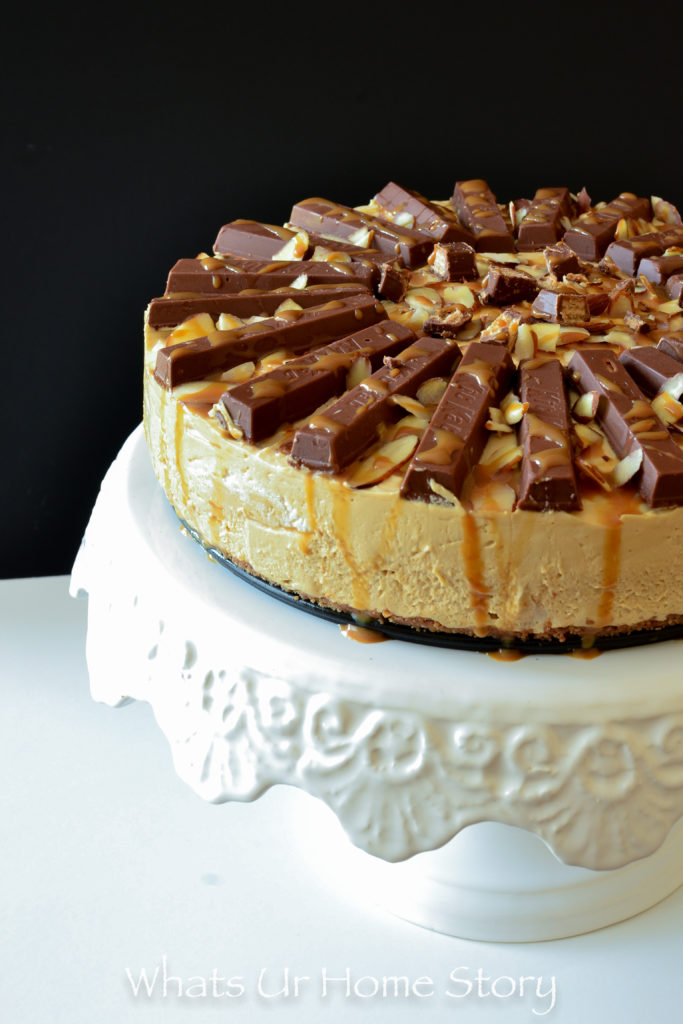 Here's the recipe. Do try it and let me know how you liked it.
Kit Kat & Caramel No Bake Cheesecake
Ingredients
For the Crust
10 Kit Kats
6-7 Honey Graham Crackers
2 Tbsp Butter room temperature


For the no bake cheese cake filling
24 oz Cream Cheese thawed
1.5 Tsp Vanilla Extract
¾ Cup Brown Sugar
1 Cup Caramel Evaporated Milk
8 oz Cool Whip Room Temperature
Knox gelatin 1 pack dissolved in 6 teaspoon hot water
11 Kit Kats broken into solo strips
Toasted Almond Slices
Caramel sauce or Caramel evaporated milk for drizzling
Instructions
To make the crust
Grease a 9" springform pan with butter or cooking spray.
In a food processor pulse all the "For the Crust" ingredients till well mixed.
Spread the mixture into the springfoam pan base and press down firmly.
Store in the refrigerator while you make the filling.
To make the filling
In a large bowl mix the thawed cream cheese, vanilla extract, brown sugar, caramel evaporated milk, and gelatin until well mixed. You could use an electric stand mixer or a hand mixer. I used the latter.
Add the Cool Whip to the bowl and gently fold it in.
Spread over the Kit Kat Graham Cracker crust and smoothen the top with a spatula.
Place the solo Kit Kats Strips in a circle over the top.
Chop the remaining Kit Kats into small pieces and decorate the center circle.
Sprinkle almond slices over the top.
Cover the springform pan with plastic wrap and refrigerate for 4-5 hours or overnight.
Drizzle caramel sauce or caramel evaporated milk over the cake before serving.