Was planning to show you some finished projects this week. Some things are just not meant to be. Was struggling with a very bad case for migraine for the first half of the weekend, then spent Sunday antiquing with friends. Wait….don't get excited we didn't really find anything i.e, if you don't count fresh apple cider, veggies, and the best caramel apple walnut pie (so darn good)  from the local farmer's market . Still, was fun. I've got a lot of pics though, of quite a few finds mostly DIY light fixture ideas to share in the coming Window Shopping posts.
Friday night and most of Saturday I spent my time cutting out 100s of  felt circles and stitching them onto a piece of drop cloth while battling migraine. The kids joined in the fun but stuck to making their own projects by cutting scraps of cardboard! God alone know what their plans were other than messing up the house!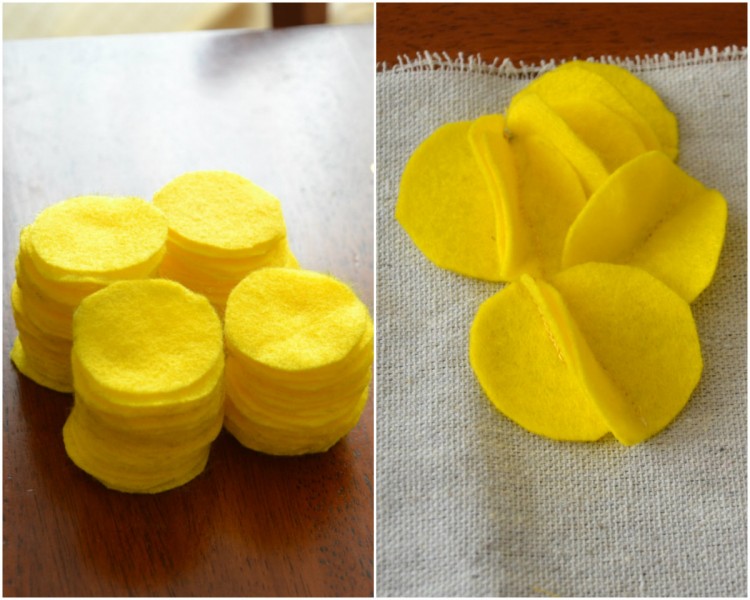 Now that you know how blah my life is any guesses as to what I'm up to?
We also started the project that I'm starting to get lazy about, the chair redo. B was gracious enough to pull out all the nail heads from the Craigslist chair.  Actually they had used nail head trim (hooray!) which saved us a ton of time. He managed to take the whole trim off just with a needle nose pliers and the sharp edge of the hammer. If you are like B who had no clue what nail head trim was then it is a string of fake nail heads attached together with a few actual nail heads throw in here and there.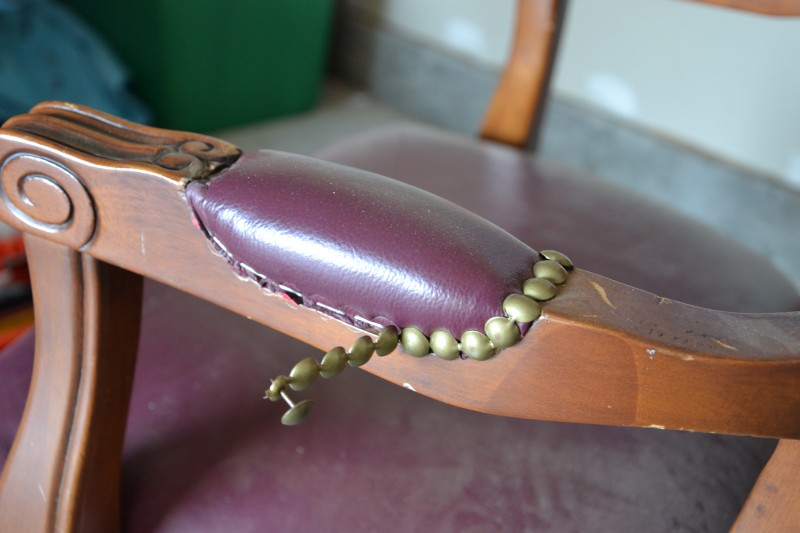 Look at all the dust that's on the chair, just from sitting in the garage! Pitfalls of living in a new development where construction is still going on.
Just as I was about to suggest to him that the real work is taking out all the staples he said, "We need to get an industrial staple remover. There is no way I'm going to pull those out!" And off he went online and bought this baby
from Amazon, Swingline Heavy Duty Staple Remover (S7037201A)
!

So now our nail head stripped chair is patiently waiting for the staple remover for the next step!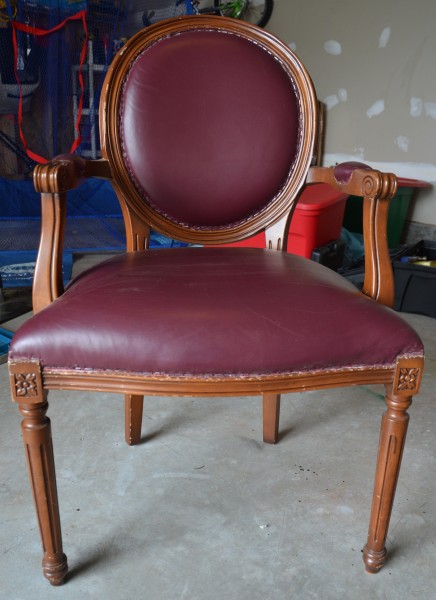 By the way both the pillow and the chair is going to go in the basement guest bedroom. I'm trying to add yellow as an accent color in the room. I still have to pick the fabric for the chair. Given all the pattern on the stenciled walls and the bedding I'm leaning more towards a simpler fabric. Either this Coral Yellow/White one from fabric.com,

or this Lulu Stripe Slub Yellow/Taupe one?

The yellow on the coral fabric seems more mustardy where as the yellow I've used elsewhere in the room is more bright and cheery.  I like the striped fabric too but am worried that I'll be introducing more pattern to the room. The chair is going to be refinished with Annie Sloan Old White chalk  paint and will have a distressed look. What do you guys think?