I don't usually start decorating for Halloween this early but when  Coupons.com asked if I could do a Halloween themed DIY/Craft which can then be easily transitioned into a regular piece of everyday home decor I thought, "Why not?"
Disclosure: I received a Coupons.com gift card to Sears to use for this project and used their Sears coupon codes for discounts.
When you think of Halloween it is a very specific kind of decor that comes to mind but in this case I had to find something I could use around the home on an everyday basis. That's when I spotted White Faux Taxidermy's The Eloise and I knew she would be a perfect for our foyer niche. On a side note the whole ordering process using the coupon codes were a breeze. From now on I'll be checking Coupons.com for discounts before I order anything online.
So here she is, my faux deer head;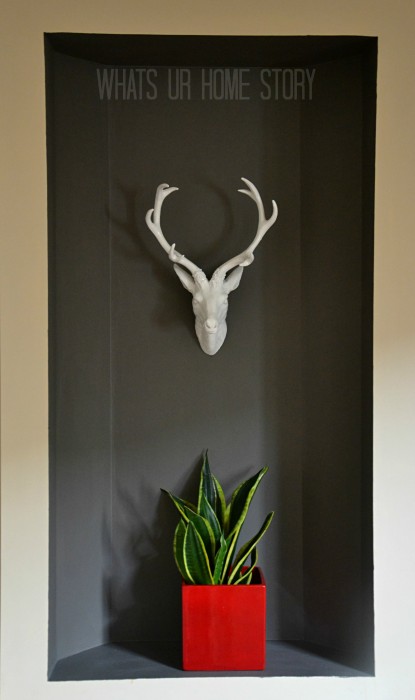 Excuse the bad lighting in all the pics. As I have mentioned many times before this is a very tough spot to photograph and photographs well only if you shoot around 6-6.30 pm as the sun starts to set on the west windows. Unfortunately I had waited till the last minute to finish this project and didn't get a chance to shoot it at the right time. Will work on getting better pics over the weekend.
Anyways, want to see the Halloween version?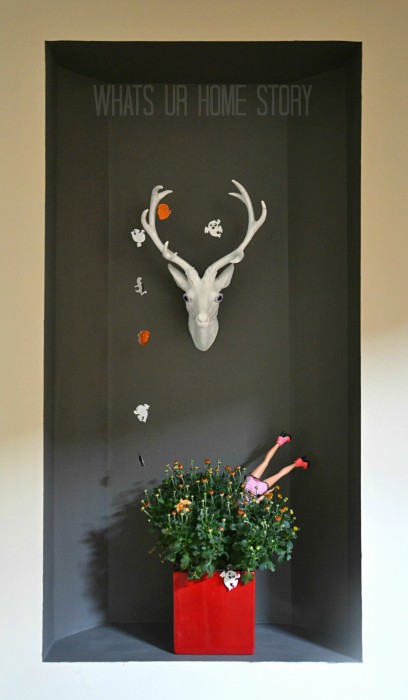 The plan was to add blood dripping from the stag's mouth and horns. I did buy the sticky gel blood but that thing just refused to stick! Of course in the nick of time my glue gun disappeared, yes DISAPPEARED as in vanished!!! So no gory stuff for the time being. Still think it would have been spookier with the blood and the 'body' (DD's Barbie) in the bush. 🙁 I used felt stickers for the eyes and the garland and switched out the mother-in-laws's tongue for a mum that I had bought for the front porch.
A closer look;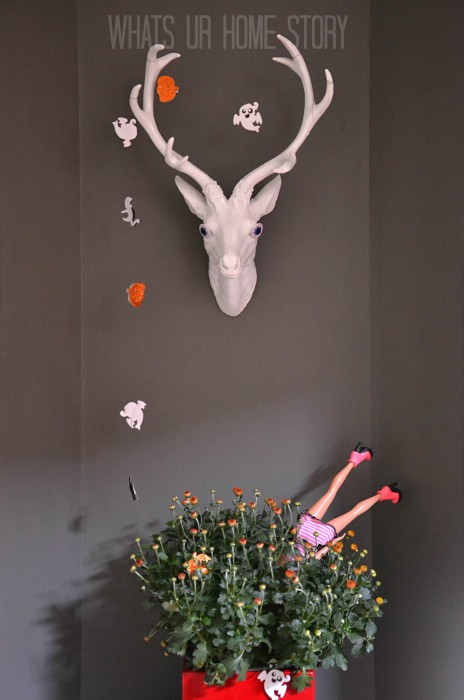 The kids thought that the deer looked creepy with the eyes. I guess I'll have to settle for that.
Instead of the Barbie I tried adding a skeleton to see if it was any spookier. What do you think?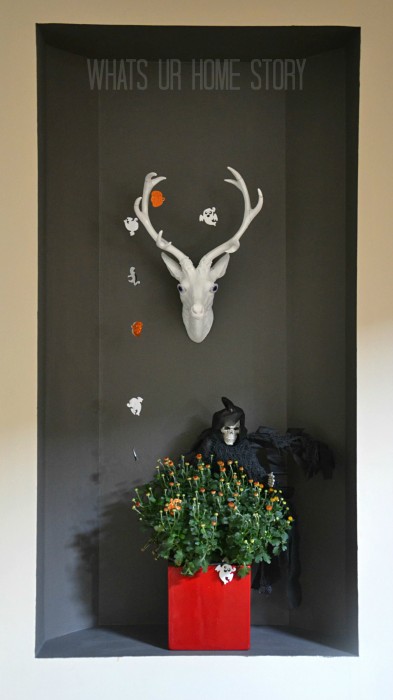 I even had a pirate theme geared up but B ruled that one out saying it would be too cutesy. Oh, and I painted the niche with the left over sample paint (Behr Trail Print) from the office room paint job.
Now that's out of the way let's get to the fun stuff.  Coupons.com is giving away a $200 e-gift card to Sears ! See below for the rules;
The giveaway is conducted across 11 blogs, be sure to check out each of them from the links below.

One winner across all 11 blogs.

The prize is one $200 e-gift card to Sears.

The giveaway is open to U.S. residents only and runs till 11:59 pm EST  on Friday October 4, 2013.

All entries via Rafflecopter widget.
Meet the other hosts
Good Luck! Can't wait to see who the winner is!
Have you started decorating for fall/ Halloween? Any other ideas on how to scary up my deer niche?