Scrabble has always been right at the top of my favorite board games list along with snake and ladder. My dad had an old scrabble set from his bachelor days that we played with as kids. The set was from the 70's and I distinctly remember the tile racks or holders being a gray color, made of plastic. Thankfully this love for Scrabble has been passed down 3 generations to my kiddos now.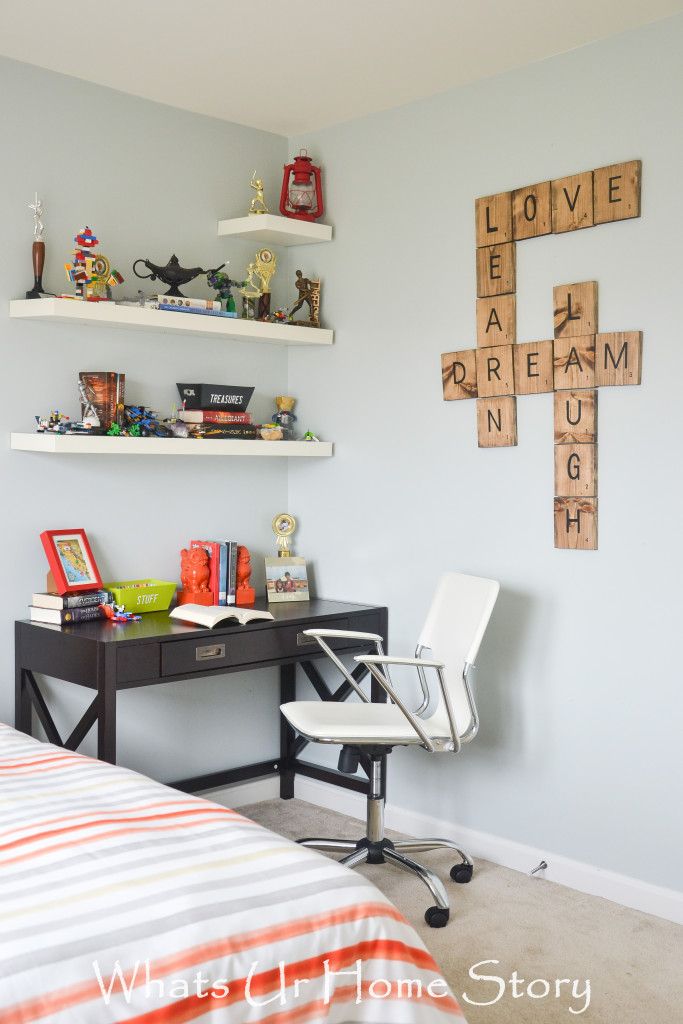 I've been eyeing projects on Pinterest for years looking for ways to carry over this love for scrabble tiles into my home decorating. With my Monkey #1's room makeover we finally got a chance to make it work! That kid loves scrabble! Given all the hours we spend playing it couldn't have picked a better addition for his room.
With this project I also learned something new; if you want wood for any project Lowes is the best store to go, hands down! Great customer service and even better selection. I tried the big orange to see if they'd cut an 8ft x 6″ board into 15 pieces, 6″ long (the plan was to have 6″ x 6″ tiles) but they refused saying they don't cut anything shorter that 12″! At Lowes they were totally fine with cutting 6″ long pieces (the service is free) and bonus marks for the cheaper wood! All those tiles cost me just $8!
Method
To make the above pattern we needed 15 tiles measuring 6 " x 6″ . The wooden boards come a size smaller in width than what is quoted. i.e. an 8ft x 6″ board will be around 8ft x 5.7″ wide. So these tiles are actually 6″ x 5.7″. I just picked a regular pine board, nothing fancy and got it cut at Lowes.
The pine had a bleached look so stained them lightly (a quick rub with a cloth) with left over Dark Walnut stain from the breakfast table project.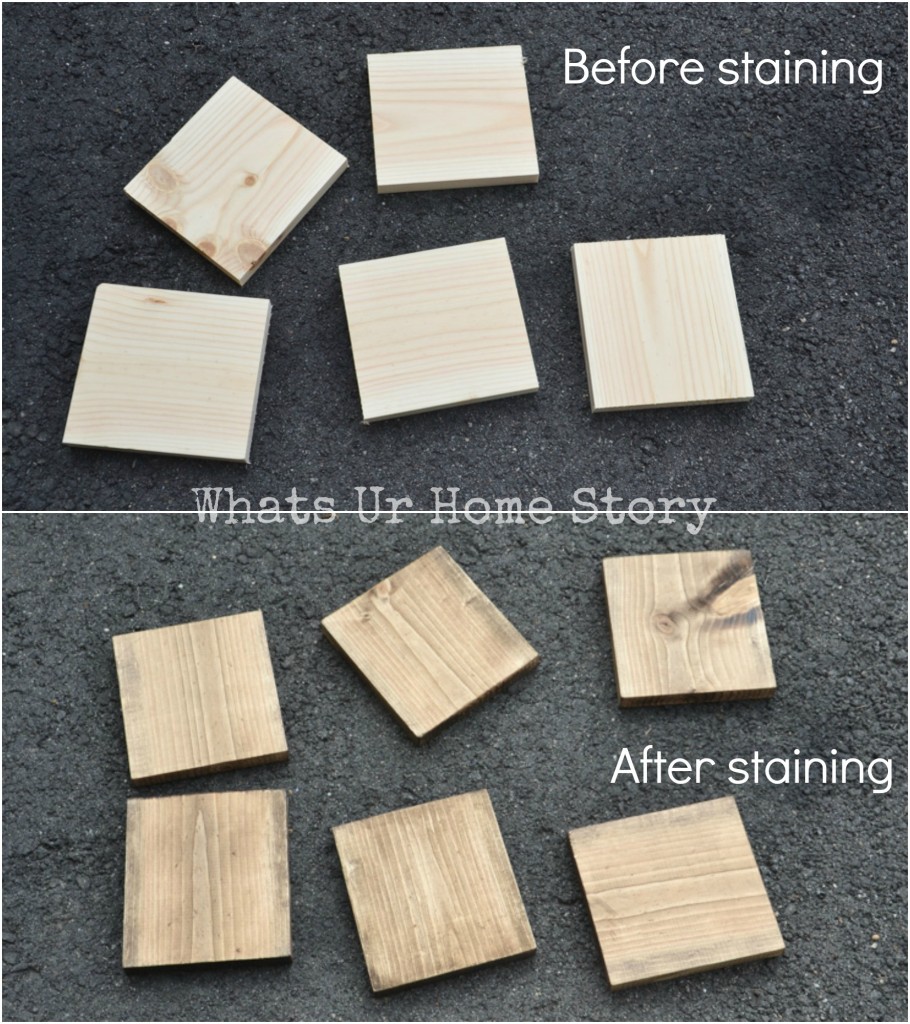 I did a lot of research to find the font that would come close to the actual Scrabble font and finally made these letter templates on Picmonkey. No worries, you don't have to go to all that trouble. I've saved them for you. You can download them from here.
Using the back tracing method I traced the letters onto the wooden tile.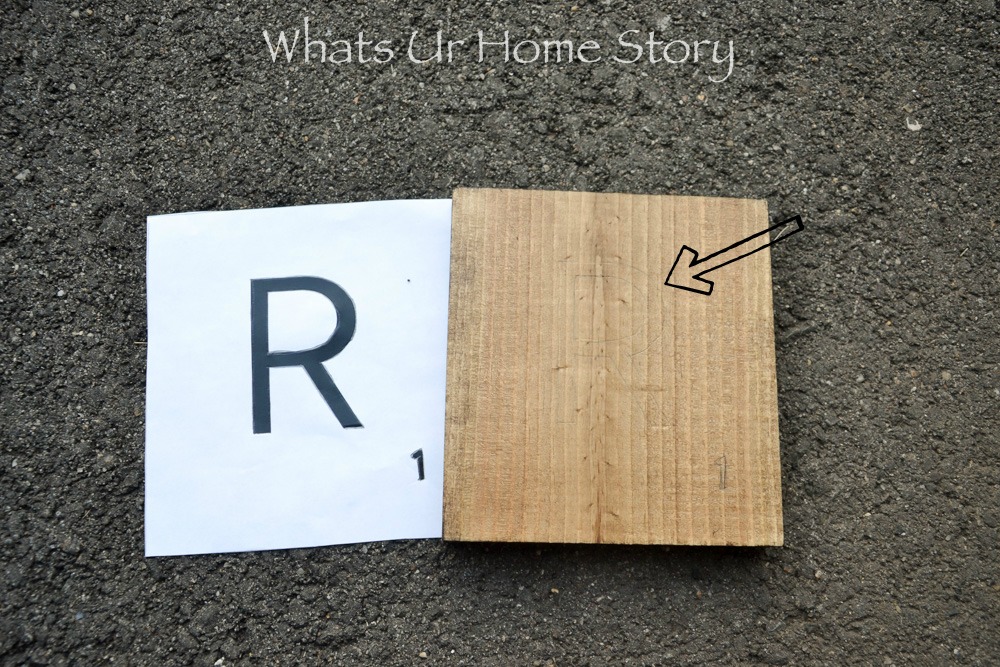 The first letter I free hand painted with a narrow brush and acrylic paint. As you can see the lines were not very clean so found a great alternative that works. Use a ruler as a guide for the straight lines. All you have to do is remember to wipe the side of the ruler on a paper towel before you use it again on the next line. In this method you will have to wait for the paint to dry on one side before you paint the one adjacent to it.
Once the paint is dry, seal with a water based Polycrylic.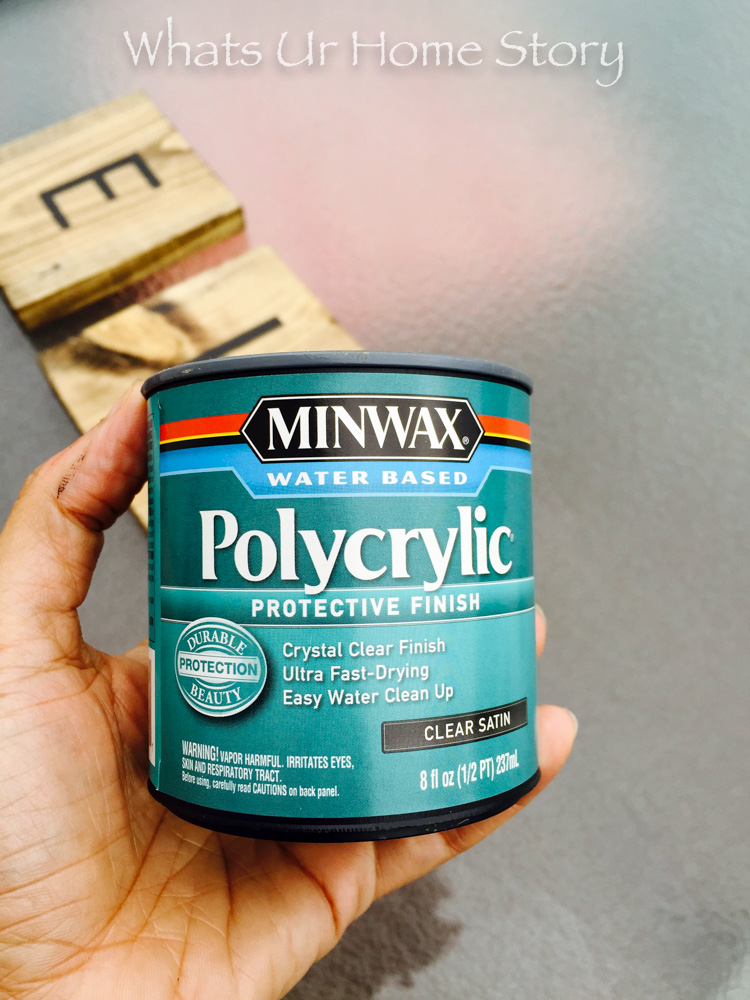 To hang I used regular picture hooks. This was actually the toughest part, to get those tiles straight! It took a lot of trail and error to get the measurements for the nail holes right. I'd suggest you skip this step and go with velcro strips. I tell ya they are going to make your life easier!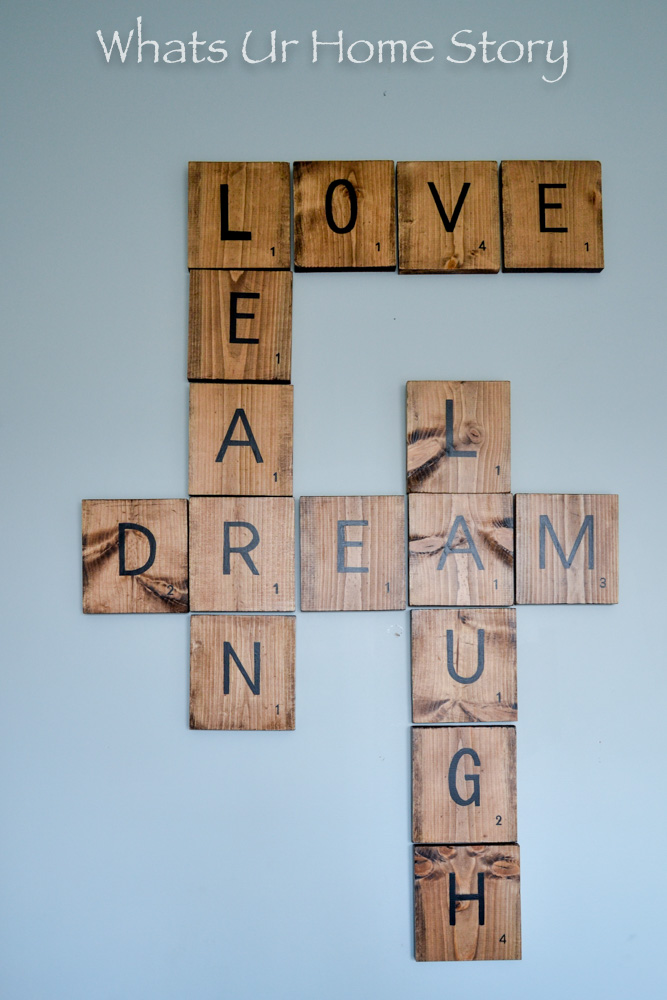 Even with all the hiccups that we ran into we love the end result. Don't you?