Recognize this baby, anyone?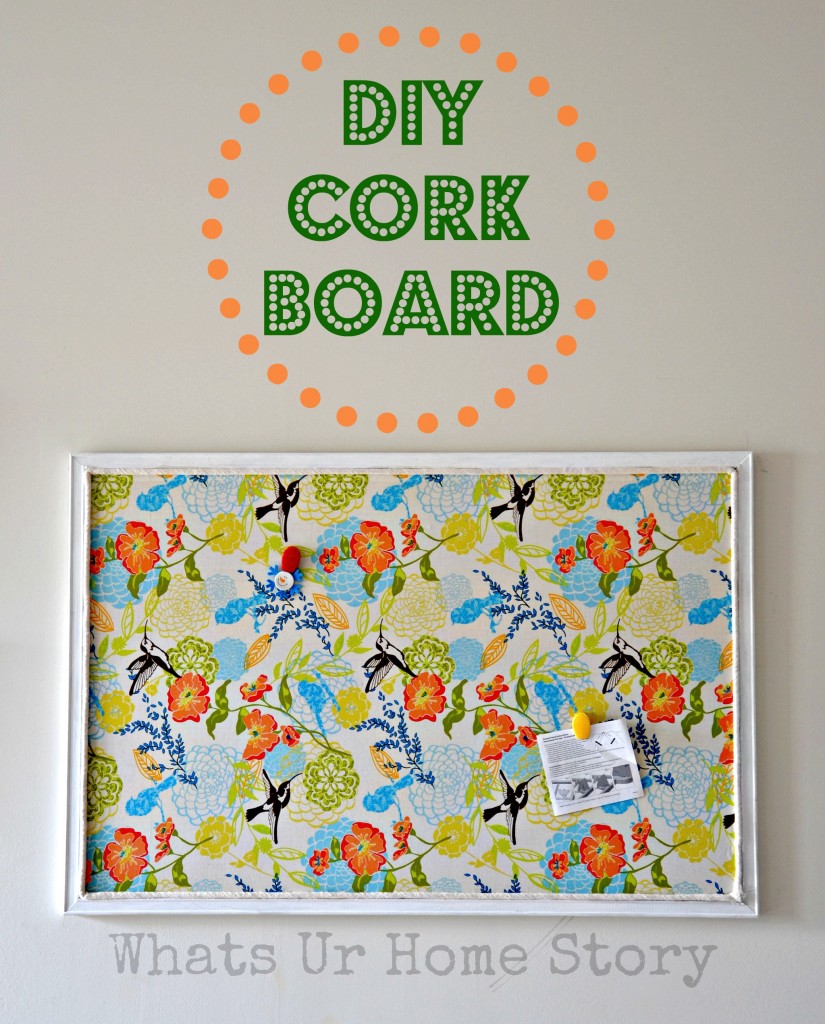 Remember this $5.99 bulletin board from Salvation Army?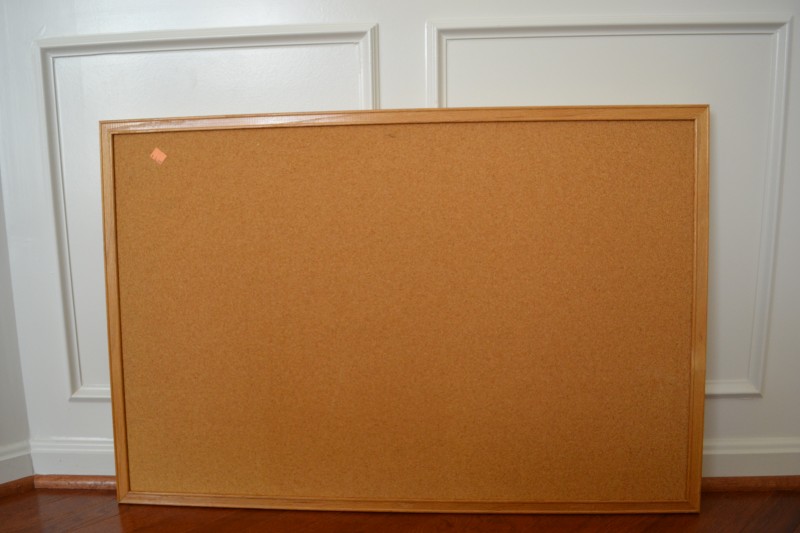 Yup, it is the same thing. I like to call it, the power of an hour of TLC.
Actually this project was way down on my 'To do list' but all that changed when I saw the fabric at JoAnn. It was screaming "pick me…pick me". Of course, it had birds all over! How could I let that fabric go?
I knew that I needed just over half a yard to cover the bulletin board. After calling B to confirm, I bought it even though I didn't have a coupon (I try not to buy any thing over $2 from Micheals or Joann's without a coupon). Luckily it was on marked down from $9.99 to $6.99 a yard. I also found 6ft of cording for $2.99. That's all it took for this DIY Bulletin board makeover! I even have enough fabric leftover to make a throw pillow.
Materials:
Cork Board – $5.99 – Salvation Army
Fabric – $6.99/yrd – JoAnn (I have just under a yard left over)
Cotton Cord – $2.99 – JoAnn
Spray Paint – Already had
Total – $15.97
So, how do we do it?
DIY Bulletin Board Tutorial
Place the fabric over the cork board and adjust it so that you are ok with how the pattern ends, begins etc. I just took the easiest way out and aligned the corner and one of the sides.
Trace the outlines so that you will have enough fabric to cover the cork part. Don't worry about pencil marks, we are going to hide it.
Cut you fabric to fit exactly over the cord part of the board.
Cover the cork part with newspaper. I tried using painter's tape in one of the corners to tape it down but didn't really make a diff so didn't bother for the rest of the area.
Now take out your trusty old spray paint. I used left over Krylon White Paint + Primer from my faux coral project. Follow the golden rule of spray paint  – thin even coats.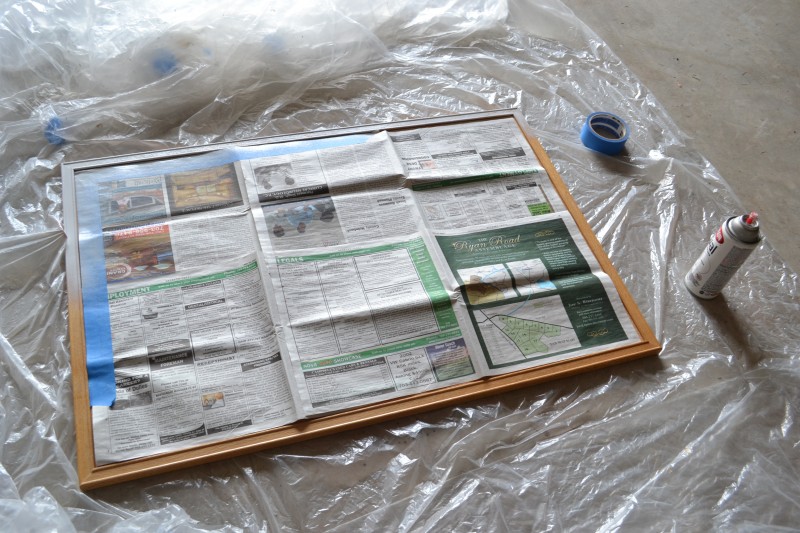 Once the paint is dry, go crazy with your hot glue gun. 🙂
Start in a corner. Make sure you are following the line with your glue gun and the fabric.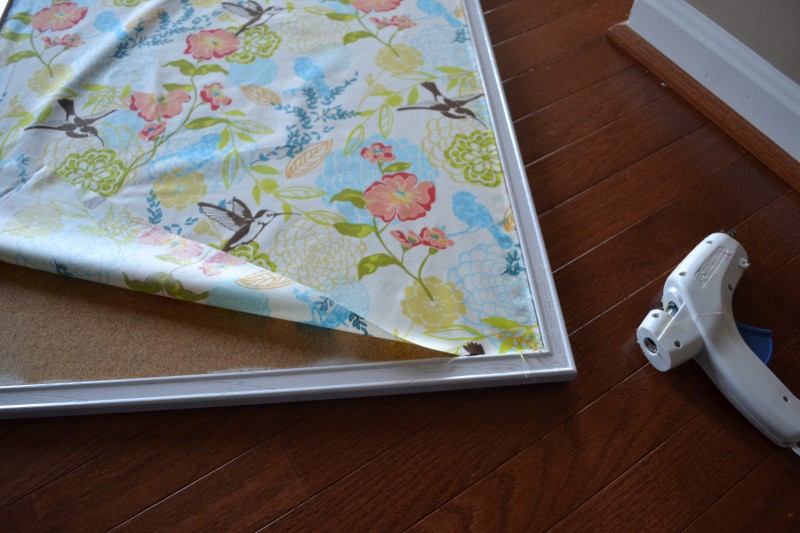 Once you are done with one side do the same thing on the side next to it. Make sure you keeping the fabric taunt (no creases).
From the third side on wards you can start pulling the fabric really taunt. This is very important on the last side. Again, don't worry if there is any excess fabric on your last side. That only means that you are doing a good job at pulling your fabric. See the excess fabric on my last side?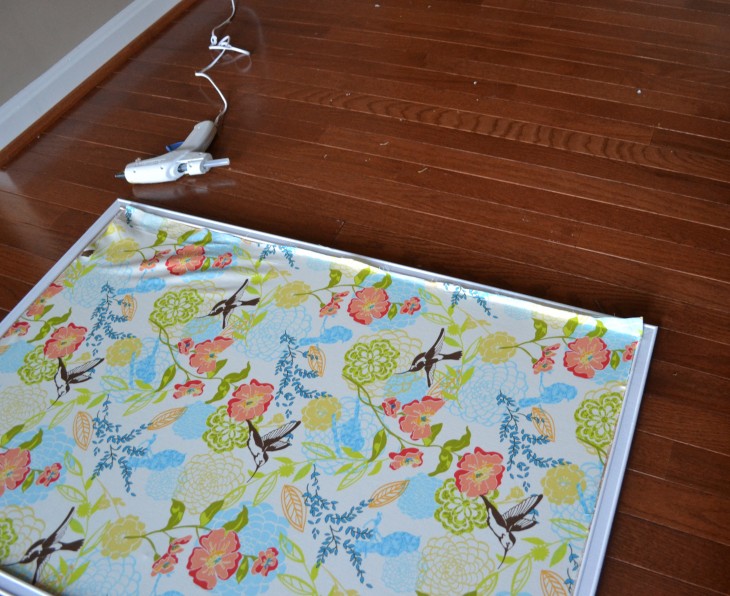 Cut off the excess fabric with an Exacto knife.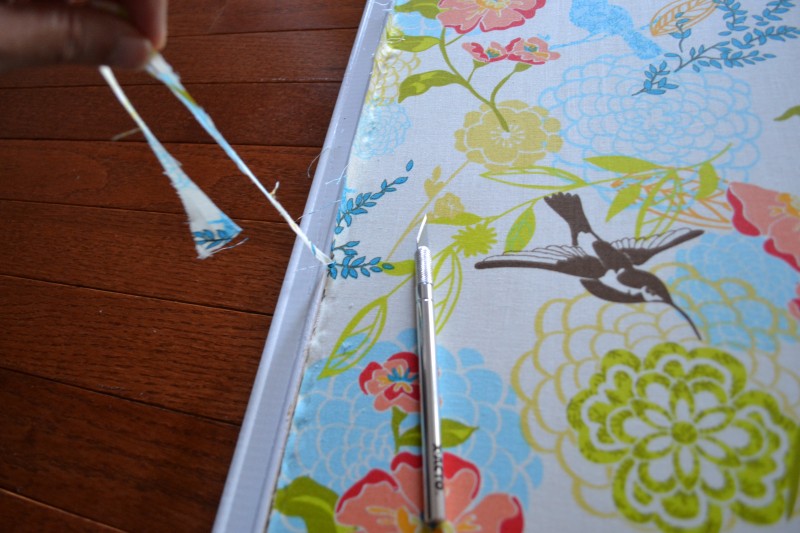 Now for the final touch, hot glue the cording to cover the ends of the fabric.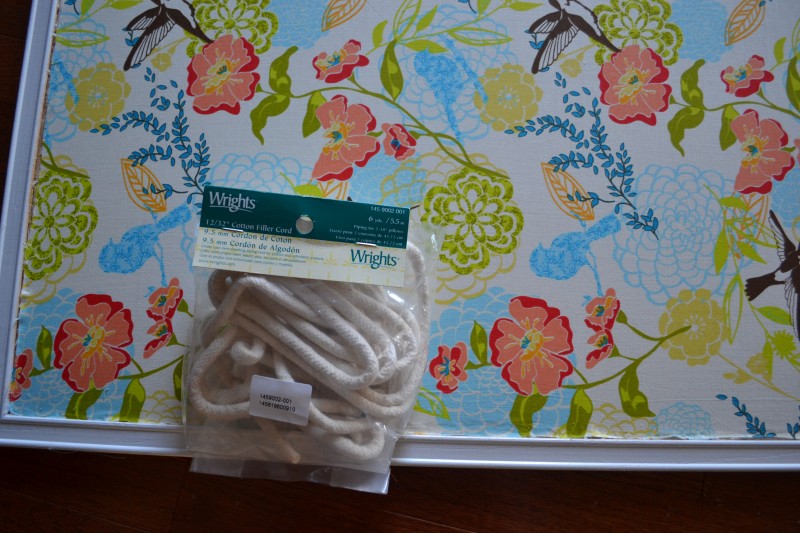 All done! MY DIY Bulletin board is all set for action in my future art studio/craft room.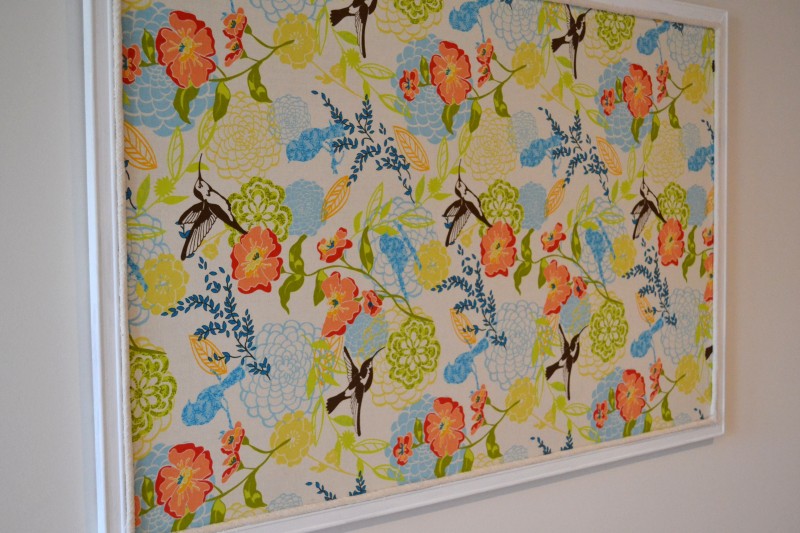 Here she is with some of my inspiration pins.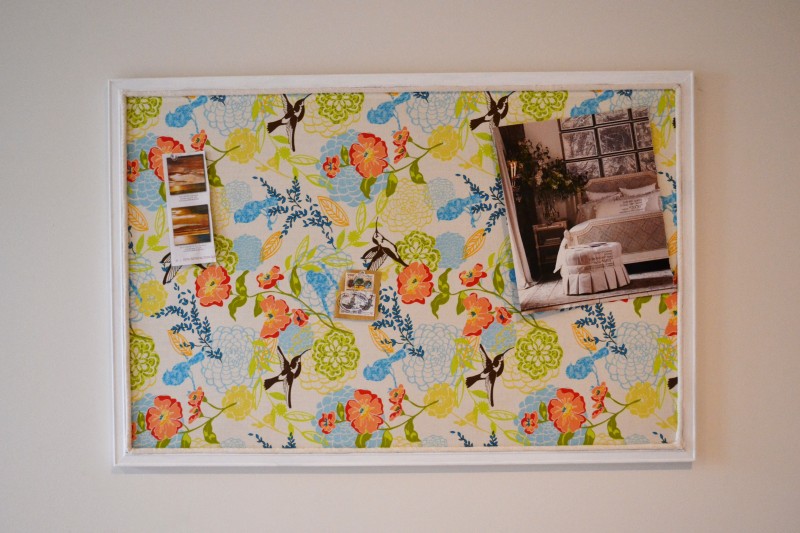 The joy and satisfaction of rescuing something from the dump – priceless. Don't you agree?