Ever since I started this blog, I've been telling you about the major gardening project. Finally we have decided to tackle it. Yay!
We had been planing this major overhaul for a long time and ended up neglecting the yard in the meantime. Now all the plants are either dying or overgrown. Just a headsup before I show you the pics.
First, some background info. We have no clue of what plants grow best where. The number of choices at the garden center were mind boggling that we didn't even want to attempt landscape planning without help. So we headed to our local Meadow Farms nursery. They have a free landscape planning service for DIY'ers where their landscape designer will advice you on the plants that will work for you after seeing photos and measurements of your yard.
A big shout out to our landscape designer, Barbara Monfort, for being so patient with us. She was very helpful and was instrumental in giving us an idea of what needs to be done. Our yard has a lot of problem areas (as you will see soon). So she suggested that it might be better to come and do a personal consultation. At that time Meadow Farms had a deal where they will do a 2 hr home consultation for $65 after which they will give us a plan to keep. We could decide whether to use their installation services or not, no obligations.
Problem #1 – The front yard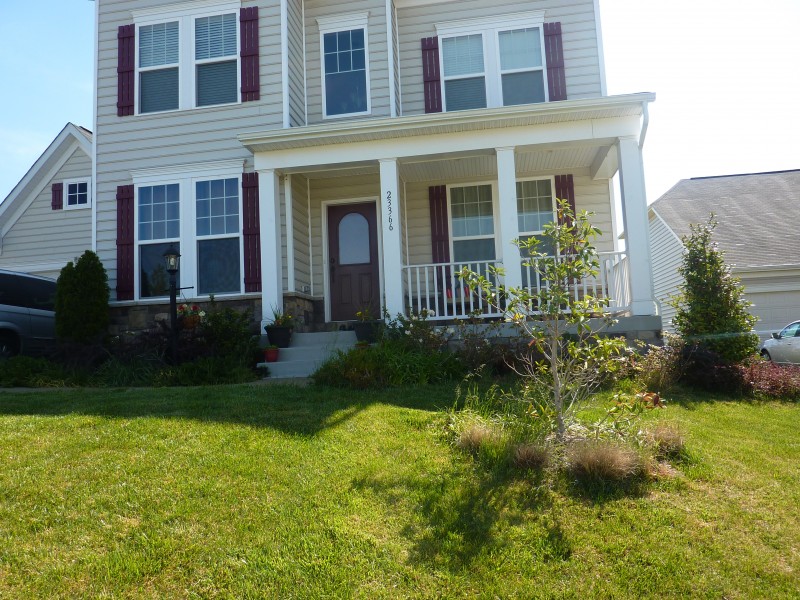 See, the sick looking magnolia and the grasses surrounding it? Then there is this mess on the left side of the porch;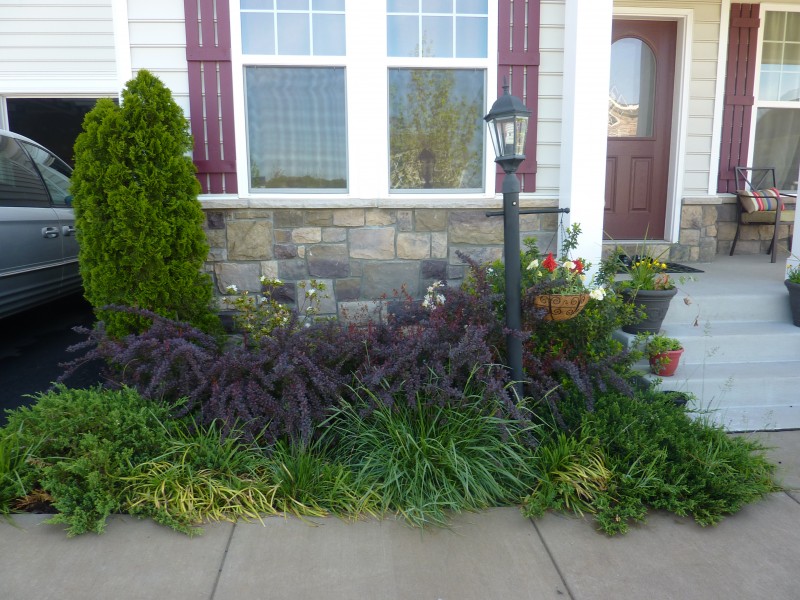 Everything except the azeleas (again looking half dead) is overgrown. On the other side the story is completely opposite.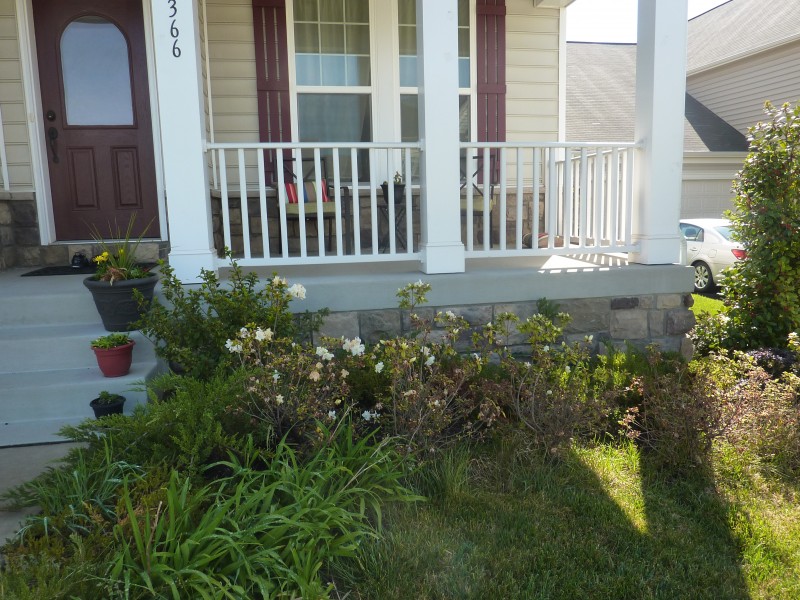 Look at those azeleas, still flowering when every other azelea around had long stopped! Can you imagine that they come back in full force in summer? Ya, summer! The last two years I had blooms all summer long. I've heard of encore azeleas flowering in the spring and fall. I usually have a very light bloom in spring and have to look at this eyesore till summer.  The junipers in the back and the side are half dead. There is a healthy holly and few pathetic looking dwarf barberries in the right corner.
Now for the biggest eyesore of all!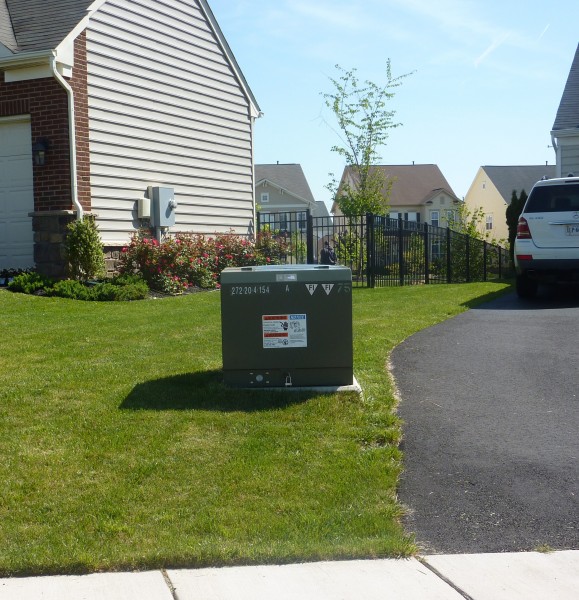 How lucky do you have to be to have that ugly electric box on your yard! The builder gently put it to us after we were well into the construction process that, "You guys might end up getting the box"! I was hoping that we would end up with one of those smaller versions but of course we are the luckiest folks in the world. To top it off we even have a fire hydrant on our property!!! The worst thing though is B doesn't even see it! Seriously, there is a big green thing in front of your house and you don't see it?
Problem #2 – The left side yard – You can see it in the above pic, the narrow strip of grass next to our neighbor's fence.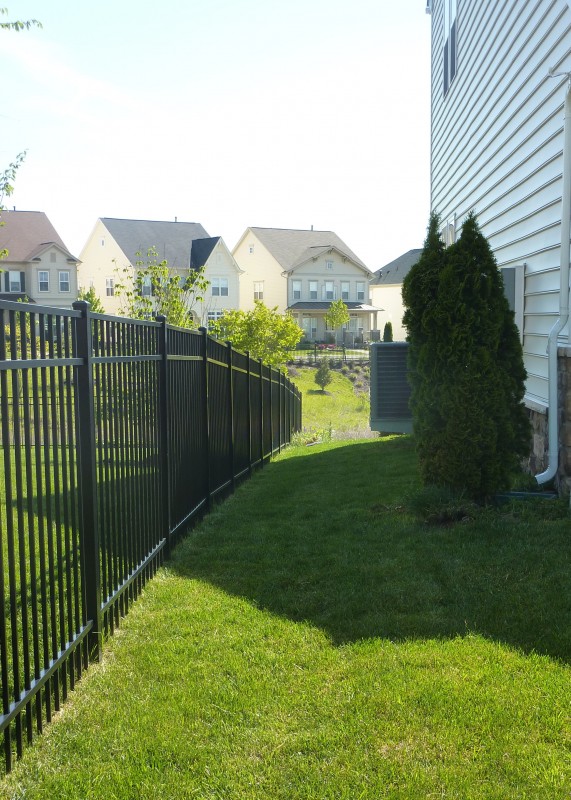 This is a tough patch to mow as the yard slopes towards the neighbor's side and towards the back. It is also in the shade always. So we were hoping to take out all the grass from this area and have a stepping stone path or something. Here is a shot of the same space from the back.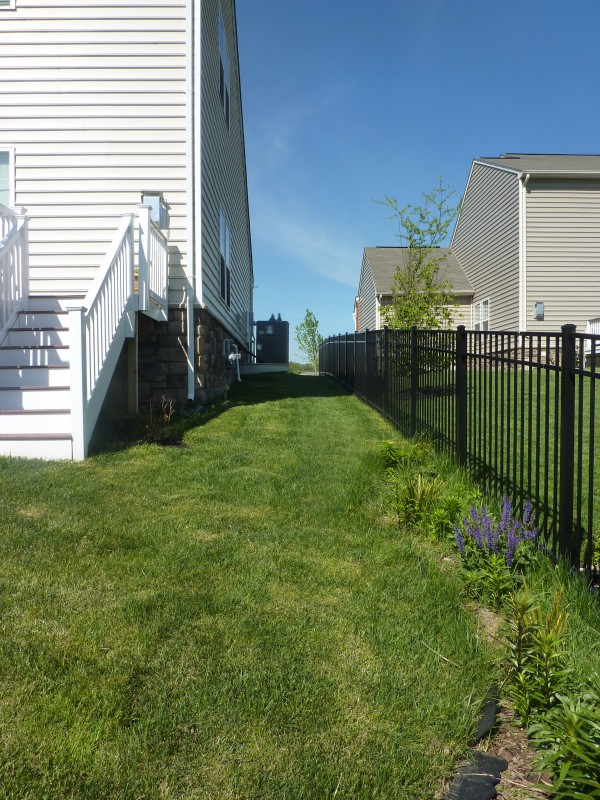 Oh, there is also this excuse of a flower bed that we had tried to create last year that is now overrun by the lawn. A very important lesson learnt (after the fact) landscape fabric is a must if your flower bed is next to the lawn.
There are two more problem areas. But given the 2hr time limit Barbara agreed to work on these two issues and came up with this wonderful plan.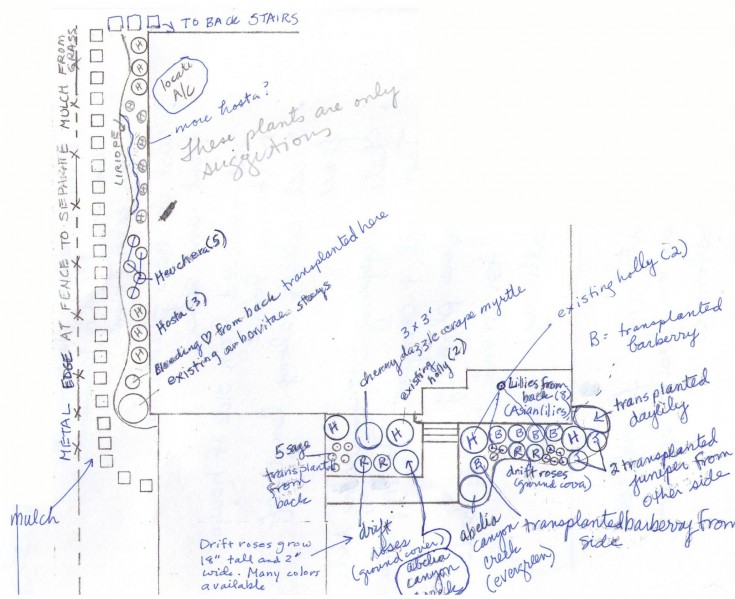 The best thing about her plan is how she suggested that we reuse the plants out front and in the flower bed. We would have to buy only a few new plants like the cherry dazzle crepe myrtle with its dark red foliage and gorgeous pink flowers (you know how I love me some crepe myrtle) and some drift roses. She also suggested a hosta patch ( they do well in shade) on the left side yard. Really happy with all the suggestions.
No, we are not done yet. Part II coming up tomorrow. 🙂 How is your garden doing?