Wow…wow..wow…the first ever Summer Decorating Challenge reveal is here! As you remember the theme for the month of July was " Give new lease of life to something old". My take on the theme, a Chicken wire jewelry organizer from an old picture frame.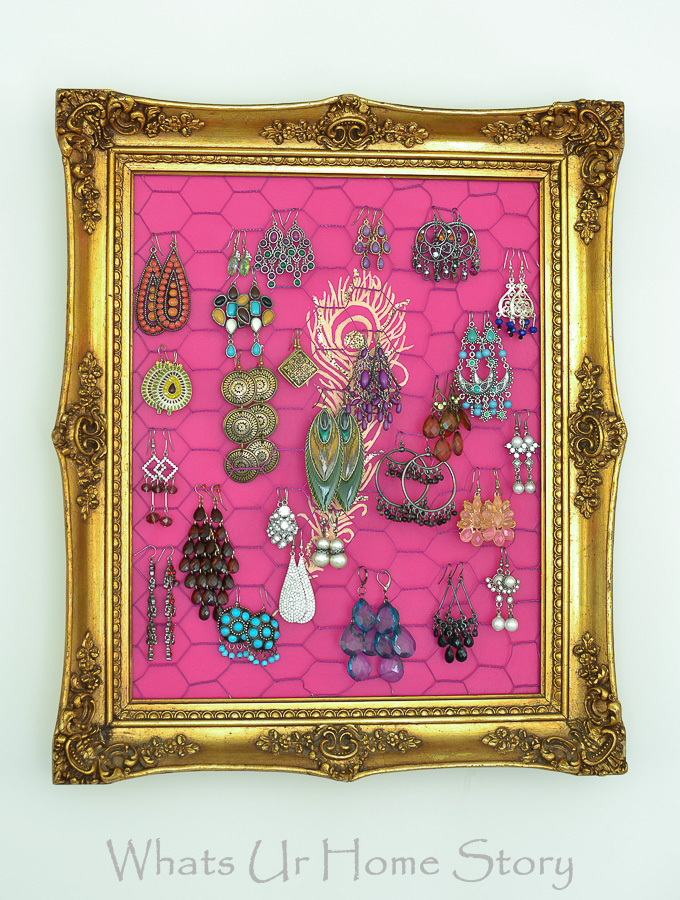 I even managed to incorporate 2 of my favorites; the peacock feather motif and glitter! How can I let a chance to use glitter go to waste? Seriously that design was screaming for some glitter, don't you think?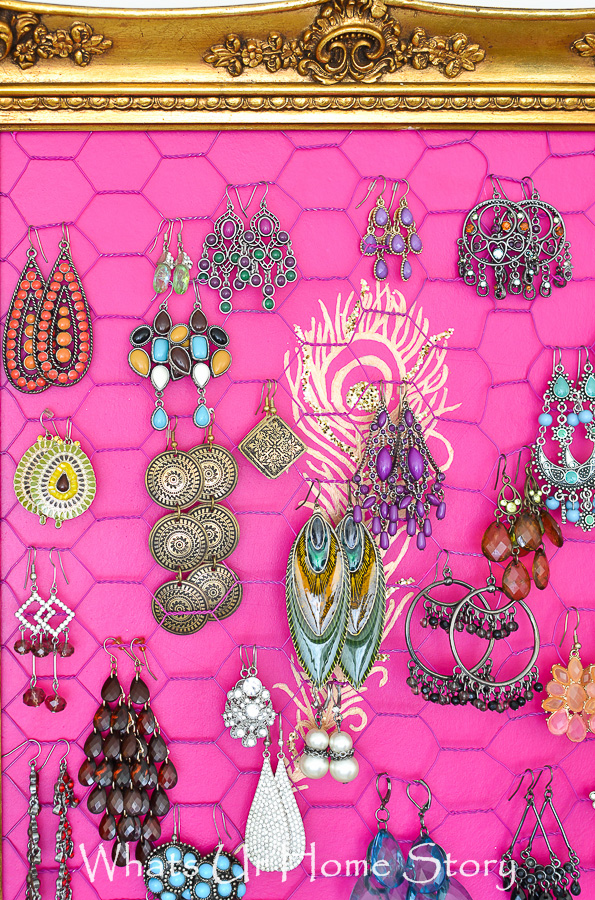 This was a birthday gift for a dear friend; all those gorgeous earrings above are from her collection. Pretty, right?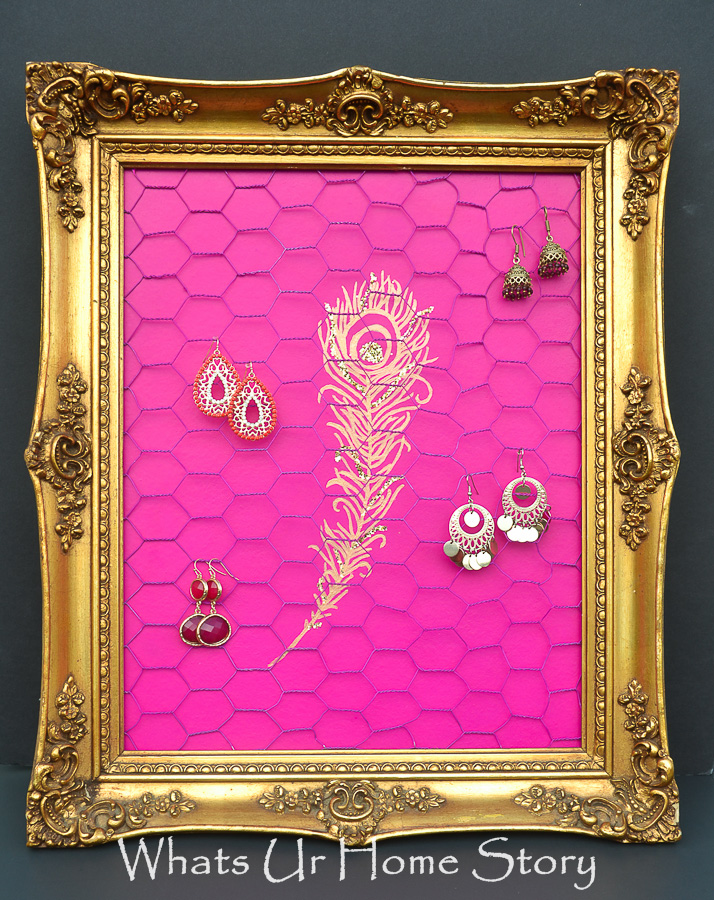 Here's how you too can make one for yourself;
Materials
Ornate frame – I found mine at a yard sale
Chicken wire
Wire cutters or a pair of sharp scissors
Fuchsia spray paint
Acrylic gold paint
Mod Podge
Paint brushes
Glitter
Peacock feather motif print out
Pencil (for tracing)
Poster board
Method
Remove the picture from the frame, using this as the template cut a piece of chicken wire the same size and shape. Chicken wire usually comes in a roll 6 ft long so there will be a lot left over for other projects. I was pleasantly surprised how light the chicken wire was to cut with a pair of sharp scissors! There is really no need for wire cutters.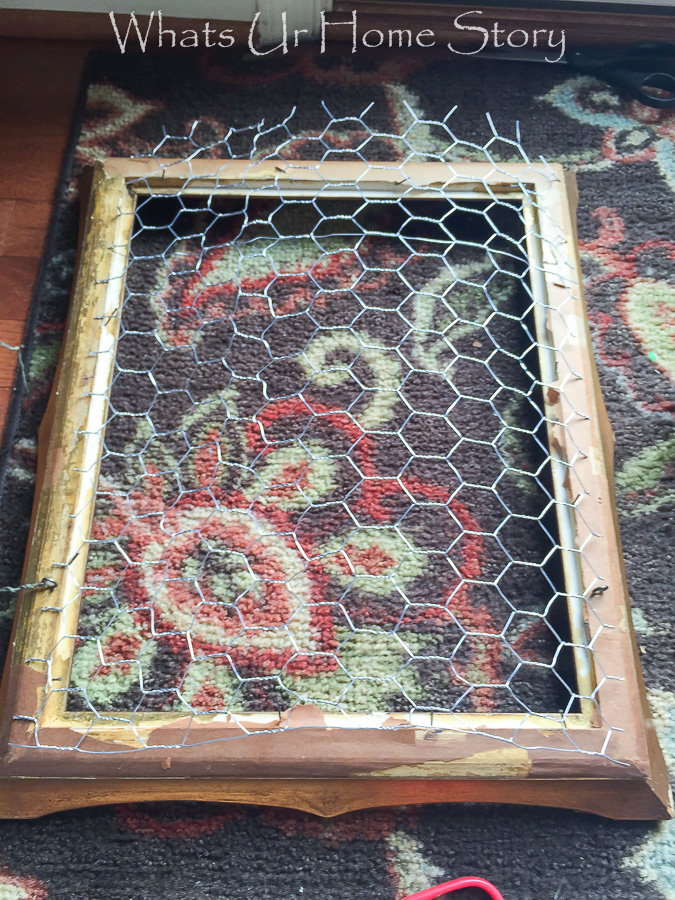 Cut poster board to fit the frame and spray paint it Fuchsia. More on spray painting tips here. It took me 2 coats to get the right color.
Research online and find a peacock feather motif that you like. Size to fit on the poster board backing and print out on regular printer paper.
Using the backside tracing method transfer the design onto the backing board with a pencil.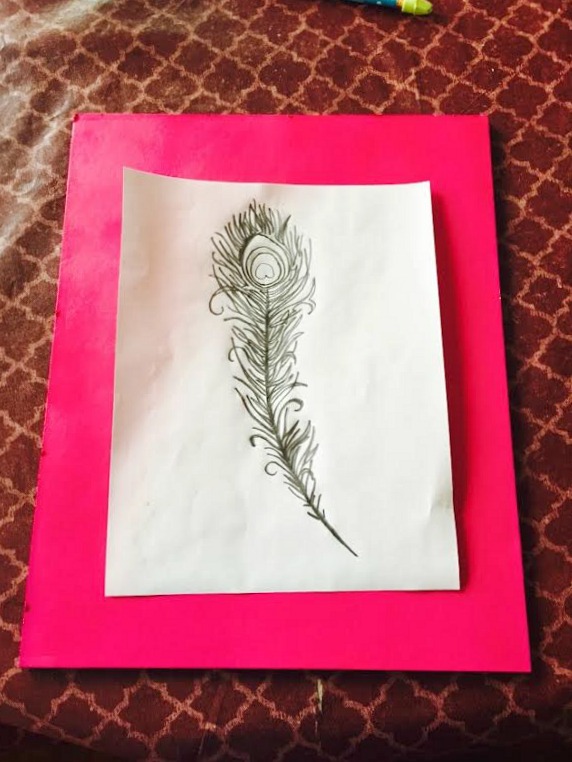 Paint over the peacock feather design with gold paint and thin paint brush.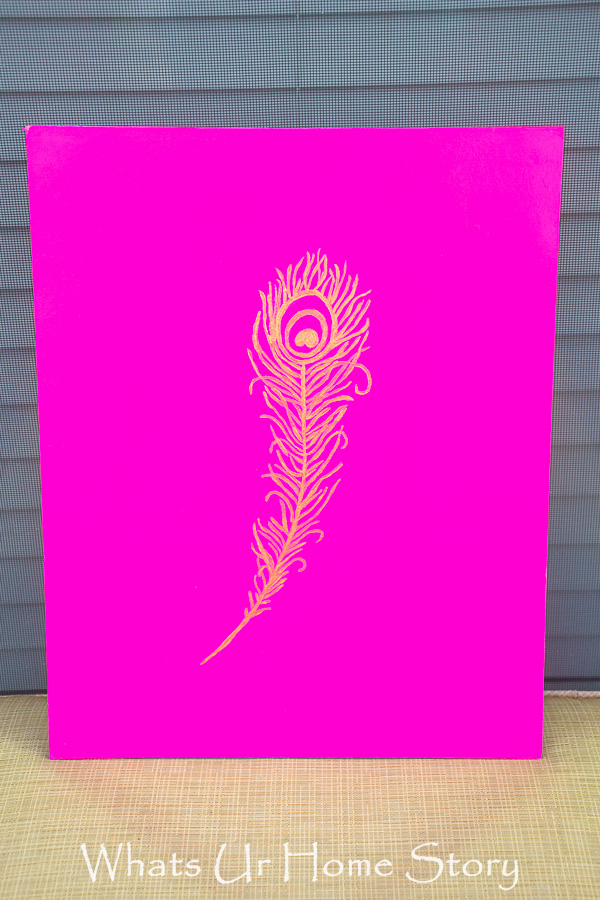 Using Mod Podge add accent areas for glitter and sprinkle glitter over them. Let it dry overnight.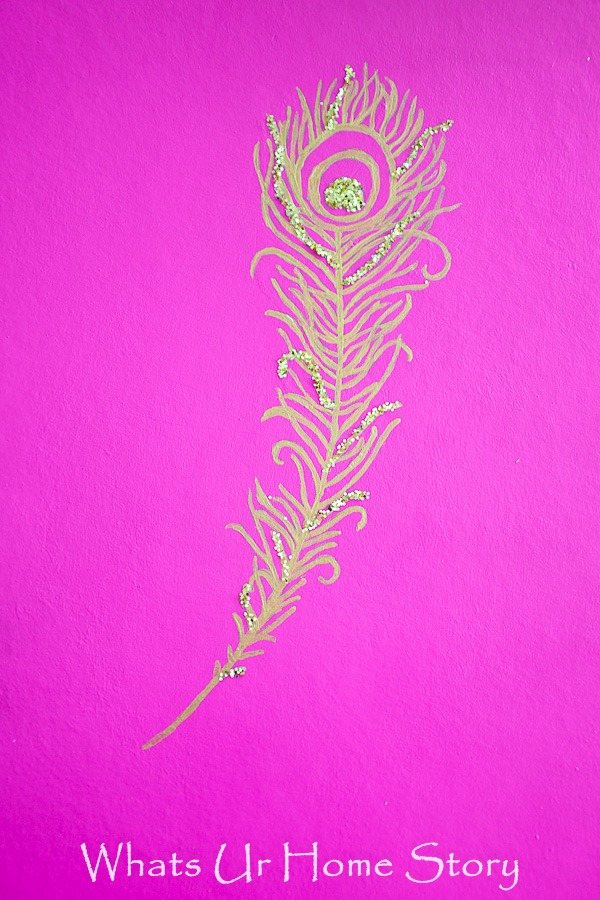 Place the chicken wire back into the frame. It should fit snuggly along the edge. As the poster board backing is thick you don't need glue or staples to attach the chicken wire to the frame.
Gently add the backing board to the frame. Attach the backing to the board with the locking mechanisms on the frame or with staples.
Since this was going to be a gift I went the extra mile and covered up the back with an extra piece of fabric that I had on hand from the cork board project.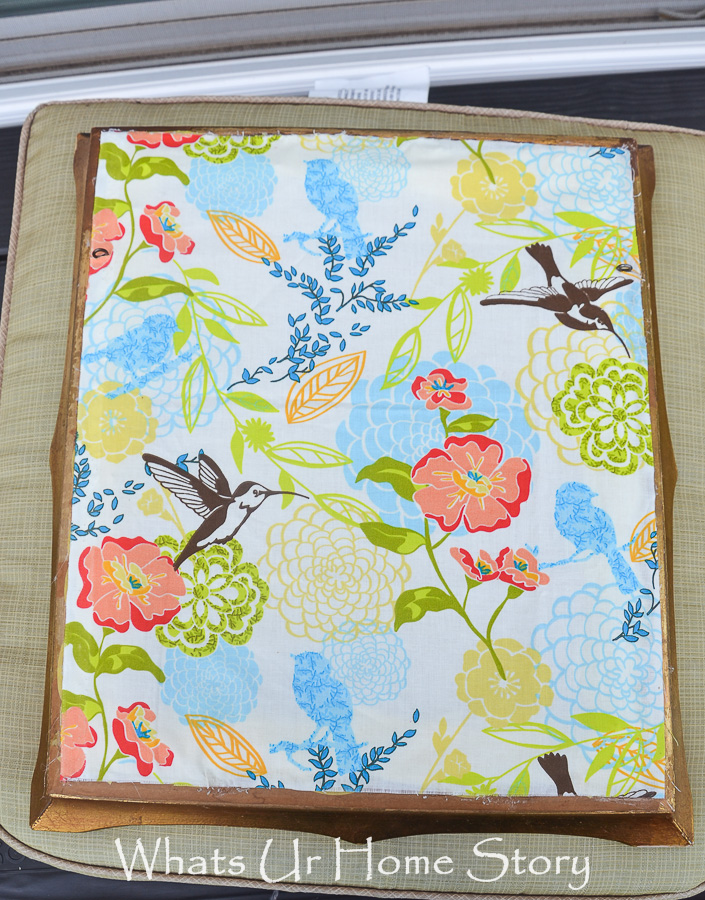 Add hanging wire and you are all set!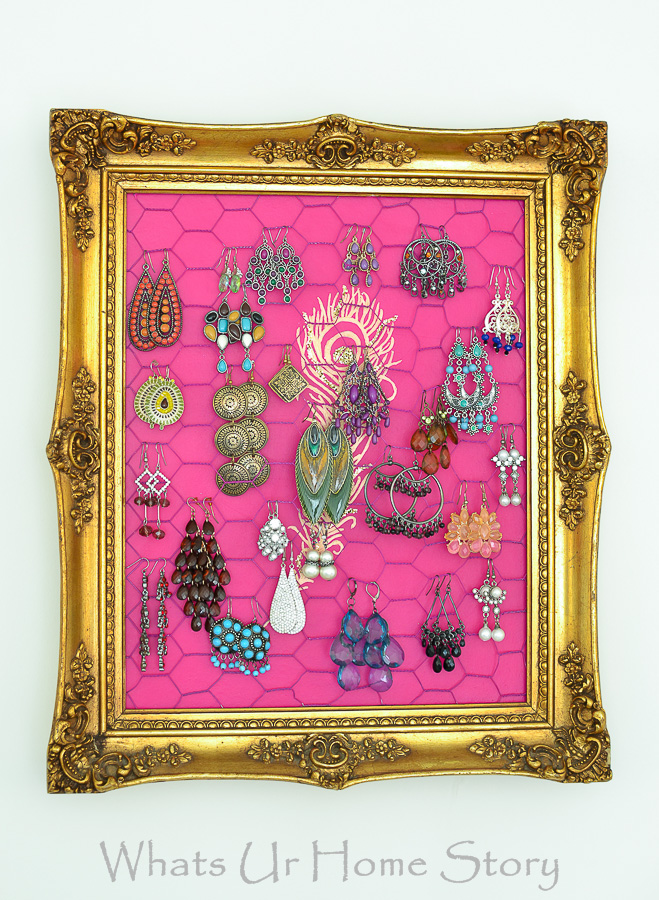 A look at the detail;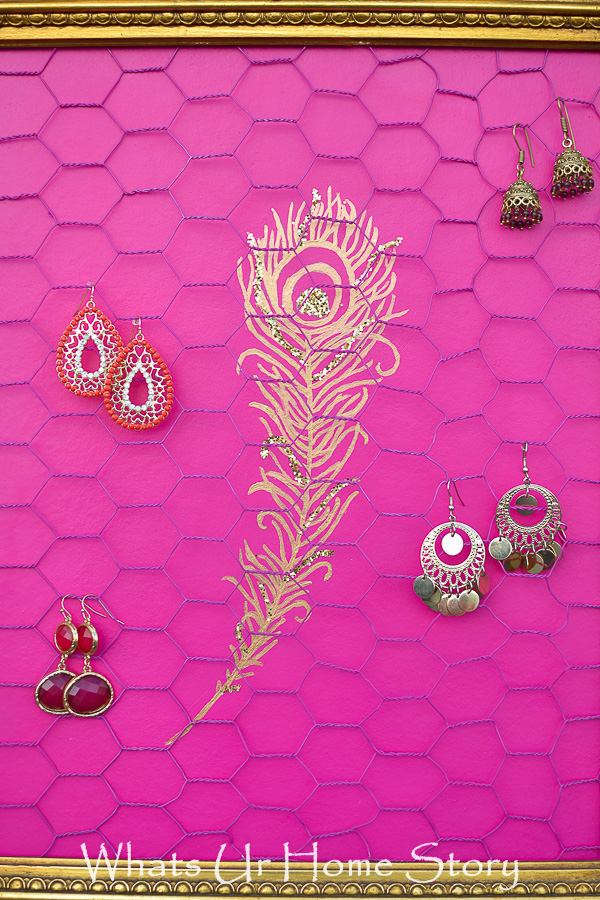 Pretty neat, huh? And keep those July Summer Decorating Challenge project pics coming. Love seeing what you all have been up to!