For all of you who love giving handmade gifts to your friends and family, have you ever had trouble thinking up a gift for someone who also happens to be a crafter? I always end up thinking so hard only to rule out every idea that occurs to me 'coz it doesn't measure up. That's exactly how I felt a few weeks ago when I was pondering over a house warming gift for a dear friend. Nothing I thought of felt like it was the idea, you know the one where you get all excited about the end result and start working on without even taking the 'before' pictures? I was in my craft room aka. the basement guest bedroom (which by the way is more like my craft storage dump) rummaging through everything I had looking for inspiration. Maybe a piece of a scrap fabric or those corks or the 2 big packs of bamboo skewers that I've stashed away for a rainy day could ignite that spark? I tell ya, if you would've listened carefully you could have heard me muttering under my breath, "Oh Lord, something, something speak to me….please!" Sure enough something did speak to me. This purple lady….
And I remembered my friend Melissa's (from the gardening blog Empress of Dirt) bird cage succulent planter. Soon enough off I went to Lowes for some yellow spray paint and flowers and ta da!
2020 Update: I recently did a video tutorial of the same but with a different bird cage:
It is really easy to make and works like any other hanging planter. All you need are;
Materials
Bird Cage ( I got it from Ross I think in 2012 for making a chandelier for my closet but that project is going nowhere. All this while it has been sitting my guest bedroom.) Valspar Yellow Spray Paint + Primer – Lowes Coconut Liner – Walmart Plants – Hot Springs Lobelia (white) and Calibrachoa (fuchsia) – I chose these for their trailing habits and smaller sized flowers and leaves. When picking out plants keep the size of your cage in mind as they should be in scale with the cage. Potting Soil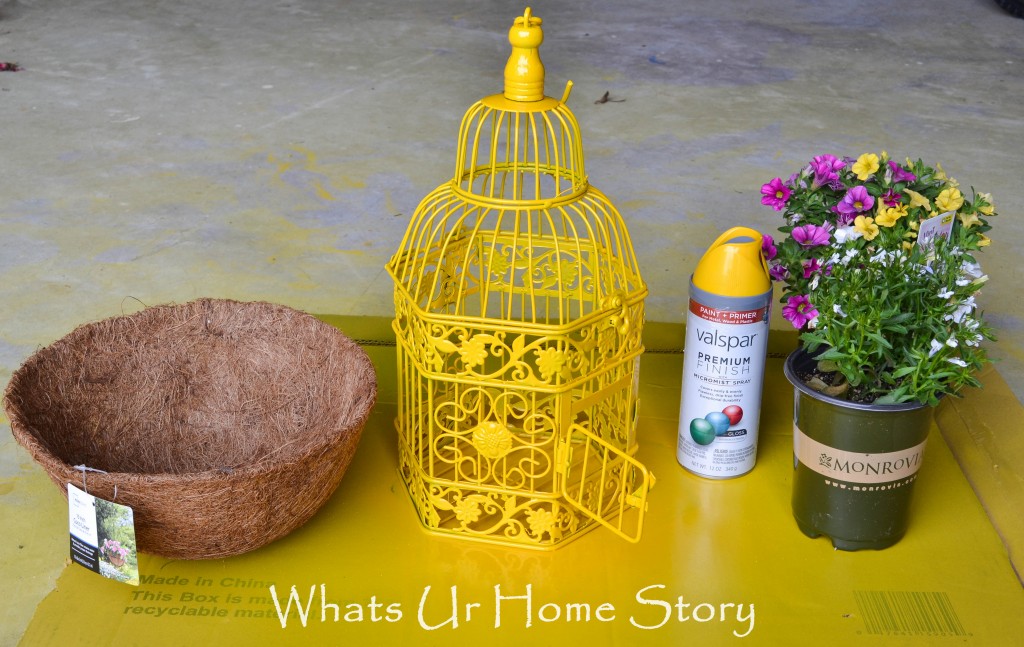 See what I said there about being too excited to take the 'before' pics? Realized it only when I was prepping to plant!
Tutorial
Spray paint the bird cage. Took me 3 -4 coats. Remember when it comes to spray paint light and even coats work best.
Let it dry for 2 days.
Open the bird cage and place the coconut liner inside so that you'll have an idea of its size relative to that of the cage.
In my case the liner was coming up to the top of the cage. So I had to trim it down to about an inch and half above the base. I cut up the extra liner into smaller pieces and placed it inside the cage for added height.
Plant your plants as you would in a hanging planter. Calibrachoa is a voracious grower and is also known as Petunia on drugs. So I planted just one of those along with the Lobelia. Make sure to leave some room for the plants to grow into.
Water the plants slowly aka. misting is ideal. The first few days it is better not set the hose on any of the strong settings.
Hang it on your porch or garden and enjoy!
Doesn't she look pretty on my lamp post? Gosh, I want to make one for myself!
I can't wait to see how it fills out.
Oh, and I picked the bright and cheery yellow 'coz that is the accent color in my friend's home.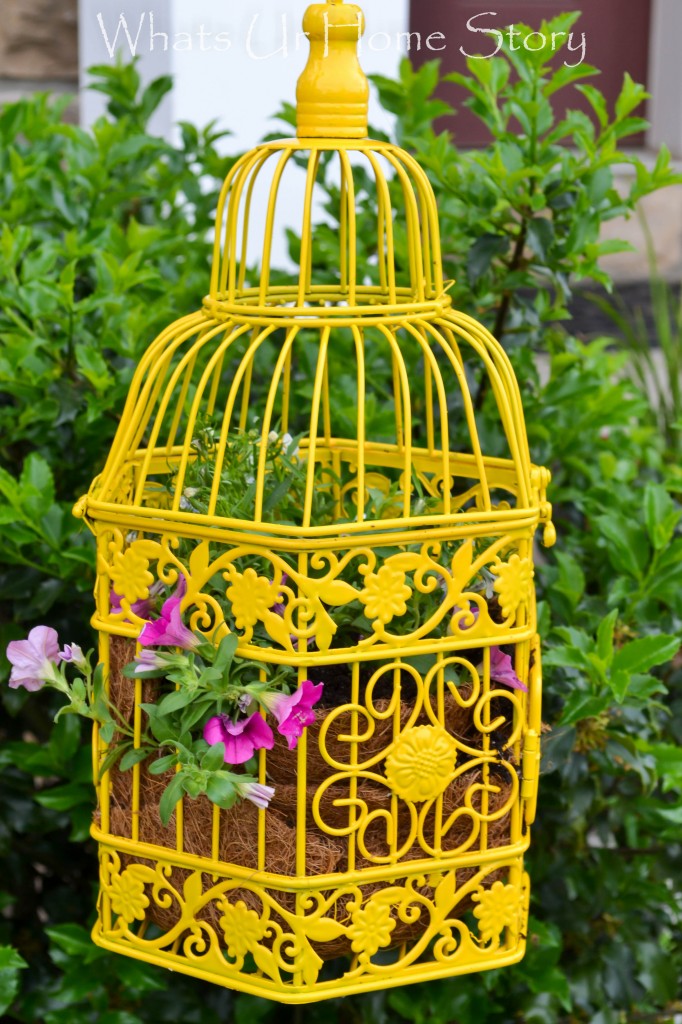 Have to show you one more shot of the inside.
Isn't she darling? Who wants to make one?
Linking to;
That DIY Party time @ DIY Show OFF