This post is part of a social shopper marketing insight campaign with Pollinate Media Group® and All You Magazine, but all my opinions are my own. #pmedia #lifeforless
http://my-disclosur.es/OBsstV
.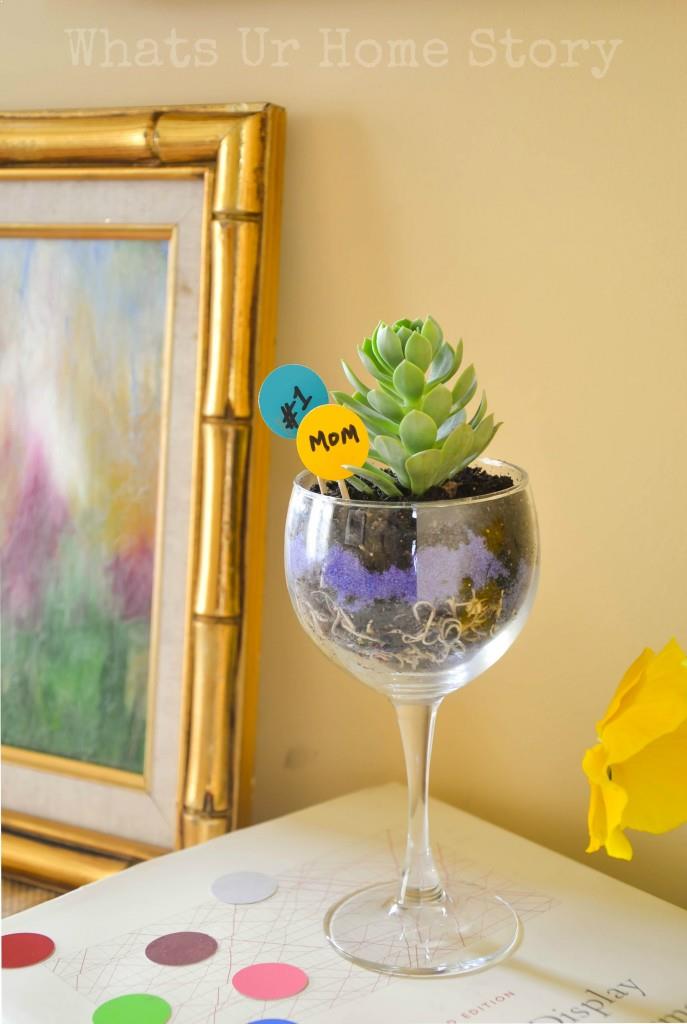 Happy Monday! It is Spring break for us, which only means that the kiddos are out of school for the week! Have you noticed that as they get older it is getting tougher to keep them entertained while limiting the time on "electronics"? 🙁 My oldest is the family bookworm while the younger one is the outdoorsy type. But when we run out of reading material (mind you we have a huge library at home and visit our public library often) and when the other kids in the neighborhood are not around they are at a loss of what to do. I've found that the only way to keep the "I'm bored, what should I do?" torture at bay is to give them a project to do!
The other day while I was at Safeway to pick up their chocolate chip cookies (if you haven't tried them you must, the best deal in town) I picked up the April issue of the All You magazine.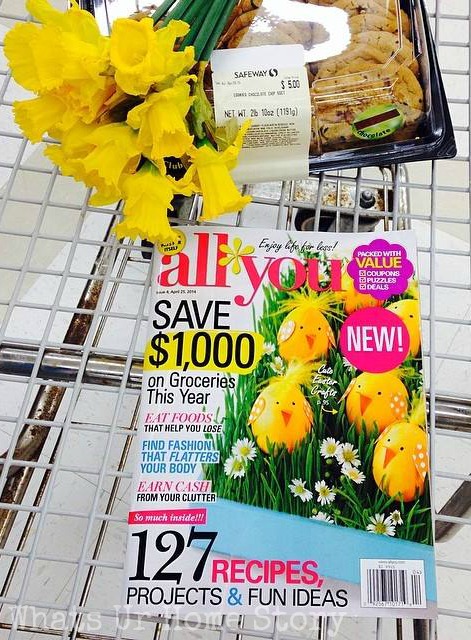 Inspired by all the crafts ideas, money saving tips, and budget friendly recipes in the magazine I thought why not create something that is sweet, simple, and won't break the bank.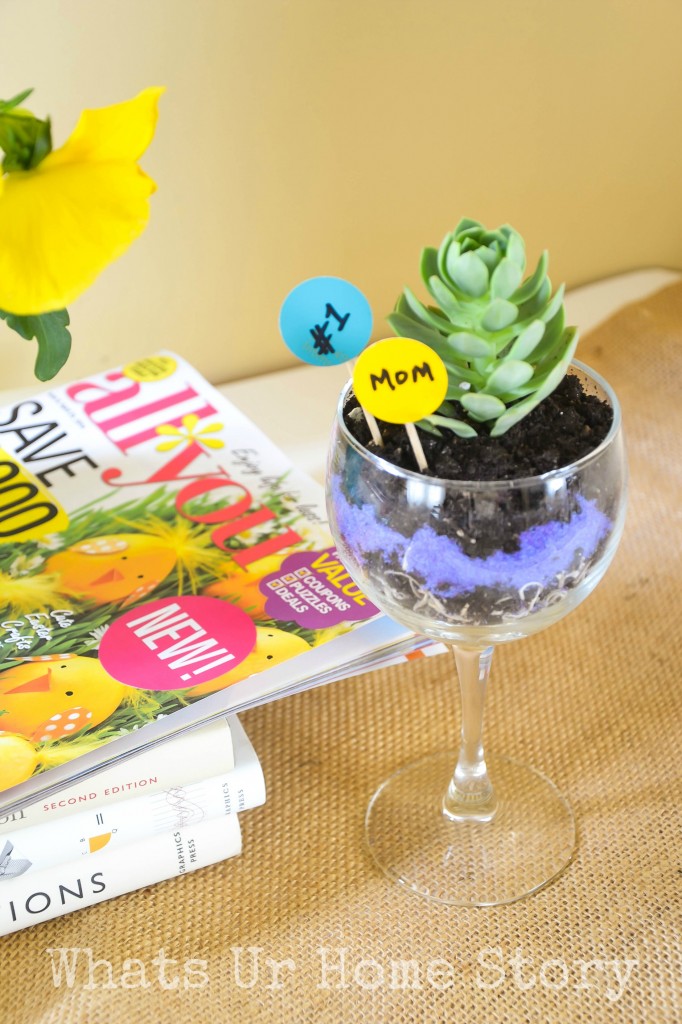 My kids who know by now how crazy I'm about succulents thought it would make for an early Mother's day gift and added the #1 Mom stickers. Those are paint chip circles by the way. Make sure you scroll down to the bottom of the post for a coupon for the magazine and a $50 Safeway gift card so you can make one of these too!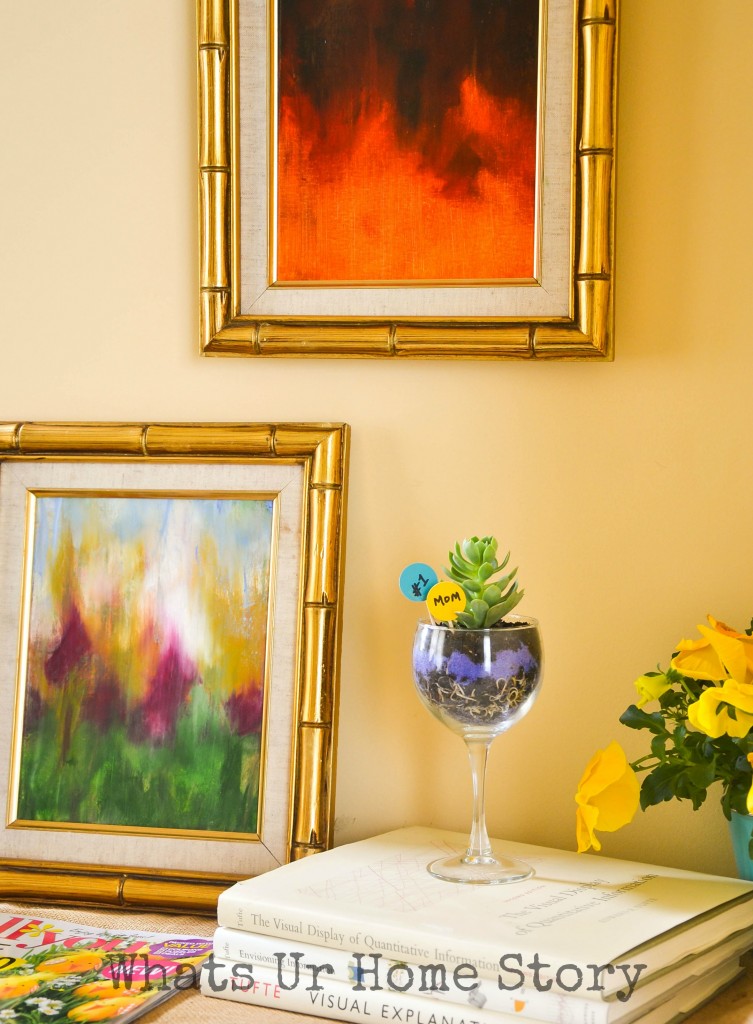 Materials
Wine Glass
Succulent
Potting soil for succulents. If using regular potting soil mix some sand in it. My daughter used her purple play sand for the project.
Activated carbon (keeps any odor away)
Moss
Aquarium rocks
Paint chips
Tooth picks, circle punch, and glue/ glue gun (not shown)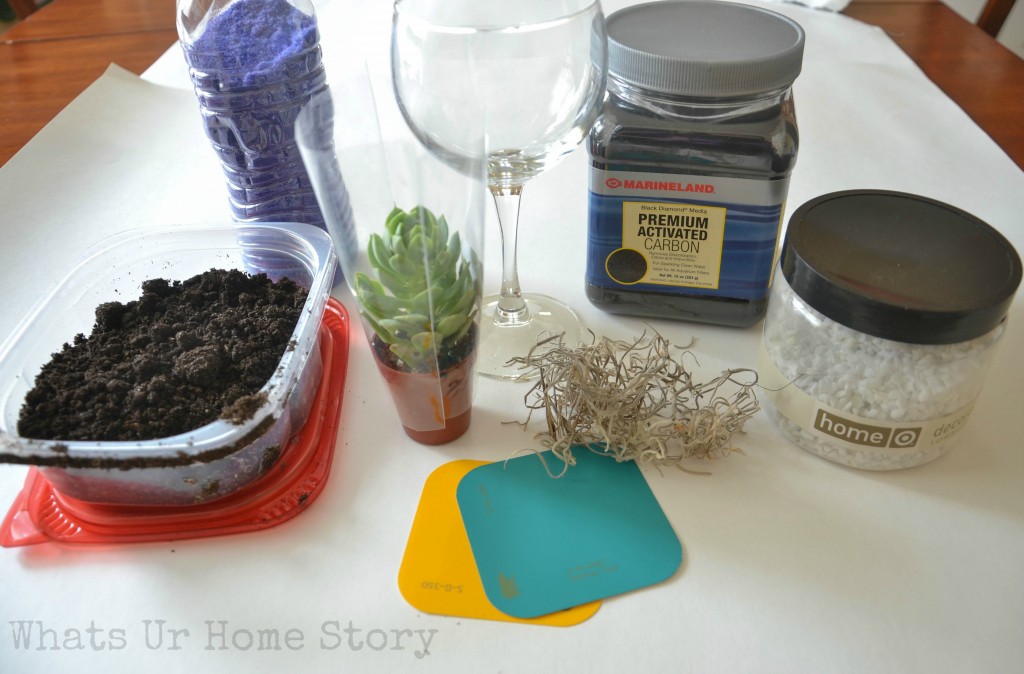 Tutorial
The method is exactly the same as the one for the moss terrarium but on a much smaller scale.
Layer the Aquarium rocks, activated carbon, and moss in that order.
Add some of the potting soil.
Gently place the succulent over the moss.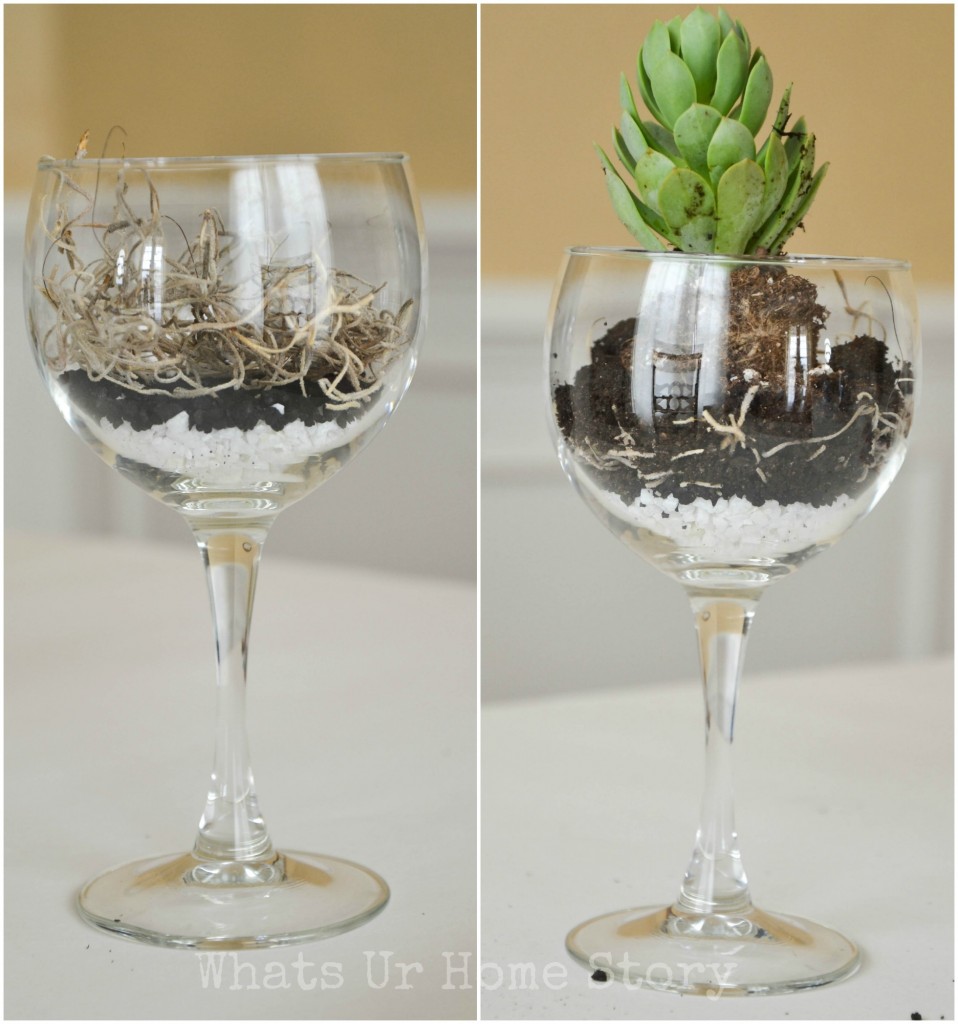 While holding the succulent with one hand add the sand (ideally you would mix the sand and potting soil together first but we wanted it to have a layered look here) around it.
Next add the remaining potting soil.
Mist with a few sprays of water.
Punch out 2 circles from paint chips. Write your words, hot glue to a tooth pick, and poke them into the dirt.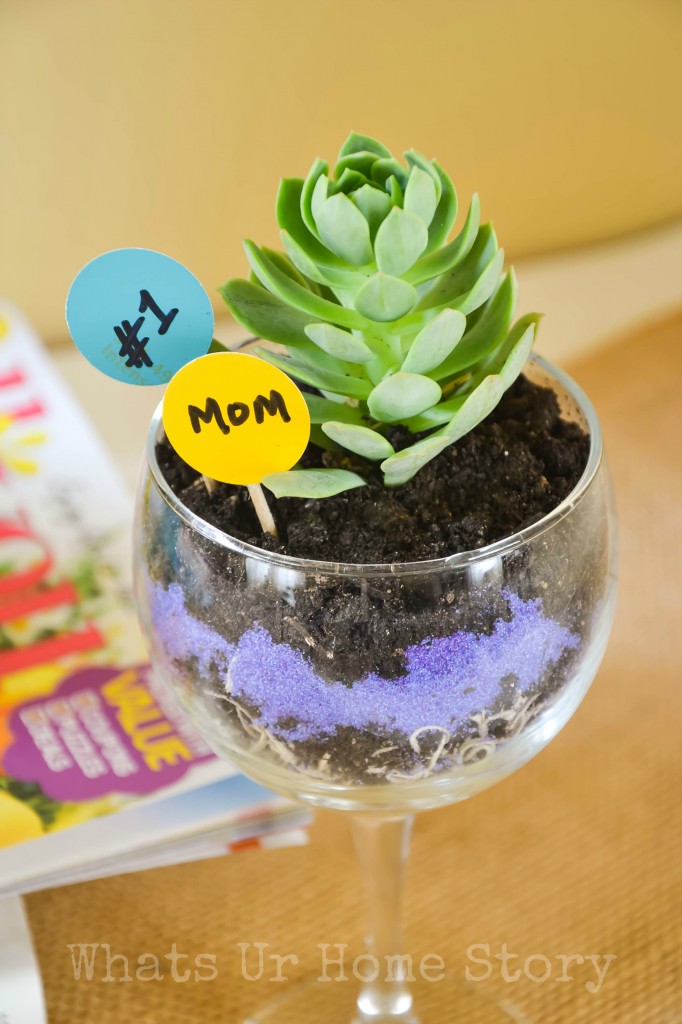 With Teacher appreciation week coming soon, won't this also work as a great Teacher's gift?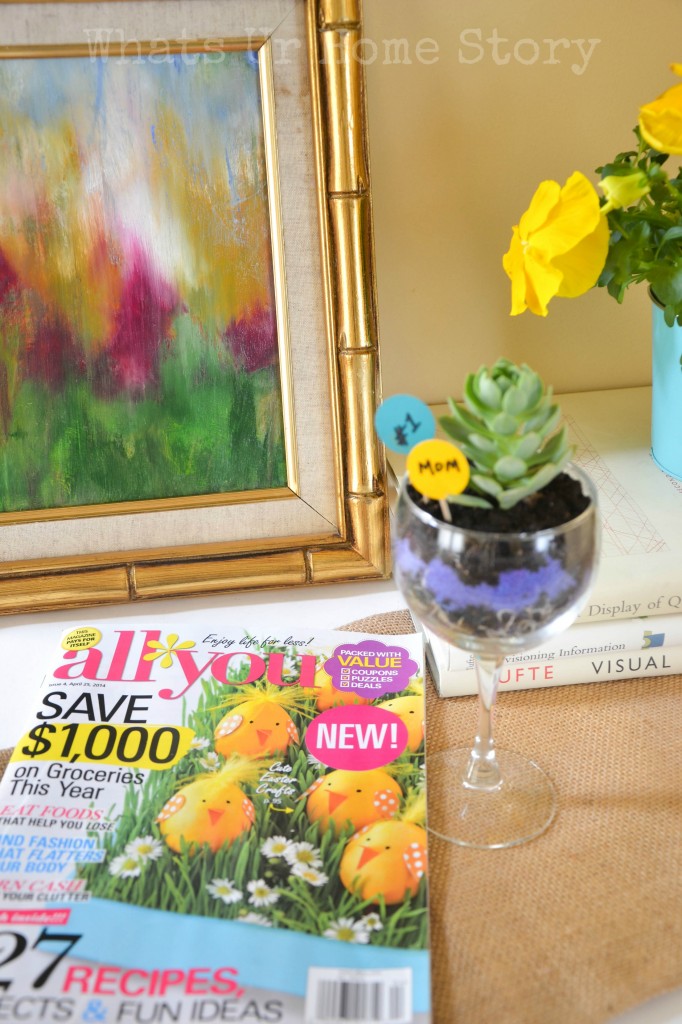 Aside from a fight over which color paint chips to pick for the project we had some awesome one on one crafting time. 🙂 Do you do crafts with your kids too? How does it go?
By the way did you know, in addition to Safeway All You Magazine is now available at Target, Kroger, Meijer, and Dollar General? You can print out a $1 off coupon (while supplies last) for ALL YOU magazine from here. For a chance to win a $50 Safeway gift card don't forget to enter the below giveaway, open till April 28.