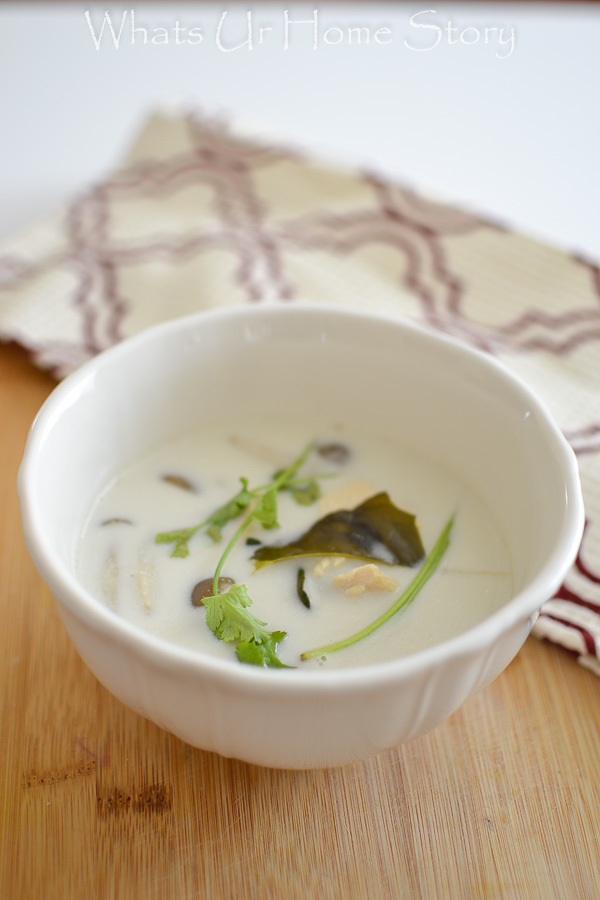 Thai seems to be the only cuisine that everyone in our family whole heartedly loves. Be it the appetizers, entrees, or desserts we love anything and everything Thai. This also means that we have tried literally every Thai restaurant in the area to the point that we are getting tired of the restaurant versions. So the next logical step seemed to be to try making these tasty dishes at home. To our surprise most of the dishes we have tried were very easy to cook and tasted phenomenal. The Tom Ka Gai soup is one such, having received rave reviews every time I've made it.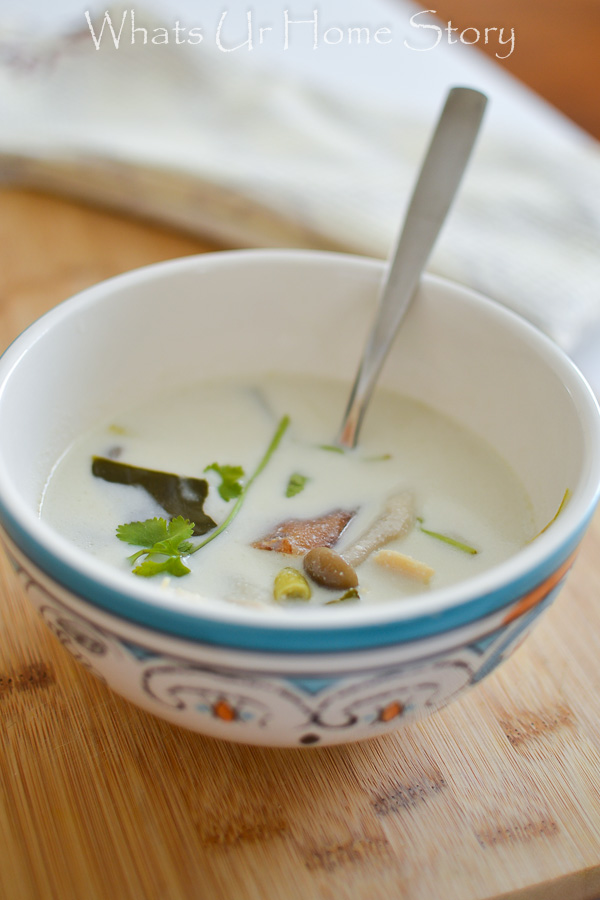 Having been raised on coconut milk (remember we come from the coconut capital of India, Kerala) it was a no brainer that this recipe would become a hot favorite. But even if you are not used to the taste of coconut this Asian version of comfort food is guaranteed to get on your favorite list too. "Tom" means to boil, which can be loosely translated to Soup, "Ka" means Galangal, a ginger like root that gives this dish its distinctive flavor, and "Gai" means chicken.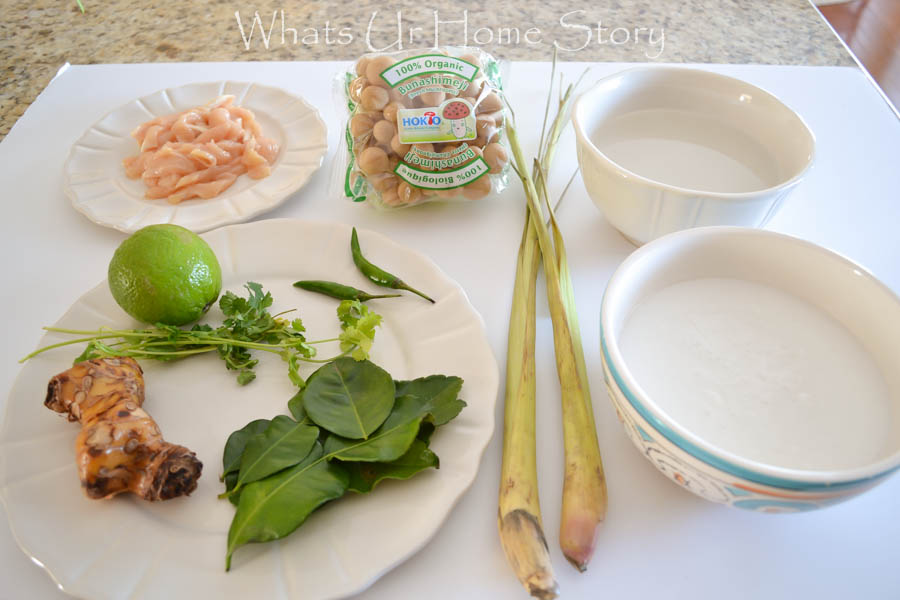 The other ingredients include lemon grass, kaffir lime leaves, mushrooms, lime, coconut milk, cilantro, fish sauce, brown sugar, and thai chili peppers.  You could use any type of mushrooms but I prefer either Shitake or Shimeji mushrooms, which I've used here. All these ingredients are available at your local Asian store.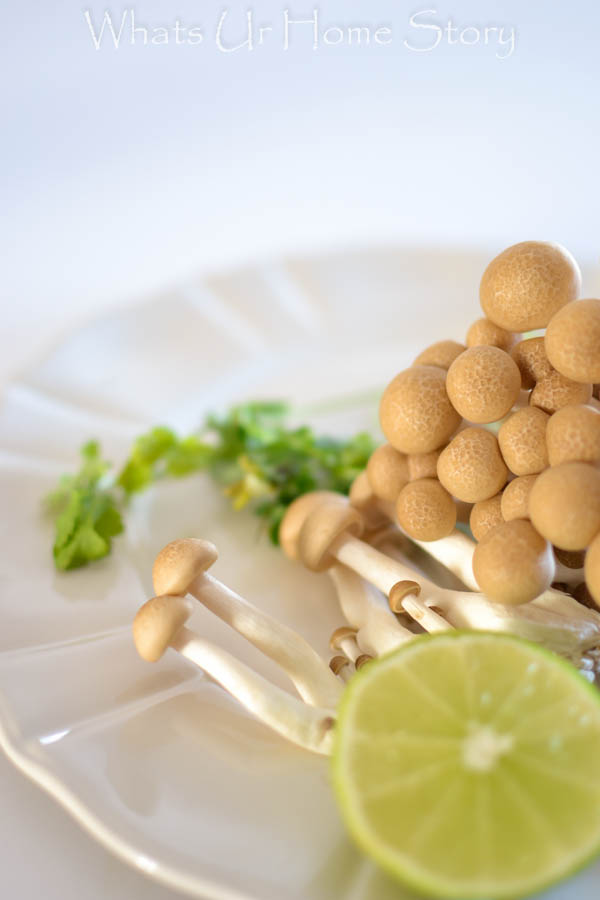 If you use coconut milk a lot in your cooking I'd suggest buying the can if not you are good with the powder as it stores well for a longer period of time.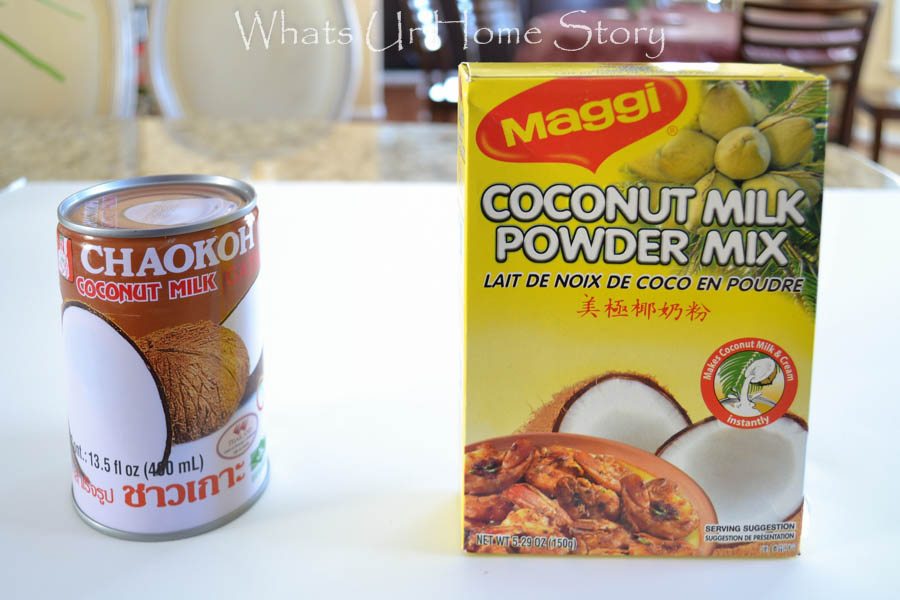 Prep the lemon grass by cutting the top part off, peeling the outer layer, gently smashing with the back of the knife, and cutting into 2 inch long pieces.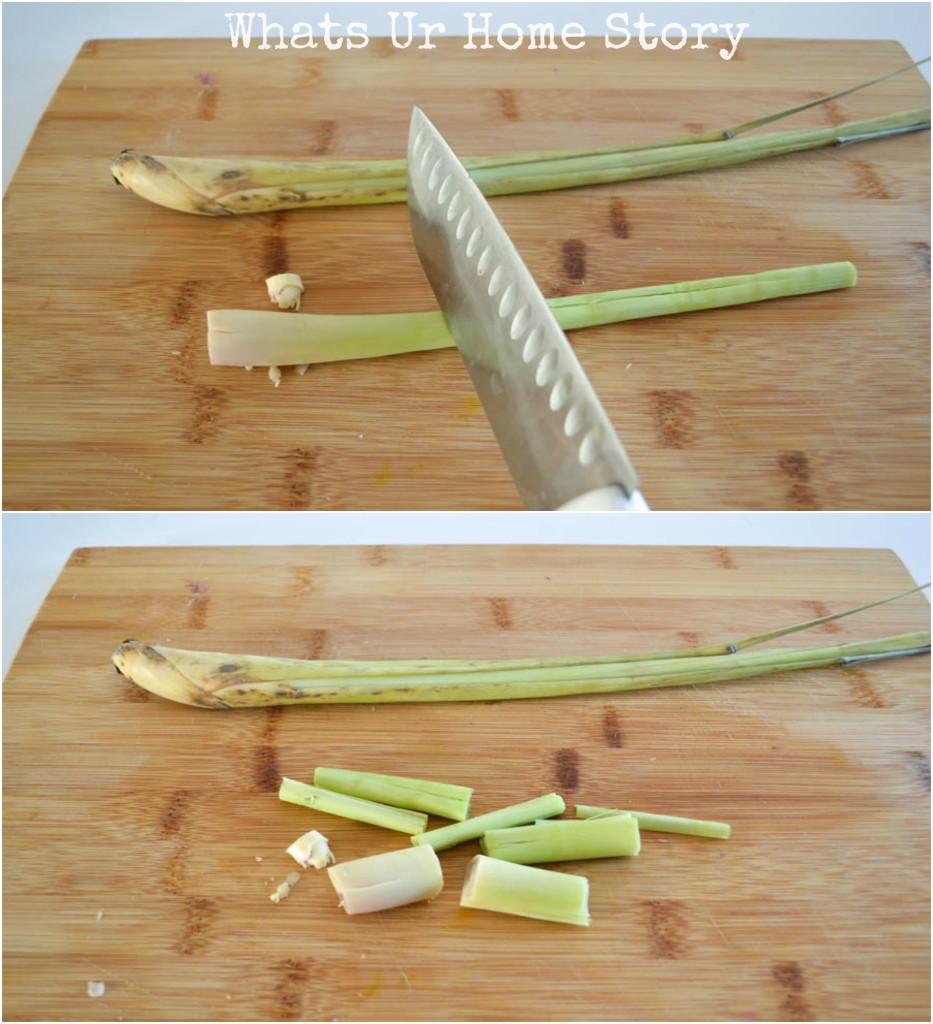 Wash the galangal well and slice into thin rounds of maybe 1/4 inch thick. The galangal can sometimes be a bit hard to work with. Make sure to use a sharp knife.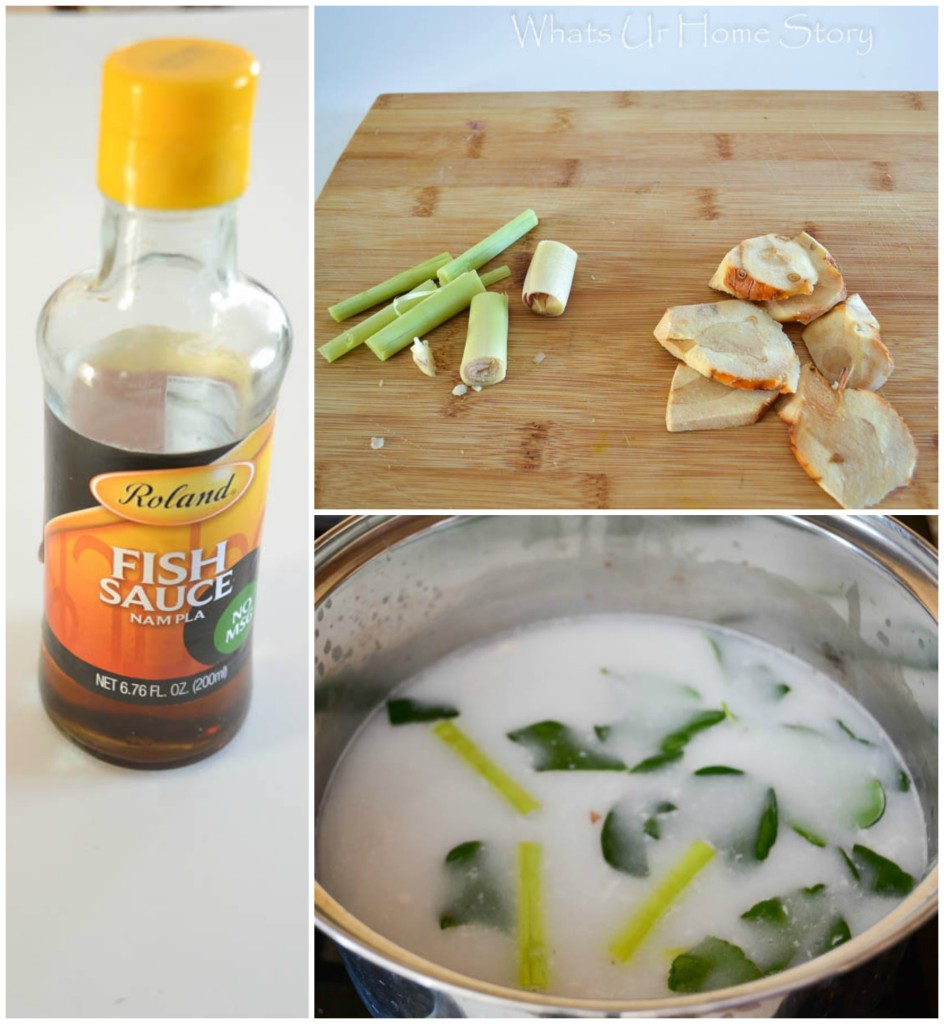 When buying the fish sauce look for a lighter clearer looking version. The traditionalists like to make the recipe with chicken thighs but we prefer white meat around here. So we tend to stick to chicken breast.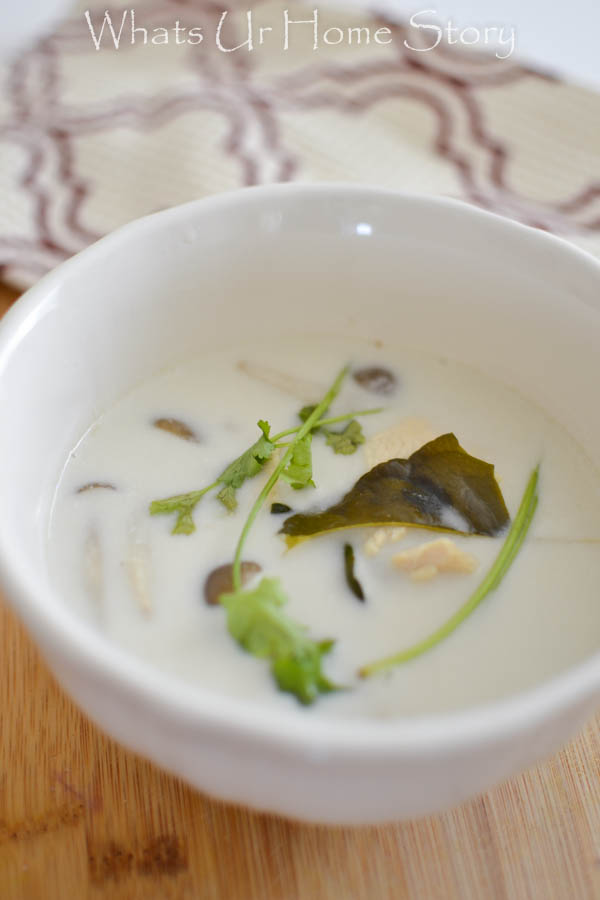 The recipe is adapted from Hot Thai Kitchen.

Tom Ka Gai (Thai Coconut Chicken Soup)
Ingredients
1 Chicken breast cut into thin strips
2 stalks of Lemon grass
1 Cup Canned Coconut milk or Powder mixed per package directions
2 Cups Water
2 Inch piece of Galangal cut into thin ¼" rounds
5- 6 Mushrooms, if using Shimeji a handful
2 Thai Chili peppers
5-6 Kaffir Lime leaves
1 - 2 Tsp Brown Sugar
1 Tbsp Fish Sauce
1 Tsp Salt
1 Tsp Lime Juice
2 Sprigs of Cilantro leaves
Instructions
Prep the lemon grass by cutting the top part off, peeling the outer layer, gently smashing with the back of the knife, and cutting into 2 inch long pieces.
Mix half of the coconut milk with one cup of the water making sure all lumps are dissolved.
Pour into a pan set on medium heat.
To the pan add the chicken pieces, galangal, lemon grass, and chili peppers.
Tear the lime leaves with your hand and add to the pan.
Bring to a boil and simmer for 10 mins.
Mix rest of the coconut milk and water as you did earlier and add to the pan.
Also add the brown sugar, salt, mushrooms, and fish sauce.
Simmer for another 5 mins.
Switch off the heat and taste. Depending on how much water has evaporated from your soup you might need to add more salt, sugar, or fish sauce.
Finish off by adding the lime juice, again to suit your taste.
Garnish with sprigs of Cilantro.
The galangal, lemon grass, and kaffir lime leaves are not meant to be eaten. So if you are serving the soup to guests who are not familiar with Thai cuisine you may want to remove them before serving. For this you could tie these in a cheese cloth making a spice packet and remove it when you serve.