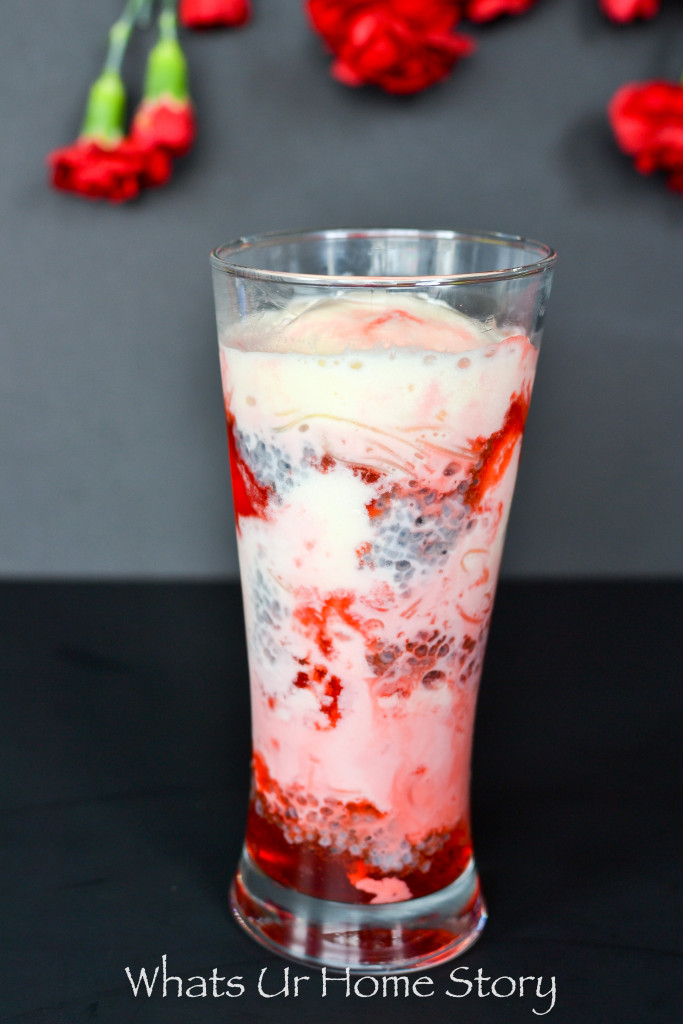 If Apple pie is America's quintessential dessert then Mango Ice cream is India's. Close on it heels comes this yummylicious dessert, the Falooda. It is said that this dessert traces its origins to the Mughal kings who ruled India from the 16th-18th century!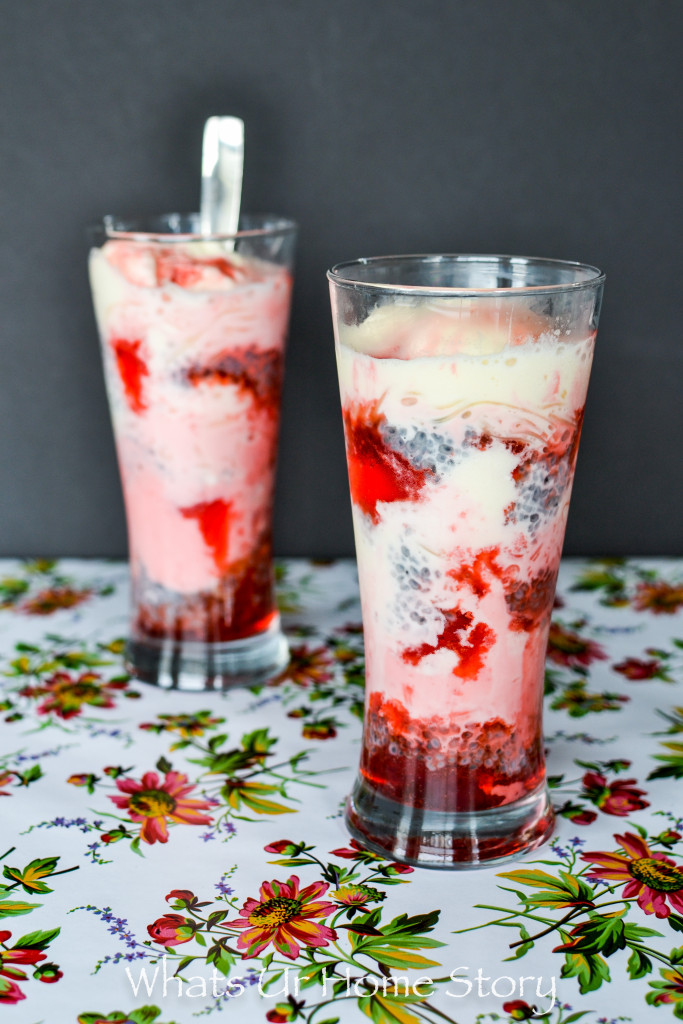 With its delectable combination of tastes and texture the Falooda will never disappoint, I tell ya. Just imagine the smooth texture of the ice cream, crunchiness of the basil seeds, chewiness of the noodles, squishiness of the jello, and that exotic sweetness of the rose syrup all blended into the prefect concoction with some cold milk!!!! Frankly, I've never met an Indian who does like the Falooda!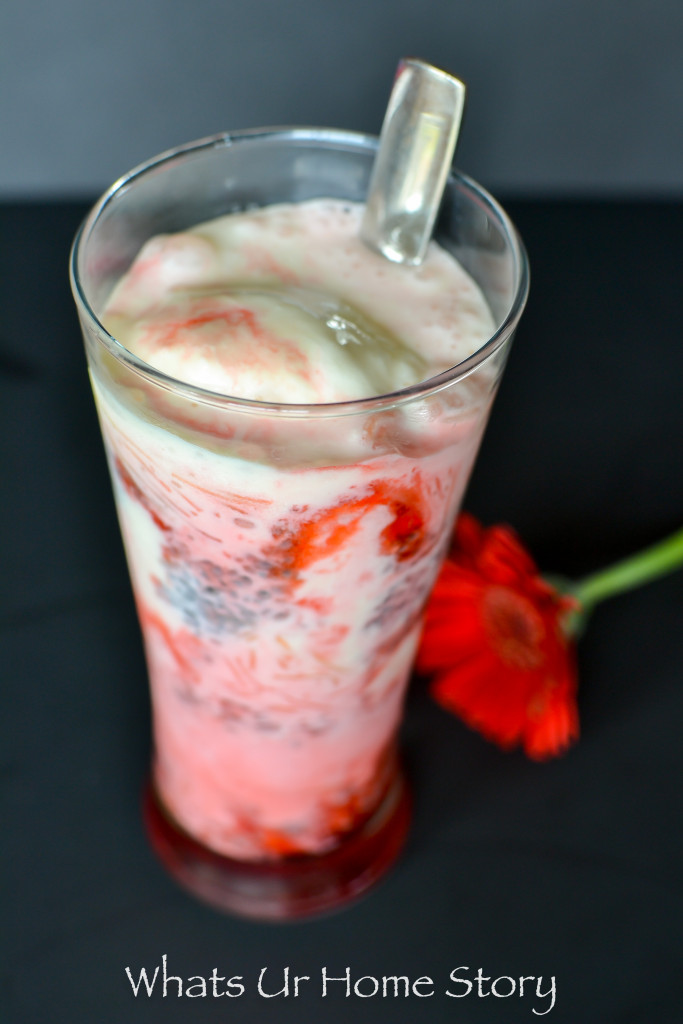 Strangely enough for all of the 21 years that I lived in India I never once tasted the Falooda! No, nothing against this yummy dessert rather my obsessive love for chocolate ice cream. Every time I had a chance at a cold dessert my love for chocolate ice cream (in whatever form I could gobble it down be it sundaes or shakes) won over. Picture this, we are at the restaurant where my whole family (yes every single member) is enjoying their individual Faloodas while I'm the lone wolf with the chocolate sundea cup. 🙂 But when I married a Falooda lover things to a turn for the better, especially after I started experimenting in the kitchen.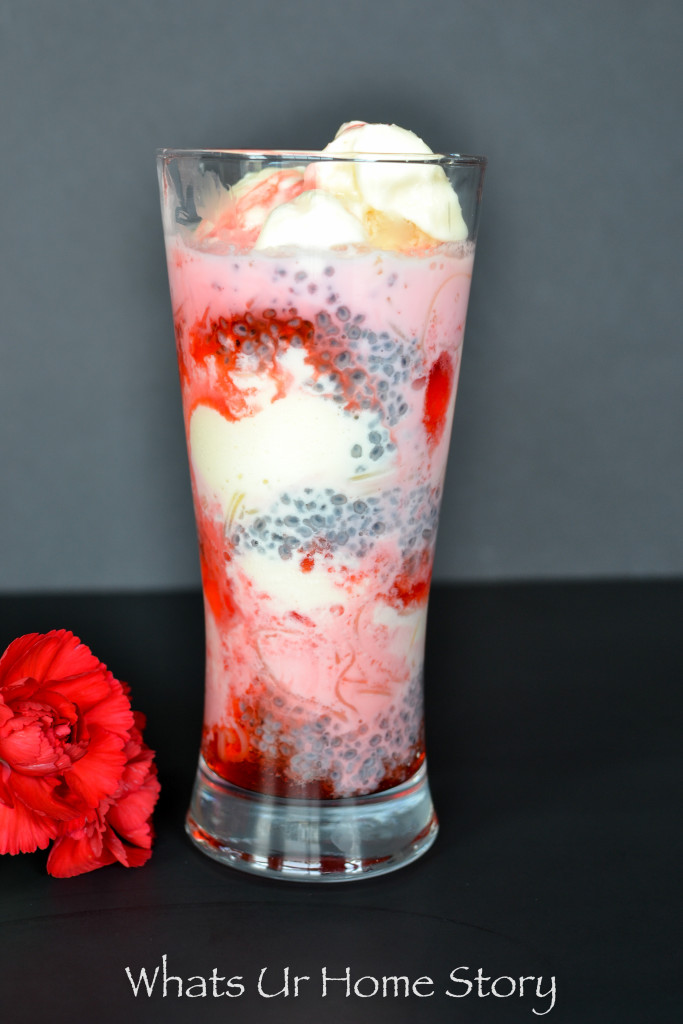 One day B suggested that we try making the Falooda and I was like, "How does it taste? Should have seen the look on his face when he realized I've never tasted it!!! 🙂 Based on his guidance on how the restaurant versions he has had over the years tasted and some Googling I made and tasted my first ever Falooda. It has been a long 14 years since that eventful day. Over the years we have improvised/simplified the recipe in every possible way and still love the simplest version the best.
The ingredients list may sound unfamiliar to you but do not worry this is a very easy to make dessert where the ingredients can be prepped ahead of time. The assembly however needs to be done just before serving. Coming back to the ingredients, let me introduce you to the unusual ones that lend itself to the unique flavor of this special dessert. By the way all of these should be easily available at your local Asian/Indian store.
Basil Seeds or Tukmaria or Subja Seeds
Yes, these are in fact the seeds of Sweet basil. They look like black sesame seeds when dry and tiny transparent globules with a black center when soaked in water. They also seem to have a lot of health benefits. Even though I've never substituted these seeds in the recipe I think you could try some chia seeds instead if these are not available in your area.
Corn Flour Noodles or Falooda Sev
These are pre-made stringy noodles that you have to cook in boiling water for 4-5 mins, drain, and soak in sweetened milk.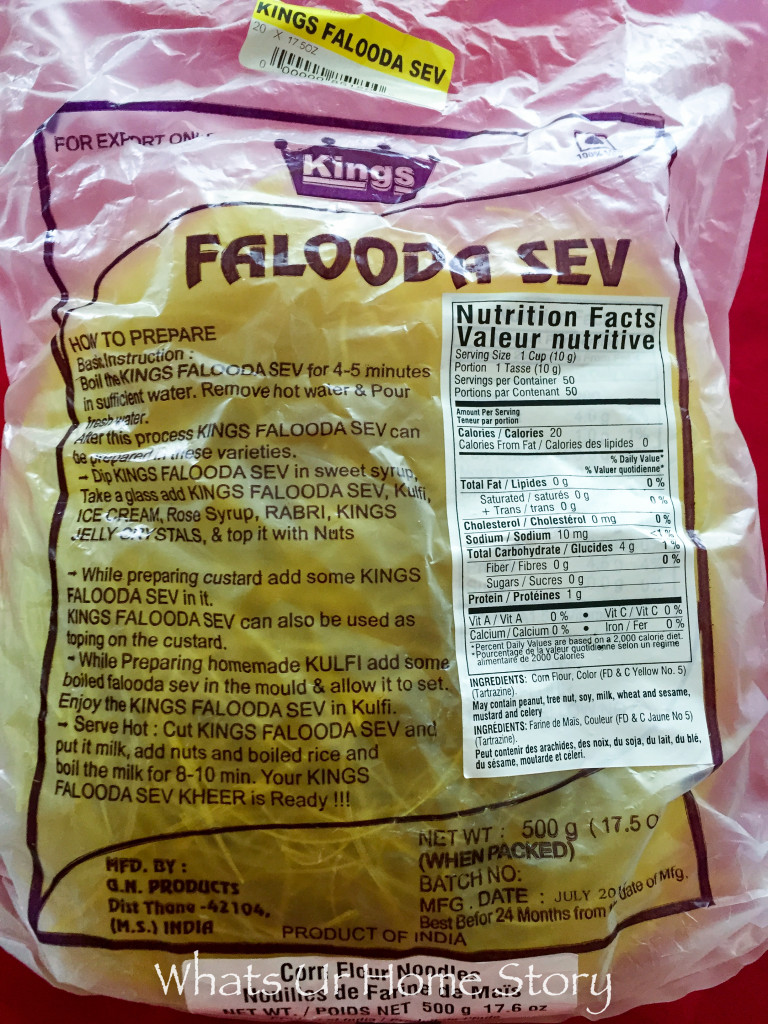 They are so stringy when dry that you have to use scissors to cut them.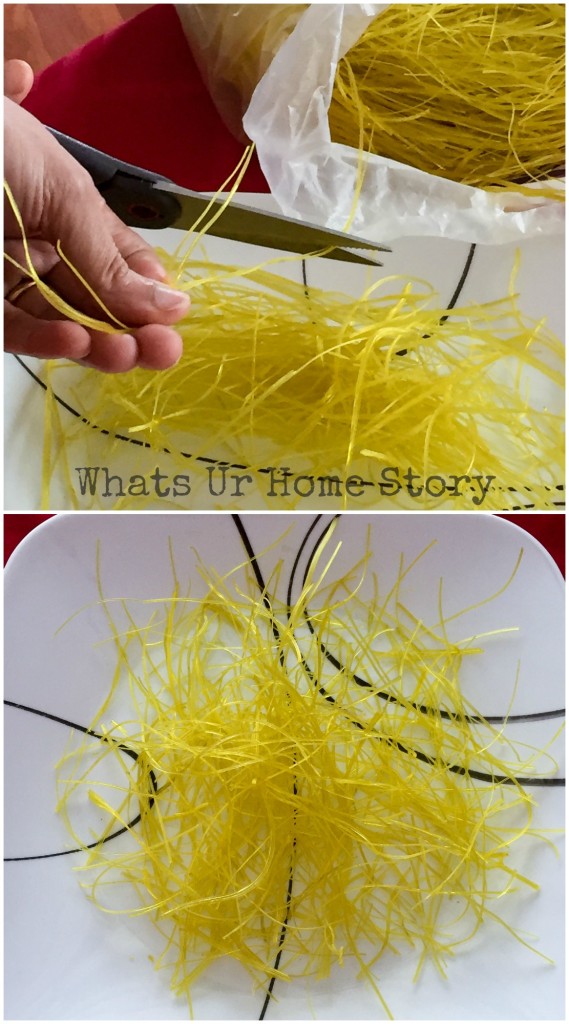 When cooked they soften much like regular noodles. You could use rice vermicelli instead but do keep in mind that vermicelli gets mushy if overcooked.
Rose Syrup
The rose syrup is characteristic of most dishes with a Mughal origin and is responsible for the unique taste of the Falooda but you could totally substitute it with strawberry syrup.
The rest of the ingredients are readily available; ice cream, strawberry Jello, and milk.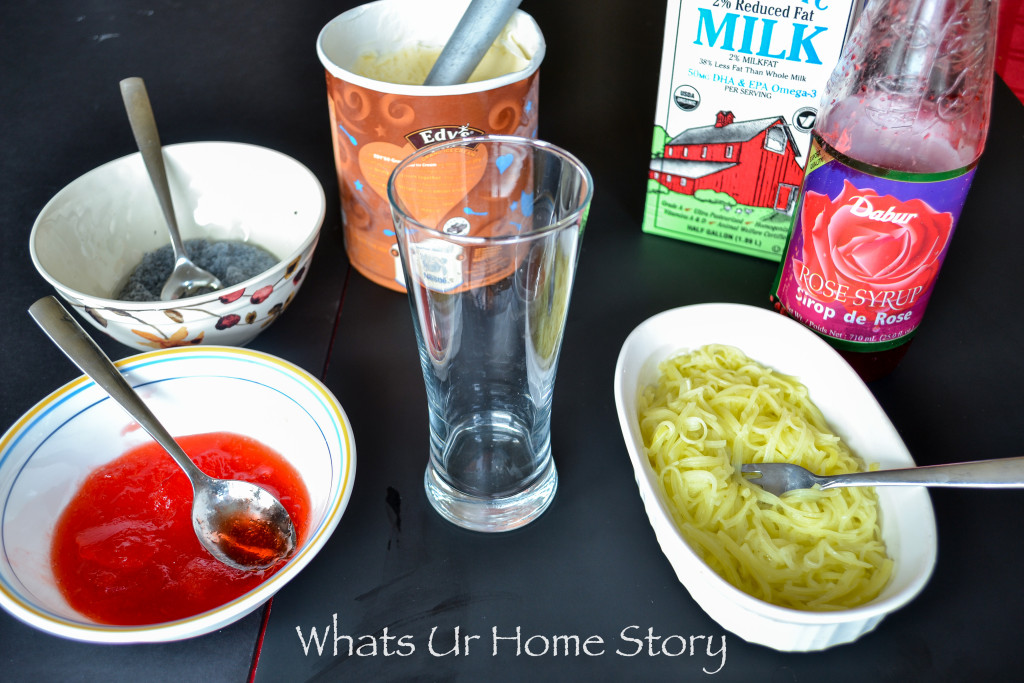 Here is an under 2 minute video on how to make this recipe.
Oh, a quick note for y'all wait for the Jello to set before assembling the Falooda. I was trying to shoot the pics before it got dark and didn't really have the time for the Jello to set completely. Hence the jiggly kinda watery Jello in the pics and video.

The Dessert of the Kings - Falooda
Ingredients
½ Packet or A cup of pre-made Strawberry Jello
A Handful Corn Flour Noodles / Falooda Sev (Substitute - Vermicelli)
12 Tsp Rose Syrup (Substitute - Strawberry Syrup)
1 Tbsp Basil/Tukmaria/Subja Seeds (Could substitute with Chia seeds)
1 Cup Water
1 Tsp Sugar
½ cup Milk
12 Scoops Vanilla Ice cream
Water to boil the noodles
Instructions
Soak the Basil seeds in 1 cup of Water for 15 mins. They should swell up and look like transparent globules with dark centers.
Drain and refrigerate till ready to assemble.
If using packet Jello cook according to packet directions.
Once set cut into small cubes of about ¼ inch thickness, set aside in the fridge for assembly later.
Cook the noodles or Falooda sev in boiling water for 4-5 mins.
Drain and place in a bowl. Add a teaspoon of sugar and ¼ cup milk.
Mix and refrigerate.
Assembly
In a tall glass, place a teaspoon of Jello cubes, followed by a teaspoon or two of the Basil seeds. Take care to cover each layer on the bottom.
Add a fork full of noodles over the Basil seeds, followed by a large scoop of ice cream.
Drizzle a teaspoon of the rose syrup over the ice cream.
Repeat the layers till you fill the glass finishing off with a layer of ice cream drizzled with rose syrup.
Hold the glass in your hand, tilt it to the side a little and gently pour about 2 teaspoons of milk (I usually pour straight from the carton) into the glass.
Serve immediately.
Ready to add this to your Valentine's day menu?