Yes, I do have a bland builder mantel and I finally got around to giving it some decor love. Yay!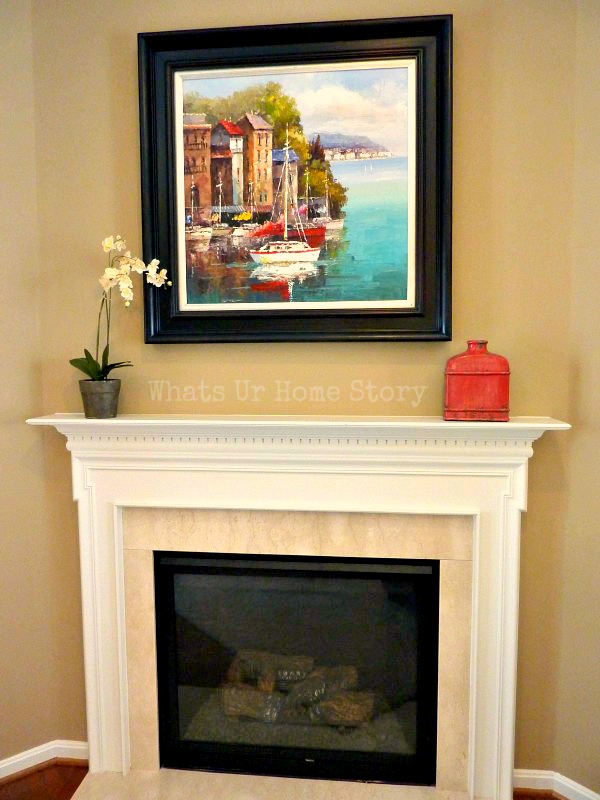 During the 'choosing options' phase of building our home we added the fireplace half heartedly.  We really didn't care for it as we hadn't used our wood burning brick fireplace even once in the 5 years that we lived in our NJ home. Psst… this is what we used it for, a backdrop for our Buddha (who has a not so happy abode now).  The only reason we put in the fireplace was for resale and the look. It is a pretty standard feature in all the homes around here. So whenever we put the house on the market any prospective buyer would expect it. After having sold a home at a loss in a down market, life makes you think of all these things!
For a long time our mantel looked like this (a very pathetic shot that was cropped from a poorly taken long shot); a catch all for any decor stuff that didn't have a home. You can see our bulky paisley couch that we no longer like (more about that here) hiding the fireplace.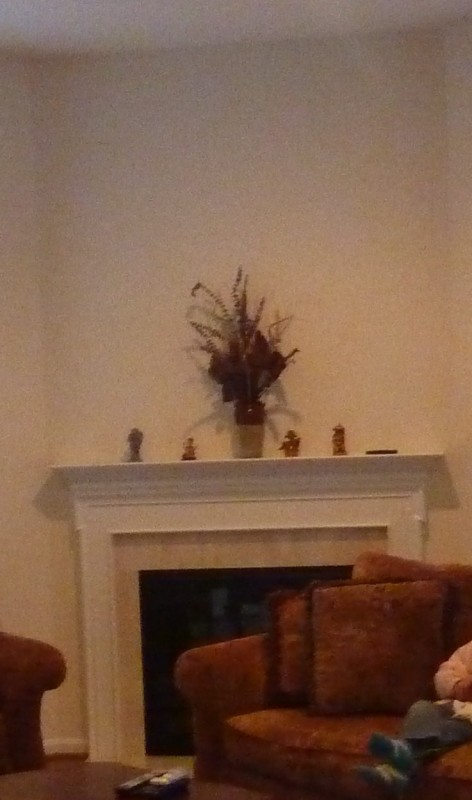 Some paint, art, and accessories later;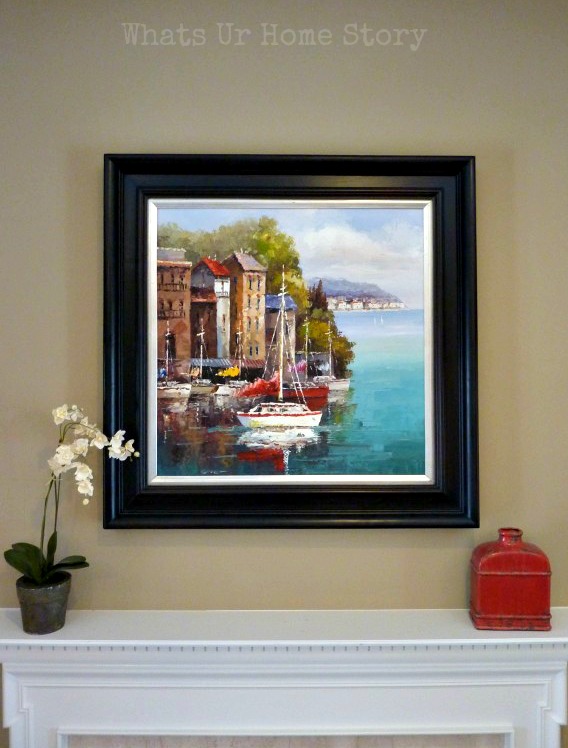 The art is a certified oil painting that we fell in love with because of the colors and the chunky frame. Not really cheap at $100.  If it were today we wouldn't have bought it especially after I started painting. On a side note, we have been enjoying the fireplace frequently over the last 2 winters and are glad that we decided to go with it. As usual here is the source list.
 Source List
Paint (SW  Latte matched to Behr from Home Depot) – Not adding it for this project as this was part of  my family room makeover Oil Painting – $100 – HomeGoods on clearance Red vase – $12.99 – HomeGoods (more about that
here
) Fake Orchid – already had – Marshalls   Total – $112.99
 How do you like our fireplace mantel decor? Do you keep your mantel simple or go all out?