Recently I saw Sabrina Soto's new show on HGTV (now that the school is out I'm catching up on all the lost HGTV time), the High/Low Project. Sabrina is a great designer, whom I've been following since her 'Get it Sold' days. I love her line at Target, especially the pillows and lamps.
The show itself is a knock off of two other shows that used to run years ago on HGTV,  Sensible Chic and Double Take. Sabrina's version is a much more up to date one where she first designs a high end room (costing usually $25k- $30k) and then recreates the same look for around $1ok. Pretty neat huh?  Unfortunately for folks like me, that $10k itself sounds high end. Anyways, as I was watching the show I started thinking may be I should try it, just to challenge myself. So here it is, our new series 'Same Look 4 Less'.
I'm a big fan of the Washington Post home section (their 11am chat on Thursdays is an invaluable source of info on paint colors, refurbishing furniture, accessorizing, you name it).  I picked a living room from their House Calls makeovers as my guide to start off this series. Again,  I'm not trying to prove anything here this is just an effort on my part to see if I can come up with similar furniture/accessories for the same room at a much lower budget. At least some good should come out of all the time I spend online and in stores window shopping!
Today's room was designed by Huff and Schlegel, of Waterlily Interiors based in Bethesda, MD. They have two options for the design choices, a 'Splurge' version where the total makeover costs $8,140 and a 'Save' version for $4,527.
I tried to find furniture and accessories in similar style and scale but at a lower price online. Here is my take;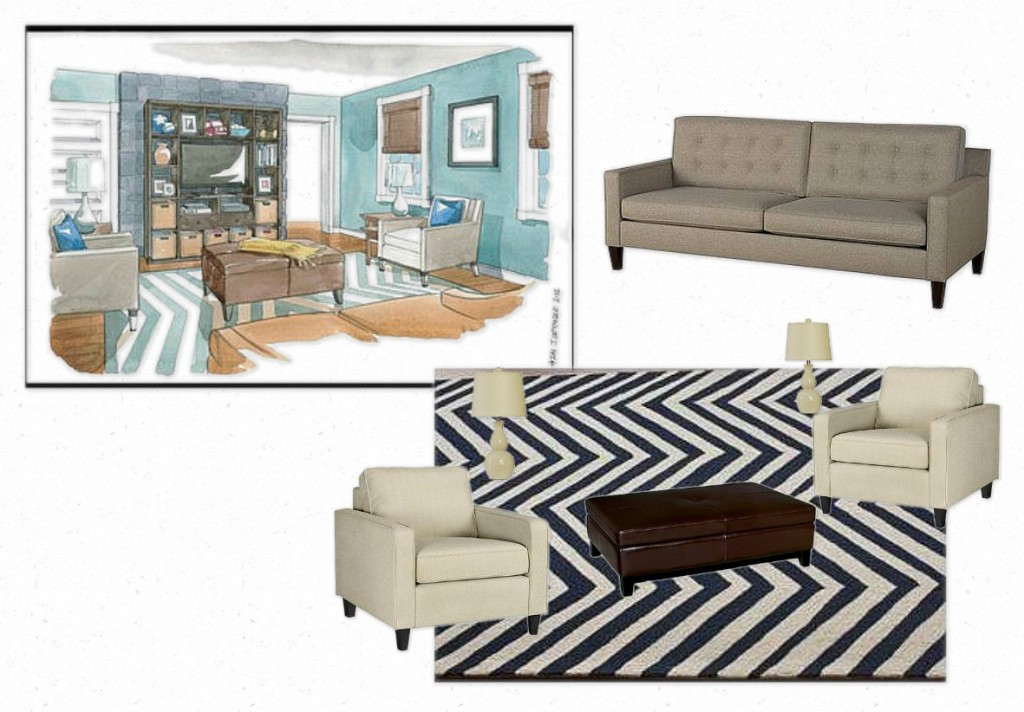 Total cost for my version –$2,641, savings of $1,886 over their low end 'Save' version! All I did was to swap out the big ticket items (sofa, chair, rug, ottoman, and lamps) while keeping the less expensive ones the same as in the Wa Po design (see below).
Expedit TV storage unit ($230,
www.ikea.com
); Two 2PK nesting tables in dark tobacco ($100, www.target.com) Maya Fruitwood Roman shade ($40,
www.overstock.com
) Hand-blocked tiger pillow covers ($10 each,
www.westelm.com
) Favorite throw in dandelion ($30,
www.westelm.com
) Gallery in a box black picture frame set ($130,
www.potterybarn.com
).  
Sofa
The biggest $  difference was in the sofa. Their 'Save' version, the Manchester sofa in microfiber natural  from Ballard cost $1,760 while my Ava fabric sofa from Macys was only $699 (on sale).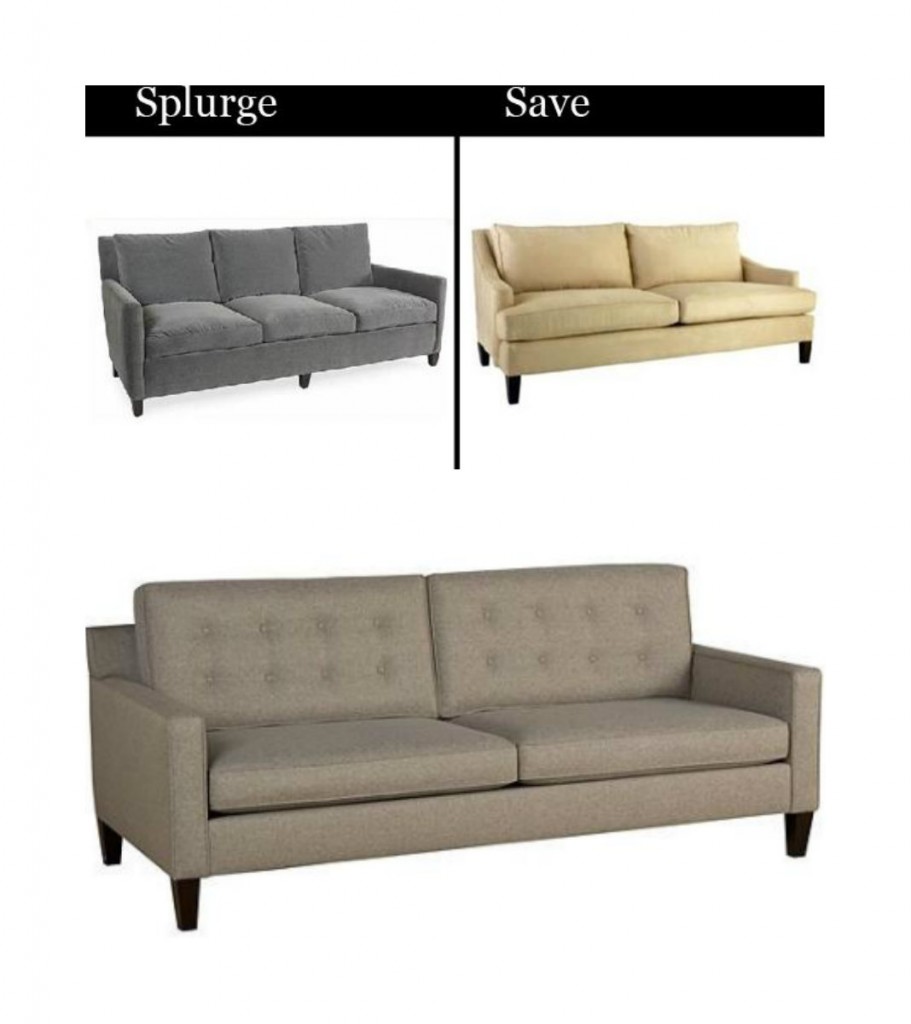 While the Wa Po 'Splurge' sofa from Lee Industries cost  $2,985. My pick, the Ava sofa is the 3rd pic. If you are not into the tufted look of the Macys couch then I have two other sofa choices for you,
1. Pauline Sofa in  Pearl from Z Gallerie – $1099
2. Klyne Sofa from Crate and Barrel – $1199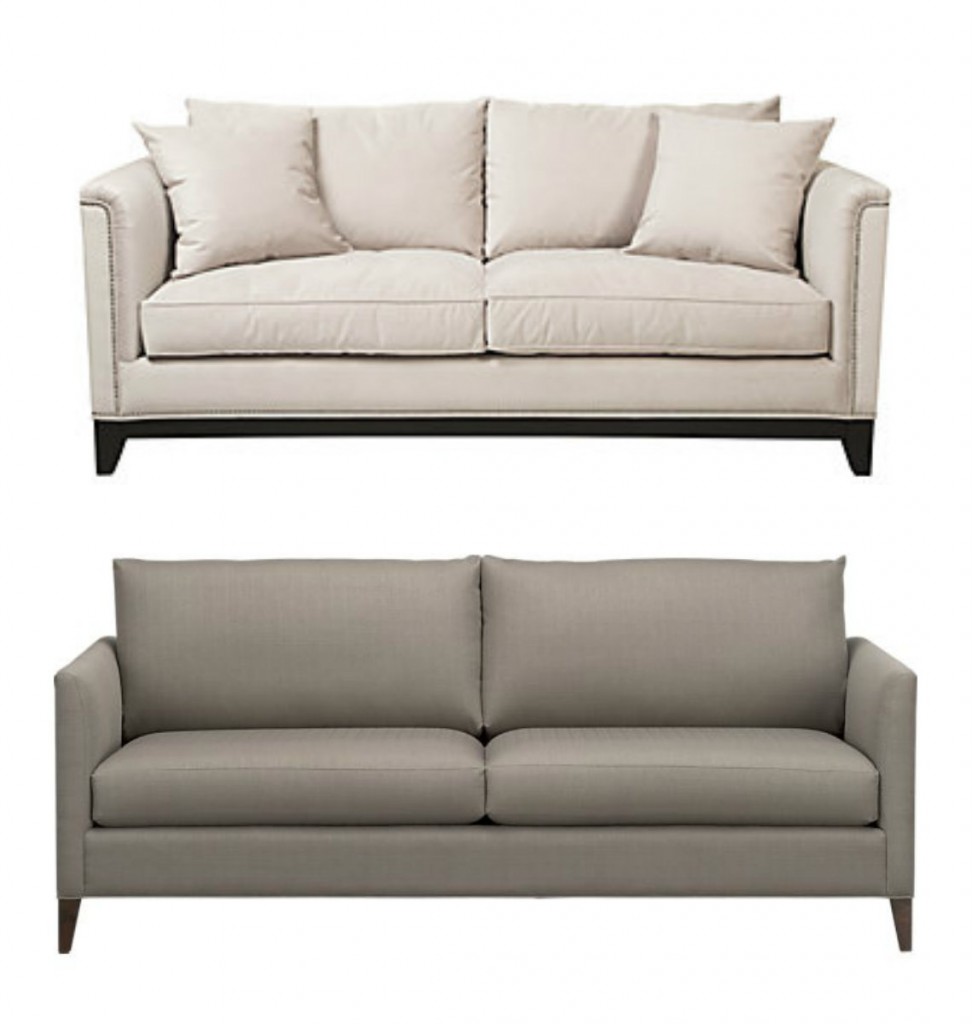 Chair
They had the same chair option for both the versions in the original design, the Vaughn Chair Crate and Barrel (1) for $900 each. My take features the Martha Stewart Living Lombard Arm Chair from Home Decorators (2) for $324.99.

Rug
The $326.99 Handmade Alexa Chevron Wool Rug in my mood board (3rd pic below) is from Overstock (they have a light blue option too) while their 'Save' was from West Elm ($480) and 'Splurge' from Serena & Lily ($995).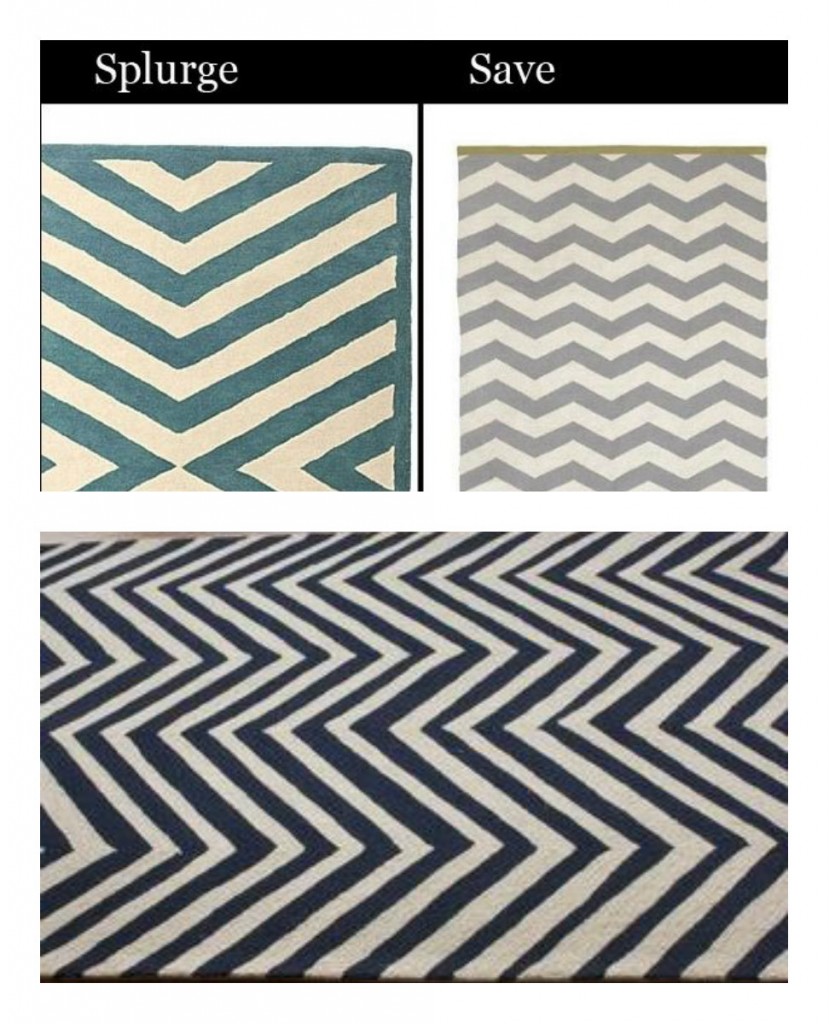 Ottoman
The ottoman in the original costlier design was from Mitchel Gold and Bob Williams for $1,270. The 'Save' version was from Amazon for $293.68 (in the article it is listed for $254). I found a similar yet cheaper one for $224.89 on Amazon (3rd pic below). I know it is only a $69 difference still every penny counts, right?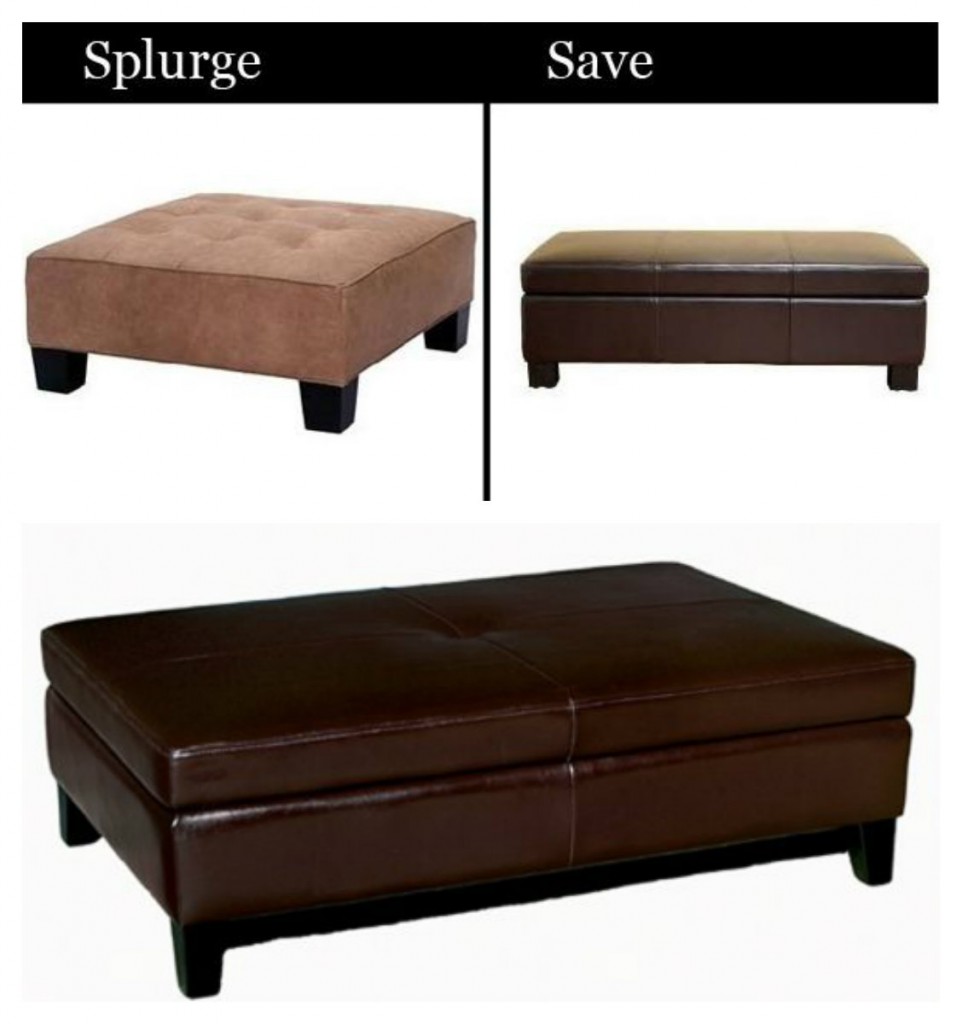 Lamps
I also found lamps at JC Penny that were in the same style, actually 3 different options at a fraction of the cost of the original $220 Kathryn table lamp (1) from Crate and Barrel; the Double Gourd Ceramic Table Lamp (2) for $45 or Cindy Crawford Style Glass Column Table Lamp (3) for $50 or Mercury Glass Lamp (4) for $65.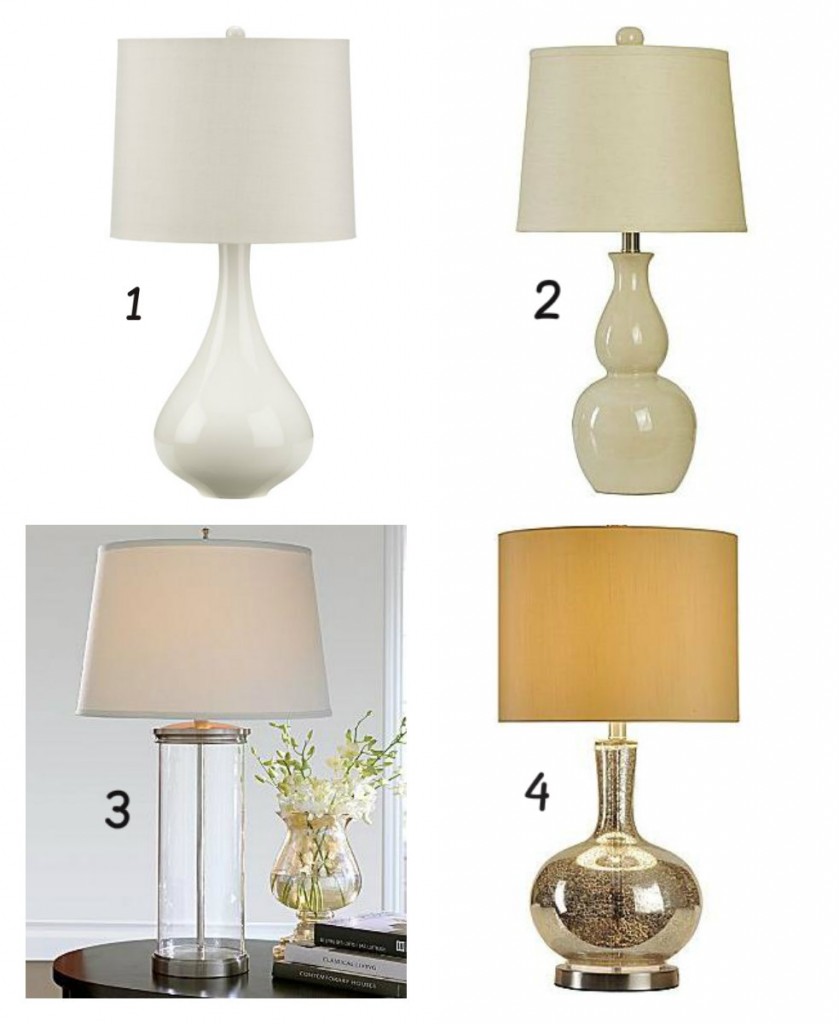 What do you think? Have you tried copying an expensive design with a much smaller budget? Would love to see your same look for less projects.