I met Shruthi from My Colorful Jhopri through this blog, soon to realize that she had recently moved into my neighborhood and that she lives down the street from me! She is a very good painter (will do a tour of her house soon), photographer, food blogger, and cook. I'm so glad that we've become friends and that too through this blog. 🙂
So when I saw what she did with a broken glass vase, I had to share it with you.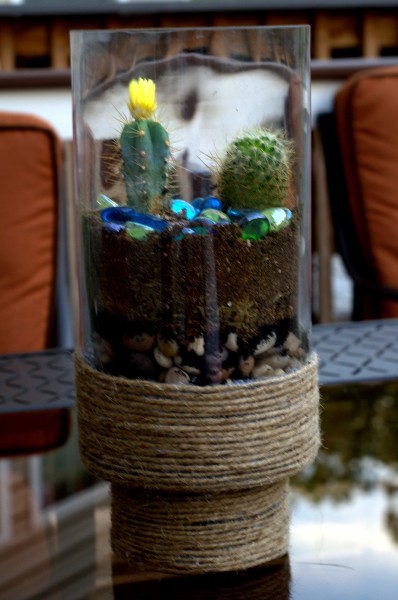 A cactus terrarium! She had an unfortunate accident and the vase ended up with a hole on the side, in the lower portion. She posted on her Facebook page asking for help on how to fix it. A lot of folks, including me (I'm a chicken when it comes to broken glass) suggested to trash it. Gotta give props to this girl, she stuck to her original plan of salvaging it! She used clay to seal the hole and inspired by my tea cup save project wrapped the broken section with jute twine.
She even went one step further, made an awesome terrarium with cactus! Should have guessed what she was up to when she was asking all those questions about my terrarium project. 🙂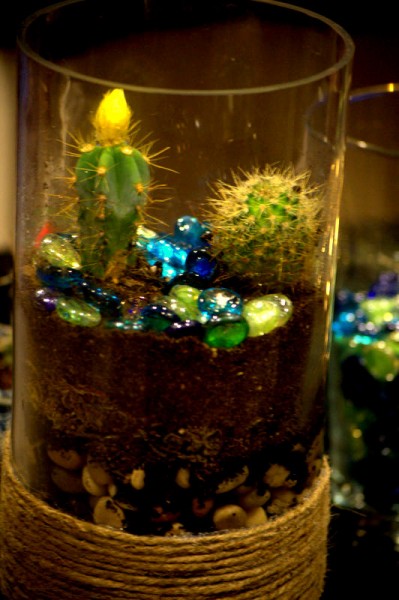 Isn't that such a great save? You can read about her endeavor in detail in her blog.
If you would like share a special project with the WUHS readers then please send me a note at [email protected]