Before we get into the post, a big welcome to all you folks popping in from the Apartment Therapy Homies list. It is really really sweet of y'all to check out this space. A quick recap of what's happening here.
This week I was planning to finally reveal the basement bedroom, on which I've been working for some time. Sadly due to a spray paint mishap that's got to wait till next week. In the meantime I wanted to share some of the updates in the family room. This is what the room looks like now.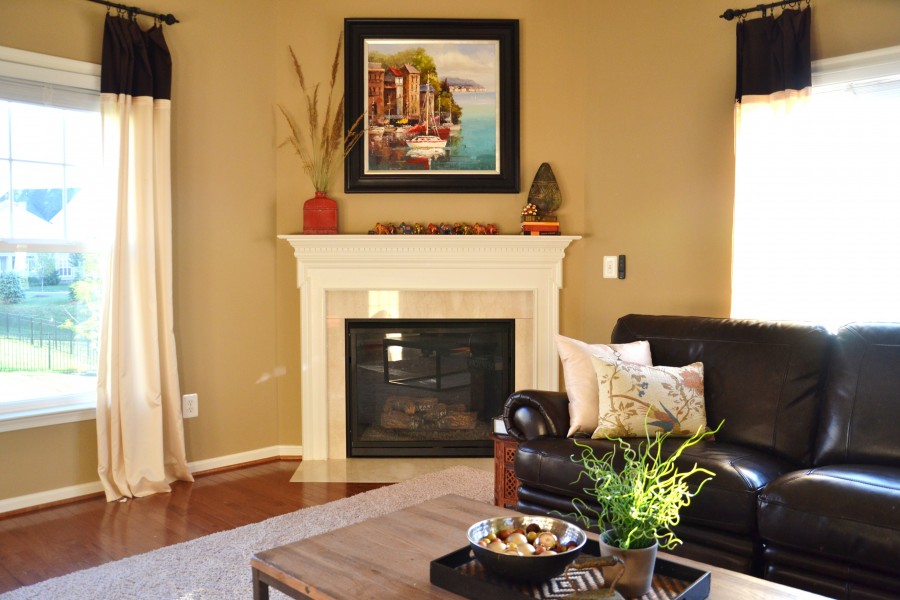 On the opposite wall is the TV flanked by our favorite LACK floating shelves.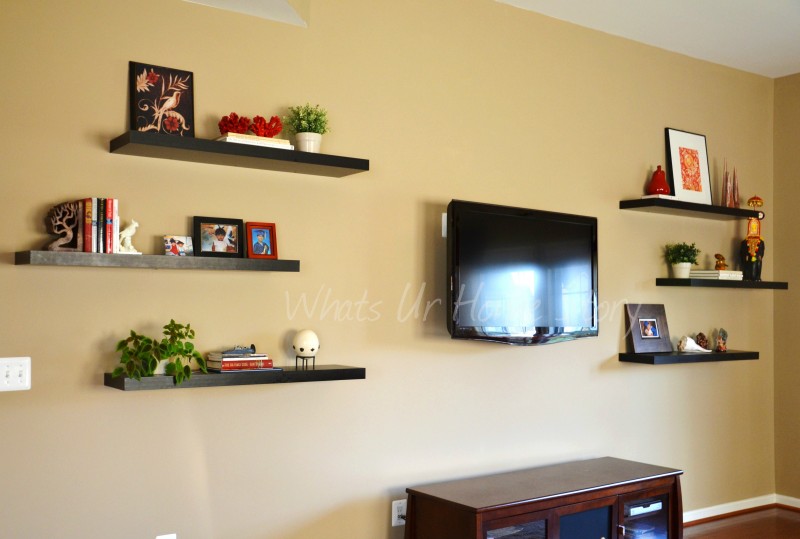 Now for the new additions. Y'all know about my borderline obsession with garden stools. In search of that oh..so perfect red one in the $60-$70 budget I've stalked every store that sells them (both online and locally) for almost 2 yrs!
V's Life Lesson #151: Be Patient; the things you seek will eventually seek you out!
And there she was at our local Home Goods this weekend!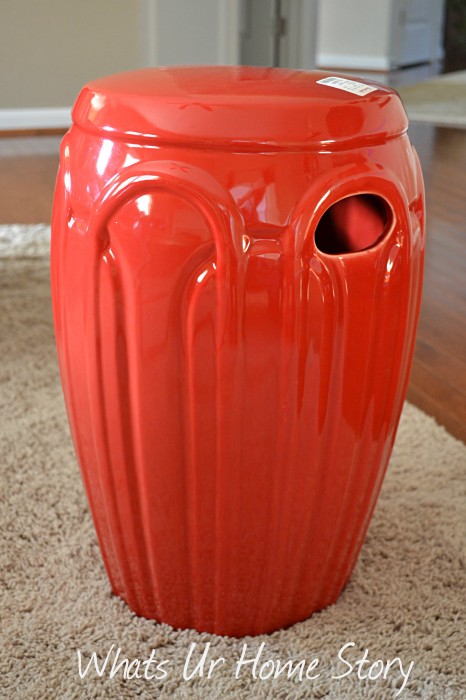 Ok, it is a little bit thinner than what I would have ideally preferred but with a whopping price tag of $34.99 I'm in NO WAY complaining! As of now she is flaunting her stuff as a side table next to our mammoth sectional. Yup, you guessed it right. A birthday gift to myself!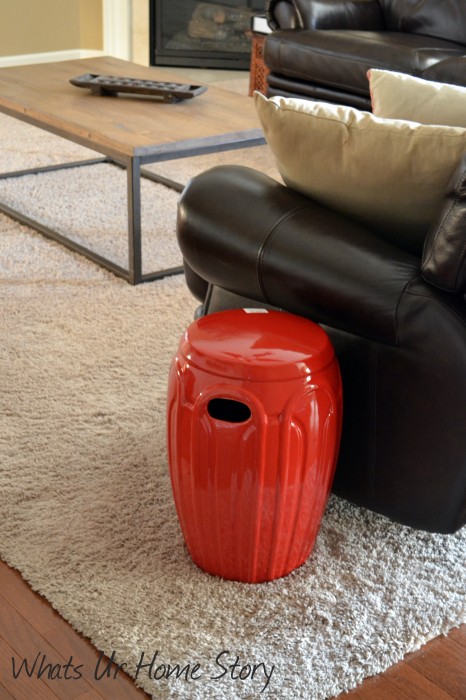 B is still not 100% sold on it. Hence the intact price tag, you know just in case if we want to return it. What do you say? Keep it or Ditch it?
Another find from my recent Home Goods trip is that cylindrical basket peeking from behind the couch.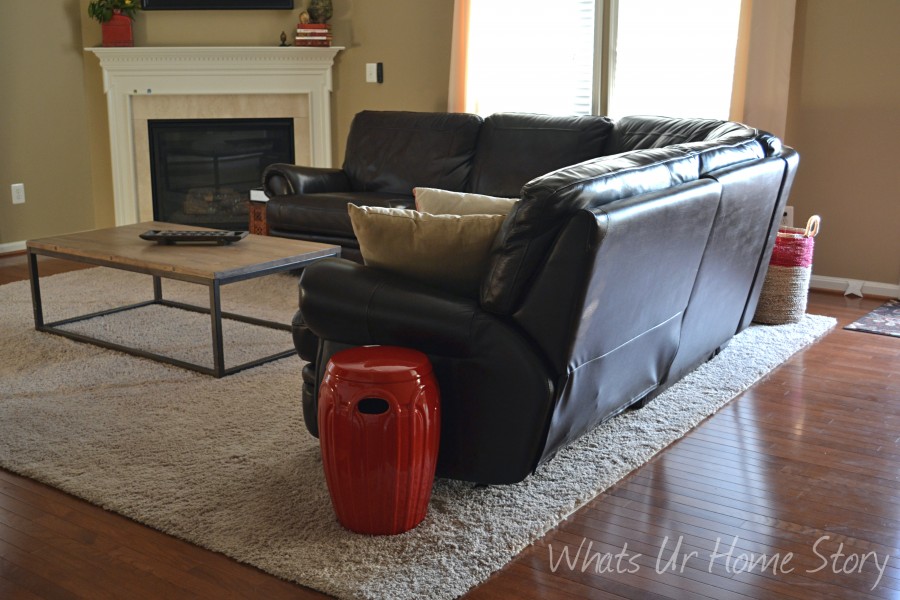 We didn't have a place to hide all the blankets and throws (that we use during winter) when we have guests over. The basket now holds our blanket (which is actually a full size comforter! :)) and a throw. Easy storage fix for $16.99.
Last week we also came this close to buying the fabulous Ellora Sideboard to use as a media console on One Kings Lane. Isn't she a beaut?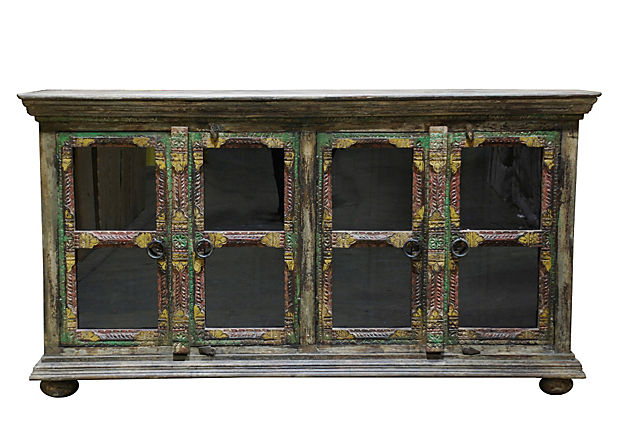 We have been looking for a media console that was at least 30″ H * 70″ W for ages. The one that we have now is a temporary unit that we got while renting. Everything we came across was around 60″ wide, which is the same size as our current one. After finding nothing in our budget we slowly increased our tolerance levels and decided that we could fork out $1k for it as long as we got THE ONE! Lately we've noticed Restoration Hardware selling consoles in the size and styles that we liked but way over our budget.
That's when Ms.Ellora caught our eye. I think it was around $990 + $100 in shipping. We were ok coz we just loved the old world look. And it was 70″ wide! But the height was 38″! We were like, "It's ok we can live with it. It is only 8″ taller than what we wanted." Just to make sure we decided to do the tape trick.
When in doubt mark off the area your furniture will occupy with painter's tape. Live with it for a day or two before making your final decision. This method works great for checking out the size of rugs too. As for us, sadly we realized that Ms. Ellora was way too tall and had to let her go. 🙁
So the media console search continues…..
Have you found ayn deals at Home Goods lately? Are you a tape trick believer too?