Before we get into the actual post I would like to note how indebted I'm to be living in a country where online shopping is so prevalent that I can literally find pics (and the actual product) of anything that I want to buy. Unfortunately that is not the case in many other places. I realized that India is one among them when I spent hrs looking for home decor to put this mood board together. Luckily all the stars lined up and I was able to find what I wanted with actual source links. Yay!
Coming to today's mood board, it is for a special reader, Sujatha from India who won the first ever custom mood board giveaway on WUHS. She wanted some help in changing the look  of her living room while keeping her existing furniture. Here's a look at the room.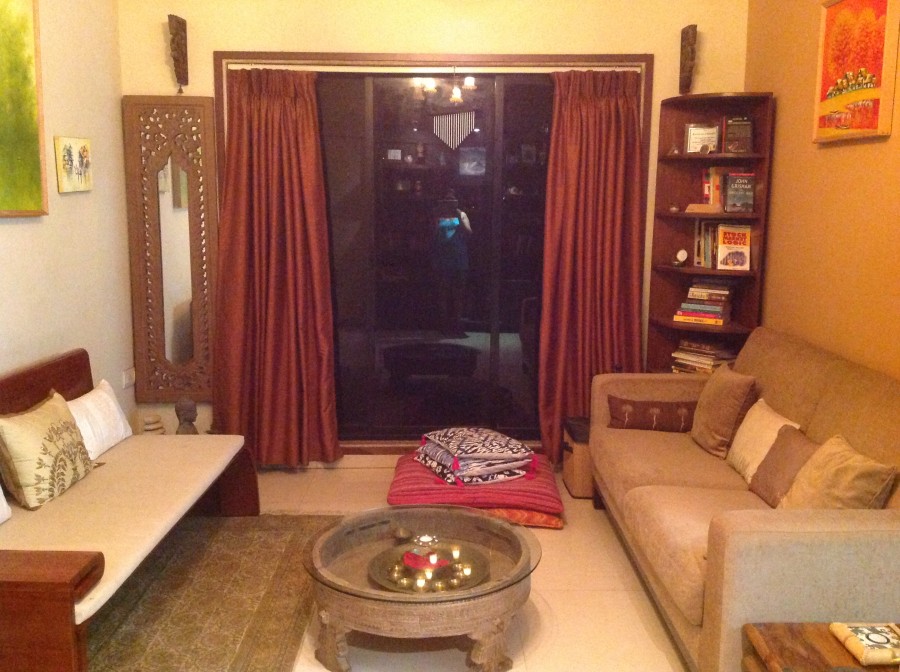 The other side;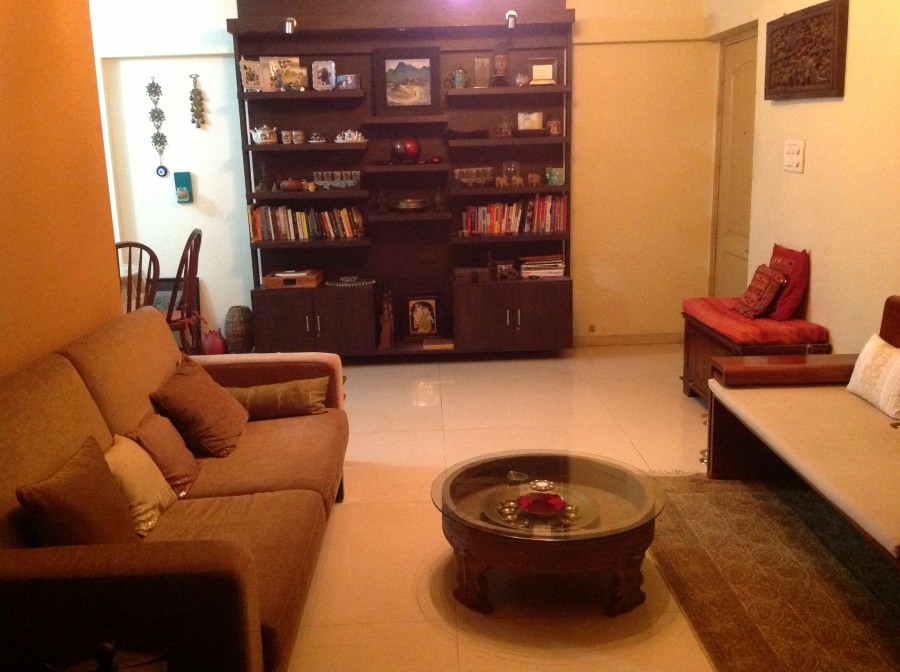 Now for my suggestion, a free handed drawing of the after.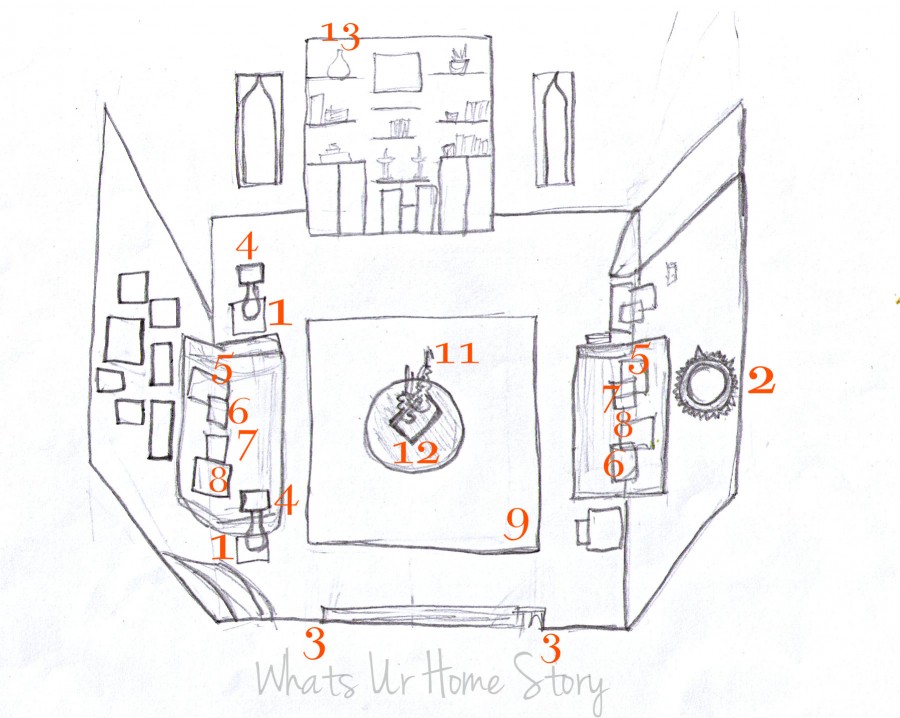 Which translates to this in decor terms;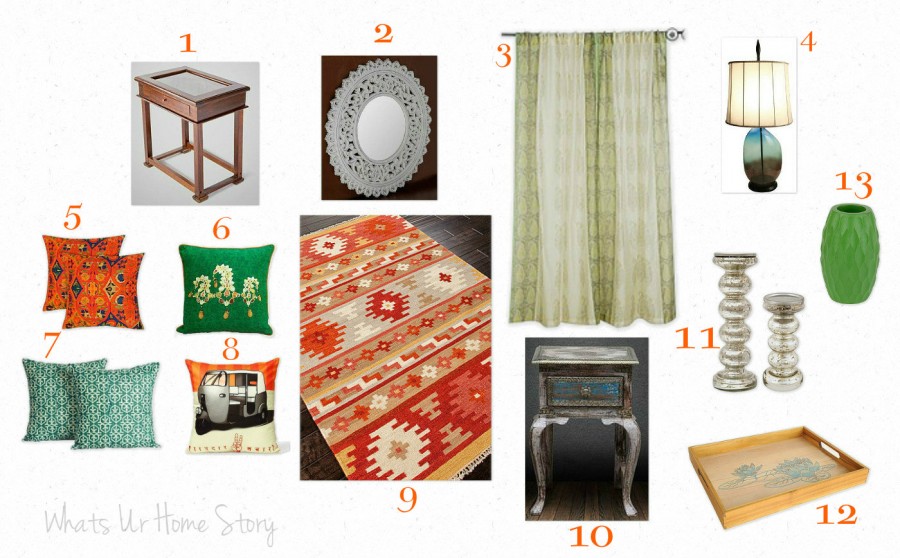 As Sujatha and her husband like a warm color palette, inspired from nature I used earthy oranges, greens, and light blue. For the paint color I wanted to keep it neutral yet fresh. So either of these colors, Asian Paints Brush Stroke or Asian Paints Dew Drop Day, would work. Again another area where I had a really hard time, finding a paint sample swatch for Indian paint companies.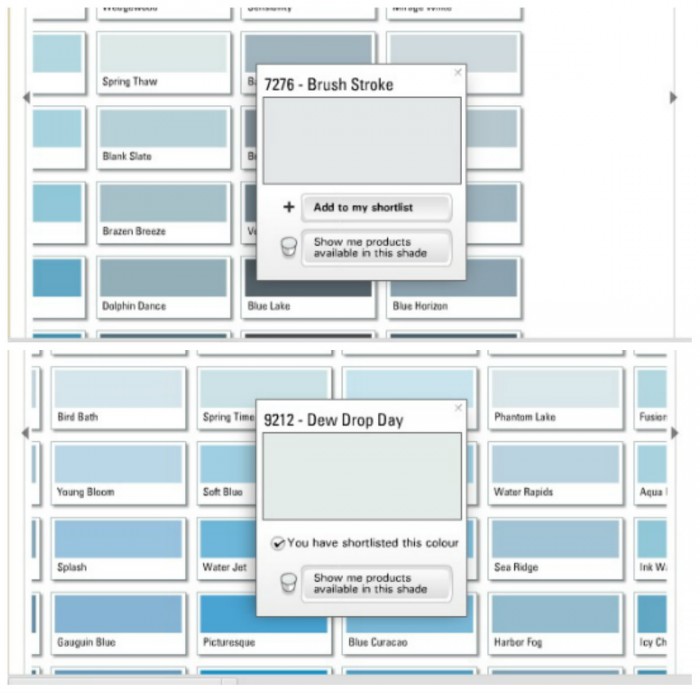 The layout wise the changes are;
The long jharoka mirror which used to be hung by the sliding door is now hung on the wall behind the main door. Ideally if you could find a similar one to hang on the left side of the bookshelf that would be great. Otherwise you could mimic the look with a vertical wood carving piece with a small jahroka mirror on top.
The nested side table that used to be next to the left couch is now in the corner where the mirror was.
All their current art work is now in one place organized into a nice collage over the left couch.
Also instead of mounting the curtain rod inside the sliding door it is now hang outside i.e. above the door so that it would stop at the two wood carvings on either side. This would add height and the perception of a bigger window and the wood carvings would look like cornices.
The items used in the room are;
For the side table depending upon the size you have a choice of using either 1 or 10.
1 – Vintage Colonial Table from Buynbrag (You might have to log in for the link to work)
2 – Little Princess Mirror @ Buynbrag
3 – Curtain Silk Cotton Printed Gad Paisley @ Fabindia
4 – The Yellow Door Blue Glass Lamp from FabFurnish. This was the only ok looking lamp that I could find from very limited invetory on most of the sites. Looks like table lamps are just not popular in India.
5 – Cushion Cover Digital Print Kilim Jaal 2-Piece Set from Zansaar 
6 – Green Nizam Jewel Cushion Cover (Buynbrag)
7 – Cushion Cover Silk Afreeda Gaadh(Fabindia)
8 – Jalebi Auto-Rickshaw Fun Cushion Cover (again Buynbrag)
9 – Anatolia Rug (Jaipur Rugs Co)
10 – Blue Belle Table from Buynbrag
11 – 2 pc. Silver Glass Candle Stand  @ Jabong
12 – Teak Rectangle Tray from Fabindia
13 – Hand carved Wooden Flower Vase (Jabong)
Sujatha, I sincerely hope that you would be able to track down some of these or similar looking pieces. Would love to see how the room turns out.
For all the folks in India, do you buy home decor pieces online? If so what are your go to sites?