My son might as well have been a monkey in his previous life. That kid just adores monkeys. You call him a monkey and you have made his day! So when it came to decorating his room it was no surprise that he wanted monkeys and his favorite color red in his room. All the monkey decor that I found in stores and online we geared to either girls or babies.  He was 7 at that time and I knew he would soon be over the monkeys. By the way, I'm still waiting….even after a year and half the monkey love is going strong.  So I wanted something not too babyish or hard to change. That's when I saw  these monkey wall decals at Kohls.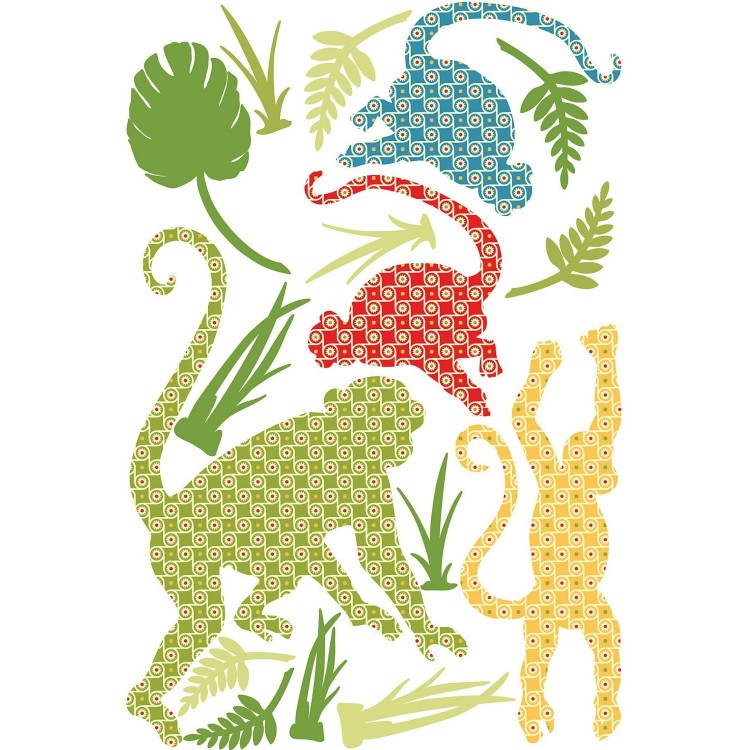 They were just right and would keep him company into his tween years. I ended up buying the decals from Amazon
 where I got a better deal on the price.
As usual our 'before' pic is the plain builder white.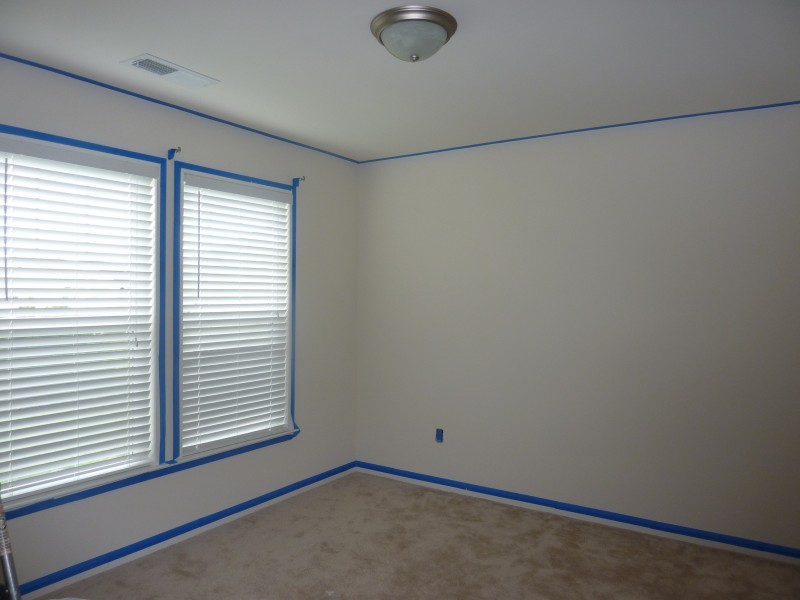 Now for the 'After'. Oh…on top of the window is his favorite dragon that he made for his China unit in 2nd grade.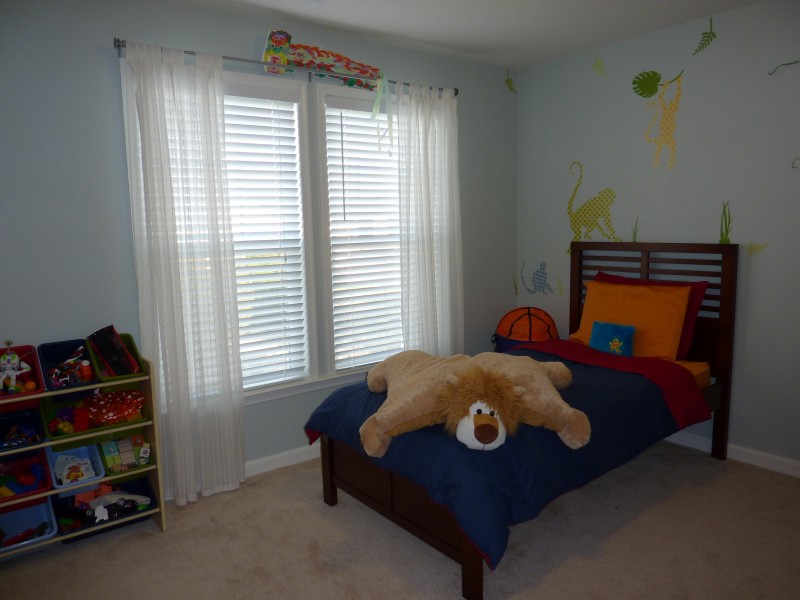 Note to self, I badly need a new camera. B, you listening? Another shot of the before.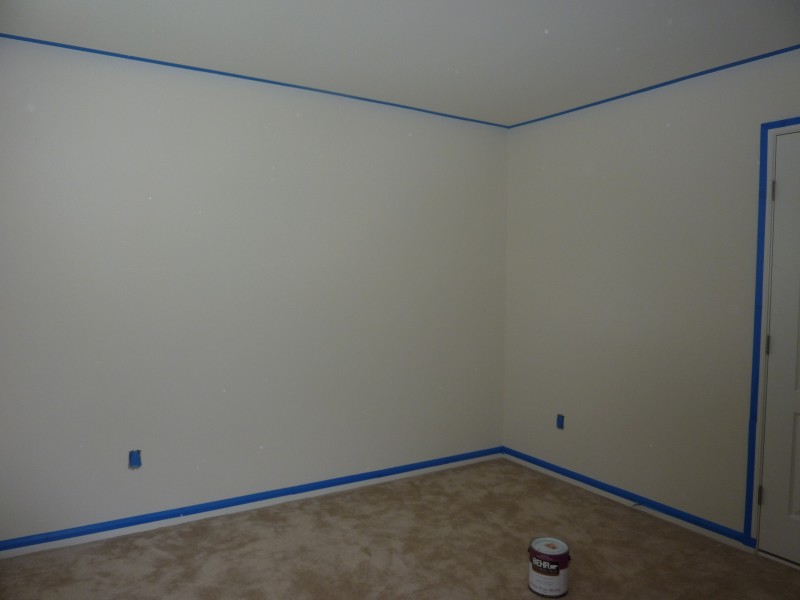 After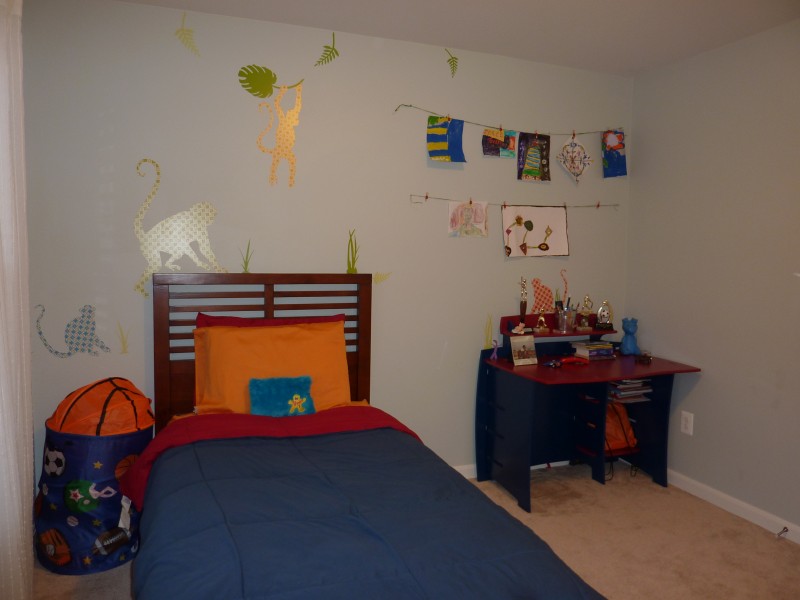 A close up of the wall stickers and the desk area.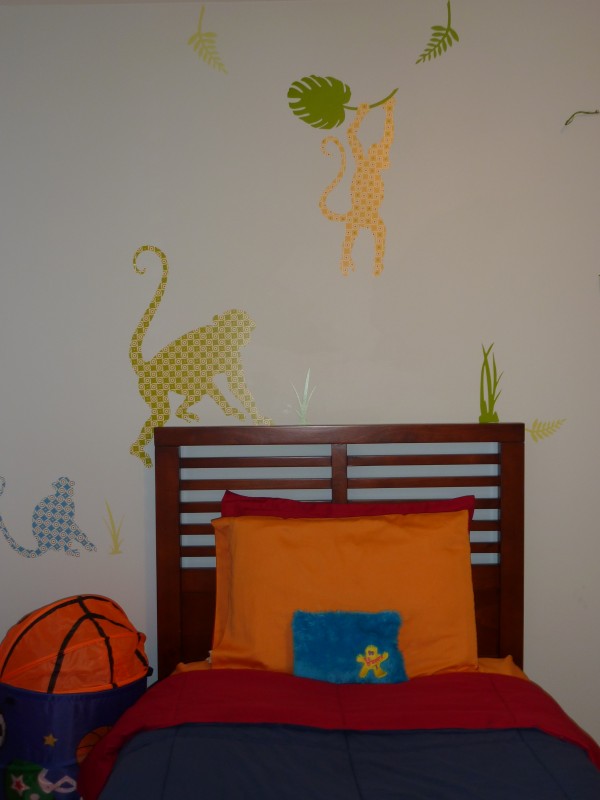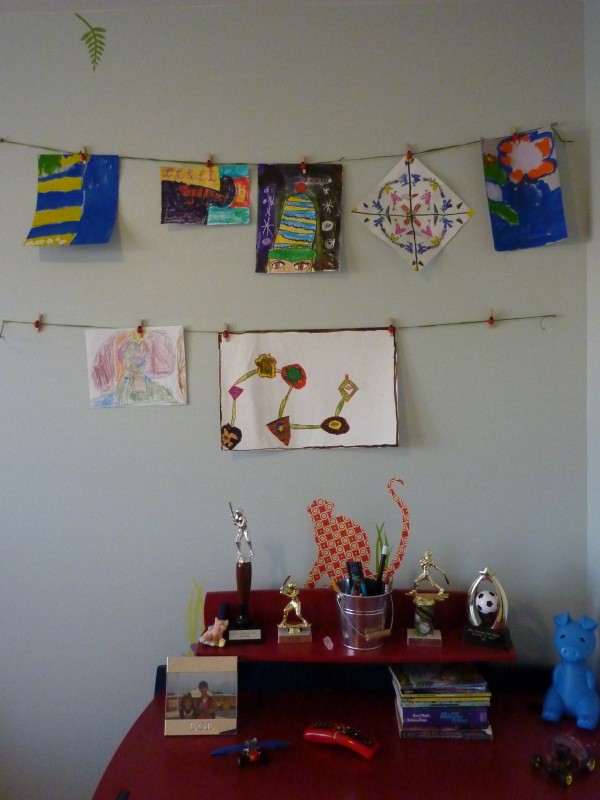 The paint color is Benjamin Moore 'Gray Cashmere' matched to Behr flat at Home Depot. The desk is a 'No Tools Assembly' desk from Walmart. It absolutely required zero assembly, works like puzzles where the pieces lock into each other (really cool took 5 min to assemble and is pretty strong). The bedding is from Marshalls and TJMaxx and the bed from JCPenny. Luckily he is not a hoarder unlike my daughter, so storage was not a big issue. Still we have some bins in the room for superheros, Legos etc. All the bigger toys are in the basement where they have more room to play and the book are going to go in the retreat where we are planning to set up a library.
The room still needs a desk chair,  something along the lines of this one but in red with hand rests.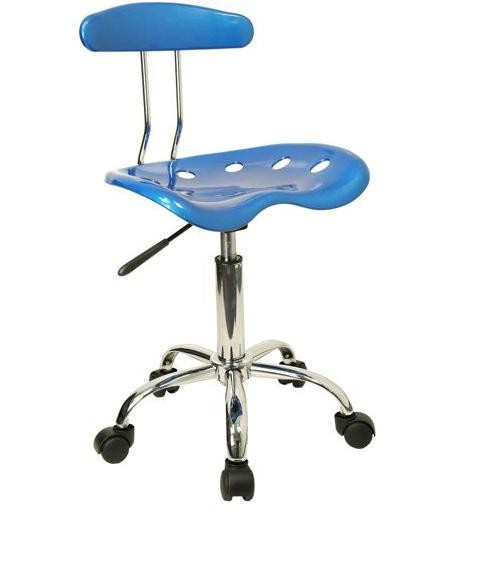 Would definitely need to add more pegs or shelves on the wall for all his sports collection stuff as he grows older. And may be a rug? With all the tiny Lego pieces I'm not too sure about it. Do you guys have a rug in your boy's room? Do you have to go on Lego hunting expeditions on the rug?
PS: I am already over this room. Just waiting for my monkey to be done with his buddies too so I can do some serious decorating. Got so many ideas.
Source List
Paint – $26.99 (1 gallon, BM Gray Cashmere matched to Behr Flat at Home Depot) Twin Bed – $199.99 – JCPenny (free shipping for ship to store) Mattress – $149 – Costco Comforter – $19.99 – TJMAXX Bedding – $15.99 – TJMAXX Small Blue Pillow – already had (was a gift from preschool)
Monkey Wall Decals
– $26.99 – Amazon (free prime shipping) Basket Ball Storage Bin – $9.99 – Big Lots Green Raffia (to hang art work) – already had from Micheals Lady Bug Clips (to hang art work) – already had from Ikea Desk – $140 – Walmart (looks like it is unavailable now) Picture Frame – $4.99 – Home Goods Steel Pail (for pencils on the desk) – $1 – Target Storage unit (with bins) – already had  (bought it from Target 5yrs back) Curtain Rod – $9.99 – Ikea Vagen curtain rod set Curtains – already had – Ikea Matilda, a pair for $24.99     Total – $604.92  
Update: The room has since been updated to reflect the tastes of my tween son.
* Post contains affiliate links