I'm so excited to show you today's home. To tell ya the truth Mid Century Modern is not one of my fav styles but after seeing this one I'm totally in love. Sangita Gosh, you just made me a convert!
Her home is the best example of knowing what you want and waiting patiently to find the the right choice of furniture/decor that you will love forever. In her own words, "When we moved into this house I collected all the artwork from our previous home and used them in a gallery wall in the living room.  The chairs were from different thrift stores but fortunately the same design and we had them reupholstered. They needed TLC but the wood grain was phenomenal. They have been restained (by me and often after the kids went to bed!) to a dark walnut since this picture was taken. The couch was from ebay and the lady was 100 miles away and kindly offered to drive it down and deliver for free! "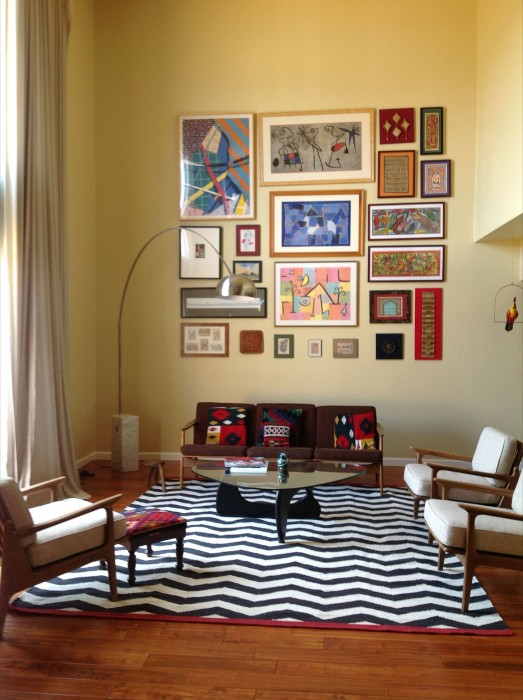 Just for fun here is a before pic of the room, before they bought the home.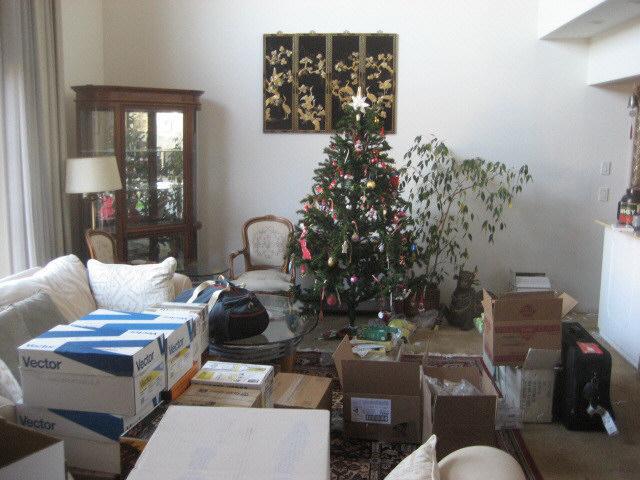 That's some makeover! Got to give it to her for putting that huge wall to full use. In the below pic you can see the restained chair.
"Like you, I love birds and have many around the house. The cuckatoo hanging happily in the living room  was bought eons ago from Mexico. There's a collection of birds sitting on the lovely ceramic cloud stool side table (got it on sale during Christmas) that is not very clear in the picture. In the background is a vintage mahogany dresser that we are using as a sideboard. It was thrifted locally and refinished by the dad of the lady who sold it to us."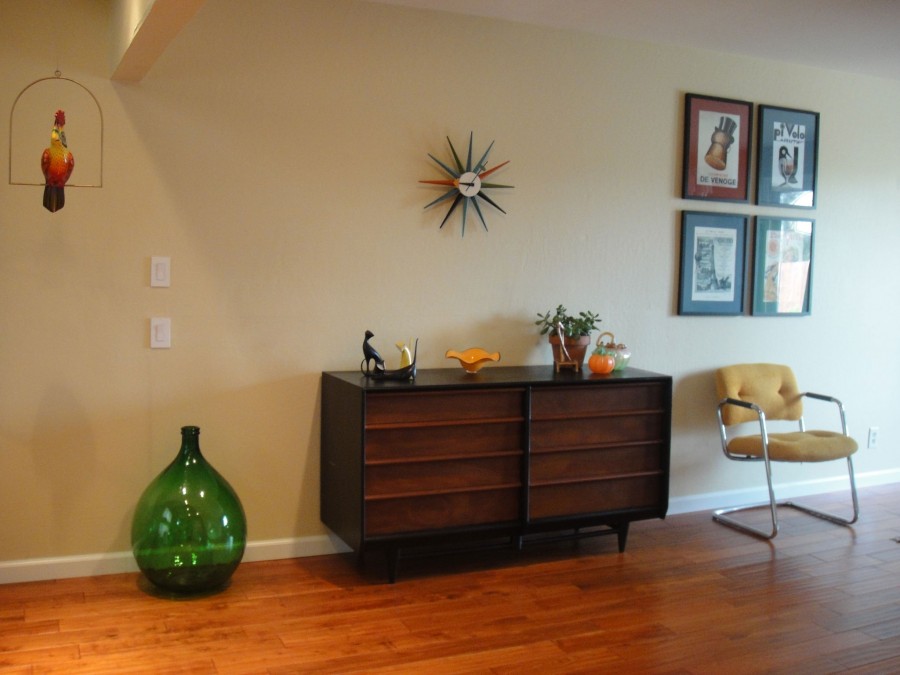 "Next to it is a demijohn. I checked ebay for months and all were out of my budget, until I found one on craigslist and bargained it down to $50 and it was in my town! I think I got a good deal judging by the size (2 ft tall). What do you say?" Yup, patience pays off big time.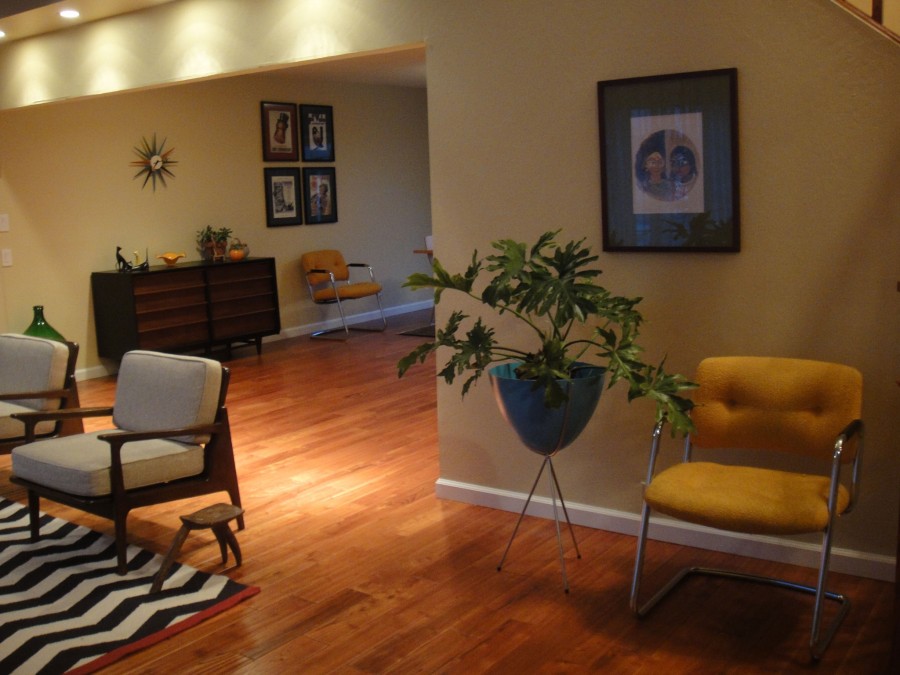 "The bright yellow chairs are mid century steel case chairs in great condition that I found on Craigslist. The aqua bullet planter is a reproduction."
"The planter by the large mirror in the next pic is a stainless steel stockpot that I found at a thrift store and was not brave enough to use for cooking. The plant stand is an Ikea hack like in this link."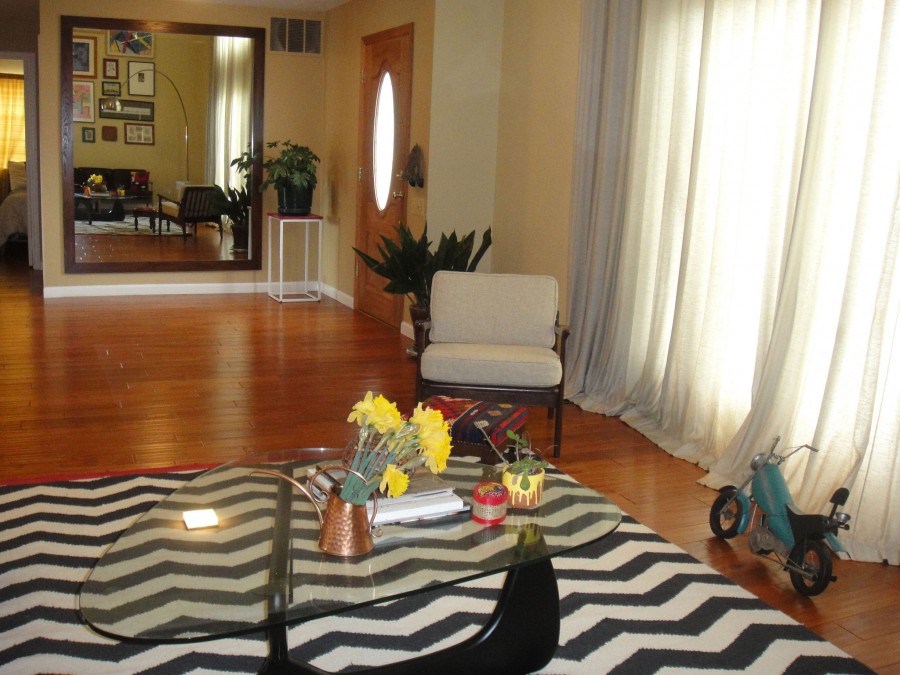 "There was a huge wet bar in between the living and dining which was promptly demolished the first day we got the keys."
Again here's the before pic of the dining room.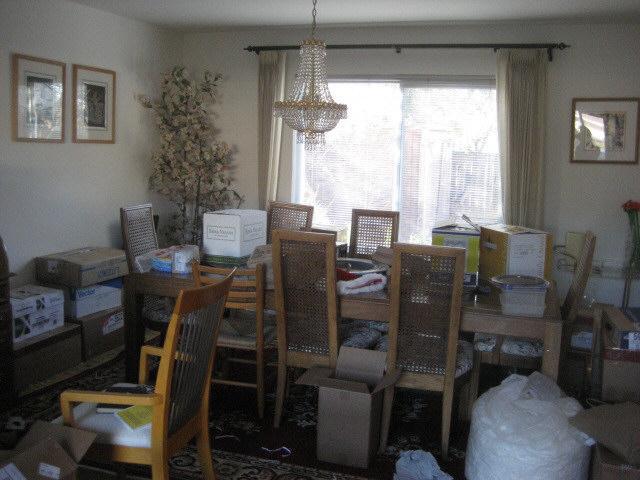 "When we moved to the house every plant and tree were dead, except one little baby jade by the sliding door. I potted it up without thinking too much about it. Now lush, green and healthy it reminds me daily of the progress we have made with this house so far." Sangita, you have a beautiful home. Thanks for sharing these pics with us.
Did I mention already that I love every nook and corner of her home especially the very clever use of color and want to see more? Any mid century modern lovers out here?