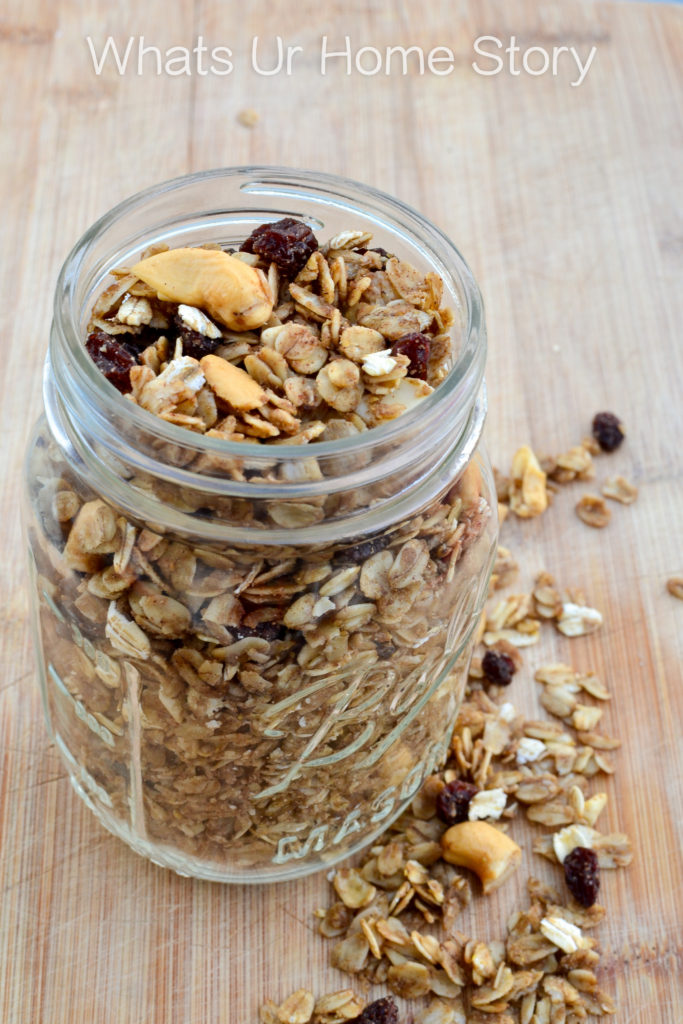 I discovered homemade granola by accident when I was looking up healthy breakfast recipes. As the fruit parfait became a breakfast staple at ours (B takes it to work every day) so did making granola. The only change in this weekly routine of granola making is the type of dry fruits (raisins or dates) and nuts (almonds, walnuts, cashews) that I use.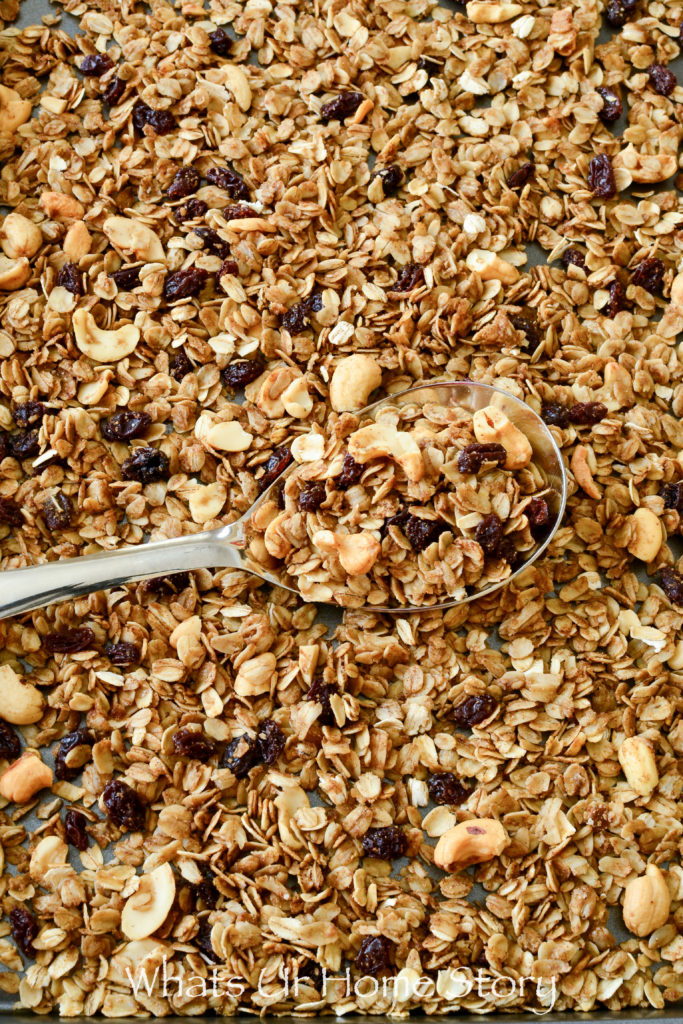 A couple of years ago I would have never given making granola a second thought as I equated it to breakfast cereal, which in my mind was a factory manufactured commodity. So I naturally assumed that granola making too was not for the home cook. How wrong I was!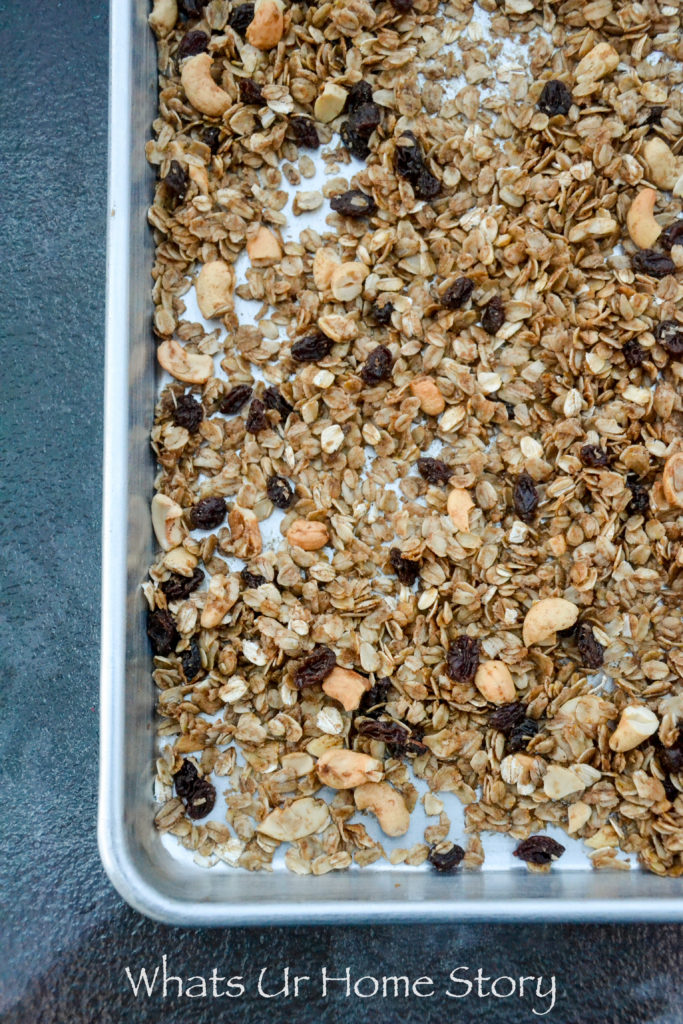 It literally takes 5 mins prep and 8 mins of cooking time! That's it…for fresh homemade granola!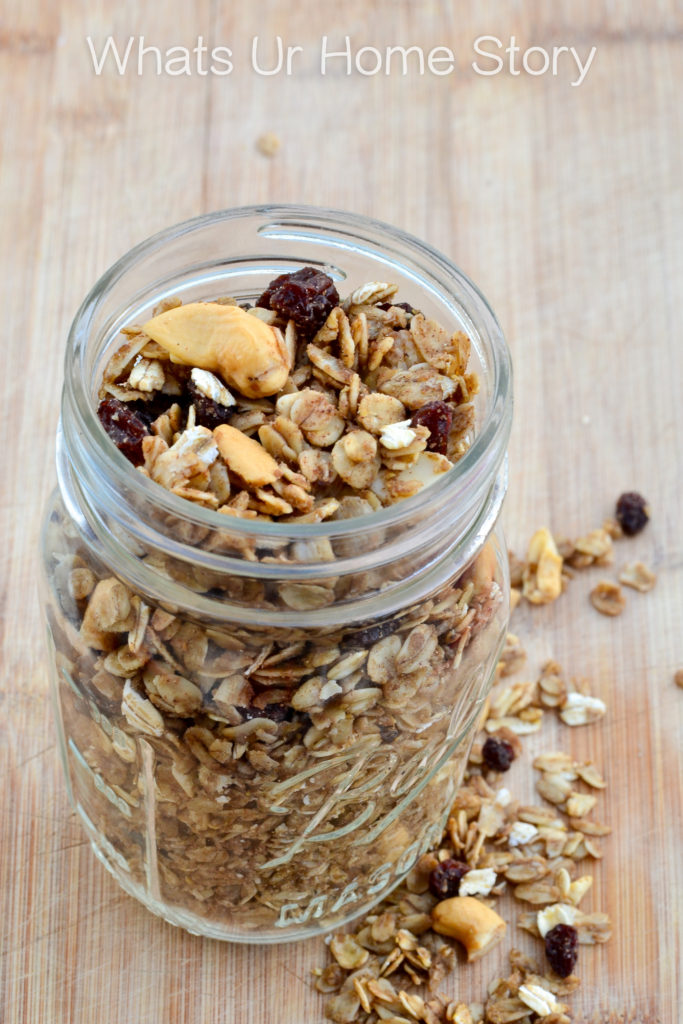 Measure out the dry ingredients onto your baking tray, combine the wet ingredients in a bowl, mix together, spread, and bake!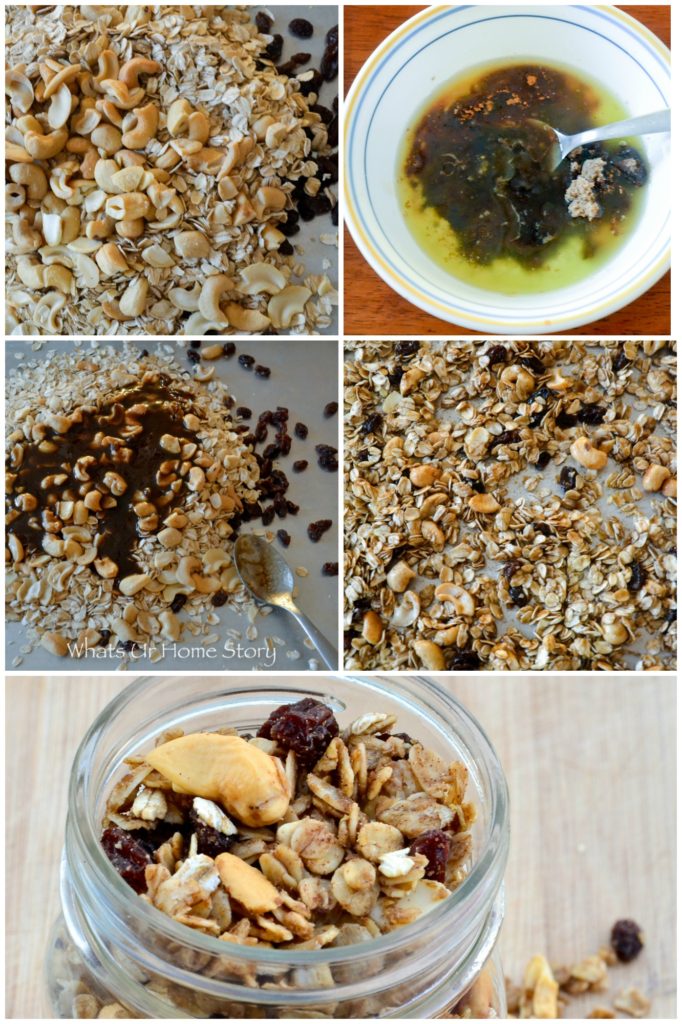 We like flaky granola at ours so I've used lesser amount of butter and brown sugar. If you like more clusters in your granola up the butter to 6 tbsp and dark brown sugar to 8 tsp.
Here's the recipe.

Homemade Granola
Ingredients
2 Cups Old Fashioned Oats
¾ Cup Unsalted roasted Cashews or any nuts broken or chopped
5 Tsp Dark Brown Sugar (heaped) (for more clusters use 8 Tsp)
6 Tbsp Melted Butter (for more clusters use 6 Tbsp)
1 Tsp Cinnamon Powder
1 Tsp Vanilla
Handful of Raisins
Instructions
Preheat oven to 400F.
In a 11 x 17 inch baking sheet pan place the oats, cashews, and raisins.
Melt butter in a microwave safe bowl and add dark brown sugar, cinnamon powder, and vanilla. Mix thoroughly.
Pour over the dry ingredients in the baking sheet pan.
Combine all the ingredients together so that every grain of oats is coated with the cinnamon vanilla butter.
Spread evenly on the baking sheet.
Bake for 8 mins.
Wait for it to cool before storing.
Store in a glass jar at room temperature. It stays fresh and crunchy for about 2 weeks.
Do you like your granola flaky or with clusters? What all ingredients do you like to add to granola?