My kids are past the Spongebob stage yet I couldn't help but think of the Spongebob song as I was writing this post. For the uninitiated this what I'm talking about. 😉

Now that you can't get the song out of your head, let's get to the post. My latest air dry clay adventure.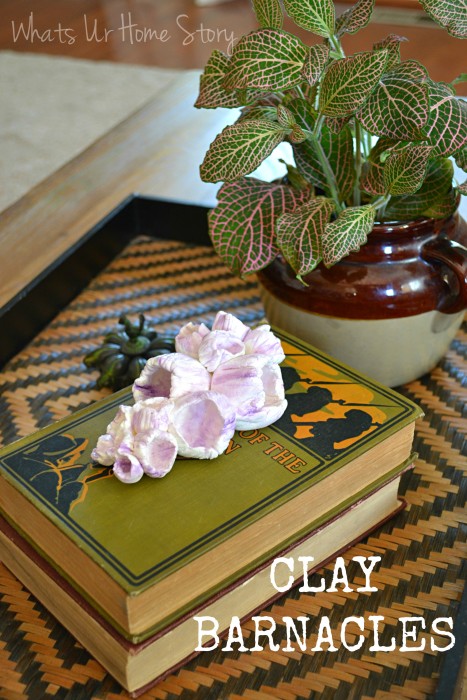 If you haven't seen the real thing then this is how a barnacle cluster looks like.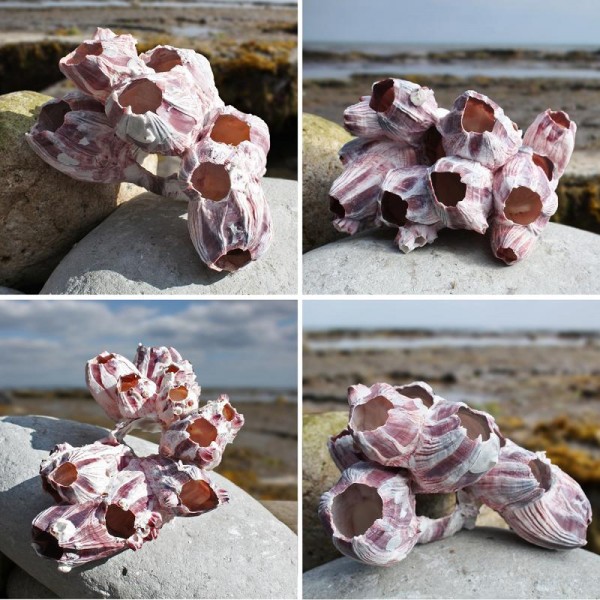 A closeup of mine.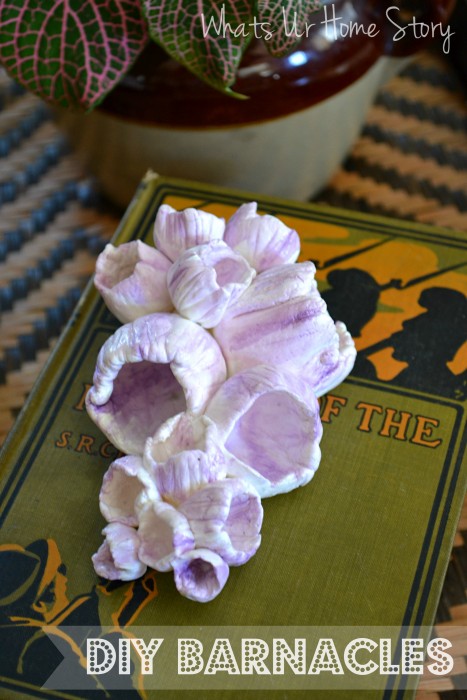 Barnacle clusters like this are available on Ebay for $20- $100 depending on the size. I even had been eyeing a $17 one for a long time. I had my light bulb moment when I started making clay figurines (here and here) for my terrariums. I had a lot of left over clay (the best $2.99 I've ever spent) and decided on DIY'g these interesting sea creatures.
To make this decent sized cluster you need;
A handful of air dry clay (got mine at Micheals)

Some plastic wrap
Acrylic Paint
Mod Podge
A rolling pin
A smooth working surface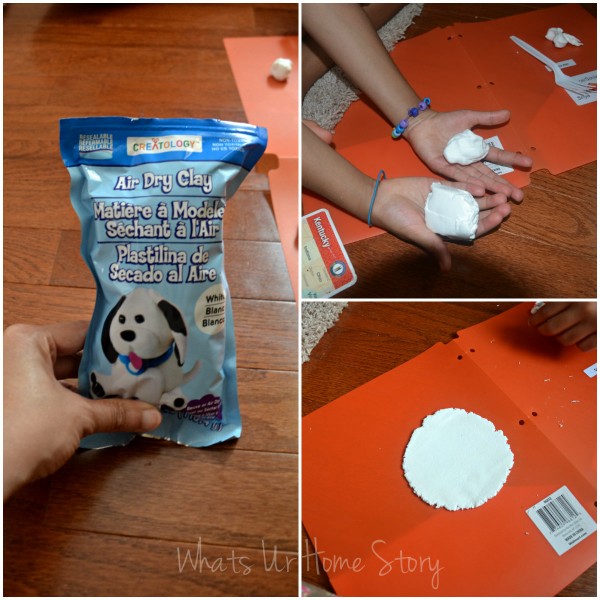 I was trying out different methods and took pics at different times so ended up missing a few steps.
Anyways, roll a small ball of clay into a flat thin circle. Place it on a piece of plastic wrap (pic missing).

Take an even smaller ball of clay (to shape the inside of the barnacle) and wrap it in plastic wrap. You could use a small water balloon instead. We have a ton of them at home but as it usually happens at our place I totally forgot where I kept them when I needed the most! So I ended using the clay as my mold.
Place the plastic wrapped smaller ball in the center of your rolled out piece of clay.
Now take the whole thing even the plastic wrap on which you've placed your flat rolled out piece of clay into the palm of your hand and gently press the bottom piece over the ball in the center molding the clay into a cup like shape.
Once you are happy with the shape slowly, very gently loosen the center plastic wrapped ball out and you'll end up with a small cup.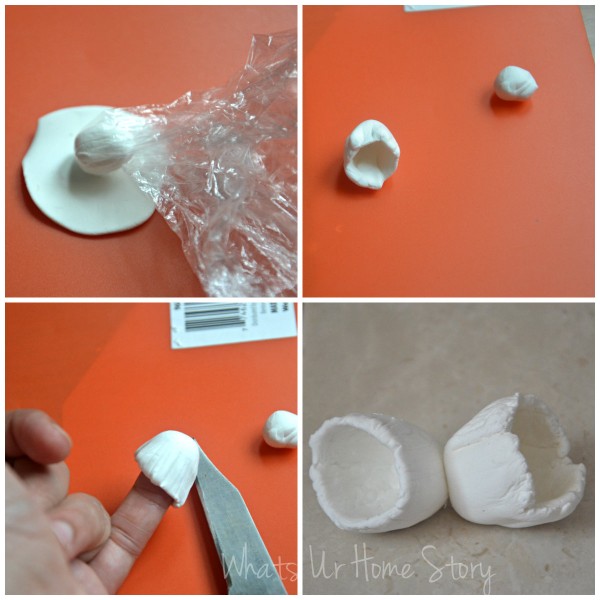 Place the cup of clay on your finger and using a paring knife add some lines to add interest and texture.

Rest your clay cups/barnacles next to each other (they'll stick to each other) in whatever shape you like.
Let it dry overnight or according to instructions on the clay's package.
Remember to always work on a piece of plastic wrap as you do not want any dust to stick to your clay.
Here's a pic of how it went from a 2 piece cluster to many.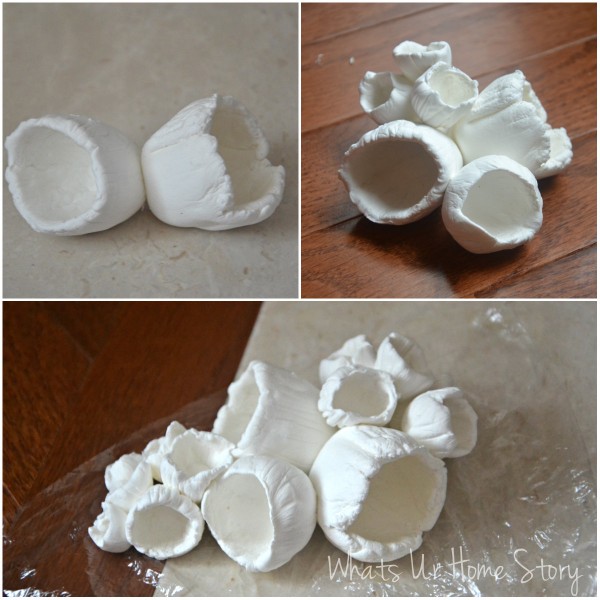 Add color using acrylic paint. I used dioxazine purple, which I diluted with a lot of water to get the varying shades of purple.

When the paint is completely dry coat with a layer of Mod Podge to give the clay some life (it had a dried out look pre-Mod Podge) and to protect it from any spills etc.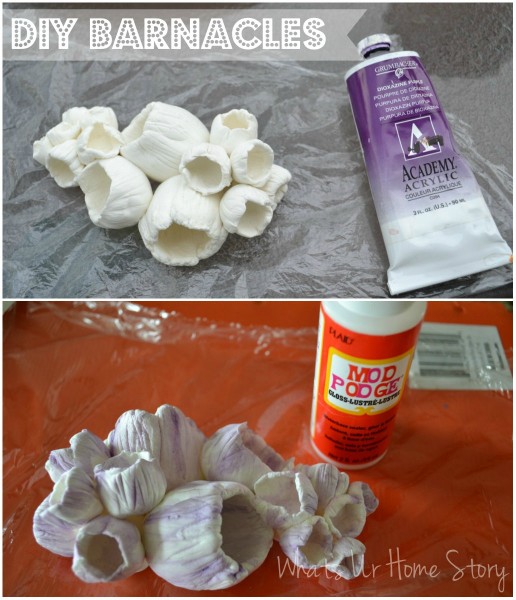 That's how I got my very own barnacle cluster for $0!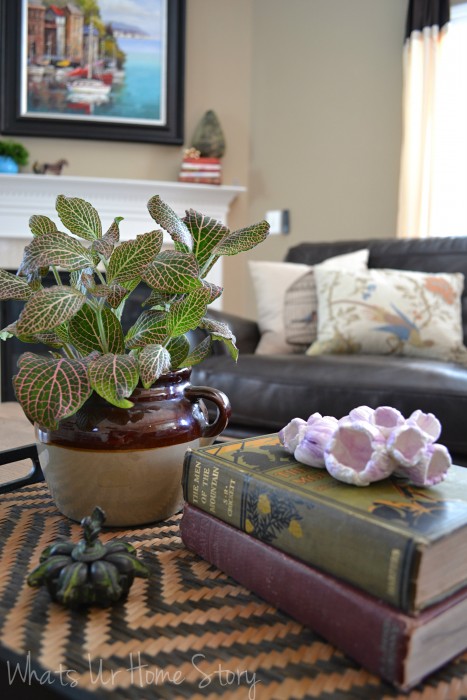 One more shot….just because…..:)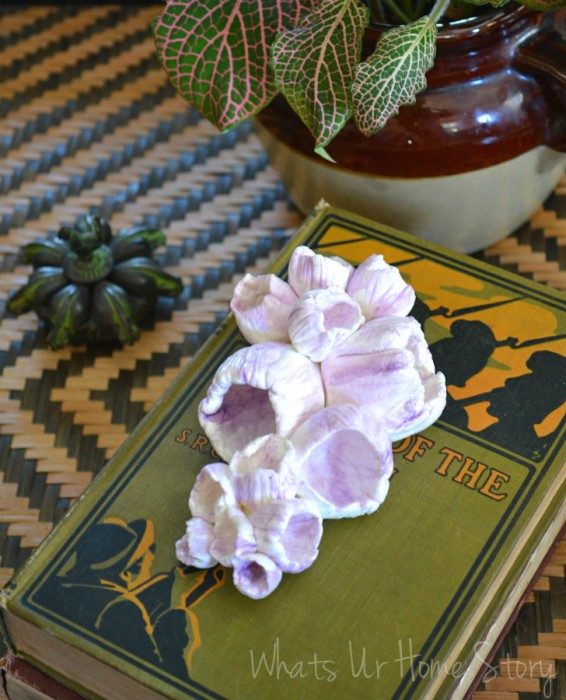 Any barnacle fans out there?