Continuing with our series on sloping roofs of Asia, today we are in Bangkok, Thailand. I have had a soft corner for Thailand, Cambodia, and Bali for as long as I can remember, mostly fueled by dad's interest in these places. He has always harbored this wish to see the Angor Wat and Bali. As an adult, this fascination with Thailand was nurtured even more when I discovered Thai cuisine. If you ask me, hands down the best in the world; I could it eat it every day all three meals and never get bored! Luckily this love for Thai food is shared by all the 4 of us. So you know where we end up when we go out to eat. 🙂 Coming back to the topic, here is a quick look at the places to visit in Bangkok.
Did you know Bangkok has over 400 temples?* Before Buddhism laid roots in Thailand, Hinduism was the norm. The Hindu influence is still felt in most of the temple and royal buildings. The multilevel pitched roofs,  the upturned eaves, the stupas are all similar to what you see on different temples in India, especially my home state, Kerala.
The most magnificent and 'must see' building in Bangkok is the Grand Palace.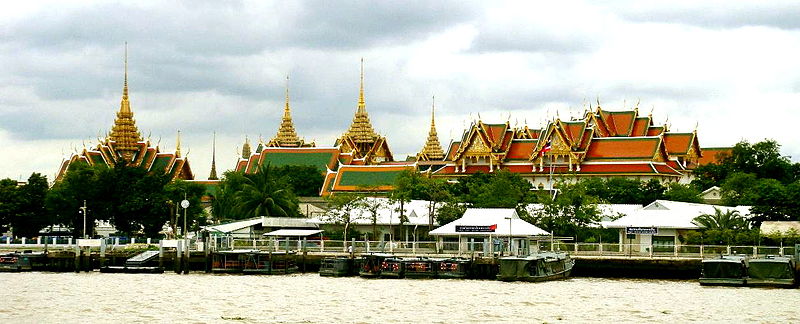 via Wikipedia
The construction on the palace began in 1782 and lasted through the reigns of 8 kings, over 200yrs. Each of the rulers made sure to leave their mark on the palace  by adding onto the initial structure. As a result the numerous  buildings, halls, pavilions, and courtyards are an eclectic mix of styles.
Again, a big shout out to my photography and travel enthusiast friend Sreejith for the amazing pics.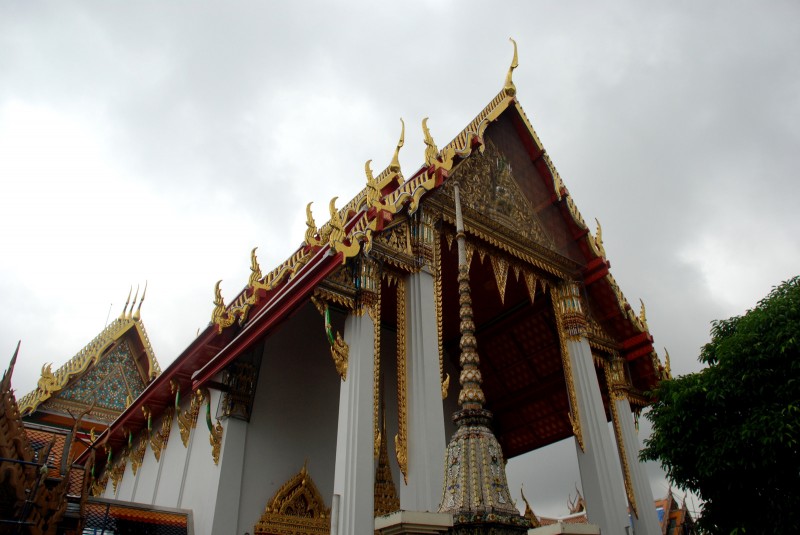 The common thread in all these structures is of course my favorite, the sloping roofs.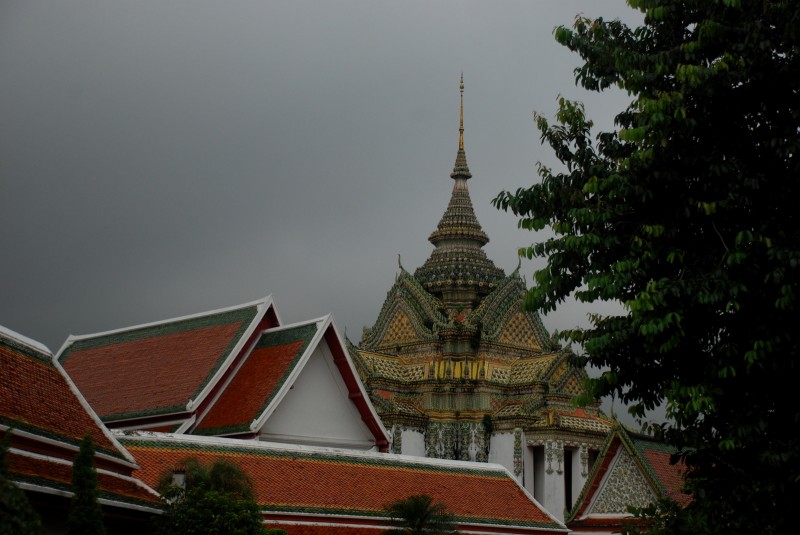 More roofs and ornate architectural details on a cloudy day;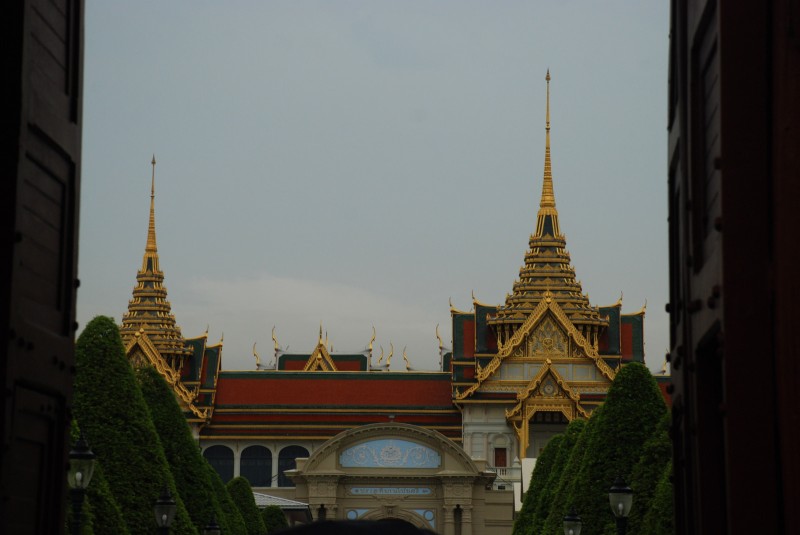 The Wat Phra Kaew or the Temple of the Emerald Buddha lies adjacent to the Grand Palace and reflects a similar style.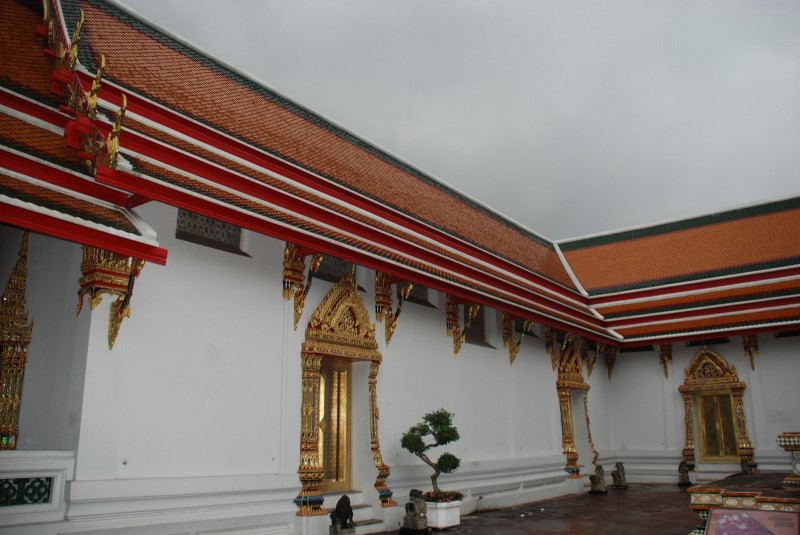 Another Temple the Wat Pho, the Temple of the reclining Buddha however has a totally different style.
As you can see, there are a lot more dome shaped monuments or chedi (the Thai name) or the Indian stupa here.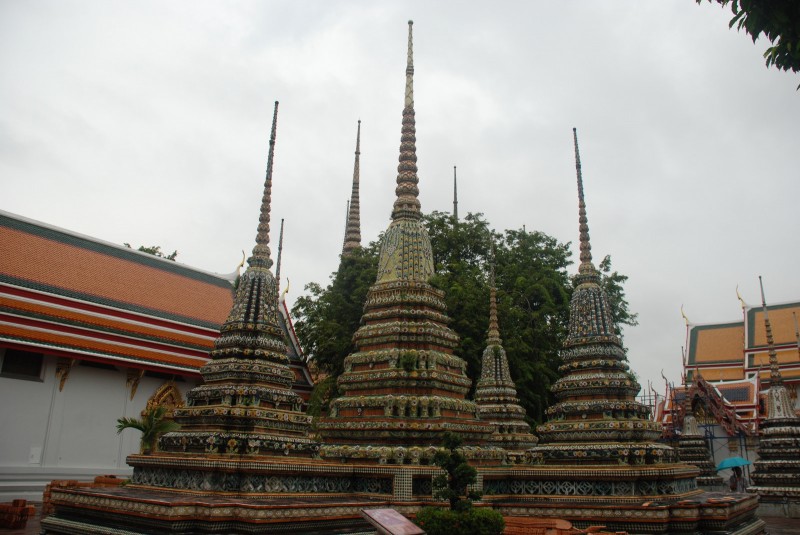 The City Pillar Shrine or the Lak Muang, again located close to the Grand Palace is a mix of the traditional Thai, Indian stupas, and Cambodian architecture.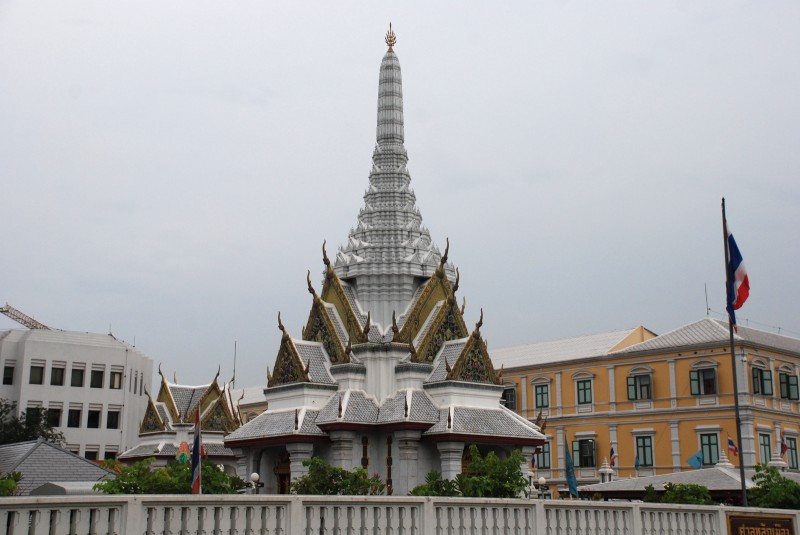 The ornate style is not just restricted to royal buildings; here is a look at some of the structures outside of the palace complex.

A road side temple or wat,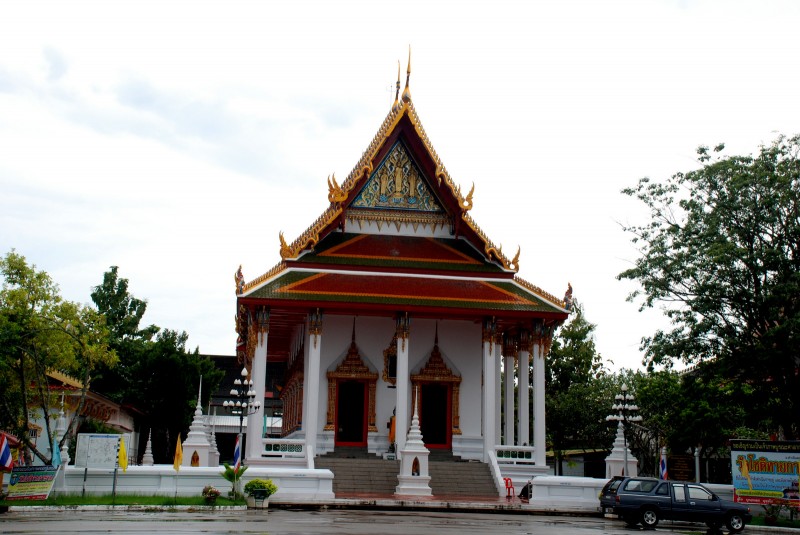 Thailand has always been up high on my list of places to go. Seeing these pics make me want to visit the place even more. Will definitely go there…..some day. Is it on your list too? What other places are there on your 'must see' list?
Another travel related post featuring great pics by my friend, Sreejith here.
*All sources from here and here.